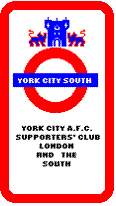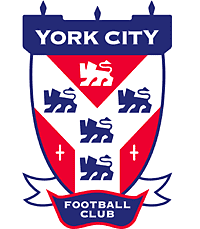 Christmas 2014
The Best Of York City
Last year's advent calendar stoked up a lot of interest and praise for our web site, so good, that many of you asked could we do it again this year. Yes we said, so here goes. Enjoy. Merry Christmas.
Christmas 2013
For added value, a chance to enjoy last year's again.
December 1 Dean Kiely Looking After Number 1, It seems everyone else has had their say on Dean Kiely. So for what it is worth, Iíll have mine.
December 2 Victory at Fulham City shocked the footballing world, or at least Brian Moore with an impressive win at Craven Cottage. We completed the double in the new year when a young Brian Pollard ran rings around Brian Moore. See more City On TV
December 3 Paul Barnes This was originally written for new frontiers, a 1990s City fanzine, an impassioned appeal from Paul Barnes himself saw it pulled from the zine at the last minute
December 4 Darren Williams One of many to have had a successful career after losing his way with City. If only we solved the riddle of how to convert our young talent into viable, long term first team players
December 5 New Years Day Hangover? A comeback to saviour. Check our City on the web for more City highlights
December 6 Oh Wot A Shambles Some of the best bits from the zine, founded by YCS founder member John Catton. Also, just when did the then England manager Bobby Robson get abused by a City official?
December 7 Book Club Plenty of bed time reading for City fans. The latest additions reveal some happenings from last season when Clarke Carlisle was with us
December 8 Arthur Bottom The life and times (and action footage) of our legendary striker
December 9 Marco Gabbiadini A look back at another young City star who really flourished after he left us, his career taking him into the top flight and international appearances
December 10 Bored Teenagers? What 2 of our past and present YCS members were up to in the 1970s
December 11 Tony Canham A City winger from the 80s who was a fixture in our side, his mazy runs and powerful shots thrilling supporters. A goal at Anfield and winner against Chelsea spring to mind
December 12 Keeping For City A look back at a series of articles that first appeared in new frontiers which profiled each and every keeper who played for City and came up with its own ranking system
December 13 Worst XI Unlucky for some. Do you agree with our choice for the worst ever City XI
December 14 73/74 Promotion Some would say our most efficient ever side, No world beaters just stability from one to eleven
December 15 One Too Many? Strange things happen
December 16 Ted MacDougall A prolific scorer who first made his name with City, after being released by the late great Bill Shankly. MacDougall went onto score 9 goals in one game and played for Manchester United, West Ham and Norwich and was capped by Scotland. His strike partner at City, Bournemouth and Norwich was Phil Boyer who also played from England. What price a British international strike force today?
December 17 Lifting The Silver A fond look back at the cup competition in which City have lifted silverware on many occasions
December 18 Musical City Christmas and time for a song
December 19 Escape To Bootham Crescent A whimsical look at supporting City as seen through the eyes of one of the a regular new frontiers contributor
December 20 John Ward A look back at the career of one of our more successful managers, still managing over 20 years after he joined City
December 21 Penny For Your Thoughts Words of wisdom from a regular supporter always to be found behind the goal holding court
December 22 Tom Johnston A look at the career of one of Cityís most successful ever managers, many older readers might suggest our most successful manager. The record books would support that view
December 23 Fancy A Drink? A pub crawl with a difference as 2 YCS members seek to drink York dry
December 24 Michael Ingham Still wearing the number 24 shirt and now with well over 250 appearances behind him since he made his City debut in 2003. Incidentally, in the draft of this page, I had Michael making 2,500 (not 250) appearances. If that had been the case, he would be nearly 100, but would probably still be a better keeper than some who have played for us.
Finally, early news of the City line up for Boxing Day game at Accrington
GK: Saint Nick Pope
RB: Lanre O Come All Ye Banjo
CB: Danny Parsnow
CB: Christ Smith
LB: Jamal Mince PieField
RM: Santa Puri
CM: Elliott White Christmas
CM: Craig Sleigh
LM: Ryan Bauble
SC: Ryan Snowman
SC: Good King Wencesless Fletcher
SB1: Richard CressnoŽl
SB2: Christmas Dickinson
SB3: David McTurkey
SB4: Asleigh Chambers

For disciplinary reasons, Nigel Worthington could only name 4 subs when the other players refused to get into the Christmas spirit.




Christmas Eve, time to get Christmas Wrapping Still the best ever Christmas single

York City South wishes all members, past and present and all City supporters everywhere a very merry Christmas and a happy new year. Here at YCS, we've put 12 points for City aover Xmas / New Year at the very top of our Father Christmas list.

Phil Hall sends his seasonal greetings all the way from Madrid.