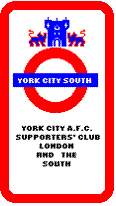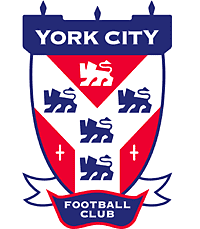 City History
John Ward
York City
"John Who?" was the popular response on hearing the appointment of John Ward as City's new manager in 1992.
It was "John Why?" in March 1993 as he left City for struggling Bristol Rovers.
Taking over in 1992, he instilled something into the team that he transformed from a bunch of talented but inconsistent players into a winning team, his signing of Paul Barnes probably helped as well.
However it was noticeable how that the team that he took 7 points clear in the basement division in November 1992 was built around those players he had inherited from John Bird.
A mid season slump saw us miss out on automatic promotion on the final day in 1993, but Alan Little, promoted to manager after serving as coach under both Ward and Bird, was to lead us to promotion via a play off win over Crewe at Wembley.
At Bristol Rovers, on reputedly twice the salary he enjoyed ay York, he was unable to save them from immediate relegation. They joined City in the third flight but soon plummeted back into the basement division. However, his reputation remained strong.
After Bristol Rovers, he managed Bristol City, Burnley (where he was re-united with Paul Barnes), Cheltenham who he left in Septemebr 2007 to become the manager of Carlisle. Between managerial appointments, he was much in demand as a coach.
A former lower league striker, he had played with Graham Taylor and made his name as a coach at Watford, and, later, Villa under Taylor
His Watford experiences meant that whilst with City, he lead several initiatives to encourage wider community and junior involvement at Bootham Crescent. It was an ear a of record Junior Reds membership and also saw the opening of The Family Stand.
A common feature of all the teams that he has managed is their belief in playing a passing style of football that is pleasing on the eye.
The Player
'Wardy' the pro, an Imp born and bred, was an archetypal modern Lincolnshire poacher and predator, pouncing from all over the park. In the six-yard box he was deadly, every inch a goal machine from head to toe. John, found the space, he had pace and grace, but in the penalty box, where time and desperate last ditch defence favours the enemy he could compete and defeat. The goal machine has the presence, when and where it matters and, Wardy certainly had that instinct. With goals the lifeblood of the peopl's game, his deadly first touch and devastating awareness and flawless finish, wooed the Railway end and kick-started many a Clanford roar.
John Ward, could not get enough of the game, like most centre-forwards, love is the drug, the buzz of banging them in, putting the predator almost into hybernation the wrong side of the match whistle. Incredibly he combined playing for the Imps reserve and 'A' sides with appearance for top Lincoln Sunday side Adelaide Park. The insurance boys would have none of that when he signed professionally in March 1971 and he drifted, missing the 100 plus hauls he had enjoyed since he had first donned a pair of boots.
He was almost lost to Lincoln City when manager Herd loaned him to Workington in 1972. Almost a pale shadow, he started to click, notching 3 goals in 11 appearances. Workington, saw something in the 20-year-old, not seen as tough enough by Herd, and made a bid. Fortunately, before any deal was struck David Herd got the boot and entiser Graham Taylor, recognizing the lads talent, knocked it back and positively charmed the lad back into the Imp fold. John would reward the faith with his first hat trick for the club in the spring against Stockport.
John then never looked back. Wardy 'walloped, caressed and proved he was blessed with 17 goals in 73/74 and 13 in 74/75, reserving his career best for our record breaking 1975/76 Division 4 Championship season. John Ward scored 29 League and Cup goals including 4 against Chesterfield. At the double the bagged 5 braces against Exeter, Swansea, Brentford, Doncaster, Newport. Impdom beamed with pride in their free-scoring side with huge gates considering the size of the city at the time (65-70,000). We had 14,096 V Doncaster Rovery (5-0), 13,880 V Northampton (3-1) 13,472 V Stoke (LC2 won 2-1) and 12,074 V Barnsley (2-1). There were 2 gates of eleven thousand, 2 of over ten, 4 gates of eight, 5 of seven and 4 gates of 6,500 plus.
John stayed at the Imps after GT`s departure to Watford but sadly suffered an injury very early into the 1977/78 season. Opening with 4 goals in the first eight games, a broken leg kept him out of action for the rest of the season. He came back the following season but netted only 4 goals in 33 appearances for a struggling club. With typical gates of between 2.5k and 3k with the last 4 home games under 1900, it was no surprise to see us bottom. A fire sale saw Ward follow Sam Ellis and Dennis Booth to Taylor`s Watford for a fee of £15,000 in the summer of 1979.
In total he netted just under 100 goals for the Imps (90 League and 9 Cup) for the Imps in 241 appearances, with his overall League and cup tally being 99 goals from 263 games, putting him fifth in the all-time Club goal scoring chart. Following a brief spell with Grimsby Town, John returned for an even briefer stay at Sincil Bank under Colin Murphy, making one appearance in April 1982, but it he knew he was passed it and hung up his shooting boots returning to Watford in a coaching role.
The Manager
John went to work on his coaching badges, juggling the youth, reserve and striker training responsibilities with his studies. Three years later, Graham Taylor, knew he was ready to take the next step and appointed Wardy as his assistant. The duo worked in tandem for the next six years, firstly at Watford, then Aston Villa and finally the national team. In November 1991, John reluctantly in some ways, decided that it was his turn for a stab at management. Taylor understood and even paved the way with a word with the York City board, which sealed the deal.
There had been a rumour that the Imps were to be his first post during the previous season, but sadly Allan Clarke, one of our worst managers ever, got the job. John Ward was also linked with the Imps prior to Schofield getting the job in 2006/7. There is truth in his reluctance to return to Lincoln. He has also been quoted as saying, that he does not want to ruin the fairytale memory of his time with the club by coming back and letting his former peers down. He is after all Lincoln born and bred with family, friends and contacts within the City and County.
Wardy, meanwhile, guided York to promotion via the play-offs in his second year, before Bristol Rovers made their move, to establish some new West Country roots. John subsequently took the Pirates to the play-off final in 1995, losing at Wembley to Huddersfield Town. After a spell as assistant to Adrian Heath at Burnley, Wardy returned to Bristol, this time with City. The play-off touch revived the Robins' season as they too reached the post season sudden death phase of the campaign. Brentford beat them but the following season Ward got his success. No play-offs were needed this time, City gained automatic promotion.
Finding himself unduly unemployed Ward was then appointed as assistant to Wolves' boss Colin Lee, who got the chop. Dave Jones retained him as his right-hand man at Molineux as they built a solid squad in readiness for the Premiership. John`s play-off touch did not let them down as they blunted the blades in May 2003. Despite helping Wolves finally achieve their goal of a return to the top flight, Ward left Molineux in the summer after a reshuffle.
Cheltenham Town snapped him up on November 6th 2003 and yes you`ve guessed it he took them up via the play-offs battering the Cods in 2006. He kept them up the following season before Carlisle came knocking in October 2007. He guided the Cumbrians to the verge of the Championship with a play-off position in his first season in charge but a poor start to 2008/09 ensured he left by mutual consent on November 3rd 2008. John unsuccessfully applied for jobs at Swindon and Port Vale (losing out to Micky Adams) prior to being appointed as Gary Ablett's assistant at Stockport County .
John then moved to Colchester United to work under Aidy Boothroyd but stuck around after Aidy took the Coventry job. Wardy guided United to 10th in League 1 in 20010/11 but was sacked, the following September, after no wins in 9. The Chairman acknowledged that there had been improvement everywhere but on the pitch, which in football is all that really matters. He was back in work in the December when Bristol Rovers engaged him until the end of the season for a fire-fighting second term. John turned down the job as Director of Football at Plymouth when he replaced Mark McGee, Rovers 4th manager in two seasons His 42 points from 23 games saw a 50% win rate gave them the gas to go from second bottom to mid-table security. Hope you keep that record going and help Rovers to get closer to where they belong Wardy. The potential of the club is fantastic – it wasn't that long ago (2006/7) that they took 30,000 to the Trophy Final and 40,000 to Wembley for the play-off final in the same season.
How Ward Got The City Job
In July 2013, Save The Might Imps, a Lincoln fan site recalled John Ward.