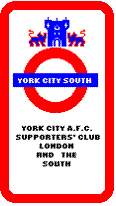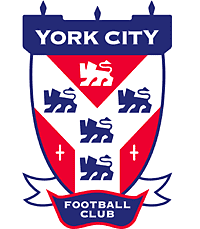 City History
Michael Ingham
This page was originally based on articles that appeared in The Press in November 2011, February 2012, February 2013 and June 2013.
Clean Sheets
With Ingham having put pen to paper to keep him on Cityís books until the summer of 2014, Paul Musselwhite also believes the club record of 120 clean sheets held by Tommy Forgan is a realistic target.
Ingham, on 90 (clean sheets at the end of the 2011/12 season), only currently trails Happy Wanderer legend Forgan on the all-time list, the goalkeeping equivalent of being the second top scorer in Cityís history, with Musselwhite feeling that achievement is worthy of greater recognition.
Only Happy Wanderers hero Tommy Forgan has now kept more clean sheets for York City than current custodian Michael Ingham.
The 1-0 FA Trophy victory over Ebbsfleet represented the 82nd of his Bootham Crescent career, drawing him level in the all-time list with another City goalkeeping great, Dean Kiely. Having reached that tally in 210 games ?29 less than his fellow Irishman, Ingham also boasts a clean sheets per game ratio of 2.56 that is comfortably better than any of the other celebrated shot-stoppers in the history of City.
Ingham is now well into the fourth year (2011/12) of his second spell at Bootham Crescent, having previously enjoyed a loan spell with the club from Sunderland back in 2003.
On his opportunity to pencil his name into the Minstermenís record books by keeping another 39 clean sheets, the former Northern Ireland international said: "I can only base my chances on how much of my contract I have got left at York.
"Iíve got the rest of this season and the next one (2012/3 (and subsequently extended to 2014)), so I can have a good stab at it in that time. If I stay long enough at the club, itís definitely something I will keep in mind.
"Getting the all-time clean sheet record would live with me forever and would be hard to beat."
On drawing level with ex-Republic of Ireland íkeeper and Premier League regular Kiely, Ingham added: "Iím over the moon to be as high as I am on the all-time list and level with Dean Kiely.
"I was told about how close I was to being second a while ago and I was gutted when we conceded the late goal at Kidderminster because Dean was in the crowd there so it would have been nice to have gone level with him then. But itís a great honour to have reached the same number of clean sheets as him in fewer games, considering how highly he was regarded and is remembered at York."
Ingham is also quick to share the plaudits for his high number of games without conceding a goal with the defenders he has played behind.
"The likes of Dan Parslow, David McGurk and James Meredith also deserve credit for the number of clean sheets Iíve kept," he pointed out. "They have been the mainstays while I have been here, although all the other lads have played their part too.
"There have been some games where Iíve had to pull off four or five saves to keep a clean sheet but others when Iíve not had to make a single save and thatís because the players in front of me have been a different class. Our defensive standards might have slipped a little this season but we still have the fifth-best goals-against record in the division and are always working on getting everything right at the back."
Currently playing his fourth consecutive campaign as undisputed first-choice between the Minstermen sticks, Ingham is the longest servant in that role since Kiely left for Bury 16 years ago.
The likes of Tom Evans, Chris Porter, Mark Ovendale, Alan Fettis, Bobby Mimms, Mark Samways and Andy Warrington all donned the City number-one jersey in the interim period. Ingham added: "I know the goalkeeping position had become a bit of a problem before I came here so, hopefully, Iíve brought a bit of stability to the role."
The Preston-born 31-year-old, meanwhile, has signalled his intention to carry on playing for another decade, a desire that will see him attend yoga classes during the close season.
He said: "Iím already putting the wheels in motion to ensure I can go on for as long as possible and get those extra years added to my career. Iíve looked at how the likes of Gary Speed played for so long and how Ryan Giggs is still going.
"Iíve worked on my diet a lot this season and, like Giggs, I want to take up yoga. He says thatís the reason why heís still playing and I want to give it a try.
"Iíve not had the chance yet as youíre probably a bit sore when you first start doing it and that would be no good during the season. But I would like to go on until Iím 40.
"Mussy (Paul Musselwhite) is still flying around in training at 43 so I donít see why I canít be, if I take care of myself."
City Highlights
In January 2003, when the chance first came to sign for City, his Sunderland reserve team boss, Ricky Sbragia, sealed the deal, "go, its a great little club", he said. The deal took a few days to sort out due to City's financial worries but essentially Sunderland paid his wages and City his expenses. As he was walking in, the first person he saw was his international teammate, Alan Fettis on his way out. He entered a nervous dressing room where the players couldn't be sure if they'd be paid every month.
By 2008, having had a few seasons as a first choice keeper, he found himself on the bench at Hereford, just promoted and 2 divisions above City. The lure of first team football and a 2 year contract swayed his decision.
2012 stands out, particularly his clean sheet at Mansfield and then beating moneybags Luton at Wembley was "very satisfactory".
Goalkeeper Michael Ingham is celebrating becoming York City's third longest-serving goalkeeper Ed - He went to make a total of 328 City appearances, topping Crawford's 280.
That follows the former Northern Ireland international completing his 250th game for the club against AFC Wimbledon in the FA Cup last week (3rd November 2012).
The 32-year-old still currently trails a couple of true club legends in Tommy Forgan (428) and Graeme Crawford (280), who are undoubtedly two of the greatest keepers ever to represent the Minstermen. But he has recently surpassed another of York's leading shot-stoppers in Dean Kiely (239).
"It's a great honour to be up there with the likes of Graeme in terms of appearances for the club," Ingham told The Press. "I was at the past players' dinner last week listening to the great stories he had to tell about his time with the club.
Crawford was an ever-present for the Minstermen during the clubís only two seasons in the second tier of English football and Ingham holds the 1970s?hero in high regard, saying: "Itís a great honour to be up there with the likes of Graeme in terms of appearances for the club.
"It was very nice to talk to him and to hear that he likes what I'm doing as York keeper," he added. "He told me to keep doing what I am and it's great to hear that from a club legend. He even asked if I would give his grandson a signed pair of gloves. I said Ďof course? but that I felt he should be asking for a pair of his grandadís gloves really. Graeme said he has done but that he never wore any, so we had a good laugh about that as well."
And with 96 clean-sheets to his credit at present, Ingham is also closing in on the current club record of 120 held by Forgan, who starred for the famous 'Happy Wanderers' FA Cup side from the mid-fifties.
Ingham, 32, is also refusing to rule out completing a decade of continued service with City, which would see him challenge Forganís games tally as well as the Happy Wanderers' club clean sheet record, which stands at 120.
"All Iíve thought about is staying here where Iíve been made to feel welcome by everybody from the chairman to the fans, who have been different class to me.
"Iím also enjoying my football under the manager so, at this present time, Iím thinking why should I ever leave York City while things are going so well for me? If I stay fit and healthy, then this contract will take me to six years and, then, if I could have another four that would take me to ten and a testimonial, which would be nice.
"But Iíve been in the game long enough to know it could all come crashing down if I have a dip in form or a serious injury. Then, all those dreams can be taken away from me in an instant."
For now, though, Ingham is just delighted to have established himself at City for so long.
"Itís been brilliant to be first choice all that time. You always want to be a number one somewhere. York City will be known as my club unless I go on to play as many games somewhere else but I donít see that in the foreseeable future."
100 Clean Sheets
Ingham celebrated his one hundredth City clean sheet in the 0-0 draw with Gillingham on February 12, 2013. Only Happy Wanderers legend Tommy Forgan, who kept goal during Cityís FA Cup semi-final ties against Newcastle United in 1955, is ahead of Ingham with 120 on Cityís all time list.
Ingham, looking back on his collection of clean sheets, recalls several candidates for his favourite but one, in particular, stands out, ďGetting one on my debut at Hull in 2002 was nice because you always want to set your stall out with a clean sheet at a new club,Ē he explained. ďThe one at Wembley against Newport in the Trophy final was special as well but I think Mansfield away in the play-off semi-final last season stands out On retirement, he rated Mansfield as his best clean sheet given the circumstances surrounding the first leg - Ed.. We are a footballing side but that match was a different kind of game. I had to deal with lots of long throws and balls up to their big man, as well as 7,000 fans on my back for apparently getting their striker Matt Green sent off in the first leg. There was a lot of pressure so I was delighted with that clean sheet.Ē
Ingham admitted he is also pleased with a ratio that has seen him hit his century in 268 appearances but added he felt privileged to be compared to some of the club's goalkeeping greats, one of whom, 1970s hero Graeme Crawford, sent him a congratulatory email. He said: "Tommy Forgan did 120 in 428 games so it would be great to get to his record before 300 or 320. I'm contracted until the end of next season (2013/4) so there's an opportunity to do it in that time. Really, though, just being mentioned with the likes of Tommy, Dean Kiely and Graeme Crawford is an honour as they are all legends at the club."
In June 2013, Forgan, 83, and the last surviving member of Cityís famous semi-final Happy Wanderers team, said from his home in Perth, Australia, ďI would love it if Michael broke it (my record). At that time, Ingham was 14 clean sheets shy of Forgan.
Farewell
Having signed a new one year deal in the summer of 2015 (despite turning down at least one offer from a higher division club and only being offered half his previous wage), Michael played second fiddle to Scott Flinders throughout the 2015/6 season.
On July 1, 2016, his partner, Megan Boyne, released the following statement on Facebook. Well the decision has been made, Michael has made the biggest move of his life today and has left York City Fc. After 9 years at the club and with the offer standing of another year there, he has decided he needs to put his family & future first and quit full time football. Decision wasn't made easily, after his whole career as a professional footballer, including 3 caps for his country Northern Ireland, Sunderland FC and other teams and a long stint at York including their Wembley wins that got them into league 2... it's not easy stepping down when football is all you've known. But it's a choice he's made for our family and to better his future career. I am so proud of him, I've never met such a loyal, genuine man and for him to remove himself from a club he loves and has dedicated his time & effort to so much, it has not been an overnight decision. Ingy doesn't have Twitter or Facebook so I'm just going through the motions for him. Bigger things are to come for Ingy and I am so excited for the new opportunity he's been given for his future...
By that time, Michael had made a total of 328 appearances, in all games for City and kept 116 clean sheets (throughout a full game, but Michael would argue its 117 as he kept a clean sheet in 2 halves he played when coming on at half time!), 4 short of Tommy Forgan's record.
Shortly afterwards, Michael revealed heíd full time football in favour of a coaching role with the I2I Football Academy in York, where the three-time capped Northern Ireland international will be working alongside the likes of fellow one-time City players Richard Cresswell and Jonathan Greening.
ďIt was very tough [to leave York City]. It's not one [decision] that I made overnight. It took me a few weeks to get round it but at the end of the day, I had to take a 45-50% pay cut last year (2015) and it put a strain on my family life. Unfortunately I haven't been able to get a mortgage for a house due to the insecurity of a one-year contract. One of the main decisions was to put my family first, instead of putting myself first and looking after them. I've got a little one-year-old now that hasn't got a garden to crawl about in. So sometimes you've got to put life into perspective and look after your familyĒ.
ďBut from the York City side it was just very tough because I've got really attached to the football club. I'm not going to hide it but I fell in love with the football club as well. It's a great place and supported by fantastic fans: diehards, some crazy ones but they've all got the same motive in mind that they've got the club at heart. I loved it there and hopefully one day I could go back and work in some capacity."
"The (coaching) job now is the most important thing, rather than the playing. I've also made a decision that I'll not be travelling far because I've got to concentrate on my I2I job, it wouldn't be fair to all of a sudden be travelling on a Friday for an overnight stay. It probably limits my choice a bit in that I've got to stay as close as I can. I've had a few pro clubs phone me because they didn't really know about the (I2I) job. I've had a couple of clubs in League Two and a couple of pro clubs in the Conference. But the only pro club I would have signed for is York City."
As a young keeper on loan to City, he impressed, replacing the recently departed Alan Fettis between the sticks. His was later to follow Fettis into the Northern Ireland goal where he won 3 caps.
However, his career never quite hit the heights that his early form suggested.
He returned to York in 2008 and immediately established himself as our number one.
Undoubtedly, 2 Wembley wins in a week in 2012 are the highlights by which we will always remember him.
I remember him as a keeper who would easily chat to City's young fans behind the goal during the warm up, enjoying his football but also happy to connect with supporters.
Roll on City's next Mr Dependable between the sticks.
Michael Inghamís shirt number choice (number 24) is a personal tribute to his friend Ronan Gilmour who died aged 24.
Ingham is the only visiting player to play in the last game at Hull's Boothferry Park ground and their new KC Stadium, playing for Darlington (on loan) and then for Sunderland in a friendly to open the new stadium.
Keepers, A History of City's Keepers