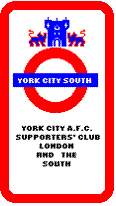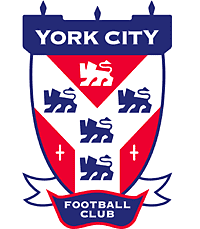 City History
Tony Canham
Chris Dale, Phil Boyer, Dick Hewitt, Mick Mahon, Albert Johanneson, Tommy Henderson, Don Burluraux, Alan Murray, Dennis Wann, Richie Taylor, Ian Butler, Phil Taylor, Barry Lyons, Eric McMordie, Derek Downing, Gordon Staniforth, Chris Galvin, Ian McDonald, Jimmy Walsh, Billy McGhie, Alan Waldron, Bobby Hosker, John Bentham, Gary Ford, Brian Pollard, Alan Pearce, Gary Nicholson, John Lowey, Gary Himsworth, Gary Howlett, Wayne Hall and Kevin Dixon.
They are just some of the players I have seen either wearing the number 11 shirt or patrolling the left wing in my first 30 years of watching York City, before and during the Tony Canham era.
Many of the names I had just about forgotten about. A few went onto greater things, but none gave me as much pleasure as Tony Canham, who in his 10th and testimonial season at Bootham Crescent is still giving me, and I'm sure many City supporters, as much pleasure as ever. He may not have quite as much pace as he once had, but still, put the ball on his foot and he is off. Defenders still find it as hard as ever to dispossess him, at the end of his runs, the shot can still be lethal.
Alternatively, who better to slip a slide rule pass through to Paul Barnes? That combination has been responsible for quite a few goals over the last 2 seasons.
It says much for Tony that he has held down the position for as long as he has. Before him, Denis Smith had tried several players on the left wing. None could make it their own. Several half hearted challengers to Tony have been beaten off. Indeed, while managers may have looked at strengthening the side, none of them has seriously looked at attempting to find someone better than Tony Canham.
One challenger, Wayne Hall had to settle for the left back shirt. Indeed, at times, Tony has challenged for the left back shirt himself. Always prepared to drop back to help his defender, Tony got to wear the number 3 shirt at Brentford in February 1993. He earned my vote as City's man of the match.
I know that when the time comes, and let's hope its not too soon, Tony will be a hard man to replace.
Tony must rank as one of our best ever signings. Having failed to make the grade, mainly through a lack of inches, as a junior with Leeds United, he'd returned to Harrogate to play for Railway Athletic. Denis Smith asked him along to York where he played successfully for the reserves before signing his first professional contract. He scored the winner on his debut.th
His long mazy runs thrilled the crowd and caused many anxious moments for opposing defences and keepers. A long run being finished off with a rasping shot. On 2 occasions, he was our top scorer for the season. Who will ever forget that long run at Anfield towards The Kop that ended in a goal in 1986 or the winner against Chelsea in The league Cup?
Incidentally, when researching this article, I discovered a few other interesting names to have filled the number 11 shirt. John MacPhail made his City debut at number 11, Keith Walwyn has worn it and Steve Tutill wore it on several occasions in the early days of his City career. When you mention City stars of the recent years, Tony Canham's name is one of the first you name, alongside MacPhail, Walwyn and Tutill.
After leaving City, having enjoyed a testimonial against Leeds, his boyhood heroes, Tony had a successful season with Hartlepool before returning to local football in the Harrogate area.
Tony left City in 1995 having scored 57 goasls in 347 league appearances. His City career spanned the successful Denis Smith side of the 1980s and our 1993 Wembley winning side where he scored one of the penalties in the shoot out. To this day, he can often be seen at Bootham Crescent.
In action Tony Canham (1)
In action Tony Canham (2)