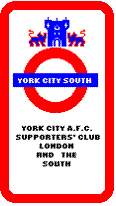 City History - Keepers
This page is dedicated to the goalkeepers who kept goal for City between our entry into The Football League in 1929 and May 1994. Its based on a series of articles that first appeared in New Frontiers in the 1990s and was updated after the 2014/5 season with statistics to the end of the 2015/6 season.
Whilst the rankings are calculated from team results, games ending with clean sheets or 3 or more goals conceded are also taken into account. Some would argue as the game has gradually become lower scoring, both these factors favour modern day keepers. Other would argue the rankings are more reflective of on the pitch team success rather than keeper performance. To some extent, both positions are true. However, I suspect, if you name your choice as our best ever City keeper, many would appear somewhere towards the top of the ratings. Check the data and you decide for yourself.
Introduction - Keepers From Farmery To Kiely
You decide Who Is The Best? Ratings and playing records of all City keepers. PS Scott Flinders is the 40th best ever City Keeper
Check pen portraits of some of City keepers through the ages.
Some high profile City keepers.