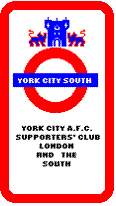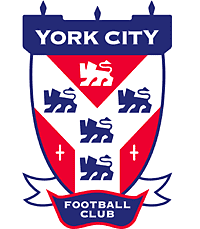 new frontiers (issue 6)
Update
Bradford Park Avenue have moved to another ground. They've moved from Bramley RLFC down the road to Mount Pleasant, home of Batley RLFC. Dewsbury are also ground sharing there this season.
Dave Batters hopes to run another in his series of football talks. Hopefully, at Bootham Crescent, watch out for details.
"Who was Steve Murray" was the big talking point from the last issue of New Frontiers. Steve, featured on the back page, played 3 times, including once as sub, for City in 1986 while on loan from Nottingham Forest. He made a big impression as a very skilful midfield player. Apparently, there was never any chance of a permanent move as Brian Clough only wanted to give him experience of first team football. On his return to Forest he became homesick and returned to his native Scotland, joining Celtic where his career ended through injury. In Dave Batters' excellent book, York City. A Complete Record, a typographical error names him as Steve Murphy in the Player's A-Z section.
At the Brentford game, Chris Topping was spotted in the David Longhurst Stand and Norman Wilkinson in the main stand.
Ex City youth and reserve player, Clive Mulhall rode his first winner as a jockey at Carlisle in November. Kenmore Speed, the horse. 20-1 the price. Clive is the son of Joe who trains horses (I hesitate to call them racehorses) on the Knavesmire.

Try previous article or next article or email the new frontiers editor cum webmaster. Back to the new frontiers first page.

If you liked this, try this, or that or the other.

If not, try this or visit the Scarborough FC web site York City South