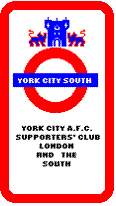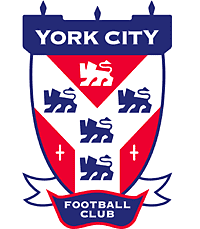 James Walker Memorial Trophy - York City South Player Of The Season
Its that time of the year again, your chance to vote for City's player of the season. The York City South award is decided in April and is presented by YCS when we're in a sponsor's box on April 21st for the Leamington game. The club's own "Billy Fenton Clubman Of The Year" and several supporters club awards are also decided in April.
Click the dates and links below for more.
2018
Friday March 30 York City Clubman Of The Year Award - The History Read the history of City's Clubman Of The Year award, named in memory of Billy Fenton, one of our 1954/5 Happy Wanderers, who took City to The FA Cup semi finals. Plus read about Billy Fenton after whom City's own player of the year award is named and watch footage of his and our team's goals as we reached the 1955 FA Cup Semi Final and a sneak look at action from our 1938 FA Cup run. Trivia Time: Which of City's Clubmen winners has the player of the season trophy named in his honour at one of his previous clubs?

March 31 The James Walker Memorial Trophy Read the history of York City South's own player of the year award.

April 1 Keepers Recall the careers of every City keeper. Some went on to much better things, some legendary keepers came to City in the twilight of their careers. Do you agree with our rankings of City's greatest ever keepers? Trivia Time: "Get your hair cut young lad", which City keeper was on the receiving of Brian Clough's barbed comment.

April 2 Paul Aimson Many would call him City's best ever striker. Trivia Time: For which Division 1 club is Paul Aimson's grandson now playing.

April 3 City Book Club How many books have been written about City and / or by players who played for City. More than you'd think. Plus an updated section on City's many fanzine and supporters' publications. Trivia Time: Which ex City player wrote a biography of U2.

April 4 The Naughty Steps Today we recall many City personnel who got into trouble, some ended up in prison, others broke no law; some got off lightly, others got a hard time, only a couple make it onto the lower rungs for their on the field antics.

April 5 City Abroad Recall some of the City players to have played abroad, taking in Turkey, a Canadian fireman, China and Malta where a former centre half played in the European Cup.

April 6 Young Guns How many of City's youngest eleven players do you remember?

April 7 The Chamber Of Horrors 12 nightmare games from New Frontiers, issue #13 included our 1955 Happy Wanderers, Steve Cooper and the perils of being a City ball boy.

April 8 League Standings Depressing reading I'm afraid. More relegations than promotions, more lower table finishes than upper table and a steadily declining league position.

April 9 City Player Records Download details of all City's players, transfer fees, match stats and contract end dates. Also Andy Naylor's City facts and figures detailing every City game.

Tuesday April 10 The Contenders Voting closes on April 11. Still unsure who to vote for? Here's our guide to the front runners.