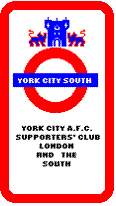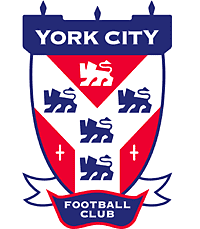 YORK CITY - VICE PRESIDENTS
LATEST:
A message from Richard Adams. During my tenure as Chairman of the York City Vice Presidents, the Group has fund raised throughout each season. The money raised has always been directed towards specific projects or requirements of the football club. Over the years we have seen the money raised used to improve the facilities at the Wiggington Road training ground, irrigation schemes and equipment used at the club. The aim of the Vice Presidents has always been to assist the Chairman and the Board of Directors financially from our fundraising. The membership run the very successful '200 Club' through the season, Golden Goal on match days, organise a Christmas Hamper Raffle and hold an Annual Dinner towards the end of each season. Over the last couple of seasons the Vice Presidents have also tried to work closely with the Supporters Trust and the various supporters groups. Last season the East Riding Minstermen made a very generous donation to our cause and this has been added to our overall fundraising for last season. Like all the supporters of our great club we owe so much financially to our Chairman, Jason McGill, who has kept our club 'alive' through very difficult times and what seems to be never ending, the delay in our move to the new Community Stadium at Monks Cross. Thanks to him and his company, JM Packaging, we find ourselves in a position to kick-off the new season with real hope. Thank you, Mr Chairman, we owe you so much. Following our great Wembley win I had a brief conversation with our manager Gary Mills. During the conversation he mentioned Pre-Season and how he would like to take the squad away as a 'bonding exercise', but it may be a problem financially for the club. I circulated my fellow VPs with a proposal to use part of the money we raised last season to fund their four days in Leicestershire. The response was unanimous to the money being used for the squad's pre-season bonding exercise. I approached the club with an offer to fund the away trip and I am delighted to say they accepted our offer. The membership believes this is an ideal way of showing our support for the Club and the management team. I would like to wish the team all the very best for the forthcoming season, one that hopefully will see us return to the National League in 2018-19.
Christmas 2017 - Christmas Hamper draw, for details and tickets, email Richard Adams or phone him on 07766 398 073
Golf Day - October 9 2017 (see below)
Friday 31 March 2017: The Vice Presidents are holding their Annual Dinner at the York Marriott Hotel. The event is attended by the Club's Board, the manager and his management team with their wives and friends. The event forms part of our annual fund raising for the club, with a main sponsor already in place. There is a three course meal, with a selection of choices, including vegetarian or any other specific dietary requirements. There is an open invitation to any group of supporters or individuals who wish to attend for what is always a great evening with friends who just love to support City. Email Richard Adams or phone him on 07766 398 073 for full details.
STILL OPEN: 200 Club - 2017/8 membership at just £30 per season. At least 4 draws a season, each offering a £200 first prize (plus smaller prizes). Let's beat last season's 193 members who shared £1,800 in prizes.
Our Aim: As supporters of York City, Vice Presidents membership seeks to support and promote York City Football Club and to raise additional funds for the club.
Annually, York City Vice Presidents are able to present the Club with a substantial donation. As a group, our aim is to raise money through various fund raising schemes / events - all the money raised goes to the Football Club and and is normally directed to a particular cause or requirement of the Club.
The funds are donated to a specific target or requirement, often nominated by City's manager, one that is out of reach of normal club budget. Therefore, the donation really does make a difference.
Recently, we have donated money to be used for improvements and development at the Wiggington Road training ground and more recently provided a donation to purchase the GPS Trackers used in training and during games.
We need success for our great Club – we want to get behind them and be that extra man on the field.
Membership: We are a group of individuals, who are supporters of York City Football Club – we like most, are 'season ticket holders', we pay a slightly higher price for our tickets for which we receive hospitality. This is no different to groups taking hospitality in the sponsor boxes, the only difference is we do it week in, week out. Our membership / season tickets help the Club's finances enormously.

Vice Presidents are nominated or enquire about the position - the individuals are then invited by the Chairman / Board to become members.

The roll of a Vice President is not only to enjoy the football success, but also to play a part in stabilising the club's position through fund raising. The Vice Presidents are recognised as an integral part of the club and therefore their conduct should be in a manner expected by their position within the Club. Each Vice President has a seat in the Directors Box and is therefore mixing with the away directors on match day.

The cost of VP membership is £850 per season which includes full match day hospitality.
200 Club: Membership of the "200 Club" is open to all supporters. Our aim is to ask individuals to become members of the '200 Club'. The ideal number of members is 150. Membership payments will be split - two thirds to York City Football Club – one third in prizes. In recent seasons, membership has exceeeded expectataions leading to regular bonus prizesand additional funds for the club.
Each member will pay £30.00 per season to join the '200 Club' - this is paid annually, if possible by standing order to the York City Vice Presidents, a mandate is available on request from Richard Adams.
Each member is allocated a number for the season.
There is a minimum of four prize draws during the season – if we achieve a similar membership as the last 3 years, 2 bonus prizes will be added in the second and fourth draws.
Each draw consists of four or five prizes.
The prizes depend on the membership - more members, bigger prizes.
In the 2015-16 season, the "200 Club" had 166 members and raised £3,460 for our club.
In the 2016-17 season, the "200 Club" had 193 members and gave away £1,800 in prizes.
Some recent results:
The third of four draws took place on February 24th 2018 (Drawn by Tim Lawrence, a guest of the Vice Presidents):
Bonus prize (£100): Stephen Harker
1st Prize (£100): Patrick Crowley
2nd Prize (£75): Stephen Crockford
3rd Prize (£50): Chris Allen
4th Prize (£25): Andrew Laver

Congratulations to the winners and my thanks to all members for their support and contribution - RA.

December 23rd 2017 (Drawn by Robert Havercroft, Bootham Crescent stadium announcer):
Bonus prize (£200): Tony Precious
Bonus prize (£200): Peter Crack
1st Prize (£100): Graham Blythe
2nd Prize (£75): Ann Burgess
3rd Prize (£50): Jeffery Yoward
4th Prize (£25): Patricia Grant

Congratulations to all the winners and many thanks to all members for their support and contribution. Anyone interested in joining the 200 Club for remaining draws of the season please email Richard Adams

December 17th 2016 (Drawn by Sue Mills and Victoria Caskey):
Bonus prize (£200): Alma Player
Bonus prize (£200): Brian Kenny
1st Prize (£100): Bernard Wilkinson
2nd Prize (£75): Aiden Chalk
3rd Prize (£50): Neil Barnes
4th Prize (£25): Philip Duffey
October 22nd 2016 (Drawn by Sue Mills):
1st Prize (£100): Andrew Laver
2nd Prize (£75): Josh Wallbank-Scales
3rd Prize (£50): Philip Beck
4th Prize (£25): Jenny Skinner

April 30th 2016:
Bonus Prize (£200): Adele Walker
1st Prize (£100): Jim Ferguson
2nd Prize (£75): Steve Grayson
3rd Prize (£50): Brian Purves
4th Prize (£25): David Elcock Jnr
Membership is open to everyone at just £30 a season. The date for second draw of the season is to be announced.
Payments can by:
cheques made payable to "YCVP – (Ref: 200 Club)" and sent to Richard Adams, 210 The Residence, Bishopthorpe Road, York, YO23 1DQ
bank transfer (ideally annual mandate): A/C No 40293190 and Sort Code 09-06-66 with reference "YCVP (Ref: 200 Club)"
cash to Richard Adams
Pre Match Meals: As part of our fund raising, we organise 'Pre-Match Meals' through the season attended by our members and guests. The meal includes a main course followed by a desert plus cheese and biscuits. The wine is selected by our resident Sommelier, Gordon Gildener and is sponsored by one of the members. The meals are held once a month during the season and open to all but places are limited by the size of our venue.

Dates and menus are available on request from Richard Adams or phone him on 07766 398 073
Christmas Hamper Raffle: A Christmas Hamper Raffle is usually held annually and has proved to be very successful, in 2015, it netted £1,700 in profit. Items for the hampers were donated by members to produce a luxury hamper, plus three smaller hampers. We also obtained hampers from M&S, John Lewis and ASDA. Raffle tickets are sold by members but any assistance would be appreciated.
Upcoming Events:
Promotion for 2017-18 200 Club Membership – August 2017, first draw in October
Pre Match Meals: Shortly, a full programme of the meals for forthcoming season will be confirmed. The meals are held in the Vice Presidents Suite – the Minster Room, sitting down at 1pm. The cost is just £20 for a 3 course meal including wine. Guests are most welcome to join the Vice Presidents to sample the delights of the club's caterer before joining the rest of us to cheer on City. Contact Richard Adams or phone him on 07766 398 073 for details.
2017 Golf Day:
The Official York City Golf Day has proved to be a great success as a fund raiser for the football club. This year's event is on Monday 9th October 2017 at the Forest Park Golf Club at Stockton-on-the-Forest.
The organising committee are pleased to announce that a major sponsorship deal has been agreed with Elcocks Ltd of York for this year's event.
Registration is from 10.30am to 11.30am and followed by an 18 hole tournament (shotgun start) at 12:00. There are 5 team prizes plus 3 nearest the pin prizes, including an Audi TT for the weekend (courtesy of York Audi).
The golf is followed by dinner, prize presentations and an auction of sporting items.
For further details, including registration details and sponsorship opportunities, please email YCFC Golf
2016/7:
Pre season has got off to a flying start.
The York City Golf Day took place on Yorkshire Day, 1st August 2016 at Forest Park Golf Club, Stockton-on-the-Forest and as previous events was a great success with 22 teams competing with over £6,000 raised for club funds. Thanks are due to Elcocks of York for their sponsorship of the event for the second year, their ongoing support is much appreciated by the Club. Jackie McNamara, his management team and a number of players were joined by teams of club supporters and individuals competing for the prizes and trophy on offer. There was also a guest appearance by the ex-Newcastle United and England Manager, Steve McClaren. 1st place was won by Neil Ferguson's 'Bobbie's Flip Flops'. York Audi> sponsored nearest the pin on the 16th hole with the offer of an Audi TT for the weekend, this was won by Fred Beckley playing in the Hardstaff team. The top 5 places were filled by:
1st Place: 'Bobbie's Flip Flops' – Captained by Neil Ferguson
2nd Place: 'The Slingers' – Captained by Malcolm Slinger
3rd Place: 'North Yorkshire Ambulance' – Captained by Tim Amer
4th Place: 'Bellends' – Captained by Steve Bell
5th Place: 'Filey on Tour' - Captained by Adi Hammond
The organising committee would like to thank all the sponsors on the day and all those who took time out to participate and look forward to seeing you at next year's event
A week earlier Nick Theobald outbid everyone to be Jackie McNamara's assistant manager for the Doncaster friendly game. Many thanks are due to Nick and all the underbidders for making the event a success. Read More
Throughout the season, regular events, such as the 200 Club and pre match meals, contributed to funds. Fundraising wise, the Sportsmans Dinner on March 31st 2017 was a great success.
Personally, I'd had little interaction with the VPs until one matchday late in the season when I was invited into their lounge before a game. I was pleasantly surprised by the cross range of VPs and found them all to be very supportive of my York City Quiz Book.
Contact: For any queries about the York City Vice Presidents please email Richard Adams or phone him on 07766 398 073