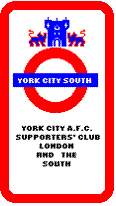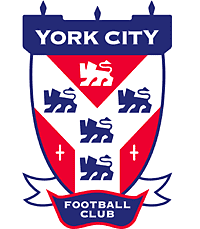 new frontiers (issue 8)
Editorial
Welcome back to New Frontiers. At the moment, each issue is proving more popular than the previous one. Thanks to your support, we have been able to donate an average (and rising) of almost £100 per issue to The York City Youth Development Fund.
Its looking like this maybe the last New Frontiers of the season. If it is, enjoy the rest of the season, and the summer. If it isn't, its because the likes of Phil Wormley, Roger Dawson and Neil Ferguson, to name 3, have submitted late contributions which deserve an airing, preferably before next season.
Bryan Foster
This issue is dedicated to Bryan Foster. As a youngster, Bryan had high hopes of a career as a professional footballer with York City, his local club. He didn't quite have the ability, but managed to spend a lifetime in professional football as a groundsman. Most of the time being spent at Bootham Crescent.
Always around Bootham Crescent, he was a popular figure and always had the time for a word or two.
The day before he died, he walked past me, had a quick word and a joke as he made his way into the ground for the game. That's the way I will always remember Bryan, a smile on his face and time enough for a chat.
New Frontiers wishes to extend its deepest sympathies to his widow and children.
Tony Canham
Tony is currently enjoying his testimonial season. He has given sterling service since 1984. Please support the various testimonial functions that are being organised for his benefit.
Some of the forthcoming activities include:-
March 20 - Quiz night at the Escrick & Deighton Club
April 10 - Quiz night at the Derramore Arms, Heslington
April 25 - Golf day, teams of 4, including a City player
June 4 - Celebration Evening Ball & Dinner.
I was particularly pleased to see a Celebration Evening being planned. It is aimed at both men and women unlike the traditional male sportsmanís dinner. Get along and support all the events that you can. If you would like to host an event contact Maureen Leslie at City or Pete Richardson on 0904 653051 extension 366.

New Frontiers will donate all profits from this issue to Bryan Foster's widow and Tony Canham's testimonial fund.

1993/4: How Was It For You?

Has the season lived up to all your expectations? I think most people would say that they have been pleasantly surprised by City's performances, many people saying that they have played much better football this season that they did last season. No one has let the side down. Everyone has adapted well to the higher division. Its a tribute to the side that many top clubs have been regular visitors at City games. If all the press reports are to be believed, then Dean Kiely, Andy McMillan, Wayne Hall, Steve Tutill, Steve Bushell, Jon McCarthy and Paul Barnes are among the players to have caught the eye of bigger clubs.

5-0 wins over Cardiff and at Blackpool have been the high spots of the season. But throughout, very few teams, if any, have outclassed City. Next season, a young side will be a year older, stronger and wiser. Looking around the side, Jon McCarthy has sometimes failed to live up to expectations. OK, my expectations of him are high, but on his day, he is a match winner. Remember Wembley, much of City's good work was due to Jon, he ran at defenders and laid the ball off well to colleagues. Just about the only thing he didn't do was to score. He hit the woodwork and missed when it was easier to score. If he played to that high standard every game, he would be attracting bids from Premiership clubs and not from the likes of Bradford City.

Cup Woe

One disappointing aspect of the season has, again, been the lack of success in the cup competitions. Rochdale knocked us out of the Coca Cola Cup. Their reward, a tie with Leicester. If that had been City, it would have been 2 exciting games as the Little brothers faced up to each other with family honour at stake. Another first round defeat followed in the FA Cup. A backs to the wall away draw at Burnley and a home game with Rochdale in Round 2 for the winners gave City the chance of a money spinning Round 3 game. I say money spinning, but really any Round 3 game would have been welcome. Can you remember the last time we reached Round 3?

A few days after defeat by Burnley, City crashed to another lower division team. This time it was an Autoglass Cup game against Mansfield. The one cup competition in which we have we (should) have realistic Wembley aspirations. A disappointing game, a terrible result. Looking at the teams who reached the quarter final stage, Wembley must have been a real possibility.

Next Season

I know its only mid March, but looking forward to next season things look good. The play offs, and possible promotion, are still not beyond the team if they can put together a good run. The team has proved itself to be more than capable and, hopefully, with a couple of astute new signings will be well prepared for a good season.

On the bright side, I believe that the majority of the squad have already signed contracts for next season. The bulk of the side is still young enough that we can expect them to improve next season. We should not expect to rely on players such as Paul Stancliffe and Tony Canham. I feel both players are at an age when any good performances from them are a bonus.

Paul Stancliffe still has that rare talent of making his centre back partner, whoever he is, look a better player for being alongside Stan. I remember thinking 2 or 3 years ago that Tony Canham was beginning to slow down a little bit. I revised my opinions when I realised that he is 2 years younger than myself. However, he will be 34 by the start of the new season. How many 34 year old top class wingers, or indeed midfield players, or even full backs, do you see today? I'm sure Jon McCarthy would relish facing a 34 year old full back every game!

When they do eventually relinquish their places, both Paul Stancliffe and Tony Canham will be hard to replace.

Of the other first team squad players, I can't see many being released. Perhaps Ian Blackstone? He's had a disappointing season and perhaps its time to offload him. The squad is already quite large, so if new players are to be signed, then some of the current players must go to make room. Both Glenn Naylor and Ray Warburton have been on the transfer list and would therefore appear obvious candidates. Personally, I would be sorry to see either go. In their limited first team opportunities, both have shown form which says that they have something to offer. The younger squad players, the likes of Graeme Murty, Scott Jordan and Mick Gosling, have had very few first team opportunities. It would be a shame to see any of them go. It could be construed as a blow to the youth policy if they left the club. Remember, Steve Bushell didn't come of age until reaching 21. These 3 are a couple of years younger.

Chris Forth

Contributions: Alan Glasby, Neil Griffin and Phil Wormley. More welcome. Send to the New Frontiers address below. Thanks: To the above, salesmen and everyone, especially Dave Wake and Graham Kilby, who helped. Thank you for buying it. Postal Subscriptions: £3.50 for the next 5 issues. £5 will get you all the back issues and a 5 issue subscription. Cheques payable to Chris Forth, please state which issue you would like your subscription to start from. Back Issues: Available from our salesmen who carry them, or 80 pence per issue by post. Also available, The York City Quiz Book, both volumes, £1 each.

Blueprint

BLUEPRINT of 47 Carlton Crescent, Gwaun Miskin, Pontypridd, CF38 2RS print New Frontiers. They have provided a first class service on all accounts. When I spoke to them about this issue, I explained I wanted a slightly bigger print run and more pages as profits were being donated to worthy causes. I asked how much extra it would cost. Blueprint very kindly said it would cost no more than usual. If you have any printing requirements I suggest that you contact Paul Hollingshead at Blueprint on 0443 205653.

NEW FRONTIERS Flat 2, 81 Westbourne Park Road, London, W2 5QH.

Try previous article or next article or email the new frontiers editor cum webmaster. Back to the new frontiers first page.

If you liked this, try this, or that or the other.

If not, try this or visit the Scarborough FC web site York City South