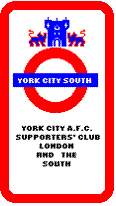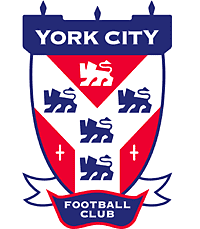 new frontiers (issue 7)
Look Back: 1984/5 Part 4
The big day arrived, so did Arsenal.
Arsenal were greeted by a crisp and sunny but inhospitable winter afternoon when they arrived at Bootham Crescent. City had left the snow on the pitch until the morning of the game when a volunteer army of supporters assembled very early to clear the pitch. A 10,840 crowd greeted the sides. Arsenal having returned some unsold tickets. City's side cost £19,000 to assemble, only Keith Walwyn and Keith Houchen cost transfer fees. Arsenal fielded 8 internationals.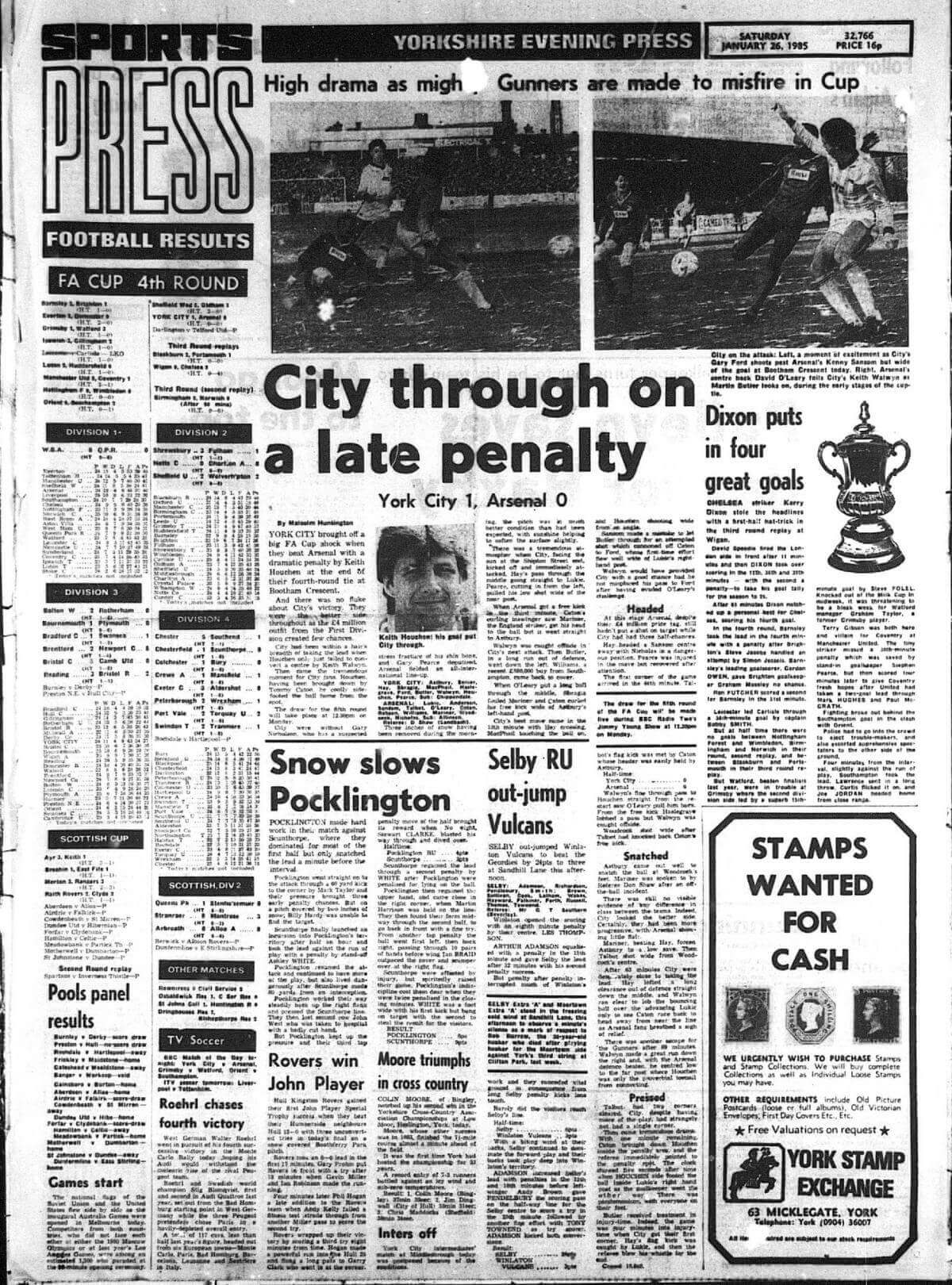 In the first half, City attacked the Grosvenor Road end. Mick Astbury being called into early action, diving at the feet of Paul Mariner as the referee blew for offside. At the other end, Walwyn and the rest of the City attack were frequently caught offside, the icy conditions not helping. Consequently, chances were rare. From one, Gary Ford shot wide after good work by Martin Butler. City's best chance of the half came after Keith Walwyn went down the right wing, Alan Pearce, unmarked at the back post was undecided whether to shoot or head when the ball came across. He stooped, and headed weakly wide.
At the other end, Arsenal's best chance came from a Kenny Sansom cross, Alan Hay managing to head the ball away with Paul Mariner waiting, unmarked, at the far post, (John MacPhail was laid injured on the ground), with a wide open goal beckoning.
The second half saw the temperature plunge and the pitch became even more icy. Mick Astbury made one fine save when Tony Woodcock ran free. At the other end, Martin Butler was running at defenders, keeping his feet while all around him were falling over. One run resulted in him shooting over the bar, another ended in a cross which Viv Anderson desperately cleared just as Keith Walwyn was ready to strike.
Soon after, Walwyn went close again. From Hay's lobbed pass, he ran clear into the penalty area and lobbed John Lukic, as the ball dropped agonisingly towards the undefended goal, Tommy Caton managed to head clear from underneath the cross bar. The strength and guile of Walwyn and Butler was causing Arsenal's defence much trouble, the better chances were now all going City's way. Butler shot over, Walwyn's cross narrowly evaded Keith Houchen. Arsenal substituted Charlie Nicholas, bringing on Ian Allinson in an attempt to stem the flow of City attacks. It didn't work. City continued to press forward with only 10 minutes left.
City continued to attack, but the game seemed to be heading for a 0-0 draw. And a Highbury replay. City won a throw in just inside Arsenal's half. Gary Ford left it for Steve Senior who throw the ball down the touchline towards Keith Walwyn, the ball broke for Martin Butler who charged off towards the corner flag. Defenders moved back, Keith Houchen lead the City forwards towards the area, as Butler crossed, Steve Williams' determined challenge on Houchen resulted in him going down. The referee, Don Shaw had no hesitation in pointing to the spot.
Williams' challenge had begun outside the area but continued as the players entered the area. Houchen finally going down just a couple of yards inside the box, in a position which was not really threatening. Besides Williams, Arsenal had other defenders back in position.
The fouled Houchen took the penalty instead of John MacPhail, the usual penalty taker. Keith Houchen took a classic penalty, placing it low into the extreme left hand corner of the goal as Lukic dived the other way.
From the kick off, Arsenal pumped a high ball forward, it bounced around City's penalty area pinball fashion before breaking to an Arsenal player whose shot felled Steve Williams. City were able to relieve the pressure and win a corner, their first of match. As Lukic collected the ball from Hay's corner, the referee blew full time.
Footnote: The win earned City the "Fiat Performance Of The Week" award, a panel of top managers, chaired by Bobby Robson, decided City merited the award. City nominated the York Boys' Club to received the award, a £250 cheque and a complete set of football team strip. Watch It - CITY 1 Arsenal 0
"Anyone, except York at York", is the FA Cup draw Bill Shankly once wished for during Liverpool's hey day. It was the 5th round draw in 1985.
Before the Liverpool game, City had unfinished business to conclude. A home won over Doncaster saw City progress in the Freight Rover Trophy. The game being memorable for the way Dale Banton and Martin Butler linked up in attack and for a thoroughly inept performance by Doncaster's rookie keeper. Keith Walwyn missed the game through injury. Increasingly, the treatment he was receiving up front was taking its toil.
Against Wigan on February 2, he took a fearful battering, mainly at the hands of Steve Walsh, but still managed to help set up goals for Gary Ford and Alan Pearce. Eventually, Walsh was to receive his marching orders. The crowd that day was 10,948, the biggest home league crowd of the season, and bigger than the Arsenal game, as people received cup tie vouchers as they entered the ground. Not everyone was happy.
They included those who:-
didn't get a voucher as they entered,
did but couldn't exchange it for a cup tie ticket as they quickly sold out,
lived outside York and had to endure an extra trip to the ground to get their ticket
missed the Wigan (in most cases the first time they had missed a game, home or away, for ages).
So strong was the sense of injustice felt by some, that chairman Michael Sinclair offered a full page explanation in the club programme as to the reasons behind City's ticket allocation scheme.
Whatever, the build up passed quickly. BBC, ITV and The Leeds Evening Post were just some of the outside media concerns who jumped on the bandwagon. The big game came, the gates opened early. I joined the queue about 12:45, it snaked through the car park, all along Grosvenor Road and round the corner.
Watch: CITY 1 Arsenal 0
Next Issue: "Anyone except York at York".
MEMORY LANE
30 years on, York City's victory over Arsenal in the fourth round of the FA Cup still resonates as one of the competition's big shocks. To mark the 30th anniversary of the game, ThePress asked Former York City manager Denis Smith, ex-players Ricky Sbragia and Keith Houchen and former Yorkshire Evening Press chief sports writer Malcolm Huntington to recount their memories of the encounter - a game that still stands as one of the Minstermen's finest results.
A star-studded side, put together at a cost of more than £4.5 million and featuring eight internationals, arrived at Bootham Crescent on January 26, 1985, confident of straight-forward progression into the last 16. But on a snow-bound day in York, they met their match against a heroic side that defied the odds to record a famous 1-0 victory.
January 26, 1985. FA Cup fourth round day. But, at Bootham Crescent, the game between York City and Arsenal is in doubt. With snow covering the pitch, the club issues a plea for fans to come and help clear the surface. A battalion of some 200 arrive, armed with shovels, and are rewarded when Sandbach referee Don Shaw gives the all-clear. Smith: "The odds would be against it taking place now. The staff were all out - myself and assistant manager Viv Busby too - but it was about the supporters basically, along with the groundsmen.
Houchen: "It was a really cold winter and there was a lot of snow on the pitch. They had put canvas sheets and straw along the top. Come the matchday, all that had to be cleared off. That was the thing about the FA Cup in the old days that you never see any more. The whole community, and all the supporters, used to get involved. They would be out on the radio for volunteers to come to the ground and clear the pitch - see if we could get the match to go ahead. I remember the referee inspecting the pitch, with the linesmen and the different managers. The players were out there having a look and you wouldn't have been surprised at all if you were getting back in your car and driving home."
Huntington: "I remember their manager (Don Howe) wandering about saying 'give the referee a cigar and let him get his feet up and have a coffee. It's not fit for play'. The referee decided it was fit for play."
Sbragia: "We had still got to play on it. No-one (on our side) grumbled about the pitch. We knew it was never going to be off. We just needed to get on with it. They had to play on the same pitch. We caught them. We felt that we could beat them. They weren't invincible. We had to play at our maximum and hope they had a day off."
With a team that included many internationals, the likes of Kenny Sansom, Viv Anderson, Tony Woodcock and Charlie Nicholas, Arsenal were huge favourites to win - despite fears the pitch would be a leveller for Third Division York. But there was a quiet confidence running through the Minstermen outfit that they could deliver a mammoth upset.
Huntington: "I think they had eight internationals and it was a £4.5 million Arsenal side and a £19,000 York City side."
Smith: "Arsenal were one of the top clubs and they still are. We were decent, though. I know it seems ridiculous to say we thought we would have a chance but we did. It was the way we were playing and there was a total belief in the side."
Sbragia: "There was always the belief. We'd had such a good year and we had a really good team. We always felt at home that we could beat anyone. The pitch was really tight and there were some conditions that really helped. They didn't fancy it. There weren't any negatives. Even the build up, it was similar to what we did in the league. We had a day off. We carried on doing the same things in training. We didn't really speak an awful lot about Arsenal. We knew they were really good players."
Houchen: "We weren't overawed by anything. Denis and Viv had us set up to have a go at them. We certainly weren't saying 'we'll keep the goals down or anything like that'."
The game gets under way. Teenager Martin Butler, the youngest player in the York side at just 18, latches on to a mistake by Sansom and surges forward. After breaking through a tackle and sweeping into the box, Gary Ford flies in behind and drags his shot wide. York are more than holding their own. It's 0-0 at half-time.
Smith: "I think they were shocked by the intensity of our play. We closed down as well as anyone in the league. We had good attacking players. The work rate throughout the team was incredible. We closed them down far quicker than they would have expected. And they struggled."
Sbragia: "We pressured them. You could get away with murder in those days. Physically, we dealt with them. As a back four, we felt really comfortable. We had two midfield players and certainly that massively helped us. But we always felt comfortable. At half-time, we felt 'we are in here, we've got something. We can win this game'."
Huntington: "It was a very level game. Mick Astbury had to make a couple of good saves from Paul Mariner and Woodcock - two important saves in the second half."
The second period. Anderson has to clear away at the far post with Keith Walwyn waiting after Butler again causes carnage down the right. Tommy Caton then clears off the line after Walywn lifts the ball over advancing Arsenal keeper Lukic.
It is heading for a draw. But, in the last minute, Butler again surges down the right. Houchen, arriving from deep, gets into a tangle with Gunners midfielder Steve Williams.
Huntington: "I can picture it. I couldn't understand why Williams had to foul. He was going nowhere."
Houchen: "It was a crazy foul. A needless foul. I always wondered what happened about that. I always wondered if he got fined for it or what his manager said after the game. It was probably ten yards outside when he first started to foul me. He had switched off and got a little bit lazy. We were in a really threatening situation. He realised I had a yard on him and, if the ball comes in, I am going to have a chance of getting on the end of it. He has obviously tried to take me out as quickly as he could. I think he fouled me again just as I got towards the box. I could actually feel his arms and legs all over me as I was coming into the box. The final time - it's always one of them. In the old days it was all well and good being honest and staying on your feet but, if it is a foul and if it is a penalty, make sure you get the penalty. He was hanging all over me. I thought 'I'm going to go to ground here anyway'. We went down in a clatter of arms and legs flying. Straight away, you are looking. Where's the ref? Has he seen anything? I always remember as I hit the ground, and he fell with me, I looked across and the ref was just coming into the box and he was actually putting the whistle to his lips. It was 'where's the ball? Where's the ball? Let me have the ball."
Huntington: "He (Williams) was tugging at him all the time. I saw it as a penalty on the day, I must say. And that's not just because I was hoping York City would win. He fouled him and I don't think they had any complaints, really. It was a daft thing to do."
As Arsenal players surround the referee, Houchen stands alone in the penalty area, the ball on the spot.
Smith: "Everyone seemed to be nervous except Keith. I was quite happy to watch it. I had belief in him. Within the team, the feeling was that he would do it. It was a team which believed in themselves, believed they were better than the level they were playing at. "<
Sbragia: "I thought Keith would score. I was hoping he would. You would hope to score from that distance. He was confident taking the penalty."
Huntington: "It was very nail-biting. I admired Keith Houchen on that day. You can imagine anyone in football shaking when they are taking a last minute penalty against Arsenal in an FA Cup tie for a small club. I seem to remember talking to him and he said he felt very cool about it."
Houchen: "I loved taking penalties. I really loved it. I always called it a free goal. My wife, Yvonne, was in the stand that day. "When the penalty was given, there was all the commotion and everything kicked off and the crowd were going mad. Arsenal were very professional and they held it up for three, four or five minutes. She said she was watching me all the time everything was going on and she said 'You looked like a little boy stood on the edge of the box waiting to take the penalty'. "She thought 'you are stood there all on your own and everyone is just waiting for you to knock it in the net. What if you don't?' People say 'did you pick your spot? Did you decide and not change your mind?' I think I used to put the ball down and just trust instinct. In my own mind, up until a couple of paces before I hit the ball, I wasn't sure myself whether I was going to go bottom or top. With that one I did give him (Lukic) the eyes. I was lining up and looking down at the right hand corner and looking and looking at the right hand corner. As I've hit it, I am looking at the right hand corner and cutting across it to hit in the left hand corner. I took him with my eyes and off he went. It was a sweet enough strike. When I watch it back now, it was always a goal. You know in your mind if you have scored and, as soon as I hit it, I could see that he was going the wrong way as I have struck it. It was right in the corner and it was the type of penalty where, if he had dived the right way, I am not really sure if he would have been able to save it. I think it went into the side netting in the end."
Pandemonium ensues. Houchen is buried under his team-mates. Moments later, the referee blows the final whistle. York City have beaten Arsenal.
Houchen: "That stand was slightly bigger in those days, behind the goal, and there were people up on the stanchions of the floodlights. You are watching. It has gone in and the crowd absolutely erupted behind that goal. I have gone running towards that side of the crowd, in the snow and everything, and Keith Walwyn was the first one who got me. Cor, he hit me - bang - came right in the back of me. "He was twice the size of me, 16 stone, and down we went and I don't remember much after that because I think everybody else came in as well. It was such an achievement for everybody. It's the recognition. It's a massive cup upset."
Huntington: "It was one of the headlines on the six o'clock BBC news, which was very unusual for football."
Sbragia: "They were really good times. I loved the club. I loved it when I was a coach. I really enjoyed it and they gave me my first chance. The club was fantastic. There are good people who run it and you wish them all the best. We were really buoyant. We had some bad times but we had some really good times as well."
Smith: "It was a day to remember. It's another piece of FA Cup history. We are there in the record books. It's something to be proud of and I think all the lads think of those days very fondly."
City v ARSENAL - Match Report
Twenty-nine years ago today magnificent York City were once again shocking the football world as multi-millionaires Arsenal were dramatically beaten by a last-minute Keith Houchen penalty in an FA Cup fourth round tie at a freezing cold Bootham Crescent.
Another chapter in City's FA Cup history had been written.

The mighty Gunners fielded eight full internationals against a York side who were then mid-table in the third tier of the professional game. City were always great cup-fighters but this was really something else on an afternoon of incredibly high drama.

Three inches of snow had to be cleared from the pitch prior to kick-off and moved to the perimeter of the playing area. The London aristocrats clearly didn't fancy the occasion as much as their fabulous opponents, with eighteen-year-old rookie striker Martin Butler leading the way as they adapted themselves far better to the trying conditions.

England centre-forward Paul Mariner had an early header saved by Mike Astbury and Tommy Caton was marginally wide from a free-kick. At the other end, Houchen went close and the irrepressible Butler saw a shot charged down before Gary Ford dragged the rebound wide.

It was certainly thrilling stuff despite both defences performing strongly. Renowned international strike pair Mariner and Tony Woodcock forced Astbury into a couple of fine saves after the break before the imperious Keith Walywn showed strength and determination to lob goalkeeper John Lukic - but Caton somehow recovered and scrambled off the line.

The Minstermen were fighting magnificently and Butler hoisted over on the end of a brilliant solo run, although a replay was looking the most likely outcome until history was made amid massed hysteria in the very last-minute.

Gallant York attacked one last time down the right through the combined efforts of Walwyn and Butler, and Houchen surged into the area only to be inexplicably brought down by Steve Williams. Referee Don Shaw instantly pointed to the spot directly in front of the vast, swaying ranks of home supporters.

Houchen picked himself up and as the high tension cut through the cold winter air, steadied himself to calmly sidefoot a famous winner inside Lukic's right-had post and write another piece of glorious folklore.

York City: Astbury, Senior, Hay, Sbragia, MacPhail, Haslegrave, Ford, Butler, Walwyn, Houchen, Pearce. sub (unused): Chippendale Goals: Houchen (pen 90)

Arsenal: Lukic, Anderson, Samson, Talbot, O'Leary, Caton, Robson, Williams, Mariner, Woodcock, Nicholas (Allinson 77)

Ref: D. Shaw (Sandbach)

Att: 10,840

BEATING ARSENAL: A 10 YEAR JOURNEY

City lost 3-1 to Arsenal in a FA Cup Round 3 replay in January 1975. It was to be the start of a mighty fall. Successive relegations and near bankruptcy occurred over the next 5 years. Denis Smith's arrival in 1982 was the start of an equally impressive rise.

In 1974, City reached 5th place in Divisiosn 2 (now The Championship) in November 1974. A month later there was the likely never to be repeated scenario of the Minstermen playing a league game at home to Manchester United during the 1974/75 season. 2 successive relegations from 1976 on soon put the club back into the Fourth Division, and at the end of the 1977/78 finishing in the re-election places, just one place above Southport, who were voted out at the end of the season to be replaced by Wigan Athletic, and three years after this they finished at the very bottom of the Football League.

City's revival began in May 1982, with the appointment of Denis Smith as manager. Smith, who'd played over 400 games for Stoke City between 1968 and 1982 and had, after breaking his leg for the fifth time in his career in 1975, been entered into the Guinness Book of Records as "football's most injured player", arrived at Bootham Crescent on loan from Stoke earlier during that season and assumed a player-manager's position for the 1982/83 season, overseeing the team rising to finish in 7th place in the table, the club's league position since getting promoted to Division Two in 1974.

Despite this improvement, though, few were prepared for what followed the following season, as York raced to the Fourth Division, becoming the first club since the introduction of three points for a win in 1981 to run up a hundred points in a season.

Led by the twenty-seven goals scored by John Byrne and the twenty-five scored by his strike partner Keith Walwyn, Smith's team finished sixteen points clear of second placed Doncaster Rovers and twenty-sixth points clear of fifth placed Aldershot after having led the table since the twenty-second of October 1983. The Yorkshire Evening Press subsequently labelled Smith's team as "The Team of the Century."

Keith Houchen was at Bootham Crescent for this record-breaking season, but had been an onlooker for much of it. He'd started his career in 1978 at Hartlepool United, where he scored 65 goals in 170 appearances over the next four seasons before financial difficulties forced Hartlepool to sell him to Orient for £25,000 in 1982. Houchen failed to sparkle in his two years at Brisbane Road, however, scored twenty goals over the course of two seasons before being sold on to York City at a £10,000 loss shortly before the transfer deadline in March 1984, with Denis Smith stating that "anybody who could score sixty-five goals playing for Hartlepool must have something." He made 6 appearances from the substitutes bench and started once over the remainder of York's title run-in, scoring one goal (on his debut against Aldershot), but it wasn't until the start of the following season in Division 3 that Houchen commanded a more regular first team position, tucked in just behind Byrne and Walwyn.

York started life in the Third Division strongly and went top of the table after a win against Bristol Rovers. Trouble, however, was just around the corner. The team were drawn to play Queens Park Rangers in the League Cup, and not only did Rangers run out eight-three winners over two legs, but John Byrne impressed the QPR manager Alan Mullery sufficiently for the First Division club to pay £100,000 to sign him. The sale knocked York off balance a little, though, and a disappointing run of results throughout much of the rest of the year – a s7-1 win against Gillingham with Houchen scoring a hat-trick notwithstanding – saw Smith's team drop to eleventh place in the Division Three table before recovering their poise in the new year.

Throughout this spell, the FA Cup at least provided a little light relief, with wins against Newcastle Blue Star, Hartlepool United and Walsall seeing them through to the Fourth Round of that competition.

The Fourth Round draw pitted York City against Arsenal at Bootham Crescent. The two clubs had met in the Third Round of the competition a decade earlier with Arsenal requiring a replay to edge through, and there were other reasons for York to be optimistic as well.

Beaten at home by Tottenham Hotspur on New Year's Day, the inclement weather conditions put paid to all of Arsenal's other January league fixtures apart from a draw at Chelsea, while in the previous round they'd been held to a draw by Fourth Division Hereford United, although they did put seven goals past them in the replay. At the same time, York had seen their form revive with two wins and a draw since the start of the new year going into the match.

Snow fell across Yorkshire throughout the last couple of weeks of January 1985, and on the morning of the match two hundred volunteers turned up at Bootham Crescent to clear it from the pitch. It was no great surprise that so many turned out to get the game on. Arsenal had won five successive matches to go top of the First Division table in October of 1984, but a run of two wins in their next seven matches dropped them back down towards mid-table and stirred feelings of disenchantment that supporters may have been feeling towards new-ish manager Don Howe, who'd replaced Terry Neill as manager a year earlier to little immediate positive effect. The efforts of the volunteers ending up paying off even though the visitors hadn't believed that they would, as Yorkshire Evening Press sports writer Malcolm Huntington later recalled, "I remember their manager (Howe) wandering about saying 'give the referee a cigar and let him get his feet up and have a coffee. It's not fit for play'. The referee decided it was fit for play."

So it was, then, that in front of a crowd of almost 11,000 people and the television cameras of Match of the Day, the two teams took to a rock hard pitch for the match. Conditions were difficult and it was, on the whole, a poor match, with just three shots on target throughout the first 89 minutes.

As the clock ticked down towards a Highbury replay, however, York launched one more attack. As the ball was crossed inside the penalty area, Keith Houchen attempted to pass the Arsenal defender Steve Williams, who inexplicably pulled him back for a penalty kick. As Houchen himself would later explain, It was a crazy foul. A needless foul. I always wondered what happened about that. I always wondered if he got fined for it or what his manager said after the game. It was probably ten yards outside when he first started to foul me. He had switched off and got a little bit lazy. We were in a really threatening situation. He realised I had a yard on him and, if the ball comes in, I am going to have a chance of getting on the end of it. He has obviously tried to take me out as quickly as he could. I think he fouled me again just as I got towards the box. I could actually feel his arms and legs all over me as I was coming into the box."

Houchen grabbed the ball and planted it on the penalty spot. In front of an open terrace of home supporters that was packed to capacity, he watched the movement of the Arsenal's John Lukic before rolling the ball to the other side of the goalkeeper's dive and into the bottom corner of the goal with a calmness that belied the obvious tension of the moment.

York City had knocked Arsenal out of the FA Cup. The story made the headlines on the BBC's evening news, and the match was the lead match on that evening's Match of the Day.

At the start of the following week, York were drawn at home against Liverpool in the Fifth Round of the competition. York's luck ran out against the champions of England, but they put up one hell of a fight, with Ricky Sbragia's goal with five minutes left to play cancelling out an opener for Liverpool scored by Ian Rush in front of a crowd of thirteen and a half thousand people. The replay, however, proved to be a step too far and Liverpool routed York by seven goals to nil, although the Third Division team did at least come away from it all with a healthy share of the gate receipts from an Anfield crowd of forty three and a half thousand people.

York City finished their Third Division season in eighth place in the table, but they would make their way through to the same round of the competition again, only to draw Liverpool again. This time around, they took the lead thanks to a goal from Gary Ford, but this time York were on the receiving end of a penalty decision when Steve Senior handballed. Jan Molby scored from the spot, and Liverpool won the replay at Anfield by three goals to one.

Keith Houchen left Bootham Crescent the following month. He'd ended the 1984/85 season as York's top scorer on eighteen goals, but the following season injuries kept him out of the team and he accepted an offer to sign for Scunthorpe United. Just a few months later, however, he impressed while playing for their reserve team in a match against Coventry City and was signed by the First Division club. A year later, he was stepping out at Wembley for Coventry against Tottenham Hotspur, scoring one of the iconic goals of the era and ending that day with an FA Cup winners medal.

Try previous article or next article or email the new frontiers editor cum webmaster. Back to the new frontiers first page.

If you liked this, try this, or that or the other.

If not, try this or visit the Scarborough FC web site York City South