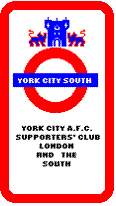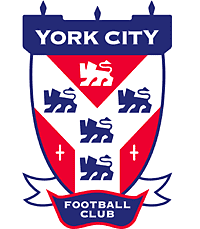 new frontiers (issue 6)
Commission Of Racial Equality: It Concerns You
I found it rather ironic that The Yorkshire Evening Press ran 2 articles on October 23 (1993) concerning York City's decision not to sign up to the initiative of The Commission Of Racial Equality (CRE) to kick racism out of football.
During the game that day, Brentford's tactics upset many City supporters. From near the front of the David Longhurst Stand I could hear racial abuse being hurled, from several different sources, at the Brentford players. In The Press that night, Keith Usher stated that the club didn't have a racial problem. We all can only hope that those people hurling the racial abuse that afternoon read The Press and CUT OUT THE RACIAL ABUSE in future.
One request made by the CRE was for all clubs to put an announcement in their programmes throughout the season detailing the initiative. Apparently, the pressure on space in City's programme is enormous and the club felt unable to place what was effectively a free advert in the programme. However, below, I detail the CRE initiative.
Adopt a policy statement outlining the club's opposition to racism, and actions it will take on supporters who shout 'indecent or racial' chants. The statement to be included in the match programme and displayed permanently in a prominent part of the ground.
If racist chanting occurs, make a public announcement condemning such behaviour.
Ensure a condition for season ticket holders prohibits them from racist chanting, throwing missiles onto the pitch etc.
Take action to prevent the sale or distribution of racist or fascist literature in and around the ground on match days.
Take disciplinary action against players who racially abuse players during matches.
Liaise with supporters' clubs to make the club's opposition to racism clear.
Stewards and police to have a policy to work together to eject supporters (or to take appropriate action) who contravene the 1990 Football Offences Act. If deemed dangerous, or inappropriate, to take action during a game, then those individuals be identified and barred from all further matches.
Remove all racist and fascist graffiti from grounds.
Adopt a policy of equal opportunities policy in the areas of employment and service provision.
Let's ensure that everyone follows all aspects of the initiative and prove York City's decision was justified.

2005 Footnote.

City never did sign up to the original campaign during the Craig era. I do recall both Douglas Craig and Keith Usher taking the microphone, before and during games to re-iterate the "cut it out" message, which I suspect is more than most club officials ever did. City eventually signed up to the campaign post Craig. Try previous article or next article or email the new frontiers editor cum webmaster. Back to the new frontiers first page.

If you liked this, try this, or that or the other.

If not, try this or visit the Scarborough FC web site York City South