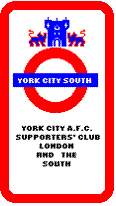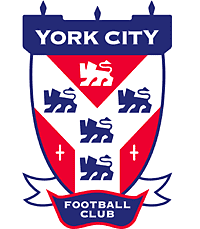 YORK CITY SOUTH FC
Pull on the City shirt, play Championship Manager for real. Have the power to sign new players and sack the old useless ones. The branch runs a football team in London, we play friendlies across the capital and beyond. Our former manager cited lack of washing powder and general depression caused by playing under the twin towers (but outside) Wormwood Scrubs as the reason for his resignation. So if you fancy seeing how easy it is, now is your chance. New players always welcome (especially if they're not called Lee (Ed - That was funny when it was first written, now I haven't a clue why I thought it funny)). Prospective managers and players email Dave Hattee for more details.
We don't ask for much. Just that our players have a good sense of timing (not 10 minutes after kick off), at least one foot (to stand on) and a good positional sense (to find the grounds we play on). Any footballing skills are an optional extra.
Games are often arranged on the morning of City's games against our opposition's supporters. We don't play in any league so its very much just for kicks.
We also play 5 a side in Brixton every Monday. We're at the Brixton Recreation Centre (SW9 8QQ, right out of the tube, turn right immediately after the train bridge and its on the left, one minute from the tube). Email Dave Hattee for further details.
Our very first game was played on Prince Charles' private helicopter landing spot. We had our best ever win one Sunday morning when Alan Little turned up at 9 o'clock to open the gates to City's training ground. I'm not saying anything about his tactics talk which lead to our 9-0 win. Alan also donated (or should that be press ganged by Woody) a set of City strip which we use to this day. Thanks Alan. So if you want to pull on the City shirt, you know where to come, you too can follow in the illustrious footsteps of the likes of John Borthwick and Andy Warrington.
New players always welcome.