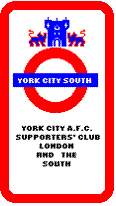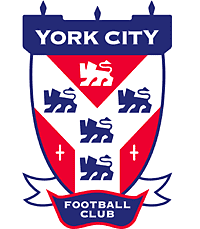 York City's Youngest Ever Players
This page, listing the youngest players ever to play for City, is based on an article that appeared in The Press on 27th November 2010 featuring City's youngest ten players
Reg Stockill 15 years 281 days: Winger who played for England Schoolboys and scored Cityís first ever goal in our first ever Football League game. Amazingly, with further first-team chances limited, he was allowed to leave for Scarborough after just one more appearance. He went on to play for the all conquering Arsenal (they were English Champions in each of his 2 seasons) and Derby, who he helped to finish as Division One runners-up, before injury ended his career. Scoring on his debut, makes Ray City's youngest ever scorer and at the time, the second youngest ever scorer in The Football league. What's the chances of another 15 year old playing for City?
Lee Grant 16 yrs 106 days: A centre back, he made his Minstermen debut against Bristol Rovers in 2002 as a substitute under Terry Dolan but turned down the opportunity of a scholarship at Bootham Crescent to sign for Aston Villa without manking any more appearances. For Villa, he played in 2004 FA Youth Cup final featuring Adam Johnson, Gabriel Agbonlahor, Gary Cahill and David Wheater. He returned to York on loan during Cityís first Conference season but drifted out of the game after a subsequent trial with Southport. Lee Grant was 18 years and 361 days old when he scored his first City goal.
Ryan Edmondson 16 yrs 140 days:
A first year youth scholar, he made his only City appearance as sub (replacing Amari Morgan-Smith on 73 minutes) againat Brackley on 7th October 12017. He struggled and was quickly back in our youth side. However, having been on the radar of many big clubs, he joined Leeds 5 weeks later for an undisclosed fee and was soon knocking in the goals for their Under 18 side. He was the first player born in the new millennium to play for City. Ryan couldn't mark his only appearance with a goal.
Vinnie Steels 16 yrs 244 days:
A recent signing from Darlington, he made his debut as substitute at Nuneaton on April 10, 2018. A first team goal for City before April 10 2019 will make Vinnie City's second youngest ever goalscorer.
Ben Hirst 16 yrs 292 days:
Made 5 appearances early in the 2014/5 season before being released at the end of the following season. Ben never scored for City.
Mick Astbury 16 yrs 298 days:
Played in the famous FA Cup final victory over Arsenal and 1985 games against Liverpool. Had a spell as Cityís number one before plying his trade in the lower leagues with the likes of Peterborough, Darlington, Chester and Chesterfield. Unsurprisingly, Mick never scored for City.
Michael Staley 16 yrs 305 days:
Home grown right back who featured 11 times during the 2004/5 season. An unused sub on the last game of the previous season, if he'd taken to the pitch, he would have made #4 on the list. He never scored for City.
Sam Fielding 16 yrs 341 days:
Home grown midfielder who made his debut in the last days of Jackie McNamara's reign as manager and created a good impression. Didn't get a chance under Gary Mills and despite being offered a professional contract in summer 2017, he declined and signed for Barnsley. He never scored for City.
Marco Gabbiadini 17 yrs 67 days:
Hit a hat-trick for City at the tender age of 18 after becoming the first apprentice to turn professional under Denis Smith, who later took him to Sunderland. Sold by City for £80,000, we made a further £350,000 when Gabbiadini moved on to Crystal Palace for £1.8million as part of a sell-on clause. He bagged a total of 226 League goals during a prolific career. Marco Gabbiadini was 17 years and 209 days old when he scored his first City goal, making him City's second youngest ever scorer.
Scott Jordan 17 yrs 90 days:
Scored the goal that ultimately saw off the challenge of Manchester United in Cityís famous 1995 League Cup victory. Previously been a much heralded member of the City youth side that reached the quarter-finals of the FA Youth Cup. Moved to Scarborough, though, before leaving the professional game at the age of 27. Scott Jordan was 19 years and 56 days old when he scored his first City goal.
Alex Rhodes 17 yrs 94 days:
Home grown striker who made 3 appearances as substitute betwen April 2006 and November 2007. He never scored for City.
Steve Tutill 17 yrs 97 days:
Former England schoolboy international, who once attracted the interest of Manchester United. Went on to become City skipper and served the club with distinction for a decade before joining Darlington. Later spent time in prison as a prison officer. Steve Tutill was 19 years and 210 days old when he scored his first City goal.
Alex Bruton 17 yrs 97 days:
Debut as a substitute at Bromley in November 2016, his only City appearance. Released at the end of that season, he joined Gateshead. Alex never scored for City.
Colin Addison 17 yrs 119 days:
Played in our 1958/9 Division 4 promotion winning side before leaving for a then club record £12,000 to Nottingham Forest. Went on to join Arsenal and Sheffield United before achieving success as the manager who guided Hereford to one of the biggest FA Cup shocks ever, their 2-1 win over Newcastle in 1972. Also Ron Atkinsonís number two. Colin Addison was 18 years and 118 days old when he scored his first City goal.
Adam Boyes 17 yrs 135 days:
Tracked by the likes of Manchester United, Middlesbrough and Tottenham after breaking into Cityís Conference side. Left for Scunthorpe (about £50,000) where his career stalled, just one 89th-minute appearance as a sub to show for his 17 months before his 3 year contract was cancelled by mutual consent. Adam Boyes was 18 years and 91 days old when he scored his first City goal.
Lev Yalcin 17 yrs 173 days:
Former Turkish youth international who was pursued by top clubs in that country and Belgium before failing to come to terms with non league football at City. Later played for numerous north east non league clubs, including Whitby, Billingham, Stokesley and Spennymoor. Also worked on North Sea oil rigs. Lev Yalcin was 19 years and 194 days old when he scored his first City goal.
Glenn Naylor 17 yrs 190 days:
Enjoyed a respectable strike rate after breaking through at City with 32 goals from 87 starts. Left for Darlington, however, after finding it difficult to nail down a regular place at his home city club. One of 3 City players to make the cover of new frontiers. Glenn Naylor was 18 years and 112 days old when he scored his first City goal.
So, anyone fancy that lot?
Young Teams
By the end of the 2003/4 season that saw City relegated from The Football League, we were fielding one of our youngest ever line-ups. The team that faced Leyton Orient (May 1 2004) at Bootham Crescent was certainly the youngest since the John Bird era and around the same 21.5 years of age that lined up at Scunthorpe on March 2, 1991.
In 1991, against Scunthorpe, the team was: Dean Kiely (aged 20), Andy McMillan (22), Wayne Hall (22), Shaun Weatherhead (20), Steve Tutill (21), Steve Bushell (18), Richard Crossley (20), Tony Barratt (25), Ian Helliwell (28), Iain Dunn (20), Glenn Naylor (18). Scunthorpe won 2-1. It was Bushell's debut.
Against Orient, we lined up with: Chris Porter; Graeme Law, Stuart Wise, Leigh Wood, Dave Merris (Sean Davies); Adam Arthur (Kane Ashcroft), Chris Brass, Darren Dunning, Bryan Stewart; Lev Yalcin, Liam George (Andy Bell). Subs not used: Dave Stockdale, Michael Staley.
The average age of the team which started the match was 22 (22 and 6 days). After Liam George, David Merris and Adam Arthur had been replaced by Andy Bell, Sean Davies and Kane Ashcroft, the average age of the playingsquad had dropped to 21.4 years (21 and 148 days).
For the final Legaue game a week later at Swansea, the average age of the starting XI was 21.9 (21 years and 334 days). City already relegated, were seeking to avoid a club record twentieth successive league game without a victory. Player-manager Chris Brass reacted by turning to the kids, with five teenagers named in his starting eleven, plus two eighteen-year-olds, a seventeen-year-old and sixteen-year-old on the bench. The late Kane Ashcroft, 17, received a full debut in midfield and was later joined by forward Robbie Haw, also 17. But centre-back Michael Staley, just 16, missed the opportunity of becoming the fourth-youngest player in City's history as he remained watching from the sidelines. Swansea included current Everton manager Roberto Martinez in their line-up, in addition to fellow midfielder Leon Britton, who played against York in a Capital One Cup second round tie between the two clubs earlier this season. Prolific striker Lee Trundle was only named amongst their substitutes. Operating within a 4-3-3 framework and with Adam Arthur and Bryan Stewart flanking Turkish youth international prospect Levent Yalcin in a particularly fresh-faced looking attack, the visitors struggled to pose a serious threat for much of the duration, although Yalcin had a shot on the turn bounce narrowly wide on the quarter-hour. Their goalkeeper Chris Porter had already fended away a Kristian O'Leary volley after Stuart Jones scuffed a chance wide. Paul Connor did have the ball in the back of the net when Leigh Wood's attempted clearance hit defensive colleague Richard Hope. But a raised flag immediately cut short celebrations. Connor also saw a header turned away by Porter, while Hope headed wide from Darren Dunning's corner towards the opposite end. But in truth and with nothing left to play for for either club, it was proving a particularly low-key encounter. Connor broke away after the break and Porter saved again before Bradley Maylett fired across the face of the visitors' goal. Youthful York were never really much of a threat in reply. Stewart's low volley finally produced a routine stop for veteran goalkeeper Roger Freestone and Yalcin also screwed wide from the edge of the box as the contest drifted towards its scoreless conclusion. Some supporters invaded onto the pitch at the final whistle, making their way towards the travelling fans before collectively warmly applauding their efforts as seventy-five years of Football League history heartbreakingly came to an end in South Wales.
Swansea City: Freestone, Jones, Tate, Iriekpen, Coates, Maylett (Roberts 69), O'Leary, Martinez, Britton, Nugent (Trundle 59), Connor. Subs (unused): Corbisiero, Rees, Murphy
York City: Porter, Law, Wood, Hope, Merris, Ashcroft, Brass, Dunning (Haw 60), Arthur (George 76), Yalcin, Stewart. Subs (unused): Stockdale, Staley, Davies
Ref: S. Tanner (Avon)
Att: 6,806
In contract, Jackie McNamara's young player revolution kicked off with a 5-1 home defeat against Accrington in November 2015 when the average age of City's starting line up was over 23 years.
For details of those line ups, see here.