City History
Decade Of Craig
In May 2001, York City chairman Douglas Craig celebrated ten eventful years at the Bootham Crescent helm, marking him out as one of the longest serving chairmen in the professional arena. An insensitive dictator or a necessary firm hand on the tiller in testing times – his realm saw him chastised and cheered by fans in equal measure. Whatever, he remained a colourful and controversial chairman. Nor was he ever short of an opinion as he demonstrated in a frank interview with The Yorkshire Evening Press' York City writer Dave Stanford. (PS Douglas Craig supported City for many years before becoming a director and chairman. In the 1960s, as a Vice President, he was often to be seen in the car park selling the 50-50 tickets of the day - Ed.)
After ten years as chairman of York City do you remain as hungry as when you first started?
I'm still as hungry, yes. Older, slightly more worn and certainly more experienced. And I always get excited at the start of a new season, there has been no diminution in that at all.
You have taken a lot of personal flak from fans over the years, what keeps you going?
I think what keeps me going is the fact off the field in the shape of the board and all the admin side, they are all fans who have a tremendous team spirit. That stability enables you to cope with the quite dramatic ups and downs that go on on the pitch.
Would you have still taken on the job knowing then what you do now?
Yes and I have no doubts or regrets about that at all. I think that it was right that my fellow directors and myself did what we did and ensured that the club remained in the control of local people. We are all fans of the club which sometimes seems to get forgotten.
You turn 72 next month and yet earlier this year you indicated you had no immediate plans to retire. Have you changed your thinking or are you still planning to stick around?
The board have always indicated that if someone wants to acquire the club then it is the view of the board as a whole – it is not a question of just me selling my share – that we will go as a group. Any individual director who wishes to stay would then make their own arrangements. But of course there hasn't been any realistic approaches made. As far as giving up is concerned, if the day arose where the board felt I should go I would go. Equally, I am not so stupid as to think I can go on forever. Nobody can. But I am an optimist by nature and I believe that the day will come when it is right for all concerned and in particular if it is in the best interests of the future well-being of the club. I must say I have no impression that my mental and physical capacities are such that I should go now – perhaps some supporters would have a slightly different view.
Your relationship with supporters has sometimes been strained to say the least over the years. However, given recent events at clubs like Scarborough, Chesterfield and Hull City do you sense there has been a softening of attitude towards you and an acceptance of your cash conscious thinking in recent months?
I think there is a realisation – although I think there has always been a realisation by the thinking supporters – that in the present economic climate in football the most important thing is continuing to survive as a club with a reputation of being run decently and in a proper manner.
What then has been your biggest achievement as chairman?
I think keeping the club solvent is possibly the biggest achievement. I am also very proud of the training ground which is a first class facility and a major benefit to the club. The highlights on the playing side were clearly the Manchester United games, the Everton victory and a game that isn't mentioned too much and a game in which we were defeated but the game against Queens Park Rangers. We got beat at their ground but I thought it was a great performance and possibly the most sustained vocal support that the club has ever had at an away ground. It was a quite tremendous atmosphere that night. Promotion was obviously a major highlight while relegation was equally a low point and the only consolation, if you can call it consolation, was the fact we managed to survive in the Second Division for longer than we had ever managed to do in the past. The other highlights are the tremendous uplift it gives you to see the number of young boys who come to the club, be developed by the club and have gone on to higher things. It gives the impression you bring a boy along and sell him because you want to sell him. Obviously, the benefits of the transfer fee help to keep the club going but it is also important that any young boy who comes to the club knows if he works hard and develops and achieves the skills that we all hope they can do, that we won't stand in their way if there is a chance of furthering their career at a higher level. We have a desire to continue to exist. A player has a right to get the opportunity to develop his potential and that has to be balanced with the club's desire.
You touch on the 'low-points' but what has been your biggest regret?
Obviously, there are regrets but the trouble of course is everybody has perfect vision looking backwards. Unfortunately, nobody has a crystal ball to look into the future and so the best you can do is learn from your mistakes and learn from past experience and try to keep your nerve for the future.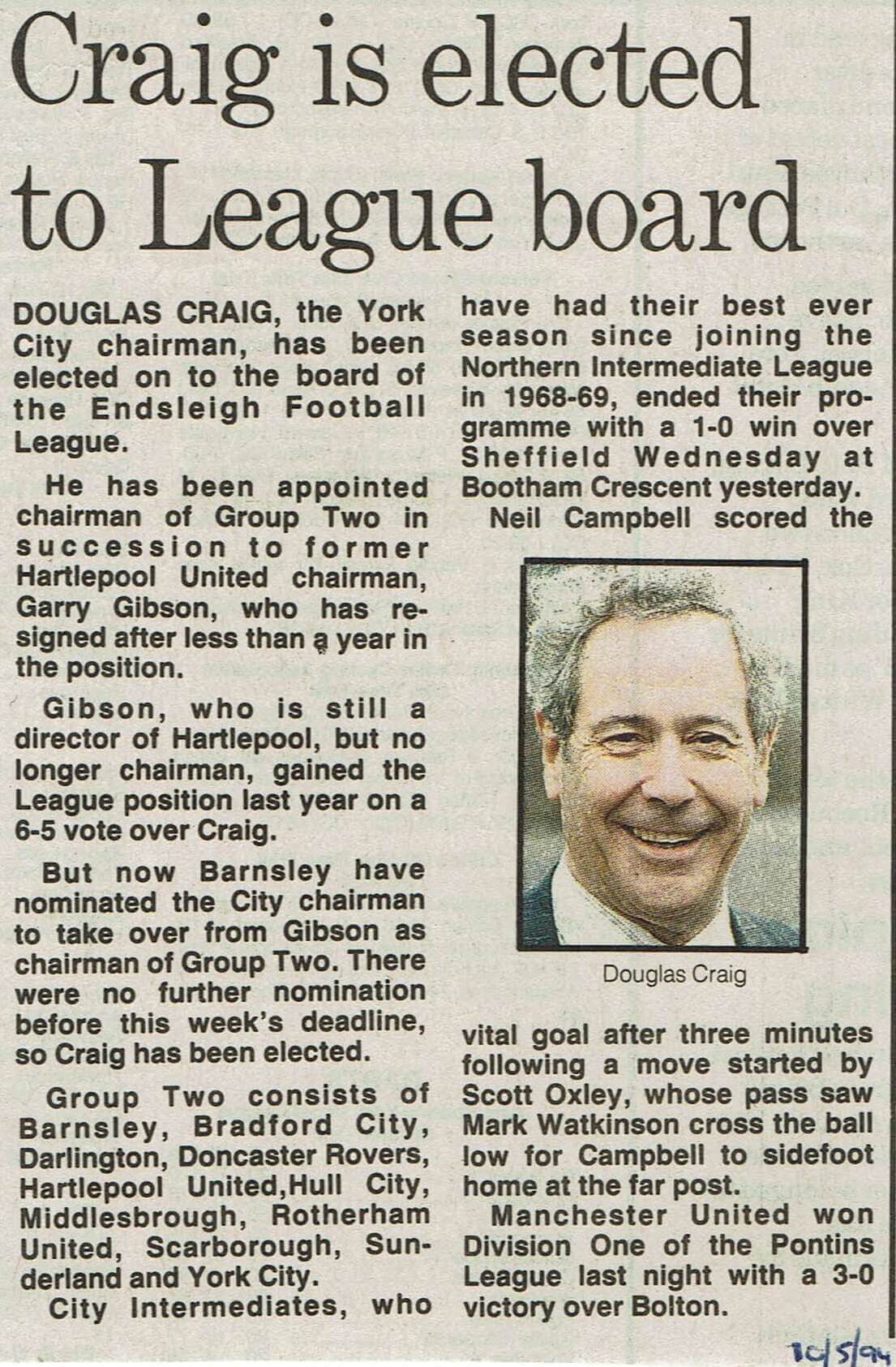 Even without a crystal ball where would you like York City to be in five years time?
I have no doubts about that. At the very least I would like to see them vying for promotion from the Second Division to the First Division and, hopefully, even succeeding.
And would you still like to be at the helm at that time?
It would be great but equally I don't have a personal crystal ball as to my future no more than I have a crystal ball for the club's future.
Looking to the more immediate future and next season, given the fact the last few seasons have been quite traumatic in terms of results and managerial changes do you think the team is in better shape now than it has been for some time?
I am hoping we are maybe moving into a period of greater stability on the park and there are signs, at least there were signs at the end of the season, of a distinct improvement in the situation that we had been subjected to over the last two or three years.
Douglas Craig - Fact File
Born
July 10, 1929
Birthplace
Broughty Ferry, Scotland
Wife
Elizabeth
Children
Three sons, one daughter
Educated
Grove Academy, St Andrews University, Perth
Honours
June 1981: OBE in the Queen's Birthday honours list
City
August 24, 1978: Appointed City Director
June 30, 1991: Appointed City Chairman
Chairman Craig - The First 10 Years
| | |
| --- | --- |
| Date | Event |
| August 24, 1978 | Douglas Craig appointed to the board as a director |
| May 1991 | City finish the season in 21st place in the old Division Four |
| June 30, 1991 | Succeeds Michael Sinclair as chairman |
| August 17, 1991 | City draw 1-1 at Rochdale, their first match under Craig's chairmanship |
| October 23, 1991 | John Bird sacked as manager |
| November 5, 1991 | John Ward appointed manager |
| May 1992 | City finish the season in 22nd place in the old Division Four |
| March 12, 1993 | With City looking well set for promotion the club is rocked when Ward quits to join Bristol Rovers. Alan Little appointed caretaker manager |
| March 24, 1993 | Alan Little appointed manager |
| May 29, 1993 | City, who finished the season in fourth place, make their first ever trip to Wembley in the play-off finals where promotion to Division Two is secured after a penalty shoot-out victory over Crewe |
| April 1994 | Craig elected on to the board of the Endsleigh Football League |
| May 1994 | City finish the season in fifth place in Division Two. The Minstermen's hopes of a second successive promotion are blighted in the play-off semi-finals as City lose 1-0 on aggregate to Stockport County |
| May 1995 | City finish the Division Two season in ninth place. In the same year, the club open the Family Stand at Bootham Crescent |
| July 31, 1995 | Winger Jon McCarthy moves to Port Vale in a record £450,000 deal |
| September 20, 1995 | City sensationally beat Premiership champions Manchester United 3-0 at Old Trafford in their second round first leg tie in the Coca-Cola Cup |
| September 23, 1995 | Rookie City goalkeeper Nick Culkin snapped up by United for £100,000. In 2000, City banked an estimated further £50,000 when United play the Minstermen in a pre-season friendly in 2000. The game was part of the deal that took Culkin to Old Trafford |
| October 3, 1995 | City lose 3-1 to United in the return leg but progress on aggregate. United included Eric Cantona, returning from his nine month suspension |
| October 25, 1995 | City lose 3-1 to QPR at Loftus Road in the next round. Later, Craig noted, "I thought it was a great performance and possibly the most sustained vocal support that the club has ever had at an away ground. It was a quite tremendous atmosphere that night" |
| November 1995 | Fans, angry at a perceived lack of ambition and a bust-up with star striker Paul Barnes, stage sit-in protest calling for Craig's resignation |
| December 26, 1995 | Adrian Randall becomes the most expensive player in City's history when he is recruited from Burnley for £140,000 |
| May 1996 | The season is extended to accommodate City's final game at Brighton – the first match was abandoned due to crowd trouble. City win 3-1 to safeguard their Division Two status and finish 20th |
| August 24, 1996 | Goalkeeper Dean Kiely moves to Bury as a tribunal orders the Second Division outfit to pay City £125,000 for a player valued at £400,000. City later bank a further £175,000 following Kiely's £1 million move to Charlton |
| September 18, 1996 | City draw with Everton at Goodison Park in another second round, first leg tie Coca Cola Cup tie |
| September 24, 1996 | City knock the Toffees out with a 3-2 win in the return leg |
| May 1997 | City finish the season in 20th place in Division Two |
| March 24, 1998 | City starlet Jonathan Greening is transferred to Manchester United for a deal worth £350,000 initially. With further monies linked to appearances and sell-on fees the deal is eventually worth about £1.1m, the most City have ever received for a player |
| May 1998 | City finish season in 16th place in Division Two |
| July 6, 1998 | Reading pay City £700,000 for winger Graeme Murty |
| October 13, 1998 | Manchester United chief Sir Alex Ferguson opens City's new £250,000 training complex off Wigginton Road |
| March 15, 1999 | With the threat of relegation increasingly real, Little is sacked as City manager. Neil Thompson appointed caretaker chief |
| March 25, 1999 | Star striker Richard Cresswell is snapped up by Sheffield Wednesday on transfer deadline day for a fee of around £950,000 |
| May 8, 1999 | City lose 4-0 at Maine Road on the final day of the season and drop into the bottom four for the first time that season and are relegated. Despite drop, Thompson appointed manager on a permanent basis |
| June 27, 1999 | Republic of Ireland Under-21 international Barry Conlon becomes City's second most expensive signing from Southend United for £100,000 |
| September 1999 | An independent City supporters' group calling themselves Fans Against Craig's Tyranny (FACT) stage a red card protest during City's goalless draw with Peterborough demanding the City chairman quit |
| November 23, 1999 | Colin Alcide arrives from Hull City in an £80,000 deal |
| December 1999 | Craig donates £35 to the Evening Press Hospice 2000 appeal - the same amount minus VAT as that billed to FACT for the clear-up operation after the red card protest. Craig donates a further £65 from his own pocket |
| December 1999 | Thanks in the main to the transfers of Cresswell and Murty, City announce record profits of £1,274,202 for year ending June 1999 |
| February 9, 2000 | Thompson sacked as City manager after a run of poor results |
| February 11, 2000 | Huddersfield Town's reserve team boss Terry Dolan appointed manager and with a run of just two defeats in their last 14 games helps steer City clear of relegation |
| April 2000 | Fans' group FACT change their name to more conciliatory Fans Assisting City Together and propose supporters take £100,000 stake in the club. Proposal is rejected by the board, which announces it would be prepared to let a representative from the official supporters' club take part in board meetings once the club can boast a membership of 1,500 |
| May 2000 | City finish 20th in Division Three |
| August 2000 | Flamingo Land Theme Park and Zoo owner Gordon Gibb claims to have offered to buy the club for £500,000 with a further £1.5 million available to invest in players. Craig denies the club have received a "formal offer" At the time, City were losing £12,000 a week. |
| December 2000 | City reveal record deficits of £667,255. Operating loss stood at more than £1million. Wage bill breaks through £1.5m mark for first time |
| February 12, 2001 | Craig reveals City have tabled an undisclosed bid for the barracks site adjacent to Bootham Crescent. It proves unsuccessful |
| February 17, 2001 | A 3-0 home defeat to Exeter sees City go bottom of the Football League. Fans stage protests calling for Dolan to be sacked and the chairman to resign. Both stand firm and a run of just two defeats in 16 games thereafter ensures City's safety |
| April 2001 | After years spent in the headlines for being the only club not to have signed the anti-racism charter Kick It Out, secretary Keith Usher reveals the club would now sign-up to the agreement – if such a document existed. Club also announce after an 11-year association Portakabin will not be renewing their sponsorship at the end of the current campaign. It should be noted that once, Craig, when on the pitch making a pre match presentation, in his blunt Scottish way, in reference to racial abuse, told the crowd to "cut it out" and on another occasion, Keith Usher spoke over the tannoy on the same subject during the second half of a game asking the crowd in the style of Brian Clough, "Gentlemen please refrain" when a bout of racial chanting was heard |
| May 2001 | City finish 17th in Division Three. Craig leads fight to see Chesterfield expelled from the League over a series of financial irregularities |
| May 2001 | Evening Press unveiled as City's new sponsors for next two seasons |
Douglas Craig: Quote, Unquote
| | |
| --- | --- |
| Date | Quote |
| August 1978 | On his appointment to the City board: "I am looking forward to working with the other directors and have the greatest optimism that City are going to have success in the next few years. I am not interested in failure" |
| June 1991 | "You should never start paying the blackmailer in the first place. But there comes a point where if you keep paying you will be bled dry," – Craig lambasts the FA's "Blueprint for the Future of Football", which heralded the future Premiership |
| February 1994 | "The constant battle for someone in my position is to get the right financial balance on and off the field" |
| August 1994 | Craig defends decision of City not signing the Kick Racism Out of Football Campaign: "The only way to eradicate racism is for each individual to stop talking or thinking about it and actually do something about it. You are not really doing anything if you simply join a campaign or worse still tell someone else to join one" |
| July 1995 | "We are not being cautious, we are being realistic. We will not bankrupt the club. We aim to make sure there is a York City for many years to come" |
| August 1995 | After the sale of Jon McCarthy to Port Vale, "We would be more than happy to keep players. But we have to get the fans to keep them by coming through the turnstiles. It's the chicken and the egg situation. The club has no reason to be ashamed by what they have achieved over the last three years. But still the fans have not come through the gates" |
| 1995 | John Greenway, the MP for Ryedale and President of York City, "The word that sums Douglas up best is determined. He has clear objectives and he makes sure he achieves them. I am absolutely positive that he has the interests of York City very much at heart and suggestions that he is only in it for the money are laughable" |
| September 1995 | Craig answers his critics after City, then bottom of Division Two, leave Oxford United's Manor Ground under police escort. "They are wasting their nervous energy shouting at me because I'm not going anywhere. "They better realise that and if they don't decide to come to games then that's their prerogative. "The club will survive without them. "They have neither the wit nor the intelligence to run a business of any kind" |
| December 1995 | "Despite what people might say, our ambition is to be in the First Division." |
| March 1999 | After the shock sacking of Alan Little: "It was a very difficult decision to make because Alan Little is one of the decent guys in football."He has been a very loyal and very honest manager and it's unfortunate in that it doesn't always work out for the good guys" |
| December 1999 | "I like controversy, but I like controversy when the people who are opposing are relying on fact or logic" |
| December 1999 | Speaking about the FACT campaign: "I have to say it is a terribly small minority but they are getting far too much Evening Press time, far too much Radio York time to what the genuine supporters are getting. "The truth of the matter is I am a fan, the directors are fans but there are too many fair-weather fans out there who like to criticise the club but are not prepared to be real fans and support it through thick and thin" |
| December 1999 | "York City will never be a Premier League club, you will never see it. There is no point in having ambition which is impossible to fulfil" |
| December 1999 | "It seems to be conveniently forgotten that the history of the club in the last eight years bears more than favourable comparison with any other comparable period in this club's history" |
| August 2000 | Amid claims from Flamingo Land owner Gordon Gibb he has offered to buy the club for £500,000 and offer a further £1million for new players Craig says: "My only comment is we have not had a formal offer for York City Football Club and a formal offer means something serious" |
| October 2000 | Speaking on proposed changes to the transfer system: "It will be a disaster for all the local communities that have an affection and support for their home teams…the implications are potentially disastrous" |
| February 2001 | "The Board as a whole has clearly indicated that if any suitable person or suitable group of persons is prepared to buy the Football Club which is a separate wholly owned subsidiary of Bootham Crescent Holdings and puts forward a viable and adult proposition then it would be seriously considered" |
| February 2001 | Amid calls for Terry Dolan to be sacked: "The parrot cry of 'sack the Manager' is too simplistic and neither helpful nor constructive" |
| April 5, 2001 | Speaking at the fans' forum, Craig rejected claims he ran Bootham Crescent like a dictatorship. "I don't suffer fools too gladly and I have never suggested I do," he admitted. "But I suggest you talk to any of the staff at the club not in my presence and ask them if I run the place in a dictatorial manner and see what they say." Asked what "it would take for him to stand down as chairman?", he replied: "To fall under a bus I would expect, and I have no doubt there are some here who would like to drive the bus" |
| April 2001 | Speaking on the punishment handed out to Chesterfield after the Spireites were found guilty of financial irregularities: "It is certainly the case that there are a lot of unhappy people in the Third Division and football generally at such a pathetic decision. There is a considerable amount of anger and ill ease. I find it quite bizarre that the tribunal have found them guilty of the serious charges which they have done but have decided on such a pathetic sentence" |
| July 2001 | "I think it woud be fair to say we have gambled a bit. People say someone is a free transfer and you immediately think 'oh great'. The reality is that wage levels are now very high and I would say are in the top bracket in the Third Division. This is the first time for a few years that I have been able to say that I am cautiously excited" |
| January 9, 2002 | "Since when did the moral guardians of the club and the community be entitled to sit and take abuse, vilification and vandalism and continue to hold the role?" |
Douglas Craig - What Came Next
At the AGM on December 20, 2001, Douglas Craig announced that the board intended to resign at the end of the season and asked for investors to buy club. Shortly afterwards, he indictaed that the Bootham Crescent gates would be locked at the end of the season and that City would need to find a new home.
On March 15, 2002, it was announced that John Batchelor, from the soup family, had bought the club and ground. After the Craig years, he was seen as a saviour, but things would soon unravel. Subsequently, it was revealed that Batchelor paid just £1 for the club and that as part of the deal, Batchelor had agreed that City would vacate Bootham Crescent by the end of the 2002/3 season.