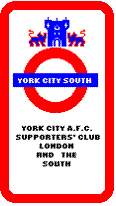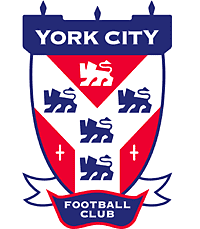 City History
Andy Leaning
Early Life
Having turned down City at 16 on the advice of his Dad to get a proper job, Andy Leaning turned to local amateur football whilst pursuing a day job with British Rail. He was a regular in The North East Counties League for York RI & Rowntree Mackintosh. In those days, broadly a Yorkshire based league that if you were lucky was a feeder into The Northern Premier League and onwards into the newly constituted Football Conference. Rowntrees upwards mobility being limited by not having any turnstiles at their Haxby Road ground.
At the time, it was commonplace for the cream of the local amateurs (and itinerant triallists from far afield) to be asked to play for City's reserve team. Usually the peak of the career and no more.
City
During the 1984/5 season, Leaning played several times for City reserves as a triallist. He was offered a professional contract in July 1985 as understudy to Roger Jones and Mick Astbury, his deputy. Surprisingly, 2 of his City reserve teammates were also offered their first professional contracts at the same time, Tony Canham and Warren Ward.
In November 1985, Leaning made his first team debut. He was to play in all 30 remaining league games that season, but is probably best remembered for his role in City's FA Cup run that ended in a Round 5 defeat in a replay at Anfield. At the final whistle, Kenny Dalglish shook his hand and told Leaning, City's man of the match, that Liverpool were lucky to get through, both in the original tie thanks to a dubious penalty awarded to Liverpool and at Anfield when a Keith Walwyn goal was disallowed. Alan Hansen commented that the win over York was the hardest game Liverpool had that season as they went on to win the FA Cup to complete the double.
Wearing my rose tinted glasses, after Tony Canham equalised at Liverpool just before half time, City got on top and were the better team. A Keith Walwyn goal being disallowed when he ran between 3 Liverpool defenders, left them all in a heap in the 6 yard box and put the ball into the net. Even without rose tinted glasses, most of the Liverpool fans didn't see much wrong with the goal.
Listening back to the Radio York commentary, Andy Leaning had an immense game, probably one of his best for City. It was equalled by a televised League Cup defeat at Chelsea the following season when his heroics prevented City from losing by much more than 3-0.
"I can remember waiting in the (Anfield) tunnel alongside the likes of Kenny Dalglish, Ian Rush and Bruce Grobbelaar, who was one of my heroes, and thinking, "What the heck am I doing here? I'm just somebody who was playing parks football a year ago. But the game went really quickly after that"
Leaning was City's regular keeper during that 1986/7 season making a total of 69 career league appearances as City's fortunes slumped.
Post City Keeping
Having made 86 appearances for York in all competitions, he was allowed to leave the club in 1987. He first port of call was Everton and a trial game in The Central League, possibly a favour by Howard Kendall, the Everton manager to Denis Smith, his ex Stoke teammate. At the time, his release from City was a shock and perhaps not a unanimous decision of the manager and his board.
For the following season, he signed a contract with Sheffield United and a year later, with 25 games under his belt, he joined Bristol City, then in the third tier for a fee of about twelve grand.
Spells with Lincoln City, apparently serenaded to the tune of "Leaning on a Lamp Post", Dundee and Chesterfield before retiring in 2000 with 223 league appearances to his name.
Coaching
Having gained UEFA 'A' licences (one of a very small band of keepers to do so) in coaching and goalkeeping coaching, he's held a succession of positions as goalkeeping coach, including Chesterfield, Scarborough, Barnsley and 8 years at Sheffield United from the beginning of the 2002/3 season. On leaving United he spent a year as City's part time keeping coach, rejecting an offer of a full time contract from Bradford City.
Leaning's work in South Yorkshire did not go unnoticed within the game. Protégé Paddy Kenny being transformed from a raw talent into a seven-capped Republic of Ireland international under Leaning's tutelage.
"I arrived at Bramall Lane at the same time as Paddy", Leaning pointed out. "The club spent forty thousand pounds on him and he has just left to join QPR for three quarters of a million, which is not a bad return".
He joined Leeds United and was working with their academy staff under Neil Warnock. In December 2012, he was name checked on the bench during the BBC coverage of the Leeds / Chelsea Capital One cup tie. At the time, the staff at Leeds also included Neil Redfearn and Kevin Randall who was a senior pro at Chesterfield whew Warnock started his professional career. Randall and Warnock crossed paths again at City when Randall netted 27 times in 107 appearances between 1977 and 1981 and Warnock appeared very briefly as Charlie Wright's skipper. Randall later worked with Warnock at Sheffield United, Crystal Palace and QPR.
Family
The Leaning name may soon once more be in the sporting news as Andy's son, Jack, is a talented cricketer having made his Yorkshire Second debut in 2012 to add those he England age banded caps he'd already won for England.
Local Born City Players
Since Leaning, only two York-born stoppers have played between the sticks for the Minstermen and, even then, Russell Howarth managed just six league starts and Arran Reid one. The kind of links with local clubs that saw the likes of Leaning, Neil Grayson, Iain Dunn and Paul Brough joined the professional ranks after cutting their teeth in senior football with York RI and Rowntrees have also been lost.
Taken back another generation, esteemed trio Barry Jackson, David Dunmore and Mick Granger were all plucked from Cliftonville. Will we ever have such an untapped pool of talent on our doorstep ever again?