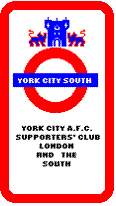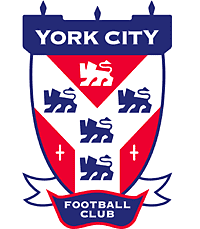 City History
Batchelor ITV Digital et al
Batchelor with singular ambition
This article first appeared in The Daily Telegraph in May 2002.
John Batchelor, the York City chairman who built his fortune on paper towels now plans to clean up ITV Digital, writes Andrew Cave,
John Batchelor, the flamboyant York City chairman trying to buy ITV Digital, has two identities.
One is a member of the Cup-A-Soup dynasty who rebuilt the family fortune by selling loo rolls door to door and later stood for Parliament. The other is John B-And-Q, a rally driver who adopted the name by deed poll to squeeze a sponsorship deal worth nearly £1m from Britain's biggest DIY chain.
"The idea was to change my name to use BBC television commentary to advertise their brand," he says. He managed eight top-ten finishes in the British Touring Car Championship, so it worked well enough.
"It's too good a story for a journalist," he jokes as I gasp in disbelief, and then whips out his gold NatWest credit card to prove it. There it is, properly spelt out in full because the internet cannot cope with ampersands.
He has renewed the deal for this season for York City Racing, but may change his name again next season. Will he be John Homebase or John Focus Wickes? Quite possibly. "It's very easy to change your name. You just fill in a form and send it off."
Batchelor, 43, also unsuccessfully advised cigarette giant Gallaher to get around motorsport's ban on tobacco advertising by persuading two rally drivers to change their names to Benson and Hedges. Right now, he is trying to transform Third Division York into a fashion brand for women's knickers.
Have I heard him correctly? Are women going to have the Minstermen on their underwear? "Yes, it will be Janet Reger-style." So there will be stockings. "Yes". Sexy stuff? "Yeah." Raunchy? "Yeah." It sounds more like Ann Summers.
Batchelor is undeterred. "If you were to think of a person as our brand you would probably pick Dudley Moore or Austin Powers," he says. "It has got to be a fun brand, slightly retro, a bit of the Sixties."
Won't people laugh? "Maybe," he admits. "We will make mistakes, attach the brand to the wrong things I am sure. But I want York City to be a cool thing."
He plans York City designer sunglasses and York City Law, a telephone legal advice service for football clubs. A York women's football team will play before the men kick off; there will be a "sexy new strip"; and the name will be changed to York City Soccer Club so that the club can be marketed in the US.
When we meet, Batchelor arrives in a bright red souped-up Subaru rally car and stands out a mile in his double-breasted dark grey pinstripe suit, black shirt, bright purple tie and flashy steel glasses.
He looks like a cross between a stand-up comic and a door-to-door toilet roll salesman - and that is exactly what he used to be. He performed at Blackburn's Laughing Gas club in Blackburn with Paul Merton, Jo Brand and Chris Barrie of Brittas Empire fame because he was bored selling dusters and dishcloth for his Systems Hygiene firm.
Now he is seriously rich and enjoying spending his cash. After standing for election twice as an independent candidate, Batchelor reportedly paid £4.5m for York in February; he is sizing up a Lotus to park alongside his Jaguar and Mazda MX5 convertible and fancies buying a boat and helicopter.
Batchelor's great grandfather founded the eponymous food company now owned by Campbell Soup, while his father was the food group's sales director until 1959 when he left to set up a company importing timber from Portugal.
The outfit went bust in 1976 and when Sheffield-born Batchelor returned home from an exchange year in Oregon at 17, he was sent out to work, selling insurance door to door in East Lancashire. "We lost everything we had, the house and everything," he recalls. "We moved in with my grandparents in Burnley."
After nine months, he tired of insurance, switching to selling floor polish and paper towels to hospitals and factories. Five years later, the now-married Batchelor mortgaged his terraced house and set up Systems Hygiene as a "janitorial supplies" firm.
He went on to help build it into the biggest independent in the north of England before selling out to his business partner Robin Huddleston for "single digit millions of pounds" in 1999.
By then, Batchelor had branched out into comedy. The janitorial supplies business was "deadly dull", he recalls. "You can't make toilet rolls sexy whatever you do. It wasn't giving me enough mental exercise."
More recently, he has fulfilled some boyhood ambitions in motor sport. A self-confessed "petrol head", he set up a rally team, linking up with Blackburn Rovers and then Manchester City to give him a recognisable brand. He drives the cars himself, although he is currently off the road after a major prang at Cheshire's Oulton Park racetrack.
"I hit the barriers at 105 mph with a 12ft stopping distance. My third, fourth and fifth vertical vertebrae were damaged, which is why I am drinking rum because it is an analgesic. I'm still on 20 minutes of traction a day, ultrasound treatment and anti-inflammatories. I'll be back as soon as the pain goes away."
Football seems unexciting after that, but Batchelor, who supported Burnley briefly in his youth, has been seduced by football clubs' pulling power. He unsuccessfully bid for Carlisle United last year and then pounced on York.
"York has been quite a well-run little club," he says. "It didn't even have an overdraft. It was in good shape. The board of directors were guys that had been involved in it for 20 years, they were all in their 70s and I think they had just had enough."
He bought the club in March, just as ITV Digital, whose Football League contract had promised York £200,000 over the next two years, was imploding. Batchelor saw the collapse coming and factored that into the club's purchase price, but he is still furious about the behaviour of ITV Digital's owners, Carlton Communications and Granada.
"The reason I am annoyed is that all the players' contracts were negotiated on the back of this TV deal so I have now got to foot the bill for the players' contracts until next year. In the last four weeks it has cost me in excess of £250,000" - a cost that includes rebranding and other expenses.
York is loss making but Batchelor wants to raise attendances from 3,000 to 5,500 to break even. He already claims to have doubled season ticket sales to 1,500, benefiting from excitement about the new ownership and a rush to buy before the price goes up 30pc at the end of this month. He plans a new stadium, complete with casino and hotel, and wants to buy cricket and rugby teams.
As for ITV Digital, Batchelor has been mooting a bid for the assets with a view to selling them on or starting a scaled-down 16-channel digital TV offering. He met Gerry Murphy to ask for support from Carlton but the chief executive responded "very, very negatively".
"I called a halt to the meeting because it was obvious that they weren't going to go down that avenue. It is an ongoing PR disaster. You can bet your bottom dollar that when the first club goes to the wall, which it assuredly will do, it will have Carlton and Granada written on its tombstone." Are you going to bid, I ask. "Probably not."
York will keep Batchelor busy for a while. He is comfortable at his house in Wilmslow with Gillian, his wife of 21 years, and four children. Apart from a few more boys' toys, he would like a driver to relieve Trudi, his PA, who was recruited after listing her hobbies as firing heavy machine guns, cattle roping and riding motorbikes.
Above all, he doesn't yet consider himself seriously rich. "It would be a nice by-product of all the efforts I have put in," he admits. "I have friends who have £70m or £80m. They are probably reasonably comfortable with not having to do anything again.
"But it isn't really the money; it is the fun you can have with it. Nobody ever dies and says to God, 'I am going to take it with me."'