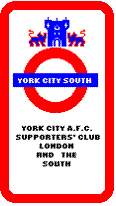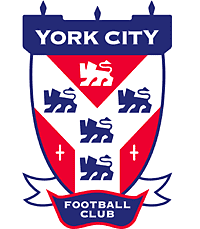 City History
Batchelor - March 2002
YORK CITY chairman John Batchelor enjoyed his first match at the helm of The Minstermen on Saturday as the team recorded a comfortable 2-0 win over Darlington at Bootham Crescent. From The Yorkshire Evening Press.
Despite being the club's home for the last seventy years, most fans recognise the need for City to relocate, something which Batchelor will be addressing straight away.
One of his first projects will be to get work underway on a new multi-purpose stadium that will be home to the football club.. "I appreciate that the hearts of many of our fans will lie with Bootham Crescent but I think that most of them appreciate deep down that the only way we are going to be able to move forward is with a move away to a new state of the art stadium.
"We have plans in place for a 15,000 capacity stadium for the football club, and we will be relocating the race team there too. We are currently speaking to the local council about what they would like to see included in the development and hope to announce definite plans in the near future."
He also plans to substantially improve the standard of the playing squad, "In conjunction with my financial backers I plan to strengthen the playing squad in order to ensure we turn things around at the club. We have been languishing near the bottom of the league for too long now and we need to start aiming higher.
"With a city the size of York there really is no limit on our potential and, although we are a long way from Premiership standard, we must think big if we are going to turn things around. With this deal the club will at last have the financial clout to ensure that our achievements on the field match the huge potential that we have."
All this talk of major investment could easily be seen as a pipedream, it wouldnít be the first time that a football club was taken over by someone promising miracles. The difference in this case is that Batchelor is not promising miracles; sure he is setting high goals, but they are all achievable with the right backing. He asks that he be judged on his past results and when you look at what has been achieved with the race team in such a short space of time you realise that he usually delivers the goods. As if to prove this he casually drops into the conversation that he has a new sponsor committed to a seven figure combined football and race team sponsorship deal. It will be an interesting, if somewhat busy, year ahead for the man formerly known as B&Q.
Q: Are you aware of the Club's relationship with Sunderland and will the links between the clubs be discontinued if you assume control of York City?
Will Thornton, Bishopthorpe
John Batchelor replies:
Yes, I am aware of it and I will be exploring all sorts of other avenues in terms of relationships with other clubs, although obviously not excluding Sunderland with whom we have had a very stable relationship.
Q: I really just can't wait until you take over (fingers crossed). I would like to know what you meant when you said that we would be the most unusual team in the league. Up the City
Max Benson (age 12), The Old Station, Allerston, Pickering
John Batchelor replies:
Well Max, if you have a look at my race team website which is at www.bandqsi.com you will see that we have an excellent relationship with our fans and I think what we have planned at York will probably build the best relationship between a football club and its supporters in the country.
Q: As a City supporter living down in Devon I am really concerned about the future of the club and at this late stage in negotiations I wish you all the best in competing the purchase of the club as you appear to be the best man for the position and also have ambition. The sale falling though at this late stage however could be costly as other potential buyers were probably put off due to your interest. Thank you for trying to save York City.
Ian Benton, Tiverton Devon
John Batchelor replies:
I doní think the sale will fall through.
Q: Bearing in mind the number of matches that City have had to postpone in recent seasons because the pitch is either waterlogged or frostbound, do you envisage any new City stadium having a retractable roof and undersoil heating.
Frank Brown, Burton Stone Lane, York
John Batchelor replies:
I do think it will have under-soil heating but it is unlikely it will have a retractable roof. However, it is something I would be willing to look into. Iíve no idea what that would add to the cost.
Q: A question for Mr Batchelor from the U.S. and I know its personal but I have never heard of him until this bid for the club, so just how financially stable is he, not just now but in the long term? I know nothing about his kind of racing except all motor racing is dangerous and if he is to be our saviour I would like him to live a long and healthy life, I am sure he feels the same way.
John Mills, Shepherd Road, Manchester, New Hampshire USA
John Batchelor replies:
Okay John, in the short to medium term we have no problem and providing that we can build a new stadium in a relatively short space of time then York City抯 future is assured. As far as the second part of the question is concerned, yes I agree!
Q: If you take over the club before the transfer deadline would you consider any moves in the transfer market, for example a bid for Michael Proctor or is this thinking too far ahead for this season?
Pete Almack, Thirsk
John Batchelor replies:
Yes, we are looking at it now!
Q: The current Management and administration of York City F.C have little awareness of customer service and community bonding. Supporters are viewed as an unnecessary nuisance. What plans and ideas do you have to rectify this position? Will there be an urgent review of the management structure? What will be done to attract absent supporters who have deserted the club? How can you attract young supporters? How will you find new support?
Lee Watson, Acomb, York
John Batchelor replies:
I doní think I can discuss individual employees futures until I am in the position of chairman. However, as far as attracting new supporters is concerned, in the immediate short-term and whilst we are still at Bootham Crescent we need to take the club out into the community and remind York it actually has a professional football club and without wishing to detract business away from one of my sponsors, there are other places to be on Saturday afternoons apart from B&Q!
Q: When do you hope to complete the deal and take residence at Bootham Crescent as chairman of the club?
What do you believe the potential of York City FC really is on the footballing side and the crowds?
Things can only get better of course. Is Premiership status a target, and crowds of over 10,000?
The new stadium will be a capacity of 15,000 will it be all-seater and with room to increase the capacity?
Are you going to try and get the big local firms on board through sponsorship?
Is the new stadium going to be a resource for the city?
How much will be made available to spend on the team if you take over?
The commercial side should make as much if not more than the playing side. Are you looking to replicate the successful model of this at Rushden & Diamonds FC?
Phil Wormley, Turners Hill, Cheshunt Herts
John Batchelor replies:
We hope to complete the deal this week.
There is no limit to the potential of York City and in a city of this size I don抰 think 15,000 is an unrealistic expectation for crowds providing we can give them something good to look at.
The new stadium will be a 15,000 capacity, initially however not all-seater.
We are trying to involve big, local firms and once we have control of the club we expect to be in a position to make some interesting announcements - one in particular!
We have asked the City council what they would like us to put in the new stadium as additional resources for the city.
Yes I am looking to replicate the successful model at Rushden and Diamonds and improve on it.
Q: Football's recent murky history reveals a depressing series of false dawns for many struggling clubs from Portsmouth to Carlisle in which a 'saviour' has turned up to rescue the club, only to bail out when the going got tough, as it inevitably does. Your plans for a new multi-purpose stadium and a move up at least a division or two are welcome and ambitious - but are you prepared to stick around if things don't go to plan? What if despite your investment, we are still propping up Division Three in five years time with attendances of 3,000? In other words, bearing in mind that it's not an emotional attachment to City that led you to bid for the club, are you prepared to stick by us through thick and thin - or indeed, through thin and thinner?
Two questions for Sophie McGill:
How confident are you that this is a new dawn for York City with JB at the helm? What impressed you about JB's bid?
David Allison, Leeds
John Batchelor replies:
If we have to invest this much in the club then it can only be in our interest that it is a success, whatever it takes.
Sophie McGill replies:
I am very confident that this is a new dawn for York City. When the conditions of sale were announced by Douglas Craig in January it was a total bombshell. However, since then the supporters and community have rallied round, we have created a Supportersí Trust that will play a pivotal role in the future of the club and now a sound buyer has stepped forward - things are looking a lot more promising. The Trust was very impressed with Johnís bid. He has developed a strong business plan and has a lot of innovative and exciting commercial ideas. I think the key aspect is that Johnís bid and aspirations are very long-term and this isnít just a short-term solution to save the club.
Q: Have you an plans to change the structure of the club or the way it is run? Will the current staffing arrangements be retained?
Steve Smith, Shadwell, Leeds
John Batchelor replies:
I refer you to the answer that I gave to Lee Watson.
Q: What sort of money will be made available to the manager, whoever that may be, for transfers to strengthen the team?
M McKenna
Stamford, Lincolnshire
John Batchelor replies:
Enough to ensure that the side is substantially strengthened.
Q: You have rightly identified the need for York City to build closer links with the community in an effort to increase its fan base. However, the main reason why people have stopped coming to Bootham Crescent in recent years is the poor standard of the football on show. What action do you intend to take to ensure an improvement in the standard of football provided by the football club?
Mark Scarr
via e-mail
John Batchelor replies:
We are actually going to improve the standard and offer a better atmosphere in to watch it. We will bring a cultural change to the club that is very customer-focused.
Q: The Bootham Crescent pitch has taken a bit of a battering from the weather in the last few years. Bearing this in mind are their any plans to share any new stadium with either York Wasps RL Club or any other sporting organisation? Where is your preferred site for the new stadium?
Douglas Craig has offered a guiding hand - if needed - during the boardroom changeover. What is your view of his offer of continued involvement with the club?
J Clark, Whitkirk, Leeds
John Batchelor replies:
No we wonít be sharing with the rugby league club but we will be improving the pitch at Bootham Crescent, even if we are only there in the short-term. As far as the rest of the questions are concerned, as we are in the middle of negotiations I donít think it would be appropriate to comment.
Q: Given that there are over 9,000 students at York University what measures will you be introducing to try to get more students turning up to matches? Will you start sell York City tickets at the Students Union shop on campus? Will you continue the cheap student prices? Will you sign York City up to the Lets Kick Racism Out of Football campaign?
Phillip Lee, Heslington Road, York
John Batchelor replies:
This is a very valid point. Having availability of students for so much of the year we really do need to start involving them more closely in the club and it may well be that we introduce some additional concessionary ticket deals. As far as the Kick Racism Out of Football initiative is concerned, I can only say that this will be one of our first actions.
Sophie McGill adds: With regards to the issue of encouraging students, we, the Trust, will support all initiatives to bring more students to Bootham Crescent. Throughout our campaign, we have had great support from the students within York and are featured regularly in the York University publication Vision. The Supporters of York City can only welcome a move to sign up to the Kick Racism Out of Football charter. As a club, we have received so much negative publicity over the years regarding this issue, letís put York City in the news for all the right reasons.
Question to JB:
If it costs (say) ? million to acquire York City Football Club and Bootham Crescent, where precisely is this money coming from?
That is, who are the parties? How much are they each investing? Is any of the funding from a property development company?
Questions to Trust:
John Batchelor has made various promises about the future of the club. However, beyond John Batchelor's public statements, what assurances have the fans got about their part in the future ownership and running of the football club? If John Batchelor cannot raise the funding from sources other than a development company, what contingency arrangements are in place for the Trust to acquire York City Football Club and Bootham Crescent?
Sarah Hubbard, Manchester
John Batchelor replies:
Details of the take-over will almost certainly be subject to a confidentiality clause. However, where possible I will make known the names of the individuals who will become board members of York City Football Club.
Sophie McGill replies: The Supportersí Trust and John have drawn up a memorandum of understanding. Once the club is acquired by John that will come into force. At this stage, we have received a number of verbal assurances from John at various meetings and are operating very much as a working partnership. We are confident that the deal will go through. However, as members of the working party we have a responsibility to all members of the Trust, the fan base, and the community and therefore do have a contingency plan in place. Throughout the campaign, we have been in talks with a number of parties and these negotiations will continue until we are sure the club is saved.
Q: Yesterday I read an article in the Mail on Sunday explaining the disastrous way that player wages exceed income in football today. They featured a table of the 10 worst clubs in this respect and York City were in third place. What scope do you think you have to look at players' contracts and to increase income other than gate receipts to improve this bad position?
Anthony Reading
Kir Crescent, York
John Batchelor replies:
Football clubs are businesses and if they are to avoid constant crisis they have to be run within their income. Having for example, wages which are 180 per cent of income is totally unsustainable. With regards to your second question, we have a great deal of scope but I canít be any more specific at this stage.
Question for Sophie:
Is John Batchelor an ego freak or does he have York City Football Club at heart? How responsible has John Batchelor been to the needs of the Trust?
What impact has the media coverage had throughout the trust's campaign?
Question to John Batchelor - Can you ensure the Trust will receive 25.1% of the equity for the football club?
Rachel Greenwood
Sophie McGill replies:
John is very media-conscious which is definitely a good thing. The current regime have had little understanding of public relations and the valuable relationship that can be developed between a football club and the media. Although John is not YET a York City supporter he does have the clubís best interests at heart. This has been made evident by his willingness to work with the Trust and therefore listen to the opinions of the fan base. This will be strengthened by his offer to appoint two supporters to the board - at last the fans/ customers will have a voice.
John Batchelor replies:
Yes!
Q: What roles will be undertaken by the trust within the football club? What sponsorship deals do you have in place for the football club and will you be changing your name accordingly (e.g. John Yorkie?)
M Brown
John Batchelor replies:
With regards sponsorship, we will be announcing two major new sponsors who will be supporting both the football club and the racing team. I see the role for the trust as being assisting in communicating the actions of the club to the fan base and helping in all areas relating to moving the club forward. And no I wonít be changing my name to John Yorkie - unless Nestle move quickly otherwise it could John Terry Chocolate Orange!!
Q: John, what is your number one priority for YCFC when you take over ?
Sophie, you have had many meetings and discussions with many people affected by this outrageous act from Douglas Craig and his band of merry men. At least Dick Turpin wore a mask! So, how do you and the Trust members feel about the situation, taking into account the immediate future not the past?
Granville Thwaites
John Batchelor replies:
Changing the culture on and off the pitch.
Sophie McGill replies:
We are a bunch of average supporters and therefore felt as every other York City supporter has about the actions of the board of Bootham Crescent Holdings. However, we have felt it has been imperative to maintain communications between ourselves and Douglas Craig to ensure a positive outcome for the club. At the end of the day, he is the man selling the club and we are part of Johnís bid to acquire the club. Out of a crisis situation, I am pleased to say that this could be the best thing that has ever happened to York City. Letís look forward to a bright future.
Q: John, can we get invites to your motor sport events, and how can we get involved, I have heard they are pretty lively, track-side and party-side !
Steve Sharp
John Batchelor replies:
It is true to say that we are THE party team in the paddock and if anyone wants to come to one of our parties they will first need to get a medical certificate from their doctor and go into intense training. Indeed I have to make sure that I smoke at least 20 a day and drink a bottle of wine even in the off-season just to make sure I donít get caught out through lack of fitness!!
Q: John, From what I have seen this year in the Third Division and with Reading heading up to the First, there抯 not a lot to beat. Can we win the championship next year and what are we going to do to ensure it?
Janine Marsh
John Batchelor replies
Yes we can, and we will do whatever it takes!
Q: I have held a minor number of shares in York City and Bootham Crescent Holdings since 1975 as a token of my commitment to City, who I have followed since 1948. I wish to retain these within the transferred company in support of York City? Does John Batchelor appreciate that there are a small number of us who would wish to continue this ownership, and is he prepared to continue to allow this?
Via e-mail
John Batchelor replies:
Any current shareholder wishing to retain ownership can do so. Please contact me should we be successful in our bid.