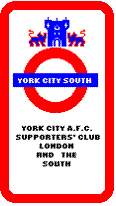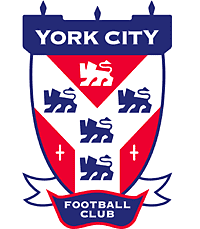 City History
2014/15 Review
Wanted: The Next Charlie Austin (Richard Brodie will do!)
Based closely on an article written by Dave Flett that first appeared in The Press on May 9 2015.
The Season
York City flirted with relegation from Sky Bet League Two during a frustrating 2014/15 season. Russell Penn's thunderbolt might have staved off the threat of relegation back to the Conference with three games left to play. But, if York City are to avoid storm clouds gathering over Bootham Crescent next term, key problems, that have been prevalent since the club's 2012 return to the Football League, must be addressed.
Current Minstermen chief Russ Wilcox, like Gary Mills and Nigel Worthington before him, will kick off the 2015/16 campaign hoping to convert more draws into wins.
He will also be looking to discover a reliable marksman and, hopefully, resurrect reserve football at the club.
During the three campaigns since reclaiming their League status, City have drawn well over a third of their league fixtures - an abnormal 55 of their 138 contests. This season, just as in 2012/13, the Minstermen have ended honours even in 19 matches - more than any other side in the division on both occasions. In between, meanwhile, Worthington's play-off semi-finalists, drew 17 fixtures - the third-highest tally that campaign behind a Wilcox-led Scunthorpe, who shared the spoils 21 times and, it should be pointed out, were promoted.
Nevertheless, of great assistance in that quest to turn more single points into three would be the acquisition of a prolific front man.
Most managers will testify that such players are the hardest to find and, more often than not, demand the highest wages but they are out there. The likes of Andy Bishop, Clayton Donaldson and Richard Brodie are all examples of strikers plucked from relative obscurity by City in the past who went on to become potent talents in North Yorkshire before moving up the divisions and commanding bigger salaries.
Jake Hyde's league haul of nine goals this season, though, follows similarly modest campaigns that have seen Wes Fletcher and Ashley Chambers both top the charts with ten.
The Minstermen will certainly need more aggression and penetration in the central striking roles and, indeed down the flanks, than has been the case over the last nine months when a record of 16 home league goals represented the worst-ever tally - by some stretch - during 93 years of football in the city.
Wilcox's stated intention to reintroduce organised reserve games, meanwhile, must be followed through. During the season's struggles, there were several examples of how the absence of second-string fixtures impacted significantly on the senior side. Following long lay-offs that saw them miss pre-season, Josh Carson and Wes Fletcher were both pressed and hurried back into action without the assurance of reserve run-outs and never looked capable of hitting the same heights of the previous campaign. Dave Winfield, meanwhile, only looked match fit after he had spent a month on loan at AFC Wimbledon and farming out your players to rival Sky Bet League Two clubs to give them match practice is not good practice for any professional outfit. Had the likes of promising first-year pro Ben Godfrey been given the platform to display his talents against senior opposition for the stiffs, he could have also emerged as a credible contender in a midfield area that only seemed to function fluently when Luke Summerfield lined up alongside Penn in a 3-5-2 formation for the last nine games.
Wilcox deserves credit for employing that system and its importance in safeguarding the club's Football League status should not be under-estimated with four wins and two draws amounting to the longest unbeaten run of the season following its implementation. Whether the switch could have been made earlier, given it had been under consideration a long while before and always looked the best use of the assembled squad, will remain a hypothetical question.
What is beyond doubt, though, is Wilcox's superior win ratio to his predecessor Worthington, who had only tasted victory once in his last 17 fixtures before tendering his resignation. Perhaps Worthington's greatest legacy will be his off the pitch work. The McGill family speaking highly of his behind the scenes work including efforts to upgrade the training arena and EPP improvements.
In contrast, the ex-Scunthorpe boss has claimed ten triumphs during his 36-game tenure - an especially encouraging statistic given he only made one permanent signing - Emile Sinclair - in that time.
Wilcox also, importantly, found a way to come out on top in almost all of the most important contests. Eight of his ten successes came against teams that would finish below seventh-bottom City in the league standings.
Worthington's one win of the campaign, meanwhile, was the only three points picked up against any of the clubs that ended up in the top ten places, highlighting his successor's assertion that the squad, while rarely anything less than fully committed, lacked the quality to compete with the division's leading lights. However, January's home 0-0 with Plymouth and the 1-0 defeat at Shrewsbury in April hinted that it wasn't all doom and gloom.
Recruitment, as Wilcox has already acknowledged, will hold the key to raising standards in that respect.
Worthington started five of his summer signings when the season kicked off with a 1-1 draw at Tranmere but by the end of the campaign three had been transfer-listed (Jason Mooney, Marvin McCoy and Lindon Meikle), one still awaits discussions about his future (Femi Ilesanmi) and the other (Anthony Straker) has spent the last three months on loan at Motherwell.
City must now trust that Wilcox, whose loan signings have generally been encouraging, can enjoy better fortune in the transfer market during coming weeks to help deliver a season fitting for what is intended to be the last at Bootham Crescent.
At times, much was made of "fine margins", the fine margins that without late goals conceded, City would have been 11 points better off. With better home form, could City have achieved 10 homes win as in the 2013/4 season (not 5 as in 2014/5)? Either of these would have pushed City up towards play off contention. Together, they would have spiralled comfortably into the play offs. Conveserly without the spring surge of 4 wins in 6 games, its possible the very future of our great little club would have been called into question.
With a large number of players already contacted for 2015/6, Russ Wilcox does not have much room to manoeuvre.
The Players
Malvind Benning Left-back who struggled to stem the flow of crosses from his flank in certain fixtures. Also had a calamitous time at Northampton where he gifted the home side a goal and conceded a penalty. Returned to parent club Walsall after being left out due to restrictions on loan signings. Subsequently released by Walsll. Appearances: 9. Goals: 0. Rating: 5/10
Ryan Brunt Striker who extended a long goal drought to 31 games during a fruitless loan spell from Conference club Bristol Rovers. Missed a late sitter that cost his team the chance of a rare home victory over Portsmouth. Allowed to return to the south-west early in Russ Wilcox's reign but later scored whilst on loan at Plymouth. Appearances: 5 (1). Goals: 0. Rating: 5/10
Deon Burton Displayed the nous and experience garnered from World Cup finals appearances with Jamaica. Loan spell from Scunthorpe was cruelly curtailed, though, by a knee injury during his second outing. Showed great spirit at the age of 38 to recover and assist Eastleigh in their Conference promotion push before being released. Player / Coach option? Appearances: 2. Goals: 0. Rating: 6/10
Josh Carson Probably rushed back ahead of schedule due to growing sense of crisis surrounding poor start to the season. Only looked like old self fleetingly and campaign was cut short by a late-night incident following arguably his finest performance at Mansfield. Never satisfyingly replaced at left-wing back during his absence. Appearances: 18 (5). Goals: 2. Rating: 6/10
Alex Cisak Exposed a couple of times but fairly reliable in general. Any outstanding displays are difficult to recall though. Ended season being loaned out again by Burnley to Leyton Orient. Appearances: 10. Goals: 0. Rating: 6/10
Michael Coulson Comfortably the team's leading provider of assists but faded and looked a little jaded towards the end of the campaign. Could possibly have weighed in with more goals. Committed to the cause, though, even on his off days. Appearances: 47. Goals: 4. Rating: 7/10
Shaq Coulthirst Never quite hit the same heights again after his two-goal blast at Mansfield. Looked a little lost when positioned at left-wing back by Russ Wilcox. Played his part in survival battle, though, with those Field Mill heroics. Appearances: 10 (1). Goals: 2. Rating: 6/10
Diego De Girolamo Very confident Ed - Other phrases available and composed loan signing, who provided moments of genuine class following three separate loan spells from Sheffield United. Never panicked in front of goal. Blotted his copy book, however, when he turned his back on the club and showed a disregard for Russ Wilcox's loyalty by jumping ship for Northampton. ppearances: 9 (3). Goals: 4. Rating: 6/10
Wes Fletcher Like Carson, another done few favours by being pressed back into action when clearly not fully fit. Provided glimpses of the attacking threat he can be after a long and disappointing mid-season lull. Looked like he was getting back to his best (Brace v Tranmere) prior to a season-ending hamstring injury at Wimbledon. Released. Appearances: 24 (8). Goals: 7. Rating: 6/10
Brad Halliday Could not fault his endeavour and, compared to De Girolamo, his commitment to the cause for a loan signing. Began to suffer a little when moved into midfield. But move to right wing back saw him finish season on a high with late equaliser at Portsmouth. Would be welcome back. Appearances: 24 (0). Goals: 1. Rating: 7/10
Ben Hirst Looked a little raw when handed early first team chances at the age of 16 by former manager Nigel Worthington. Snatched at a couple of opportunities to get his name on the scoresheet. Hopefully one for the future though (but needs regular football against men). Appearances: 0 (5). Goals: 0. Rating: 5/10
Jake Hyde Neat and tidy but, sometimes, bullied off the ball by opposing centre backs. Also scored his ten goals in batches and went long periods without netting otherwise. Needs to get in the six-yard box more often because he has proven he can sniff out chances close in. Appearances: 34 (8). Goals: 10. Rating: 6/10
Femi Ilesanmi Initially thrived under Russ Wilcox's stewardship during the autumn months. Then lost his way and never looked as confident going forward or as combative defensively. Switch to 3-5-2 looked tailor-made for him but overlooked by the manager, who often preferred to play others out of position in the left-wing back role. Appearances: 33 (3). Goals: 0. Rating: 6/10
Michael Ingham Did well for a spell when recalled to the team following OIejnik's red card at Mansfield. Won the team points during the crucial run-in with his shot-stopping ability. Questions concerning his command of the six yard box were raised, though, when team conceded goals from set pieces in back to back matches. A run of clean sheets when recalled in April sees him agonisingly close to City's all time record number of clean sheets. Appearances: 20 (2). Goals: 0. Rating: 6/10
Ryan Jarvis Never a good idea to get sent off for a reckless challenge during the first match of a new manager's reign. Shipped out on loan to Aldershot soon afterwards. Had looked a little listless too during an underwhelming second campaign at the club. Released. Appearances: 6 (3). Goals: 0. Rating: 4/10
Keith Lowe Looked at one point that he might challenge the team's misfiring forwards for the leading scorer prize with his six headed goals from corners. Dependable as ever at the back. Also demonstrated good composure on the ball when playing as the right sided member of a back three following the change to 3-5-2. Player Of The Season Appearances: 49 (0). Goals: 6. Rating: 8/10
John McCombe Rarely let the team down with his solid, no-nonsense presence and unlucky to be dropped four times during the course of the season. Not as big a threat in the opposition's penalty box as he has been throughout his career. But reads the game well to compensate for a pace disadvantage when pitted against quicker forwards. Appearances: 30 (4). Goals: 0. Rating: 7/10
Marvin McCoy Started season promisingly but seemed to lose belief. Crossing could be excellent or wayward from one game to the next. Sometimes lacked aggression in his defensive play. Appearances: 34 (1). Goals: 0. Rating: 5/10
Lindon Meikle Miserable campaign from the released Mansfield winger. End product grew more and more frustrating and found his chances very limited by the end of the season. Poor decision making in matches at Newport and Wimbledon also cost the team a chance of points. Appearances: 17 (15). Goals: 0. Rating: 4/10
Shaun Miller Looked threatening during a return to former club Shrewsbury during a sprightly second-half outing. Very quiet during his other opportunities though. Lack of football prior to his arrival probably counted against him. Decent career scoring record and now out of contract at Coventry, who knows?Appearances: 2 (4). Goals: 0. Rating: 5/10
Lewis Montrose Sauntered through a second season with the club and never imposed himself sufficiently to justify regular selection. Has not really left City fans with too many moments to remember him by. His potential to be a capable performer for, whatever reason, remains untapped by the player as he approaches his supposed peak. Appearances: 12 (5). Goals: 0. Rating: 4/10
Jason Mooney Jettisoned by former boss Nigel Worthington after a difficult start to a campaign in which he was preferred in goal to Ingham. Withdrawn at half-time by then manager Nigel Worthington in home match against Cambridge. Reports and results suggested he performed well during loan spell in Conference at Alfreton though. Transfer listed in May Appearances: 4 (1). Goals: 0. Rating: 5/10
Carlton Morris Able to compete physically despite his age but did not look a goal threat following his loan arrival from Norwich City. Might have fared better at Bootham Crescent had he been trusted with a start. Would have hoped to have made a bigger impression in North Yorkshire. Still highly rated by Wilcox and made one Championship appearance after his return to Norwich. Appearances: 0 (8). Goals: 0. Rating: 5/10
Josh O'Hanlon Used fleetingly after joining club before loan signing window closed in March. Eager on his substitute outings though and put himself about. A little unfortunate not to be given greater exposure once team were safe. Appearances: 0 (3). Goals: 0. Rating: 6/10
Bobby Olejnik Brilliant on his debut at Wycombe and almost as good in final fixture at Portsmouth. Erratic at other times, such as Northampton and Mansfield (away, 4-1) when he was sent off after racing off his line needlessly and handling outside of his box. A positive character with a professional mindset. Released by Peterborough, highly rated and sure to be in demand in the summer. Appearances: 16 (0). Goals: 0. Rating: 6/10
Russell Penn Benefited from the switch to a three-man midfield, culminating in his net-bulging 35-yard strike against Morecambe that secured Football League survival with three games left to play. At his best alongside former Cheltenham team-mate Luke Summerfield. Leads by example as captain and takes the responsibility seriously. Best City captain in the last 40 years? Appearances: 49 (0). Goals: 2. Rating: 8/10
Tom Platt Another for whom the three- midfielder system suited. Reminded people of his ability to provide a bridge between that area of the pitch and the front two before being unfortunate to lose his place in that role. Struggled to make an impact in 4-4-2 formation. Appearances: 8 (14). Goals: 0. Rating: 6/10
Emile Sinclair Only gave brief indications of how his pace could hurt teams. Would have liked more than two goals from a dozen outings. Will perhaps be fairer to make a better judgement on his ability if his match fitness levels get up to speed. Appearances: 9 (3). Goals: 2. Rating: 5/10
Anthony Straker Following a promising first month at the club, his wing skills seemed to desert him. Looked all at sea in a couple of matches. Spent much of second half of the season on loan at Motherwell with Russ Wilcox seemingly losing trust in him. Appearances: 9 (5). Goals: 0. Rating: 5/10
Luke Summerfield Unfairly Really - Ed>scapegoated by certain sections of the City support during the difficult start to the campaign. Turned that around with some whole hearted and creative performances in the heart of the midfield. Has a good eye for a pass and can hit a ball sweetly. Appearances: 27 (6). Goals: 4. Rating: 7/10
Dave Winfield Came back from his loan spell with AFC Wimbledon in February/March looking much fitter than during his handful of outings at the start of the campaign. Played a key role in 3-5-2 formation, reading game well from central position. Also an aerial threat at set-pieces and fierce tackler. Appearances: 10 (1). Goals: 2. Rating: 6/10
Stephane Zubar Gave City sterling service after November arrival on loan from Bournemouth. Only blemish was a silly red card against Plymouth. Otherwise very determined, strong and difficult to beat in a one-on-one situation. Appearances: 23 (2). Goals: 2. Rating: 7/10