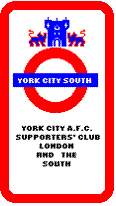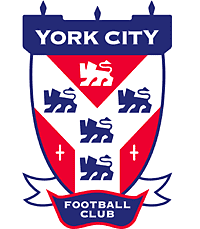 City History
2012/3 Accounts
Operating Losses: Halved
£95k McGill family donation to ensure salary cap limit not breached
£1.8m total McGill family contribution to finances
Losses forecast every year until we move into the new stadium
Gate receipts - one third of total income
Taken directly from an article in

The Press on April 1th 2014 by Dave Flett.

YORK City's owners JM Packaging have promised to write off any shortfall in the money owed to them by the football club following the sale of Bootham Crescent.

The Minstermen's accounts for the year ending June 30, 2013, covering the club's first season back in the Football League after an eight-year absence, have revealed further losses of £271,000.

Financial packages related to the dismissals of manager Gary Mills and his backroom staff of Darron Gee, Des Lyttle and Paul Musselwhite have been given as the chief reason for the six-figure sum with a swollen playing squad, that saw 36 players represent the club during the campaign, also contributing.

City chairman Jason McGill's Malton-based company JM Packaging made a £95,000 donation during the season to prevent the club from contravening the Football League's Salary Cost Management Protocol, which dictates that member clubs can only spend 55 per cent of their income on playing costs.

Following this set of accounts, JM Packaging have now contributed £1.8 million in interest-free loans to the club to cover losses since assuming ownership of the Bootham Crescent outfit in 2006.

McGill has previously confirmed that he would waive the interest, which would now amount to approximately £700,000, his company were entitled to receive as part of the takeover deal agreed with the Supporters' Trust eight years ago. City's financial management consultant Peter Rookes has, meanwhile, revealed that he expects the club to carry on making annual losses until the anticipated move to a new stadium in 2016.

But he has also importantly announced that the club will not be in debt to JM Packaging should equity from the sale of Bootham Crescent prove insufficient to repay the company fully for the money they have ploughed in during their tenure.Rookes said: "A recent valuation of Bootham Crescent has confirmed there is sufficient value in the site to meet all existing liabilities and budgeted future liabilities until the move to the new community stadium in July 2016.

"If this position was to change and the value of the site decreased, JM Packaging has confirmed they would write off any shortfall in the debt owed to them by the club.

"This clearly is an extremely positive statement from the club's parent company and shows JM Packaging's genuine commitment to York City Football Club." The Minstermen's operating losses were more than half of the £598,000 suffered during the Conference promotion-winning campaign of 2011/12 with Rookes adding: "These financial results are a substantial improvement on the previous year.

"Helped by the additional central funding from the Football League and Premier League following promotion, the club have been able to reduce their losses, as well as maintain a competitive playing budget for the manager.

"The losses also include significant costs associated with the change in playing management as well as the additional costs of carrying a large squad of players.

"Since promotion, the club has been subject to the Football League's Salary Cost Management Protocol, which broadly restricts the amount spent on playing costs to 55 per cent of income.

"JM Packaging were able to assist in this regard by making a donation to the club of £95,000 during the financial year. As would be expected, the accounts show that wages were the major expense for the club.

"Playing costs, including player and football management wages, bonuses for on-pitch success as well as administration and matchday wages, represent around 82 per cent of income in total." Other significant expenditure included matchday costs, general overheads and stadium repairs while gate receipts remained City's biggest source of money during 2012/13 - accounting for 33 per cent of total income.

The accounts also showed that no salaries or expenses were taken by City's board of directors during the season.

On the off-pitch outlook going forward, Rookes said: "This season, the club board have again set a budget to give Nigel Worthington the best possible chance of success on the pitch whilst adhering to the strict financial constraints set by the League.

"The club board aims each season to set a break-even budget, however, the sources of income at Bootham Crescent are limited and costs of running the ground are high.

"Being realistic, to retain a competitive playing budget is likely to mean the club will continue to makes losses until the move to the new stadium, which will enable off-field costs to be reduced and income maximised."

Some Thoughts
The Press coverage makes it very hard to compare season on season
No figures for income, expenditure, gate receipts; just overall operating loss
As a private company, YCFC need only publish brief accounts
2012/3 accounts state a £598K operating loss last season (2011/2). At the time, the lose was stated as £467k. Why the difference?
Annual losses forecast until new stadium move
Given 82% of spend is on wages, how much difference will a new stadium make?