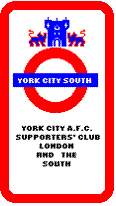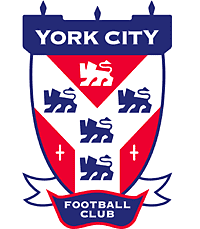 City History
2008/9 Review
This article was penned by Dave Flett and first appeared in The Yorkshire Evening Press, thanks to our leading local paper for allowing it to appear here.
What Happened?
It's been a traumatic season for the Minstermen and their fans. Here York City reporter DAVE FLETT charts the ups and downs.
AS Martin Foyle prepares his summer shopping list, the message fromYork City's board must be loud and clear – "Only go to Gretna, if you are planning a shotgun marriage."
The Scottish border town is certainly out of bounds for any Blue Square Premier boss hoping to rebuild their midfield engine room, as it should have been 12 months ago.
When Nicky Wroe and Manny Panther departed KitKat Crescent last May, followed by the influential Martyn Woolford on the eve of the 2008/09 season, it was clear the key to improving, or even stabilising, fortunes lie in Colin Walker's middle-of-the-park replacements.
After all, the forwards and defenders were, by and large, the same personnel that had played out the previous campaign.
While Woolford and Panther headed for the Football League however, with Wroe poised to join them pending success for Torquay in Sunday's play-off final against Cambridge, City flirted with the unthinkable prospect of part-time football in Blue Square North.
And, of the team that secured safety in a precarious penultimate fixture at Weymouth, none of Walker's three Gretna recruits were on duty.
From the start, Niall Henderson and Ben Wilkinson, bafflingly handed a two-year contract, looked completely unprepared for the rigours of a season in non-League football's highest and most unforgiving division.
Steven Hogg, when on the pitch, did look able to contribute, but his injury record prior to his arrival always suggested he would develop a stronger bond with physio Jeff Miller than City's supporters.
It is unfair, of course, for those three players to shoulder all the blame for a sorry season but their selection as key replacements by Walker sewed the seeds for an almost calamitous campaign.
There were several other individual disappointments.
Australian forward Daniel McBreen was Walker's biggest summer signing but laboured in attack all season, managing a paltry five league goals.
Foyle's misplaced faith in McBreen right through to the FA Trophy final against Stevenage (where City took 21 official coaches) was also puzzling, especially after the former Scunthorpe striker had manufactured a summer exit out of the club back in February.
Quite who is expected to do the running in his new partnership with Robbie Fowler at New Queensland Fury remains to be seen.
An over-reliance on McBreen as the lone striker in a 4-3-3 formation certainly sapped the spirit out of many City fans.
The early-season arrival of Simon Russell on a two-year deal proved equally underwhelming.
Russell, signed from Kidderminster, was considered the nearest like-for-like successor for Woolford, but his creative contribution was limited to one goal, blown in by a gale-force wind direct from a corner at Barrow, and a single assist in 33 outings.
City's strikers were much-maligned for the team's lack of a cutting edge, but the standard of service they received would have made Basil Fawlty blush.
Richard Brodie's return of 19 goals in a struggling side has been rightly heralded but, this time last year, Onome Sodje (17 in 36 starts) and Craig Farrell (14 in 21) boasted respectable strike-rates.
Both have under-achieved over the past nine months, but neither has turned into a terrible player overnight, with Farrell commanding interest from play-off contenders Oxford.
Should 20-year-old Sodje become surplus to requirements in the future, it would also be a surprise if he did not find new employers. The wide positions presented a season-long headache for both Walker and Foyle with nobody, other than the sparingly-used Adam Smith, penetrating down the flanks – a fact illustrated by right-back Ben Purkiss' position as the leading creator of goals.
A more expansive, less cautious brand of football, would certainly be welcomed next season.
Little criticism can be levelled at the back four and the increasingly impressive Michael Ingham in goal.
The Minstermen ended the campaign with the division's eighth-meanest defence, although they did look less assured when coming up against leading lights such as Burton and Stevenage.
Having stayed up by the skin of their teeth, Foyle now faces just as big a challenge as he aims to rebuild the club this summer. Unless his wage budget is significantly higher, the City chief will need to display the same level of shoestring nous that Billy McEwan did four years ago when he looked to reverse the club's fortunes.
Much has been made of Foyle's Wrexham recruits, but Adam Smith, Shaun Pejic, Levi Mackin and Kyle Critchell were all worthy additions. Christian Smith's displays swung from useful to awful, while Simon Brown looked well out of his depth. In terms of transfer market success that seems a reasonable ratio.
Unfortunately, though, City fans are yet to find out whether Foyle's contacts stretch beyond North Wales, even if that is preferable to the south of Scotland. Hopefully, in six months' time, the club will not be looking for a new manager for the third successive November.
By then, no doubt, we will have learned whether the board's confident assertion, on Foyle's appointment, that "we've got the right man this time" was justified.
Player Stats
Peter Bore

City league and cup appearances 2008/09: 2 (2)
Goals: 0
Rating: 6/10
One of the few in last season's City squad with genuine pace and skill. Looked a threatening presence on the flanks but returned to Grimsby after being in and out of the side during his KitKat Crescent loan spell.
Adam Boyes

League and cup appearances 2008/09: 16 (18)
Goals: 3
Rating: 6/10
Struggled to impose himself when used in City's front line, but displayed some of the potential cited by successive managerial regimes when moved into a withdrawn role on the flanks. An adept retainer of possession who will no doubt work on enhancing his strength.
Richard Brodie

City league and cup appearances 2008/09: 37 (9)
Goals: 19
Rating: 8/10
Terrific goal tally for the club considering one-month spell at Barrow and long periods playing on the left wing. A scorer of great goals rather than a great goalscorer, he will be even more prolific if he can develop a poacher's instinct. His enthusiasm is certainly infectious.
Simon Brown

City league and cup appearances 2008/09: 11 (6)
Goals: 0
Rating: 4/10
Never work shy, but lacked a quality end product during his loan stay from Wrexham. The most disappointing of Martin Foyle's six signings.
Kyle Critchell

City league and cup appearances 2008/09: 11
Goals: 0
Rating: 7/10
Very consistent performer who showed commendable commitment during his loan stay. Looked as comfortable in the centre of defence as he did at right back.
Bruce Dyer

League and cup appearances 2008/09: 3
Goals: 0
Rating: 6/10
Almost a last throw of the dice by Colin Walker in an attempt to improve his side's potency. The striker looked a class act at times and the hint of a promising partnership with Onome Sodje emerged. But Dyer's awful recent injury record was always a cause for concern. Released by Martin Foyle.
Craig Farrell

City league and cup appearances 2008/09: 16 (14)
Goals: 3
Rating: 5/10
Never found consistency before being shipped out on loan to Oxford for the closing months of the season. Often played out on the wing, Farrell's card seemed to be marked by Martin Foyle when he missed a string of chances as a striker during 1-0 home defeat to Grays.
Mark Greaves

League and cup appearances 2008/09: 35 (11)
Goals: 4
Rating: 5/10
Ran out of legs in City's engine room at the turn of the year. At 34, he's probably better suited to a defensive role, but competition for places at the back counted against him. Still the side's biggest aerial threat at set-pieces and a model professional.
Niall Henderson

League and cup appearances 2008/09: 4 (2)
Goals: 0
Rating: 4/10
Had little influence in City's midfield during his six outings under Colin Walker. Was then released by Martin Foyle without making a senior appearance under the new boss.
Steven Hogg

League and cup appearances 2008/09: 10 (1)
Goals: 0
Rating: 5/10
Showed glimpses of his quality during sporadic appearances in an injury-plagued season. Graceful on the ball, but rarely looked fully fit and must stay out of the treatment room in future if he is going to carve out a career in the game.
Peter Holmes
City league and cup appearances 2008/09: 5
Goals: 1
Rating: 6/10
On-loan Rotherham midfielder who managed to get on the scoresheet during his brief stay with City. Displayed ability on the ball but, flitted in and out of games.
Michael Ingham

League and cup appearances 2008/09: 52
Goals: 0
Rating: 7/10
Grew in stature during the second half of the season when he commanded his penalty box expertly and displayed adept judgement. Ironed out some near-post frailties and saved his side on numerous occasions during a flurry of consecutive clean sheets.
Darren Kelly

League and cup appearances 2008/09: 9 (3)
Goals: 0
Rating: 5/10
Another disappointing campaign for the amiable Irishman. Showed sound organisational skills during occasional appearances, but always susceptible to pace.
Artur Krysiak

City league and cup appearances 2008/09: 2
Goals: 0
Rating: 7/10
A good use of contacts by Colin Walker after recommendation from former Barnsley stopper David Watson, now goalkeeping coach at Birmingham. Krysiak exuded confidence, but was unfortunately injured in his second game on loan.
Levi Mackin

City league and cup appearances 2008/09: 21
Goals: 0
Rating: 6/10
Reliable holding player, who proved the Minstermen's most consistent performer in midfield after joining on loan from Wrexham. Also has an eye for a pass and disciplined in his positional play.
Daniel McBreen

League and cup appearances 2008/09: 41 (7)
Goals: 10
Rating: 4/10
His FA Trophy heroics fail to gloss over a very disappointing Blue Square Premier campaign. Five league goals represents a paltry return from Colin Walker's big summer signing and he looked heavy-legged when asked to lead the line as a sole central striker.
David McGurk

League and cup appearances 2008/09: 41 (4)
Goals: 0
Rating: 7/10
Dependable as ever, City's stalwart defender was a calm presence in the back four even though the form of Shaun Pejic and Daniel Parslow meant he had to fight to regain his place after injury. Will also be disappointed not to have got his name on the scoresheet in 45 appearances.
Andy McWilliams

League and cup appearances 2008/09: 23 (3)
Goals: 0
Rating: 5/10
Given few opportunities in his preferred left-back role and proved a bit hit and miss as a makeshift midfielder. At his best, he was a combative presence but, at other times, displayed naivety in possession.
Josh Mimms

League and cup appearances 2008/09: 4 (2)
Goals: 0
Rating: 6/10
Performed adequately during his brief outings last season, although never under scrutiny for a prolonged period. Looks a distant challenger to Michael Ingham between the sticks.
Daniel Parslow

League and cup appearances 2008/09: 57
Goals: 1
Rating: 8/10
Aside from a mid-season wobble, Parslow was a determined presence in City's back four. He never gave less than 100 per cent and would have played every minute of the season had he not been rested for the last league game at Lewes. Has led by example since being made captain.
Shaun Pejic

City league and cup appearances 2008/09: 19
Goals: 0
Rating: 7/10
Unfussy addition to the City defence who has proven equally as comfortable in either full-back position as he has done at centre half. His swift acclimatisation to life at KitKat Crescent was best illustrated by the fact that David McGurk had to bide his time for a recall on his return to fitness.
Ben Purkiss

League and cup appearances 2008/09: 46 (1)
Goals: 2
Rating: 7/10
Impressively provided the team's most goal assists despite playing at right back. More composed than any other City player in the final third of the pitch and normally solid in defence.
Josh Radcliffe

League and cup appearances 2008/09: 0 (1)
Goals: 0
Rating: 6/10
Will remember his only senior appearance with fondness after converting a penalty in the titanic FA Trophy shoot-out victory over Kidderminster. A long way off regular contention for a first-team place however.
Mark Robinson

League and cup appearances 2008/09: 47
Goals: 2
Rating: 6/10
Unfortunate to miss out on Wembley after playing every minute of every round in the run up to the FA Trophy final. Willing attitude and ready to start attacks as well as snuff them out.
Gavin Rothery

City league and cup appearances 2008/09: 1 (2)
Goals: 0
Rating: 5/10
Positive contributions are difficult to recall from the attacking midfielder who looked shell-shocked when given rare opportunities under Colin Walker.
Simon Rusk

League and cup appearances 2008/09: 45 (2)
Goals: 1
Rating: 5/10
Found his best form when employed in a floating, forward role during the FA Trophy run. Often anonymous, though, if used in a two-man central midfield and even quieter when shifted to the right flank.
Simon Russell

League and cup appearances 2008/09: 20 (13)
Goals: 1
Rating: 4/10
Brought in by Colin Walker to fill the creative void left by Martyn Woolford's departure but rarely showed any incision. Only managed a single goal and assist in an underwhelming campaign. The goal, direct from a corner, also benefited from a gale force wind at Barrow.
Liam Shepherd

League and cup appearances: 1 (9)
Goals: 0
Rating: 6/10
Gave some promising cameos and an encouraging full debut before disappearing from the senior scene during the closing months of the season. One of the few members of the squad, though, to demonstrate genuine flair and unpredictability.
Adam Smith

League and cup appearances 2008/09: 9 (8)
Goals: 2
Rating: 7/10
Brought some much-needed excitement to City's attacking play and will hopefully look just as dangerous if fully-fit next season. Capable of threatening the best sides at this level, as he illustrated at eventual champions Burton.
Christian Smith

City league and cup appearances 2008/09: 14 (1)
Goals: 2
Rating: 4/10
Guilty of some absolutely appalling displays in a City shirt but, at other times, gave an indication as to why Martin Foyle made him one of his first signings for the club. Such extremities of form, though, can prove costly at Blue Square Premier level.
Onome Sodje

League and cup appearances 2008/09: 20 (25)
Goals: 7
Rating: 5/10
Largely restricted to bit-part roles and never really provided any sustained run of form as a consequence. His two-goal blasts against Stevenage and Crawley still illustrated his value to the side if his strengths are utilised.
Steve Torpey

City league and cup appearances 2008/09: 1 (1)
Goals: 0
Rating: 5/10
Told to keep fit and drafted in as an emergency measure when City's strikers continued to fire blanks. Sadly, his legs were nowhere near as quick as his brain.
Ben Wilkinson

City league and cup appearances 2008/09: 15 (10)
Goals: 2
Ratings: 4/10
Displayed a canny knack of ghosting into opposition penalty boxes to snaffle goals but, otherwise, went unnoticed in the midfield engine room.
Season Stats
York City used 33 players in League and Cup football compared to 36 in 2007/8 and 28 when they reached the play offs in 2006/7.
No player was ever present – captain Daniel Parslow missed just one game.
Two Blue Square Premier League doubles were completed by York – Weymouth and Woking. Two clubs did the double over City – Burton Albion and Grays Athletic.
There was a dramatic drop in the number of goals scored for and against in league matches compared to the previous season:
2007/8 For 71, Against 74, Total 145
2008/9 For 47, Against 51, Total 98.
19 draws in the league equals the club record set in 1973/4 when promotion to Division Two (Championship) was won.
The average home league attendance of 2,295 showed a slight improvement on 2007/8 (2,258) but, for the first time since crowd details were published in 1929, not one league game attracted a figure of 3,000-plus.
The biggest home crowd of the campaign was 3,512 for the FA Trophy semi-final against Telford, while the crowd of 608 for the Setanta Shield tie against Mansfield is the smallest to watch a City home competitive game.