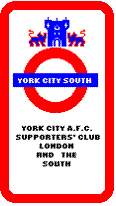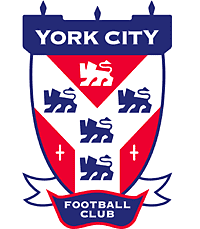 City History
Nick Bassett
Nick Bassett, City's Secretary was the guest speaker York City South's October 2009 meeting. He spoke about his time at City, the managers he's worked with, the players, the new ground, the press and much more besides.
He spoke eloquently for over one hour on his time as City's secretary. He covered a number of subjects, including the managers during his tenure, progress off and on the field, this summer's decision to invest in the first team at the expense of reserve and junior sides, Bootham Crescent and the search for a new ground and a whole lot more.
After the break, he was pummelled during a free format question and answer session. Topics included Martin Foyle's personality and commitment, the press, team spirit, more on the new ground and much more.
He came across as a fan, albeit a recent one, rather than life long fan.
Nick thoroughly enjoyed his day out at Wembley in May, but would have liked to have stood on the M1 and watched as the masses of City supporters streamed south. After the game, Foyle expressed his frustration that he had no one on the bench who he could call upon to change the course of the game when we went a goal down. Apparently we sold 12,158 Wembley tickets at KKC before the big day and more on the day at Wembley.
Planning for this season and faced with a squad that Foyle believed didn't had enough strength in depth, Foyle and the club decided to gamble. Stretch the budget and hopefully rise as other clubs made cut backs and fell back. Reserve and junior side cuts meant more money was put into the pot. Bassett believes that reaching the play off semi finals will recover the extra budget. We hit the jackpot if we get to Wembley or beyond.
Money cropped up at regular intervals during the evening. Scrapping the reserves saves just a few thousand pounds. By the end of September, we'd already played 4 reserve team matches (against Leeds, Bury, Scunthorpe and Darlington). After the last game, Foyle laid down the law to some senior players who he felt didn't show the right attitude, stating if they can't perform in the reserves, he's not inclined to put them into the first team.
The youth team runs on a £50,000 per year budget. This year its being funded 50 / 50 by CLP and the players' parents. This compares to the £168,000 given to each Football league club to run their youth schemes.
The decision to rent a house for 5 players was also seen as way to both attract better calibre players from further afield and also to engender team spirit. Parslow, captain on the pitch, appears very much to be in charge of the house as well. Last season, many players were driving daily from far afield, for example, Steve Hogg from Bury every day.
Explaining Foyle's recent request to cease putting City on youtube, Bassett explained how a couple of managers had commented directly how they'd countered City by scouting from youtube. Foyle claims he could watch the first 8 minutes of any game, or any video, and have enough information to be able to counter that team a week later. Foyle dreads to think what an opposing manager can gain from eight minutes of key highlights from youtube!
Incidentally, after every home game, the club has to give full copies of the match video to the referee, the away team and send one to the conference. Whilst Phil Howden takes one video for York City and York TV, you'll also see Darren on the gantry taking a separate copy for the visitors and referee.
Nick spoke highly of Foyle, from the days before he was appointed, when all City's due diligence came back with flying colours. Apparently we even asked Jon McCarthy's opinion, Jon having played at Port Vale during Foyle's era. Foyle and Porter live in digs in York during the week, returning to their family homes in Staffordshire one or 2 nights a week. It sounds like they're often the last to leave the ground on an evening and spend their evenings watching covert videos of Eastbourne v Salisbury. Before bed, it is not unknown for Foyle to put in an 11pm call to a member of staff who is experiencing family problems. Foyle comes across as the "good cop" to Andy Porter's "bad cop".
One of our members made Nick's day when he told Nick that he checked ycfc.net at 5:05 after a game and got confirmation of City's 3-2 win over Kidderminster when the BBC web site was still showing "3-2 Latest Score". Thanks to modern technology, Nick can upload team sheets, scores and results almost in real time, although match day duties and broadband logistics sometimes, especially away from home, can cause delays.
The evening touched on Bootham Crescent and the new ground on a number of occasions. We spend approximately £50,000 annually on general ground maintenance, holes in roof, crumbling terrace and drainage problems being highlighted, as well as floodlight bulbs at £200 a pop.
With many small away followings at home games, we're flexible on housing them, sometimes free transfer to The Popular Stand or a narrow section of the terrace. The aim being to save on match day staff and stewards, reducing match day outgoings.
Nick's not too closely involved in the ongoing ground saga, it is largely run by the McGill family. He did indicate staying at Bootham Crescent was an option, an expensive one that would necessitate the almost total rebuilding of the ground. The plan is to short list 4 sites by Christmas 2009 and to announce our first choice by April 2010. The time taken for planning permission to be granted is a big unknown. Although apparently, someone in the past has already gained planning permission for a sports stadium next to the MacArthur Glen shopping complex. Nick indicated that the city centre sites would require significant clean up work and may not be at the forefront of our thinking. The new ground will be designed with a 6,000 capacity (including 2,000 seated), to meet minimum Football League standards with options to easily upgrade to 10,000. It will not include a running track. The estimated cost is £8m plus provision of athletics facilities somewhere in York is about the same as the proceeds from the sale of KKC and Huntington. YCFC will own majority of the new ground and plan to hold a consultation period with the supporters along the way before any final decision is made.
Towards the end of the evening we got onto press, publicity and attitude. There was a unanimous desire to return to the days of Malcolm Huntington and the Yorkshire Evening Press, a life long City fan who rarely portrayed City in anything but a glowing light. Nowadays, Dave Flett, a Doncaster Rovers supporter, and The Press, across both sport and general coverage of our city appear more intent on writing up bad news. Try it yourself, open The Press and you'll see what I mean. We then got into a discussion about attitude and perception. Somewhere along the way, Graeme Murty's name was mentioned in connection with one of his managers. The manager told his team, "it is common knowledge throughout football that if they hold York for the first 20 minutes at Bootham Crescent, then the home fans will turn on York". Think about it!.
The evening finished where we started, with Bootham Crescent. Nick recapped the saga of the floodlights at the Cambridge game in September. The pylon in the corner at the away end was lowered on the day of the game to replace a light bulb. When it was raised back into position, it tilted at a 10 degree angle. 2 more attempts were made, 15 degrees and then back to 10 degrees. The cause? An air bubble in hydraulic lifting gear. The electrician returned a day later, drained the hydraulics of air and all was fixed. Nick also explained that the tunnel is out of bounds for health and safety reasons and the recent decision to kick towards the Longhurst Stand in the first half came about by losing a couple of tosses and being asked to play that way in the first half. Victories ensued and a mew superstition was born.
Whenever we've had someone from the club come down to speak to us, invariably, their love of the club shines through, none more so than Nick. I reckon he'd have stopped all night if we'd asked him.
P.S. Within a week, Nick writes, "Thank you all for your generous hospitality at last week's meeting. I enjoyed the evening immensely and as I've said before I am happy to visit you as often as you'll have me! Enjoyable company and a good pint always go down well.