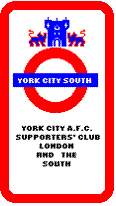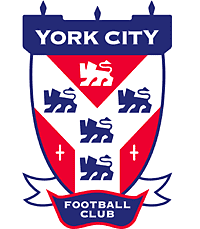 Paul Hilton
Paul is a founder member of York City South and life long City supporter. Within the branch, he's a regular at our Brixton Monday night 5 a side. To pass the time of day, he works at BBC London 94.9 as a trails producer (amongst other things).
As a wee boy, his secret ambition was to run the Marathon, and this year through his radio station's involvement, he got the chance. Although, unfortunatly, not in the circumstances he would have wished. His dear sister Jenny ended her 4 year battle against cancer last summer. Her final days were spent in The Thames Hospice Care - formerly Paul Bevan Hospice in Ascot. It is this charity for which Paul ran the London Marathon on 17th April 2005.
To date, Paul has received many sponsorship pledges with kind donations from family and friends back home in York, City South members, Crystal Palace supporters, BBC broadcasters and staff.
Even at this late stage, if you would be kind enough to sponsor Paul then you would be supporting a very worthy cause.
Paul estimated a finishing time of 4 hours 30 (and the rest), but as he'd never run a marathon before, he wasn't sure when his second wind would kick in. You might have spotted Paul wearing number 52876 dressed in a black long sleeve top with garish yellow over vest with Paul written all over it.
At the end of the day, and running into the unknown afer 14 miles, Paul maintained a midfield position, eliminating any embarrassing televised toilet moments to clock a credible 6:02.05 for his first ever marathon. Well done Paul.
It could have been even better, but as Paul recalled the following morning, things didn't quite work out as he expected, "I finished the marathon after a euphoric and traumatic day. The euphoria was just to be involved especially over the first half where the crowds were fantastic as indeed they were right along. Unfortunately my friend and running partner Trish collapsed after 17 miles. I stayed with her and ended up at The Royal London Hospital where she started to recover and was re-united with her hubby. She's okay now and back at home but it scared the shit out of me. I decided to re-enter the race and just thought about the money I'd raised so it was a very hollow feeling crossing the line albeit a massive relief! My official time for what it's worth was a world beating 6hrs 2mins and 2secs. There's no doubting what a ridiculous physical demand it has on you if you're not a trained athlete (and I'm certainly not). I can understand now why so many people were walking which I couldn't at the time. So now I'm really paying the cost for this today! But I dare say if I'm given the chance to run it again next year........
Thanks to all of you for your kind support and encouragement and what's more with your sponsorship, I raised £1,500 in the end for Thames Hospice Care.
Paul joins a long list of City supporters (and officals) in completing the London Marathon. Indeed, York City South member Richard Skilbeck did it a year earlier.
Paul can also be contacted on 0207 208 9619 or 078844 98681 or via email Paul Hilton.
PS For a suitably large donation, Paul might even introduce you to a younger, prettier cousin.