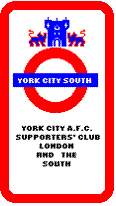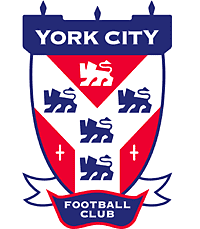 New Frontiers
2008/9 Accounts. Sustainable?
On November 14, 2009, City's financial accounts for the year to June 30th 2009 were released. Thanks to Dave Flett and The Yorkshire Evening Press for the details. Read It
YORK City recorded a profit for the first time since 2004 thanks to their FA Trophy Final appearance and the sale of Martyn Woolford.
Finance director Terry Doyle revealed the Wembley windfall and Woolford's departure prevented the club from making losses in the region of £400,000 for a second successive season.
The Minstermen's accounts for the year ending June 2009 revealed a profit of approximately £30,000 despite proceeds of between £250,000 and £300,000 from the run to Wembley and the six-figure sale of Woolford to Scunthorpe on the eve of the 2008/9 campaign.
All the staggered payments for Woolford are included in the figures for the latest set of accounts although Doyle added that reports of a £200,000 fee had been exaggerated.
Adam Boyes' transfer to the Iron this summer, meanwhile, will be included during the accounts for the financial year ending in June 2010.
City have only released abbreviated accounts, which is all that is required under the Companies Act 2006, with board member Doyle explaining: "We don't want to give any information to our competitors."
Doyle did reveal, however, annual turnover had risen from £1.1 million to £1.7 million.
(Ed – put most of that down to Wembley and Woolford).
Gate receipts showed a slight increase, rising from £494,000 to £516,000, largely because of the greater number of games played in the Trophy. The cost of ground repairs dropped from £33,000 to £18,000 but is likely to show an increase in the next set of accounts. This is due to recent work on the Main Stand roof and floodlights, as well as improvements to the away toilets that need to be completed to meet Blue Square Premier standards.
The contribution of supporters' groups, meanwhile, went down from £77,257 to almost £14,000.
The Supporters' Trust, who still retain a 25 per cent interest in the club, contributed nothing compared to the previous year's total of £5,346.25.
Wages for all staff, meanwhile, rose by £80,000 to a figure approaching £940,000. An unexpected cost of £43,000 was incurred when the club was issued with a bill to help shore up the Football League pension deficit, which the club is still contracted into to meet for the benefit of past employees.
Delivering his verdict on the accounts, Doyle said: "There's a fairly clear message that comes out of them and that is the FA Trophy made a big difference in turning around our £400,000 losses. It was worth between £250,000 and £300,000 but we have still only made a small profit during what many clubs would consider a successful season by reaching Wembley.
"To run a competitive Blue Square Premier club on our basic level of income, you are going to incur losses of between £350,000 and £400,000 although moving to a new ground would obviously help things change in that respect."
City's last recorded profit was £83,000 in 2004 – the season they dropped out of the Football League. In 2005, they lost £83,000, which rose to £359,000 the following year. Losses of £270,000 were recorded in 2007 and £413,000 last year.
We at new frontiers say thank goodness for Wembley and Martyn Woolford. Take the £400,000 or so accruing from these 2 events and we would have been looking at a huge, in City's term, financial loss for last season.
Not sure how much longer a club like City could afford to stomach such losses. Invariably they mean further cut backs and threaten the existence of our club.
Since we dropped out of The Football League, we've lost over one million pounds, that's £200,000 a year or £4,000 a week. Not sure how much longer that is sustainable.
Terry Doyle pins a lot of hope on the move to a new ground. OK, we'll save something on ground maintenance costs, but the figures he quotes as ground maintenance costs are only a small fraction of our ongoing losses. We'll need to work hard to make £4,000 a week from the new ground.
Looking back at the 1990s, the sale of players was a significant factor on our balance sheet. With the changing face of football and our slide down the divisions, transfer fees, although still welcome, are unlikely to be our saviour, merely making losses look more palatable whilst weakening the team and condemning us to even more non league struggles.
The sale of Boyes and our FA Cup run (probably netting around £100,000 before the Stoke game) will help, but its still a long way to go before we can say we're in for a profitable season. Even with the Stoke game, it will probably more unexpected income, such as a live televised FA Cup game, a trip to Wembley (FA Trophy or play off, not FA Cup) or promotion to turn our season in to financial profit.
You can count the number of those we've had in the last 5 years on the fingers of one finger.
On an ongoing basis, we require one of those every season we remain in non league football.
Our salvation? Promotion. The sooner the better.
Disclaimer: The opinions and views stated in New Frontiers are solely those of New Frontiers and do not necessarily represent those of York City Football Club or York City South (a branch of The York City Football Club Supporters Club).
Email Chris, New Frontiers editor & YCS site webmaster