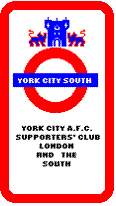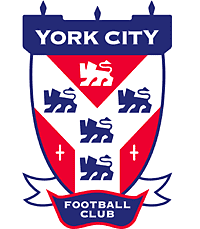 New Frontiers
new frontiers bids for ground naming rights
new frontiers is pleased to announce it has made a multi million pound bid to secure the naming rights to Bootham Crescent once the current naming deal expires in early 2010.
The Offer
The offer is based on:
new frontiers has an unblemished 15 year history of supporting the club
new frontiers has a large and extensive subscriber base, many are still York City supporters and spread across many far flung places like Finland, Kent, Durham, South West and Scarborough. To this day, others are still actively involved with fundraising
Earlier York City Shipton Street Roof Appeal experience being made available at an appropriate time when the club are considering building options for new stadium
Over £2,000 previously donated to the club from fanzine sales
Healthy organic vegetable option to replace confectionery. As much spinach and lettuce as you can eat, abundant supplies of beans, various soft fruits (in season), sunflower seeds with carrots and turnips to follow. Additionally, brussels sprouts available on demand for Junior Reds. Rotten tomatoes to be available to throw at opposing strikers when bearing down on goal (subject to conference (and hopefully Football League) approval)
Access and introductions to former England managers, including Sir Bobby Robson (RIP) and Steve McClaren (ex school class mate). With onwards and upwards leverage to the YCS, we can offer direct "expresso machine" access to senior figures within The FA, including Fabio Capello. We will also undertake to approach Stuart Pearce at the next Stranglers gig
Access to knowledgeable and learned readership of When Saturday Comes via regular monthly listing
Loose change in our pockets
All round good blokes who won't try to take advantage of the ground for their own benefits
Consortium contains no one named Douglas
History of developing young City players. In the parallel world of Championship Manager, our editor was able to coach Paul Stephenson into England's 1998 World Cup squad. He was also able to enhance the transfer values of players such as Paul Barnes, Steve Tutill and Dean Kiely to net City transfer fees of £3.5m, over 700% in excess of the fees Alan Little negotiated. At the same time, he was to develop existing City talent to progress City into the Premiership. For example, his tactics ensured that Steve Bushell scored an average of over 20 goals (maximum 37) a season for City from an advanced midfield position. Other City juniors progressed to hold down regular places in City' Premiership starting line ups.
All future royalties arising from part authorship of the original Football Manager (the predecessor of Championship Manager).
Artistic Director to replace Smarties branding in Family Room with psychedelic multi coloured footballs (or planets / UFO mix if preferred)
Euro Millions lottery ticket (x2)
Leverage choice of York City South membership to provide options for reducing club's accountancy, marketing and internet fees
Full access to new frontiers large band of witty editorial staff
Offer Price
Based on the above, the bid is worth 42p in hard currency and, over a 5 year period, between a minimum £415k and £16.7m in additional income accruing or cost savings achievable.
The values and variance are based upon:
Spiralling cost of vegetables
Maximise floodlight revenue by installation of student living pods with the floodlight structure, subject to planning permission each pylon could be clad to provide living quarters for 29 students (4 pods per level and topped with a penthouse pod). We are particularly excited by this possibility and its success would mean re-consideration of the need and decision to locate away from Bootham Crescent
Uplift in transfer frees
Improved league status
Building industry knowledge, experience and contacts, including a possible use as much as you want at cost on screws and nuts and bolts
Kudos from being alignment with The FA and England management team
Euro Million lottery results
No monetary value has been attributed to:
provision of healthy eating options that replace confectionery
potential uplift in transfer value of Josh Mimms or James Meredith
goodwill
Our Demands
Naturally, in making such a generous offer, we must insist on certain terms and conditions, which we hope will not materially change the fabric of the club. They are:
Dig up the pitch every summer to extend our allotment facilities (use of floodlights to provide enhanced growing season to be negotiated separately and subject to local resident's approval)
Re-open the tunnel beneath The Popular Stand. To ensure the continuance of crowd segregation, a section of The Popular Stand to be allocated to visiting supporters.
All reference to N***** and their products to be removed from all aspects of York City. The club to investigate erecting a screen at The David Longhurst end to ensure the N***** factory is not visible form the ground.
Disclaimer: The opinions and views stated in New Frontiers are solely those of New Frontiers and do not necessarily represent those of York City Football Club or York City South (a branch of The York City Football Club Supporters Club).
Email Chris, New Frontiers editor & YCS site webmaster