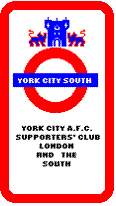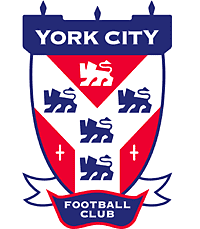 City History

City Player Profiles

Recently Added Profiles.

Bishop, Andy.

Probably Chris Brassí best signing a free from Walsall. Had 2 seasons with us before joining Bury in May 2006. The day after his departure was announced he fulfilled a commitment to be joint guest speaker at the Harrogate Minstermenís social evening. He gave a lucid account of his time with City and said when he signed his contract, City and other clubs, including Walsall and Kidderminster, had made verbal offers but only Bury had put a contract in front of him. Incidentally, another departee, Dave Merris, was the other guest speaker.

Bottom, Arthur.

"He scored goals at every level and completion and earned us a good transfer fee", Josh "Arthur Bottom" Easby on his favourite every City player.

Bowey, Steve.

Turned down Scottish Premier League outfit St Mirren for a part time contract with City. The new Ginner?

Byrne, John.

First former City player to later play in the World Cup. Last seen working as a chiropodist in Sussex.

Dunphy, Eamon.

AKA Ann OíRobinson as presenter of the Irish version of "The Weakest Link". Got on everyoneís bad side, including Jack Charlton and Bono. Part time speech writer for The Irish premier. Decent author. Former City midfielder.

Farrell, Craig.

Latest in a long line of non scoring strikers. His touch and general play suggest the new Gary Bull. An away hat trick or two would confirm that impression. Wrexham away?, Craig.

Johannesson, Albert.

"Ground breaking sportsman who played with a smile", Stewart McCartney, unfortunately, his well documented drinking was already affecting his playing when he joined City.

Logie, David.

"Carthorse who couldnít run, striker, rarely scored", Alastair Smith.

Murty, Graeme.

Woody tells a good story about him from our Dublin tour of 95 when he first came to attention in the bar after the friendly in Dublin against St Patrick's Athletic in 1995 as news of Jon McCarthy's departure was breaking. Fans, lamenting the lose of our right winger and a dearth of replacements at the club, a little high pitched voice piped up, "what about me?", on turning around and looking down, it was 17 year old Murty, almost in tears. Alan Little took pity on him and the rest is history. More recently, he ignored repeated requests from our branch to be a guest at one of our meetings. First former City player to go on to be a regular captain in The Premiership.

Peyton, Noel.

Republic of Ireland international (6 caps) and former Revie irregular, he joined City in 1963. A skilful and industrious inside forward, he lost his starting place after suffering a bad knee injury. Joined Barnstaple as player manager in 1965. Returned to York, where 40 years he is now a regular at Bootham Crescent. One of a short line of ex Leeds players, step on down, Bobby Sibbald, Albert Johanneson and Ron Hillyard, who graced City in the 1960s. Currently, he is treasurer of the Leeds United Ex-Players Association and still keeps in contact with some of his old pals from his playing days. Probably, including those with whom he spent many a close season painting the houses in New Earswick for the Rowntrees Trust. He tells of paint, brushes and ladders regularly going "missing" when coming back from toilet breaks and having to hunt down the gear in all the gardens, oh happy days. Or the time coming back from lunch and racing each from Wigginton to New Earswick so as to be first back and bag a good parking spot by going the wrong way around roundabouts!! Remember it well, 1960s, hardly a car on the road when 2 come flying past the primary school and nearly knocked me off my tricycle.

Pollard, Brian.

Outstanding schoolboy half back at rugby league where he wasnít interested in football. He saw the light and won England youth honours, one of 3 City players, Cliff Calvert and Mike de Placido were the others, who played in the same England side. Went onto play for Watford in their meteoric rise to fame. Most famous teammate in that schoolboy rugby league side was Josh "Arthur Bottom"Easby.

Woodhouse, Curtis.

Former City junior, bad boy when he accepted Sheffield United professional terms rather than City's offer, bad boy on several occasions on the pitch (and off it). Sacked. Failed England U21 international, Took early retirement and became a professional boxer.

Older Profiles A-Z.

Aimson, Paul.

Prolific scorer. Believed by many to have scored the fastest ever Football League goal. His effort against Torquay was officially timed outside the record held by Jim Fryatt, but its directness, big boot to the winger, dribble, cross, goal, makes many believe it beat Fryatt's laboured effort. Had 2 spells with City and was a hero both times, not many have achieved that feat. In the MacDougall / Boyer era, he was comfortably a better player than either of them, a claim backed up when Bournemouth got rid of that strike force and signed him as their replacement.

Aitken, Peter.

Short term signing from Bristol Rovers who when offered a contract extension preferred something nearer his Bristol home. He found a new club in Hong Kong.

Atkinson, Paddy.

Born in Singapore, he probably should have stayed there. Favourite of Alan Little and all the boo boys. Possibly one in a long list of Cityís worst ever players.

Banton, Dale.

At the time, our record signing. His first impression of York was being kidnapped by Denis Smith, who then gave him and his wife an escorted drive around York which only finished when pen to paper to sign. Arriving shortly after John Bryne's departure, he had a lot to live up to. Being cup tied didn't help as we were to reach Round 5 in his first season, he was continually in and out of the side. He didn't really come into his own until Walwyn left, unfortunately we were a bad side by then and despite his goals, we struggled. He secured a £80,000 transfer to Walsall (where he was voted their worst player of all time). On the pitch he was blessed with great skill, a good brain and great vision; combined they put him on a different level to most of his colleagues, his inviting through passes were made to look like bad passes as others didn't read the game as well as Dale.

Barmby, Jeff.

Young reserve striker from the early 1960s, he later had a long and successful career at non league Scarborough in a side that was built around City cast offs and won 3 times at Wembley. Father of Nick.

Barrass, Tony.

Invented the Rio Ferdinand lazy centre half role, history didnít record whether or not he failed a drugs test but I suspect he didnít sip coffee with internationals and he certainly didnít have plaits in his hair.

Bartram, Sam.

War time keeper and later our manager. Charlton legend whose 40 + year old records are currently being shattered by Dean Kiely. Was the actual goalie who stayed on the pitch for over 15 minutes after the ref abandoned a Charlton game due to dense fog.

Beresford, Marlon.

Burnley's fans named a fanzine after him, previously, I had thought of giving the honour of the first footballer to have a fanzine named after him to Andy Warrington, but I don't think "Andy Warrington's Bloomers" would have sold anything like the numbers that New Frontiers did. Had a successful first spell with us in 2002 before going back to his first love, Burnley. When the affair ended, he came back for the 2003/4 season, but after a successful trial, injury concerns and insurance worries meant that we couldn't offer him a contract. Starred for Luton and Bradford that season whilst we had Mark Ovendale to cheer on.

Bertos, Leo.

If New Zealand had qualified for the 2006 World Cup finals and if he was still with City, he would, if selected, have been the first current City player to play in the World Cup finals. Failed on all accounts but still ended up marking Ronaldinho for New Zealand against Brazil in their final friendly before the World Cup started. What change of Nathan Peat repeating the feat in 2010?

Batchelor, John.

Went one better than Roman Abramovich when having bought the club, he made his debut as a substitute against Woking.

Buchanan, David.

Was the better half of a potent partnership in various Leicester junior sides with Gary Lineker. Lost his way and ended up in the reserves at Sunderland. Joined City on loan when Marco Gabbiadini signed for the Roker Park outfit. We very quickly sent him back after his loan spell.

Bull, Gary.

Holds some kind of City record for scoring a City hat trick in 1996, his feat wasn't repeated for 9 years until Joe O'Neill's 2005 hat trick at Southport.

Calvert, Cliff.

One of the few players from our 2 seasons in the old Division 2 (1974-6) to go onto better things. He secured a £30,000 move to Sheffield United. Emigrated to Canada where he is believed to be a fireman. Son in law of Keith Usher.

Convery, Mark.

Right sided midfielder. How low have we sunk when a Darlo cast off becomes a City star. How I yearn for the days when our casts off become their stars, Peter Bainbridge, Eddie Rowles, John Williams and Gary Himsworth included, remember them well.

Crossley, Richard.

Early 90s reserve defender. Featured on TV documentary, Darren Tilley and Craig (son of Sam) Allardyce on their careers in Chinese football which is best remembered for Allardyce complaining about not liking China because he missed chips and The Sun.

Culkin, Neil.

Sir Alex Ferguson proved displayed his outstanding abilities as a talent spotter of youth when signing Cuklin from City. Made his City debut on the bench in the 1995 Coca Cola Cup tie with Manchester United. That night, the way Culkin commanded his bench and kept a clean sheet prompted Ferguson to sign him. He went on to have a long and successful United career, eventually setting United club records for their most expensive player ever and shortest league career. It lasted all of one minute which cost about £320,000 per minute when the transfer fees and the money City made from a friendly as part of the deal are taken into account.

Czucman, Mike.

Decent defender, preferred live on the dole in Grimsby to travelling daily to York when offered a new contract.

Eccles, Jennifer.

Striker who didn't. Rumoured to have been christened Terry but definitely played like a girl.

Granger, Mike.

Keeper. Made just 71 appearances in over 10 years at City. In the modern era that would constitute a failure. In those days, he was probably the 2nd best keeper in the lower leagues, behind our first choice, Tommy Forgan.

Hay, Alan.

His player profile listed the likes of Ziggys, Stringfellows and The Pink Lady as his previous clubs, far better than Bolton and Bristol City.

Henderson, Tommy.

We took over his registration when Bradford PA lost their Football League status in 1970. A decent winger with a powerful shot, was sacked after the saga of the disappearing wage packet in 1972.

Hillyard, Ron.

Believed to be the originator of the 70s footballer curly perm. If it looked ridiculous then, its even more so now as a 60+ year old Gravesend goalkeeping coach, although its now thought that his hair is naturally curly, but its still silly.

Hotte, Tim.

Loan signing from Hull, most memorable at the time for his name, almost certain to be a relative of Mark.

Howarth, Russ.

Former keeper and whilst with City was placed on standby for the 2002 World Cup by England along with the rest of the England Under 21 who played in 2002 European U21 Championship Finals. He might have done a better job than David Seaman.

Hunter, Gordon.

Too small to be a professional footballer, especially a defender, but that didn't stop Wilf McGuinness playing him at centre half in the original Division 2. Disappeared from the game after leaving City in 1978, just as he did during the game when at City.

Jordan, Scott.

Outshone Paul Scholes and Nick Butt in our 0-5 defeat at Old Trafford in The FA Youth Cup Quarter Final, and again when we beat United in The 1995 Football League Cup. Who knows what might have happened if he'd had ginger hair.

Kay, Roy.

Signed from Celtic at the time when Scottish exports adorned English football. Full back Captain under Charlie Wright, equally adept (and bad) in either full back role, although I recall him scoring twice in one match, Don't ask me how.

Kilby, Graham.

Former City Under 14 in the era of Joe Shaw / Tom Johnston. He'd train on the pitch twice a week, occasionally, he'd see one of his colleagues disappear down the tunnel with the manager, never to be seen again. Eventually, he was to suffer the same fate, only it wasnít the grisly fate he feared. It was the end of his City footballing career, released at 14. Nowadays, a stalwart of the Youth City Youth Development Fund and York City Supporters Trust.

Kitching, Phil.

Who?

Lally, Pat.

Right wing half, powerful going forward with a distinctive style of running (arms flapping) and venomous shot. If he'd been born a generation earlier, I'd swear that the Subbuteo player was modelled on him.

Leaf, Andy.

Late 70s junior whose name was the answer to a question on BBCís "A Question Of Sport", in the one minute round, the team had to name 3 parts of a tree.

Lorimer, Peter.

Legendary Scottish midfielder who after leaving City went into to break Leeds United's all time goal scoring record.

Lyons, Barry.

Formed one of City's most fearsome ever midfields alongside Emmanuelle Panther and Christian Fox.

MacDougall, Ted.

Only started scoring after being sold to Bournemouth", Stewart McCartney and typical of many City strikers.

Mallon, Ryan.

Prolific attacking midfield player in Football Manager 2006, taking over the role that Steve Bushell had originally made his own in Championship Manager 2.

McClaren Steve.

City Boys star. Even as a boy, believed to frequent the terraces at Elland Road more than those at Bootham Crescent. Check back for details of his imminent appearance as guest speaker at a branch meeting.

McMahon, Kev.

Newcastle reserve striker and powerful header (some said more powerful than his feet). His best move for City was the one that took him to Barnsley in exchange for Jimmy Seal.

McMordie, Eric.

Supposedly skilful left sided midfield player signed by McGuiness when coming towards the end of his career with Middlesbrough. Chief (probably only) claim to fame was that he originally accompanied George Best (RIP) to Old Trafford when they were both just 14. With Derek Downing formed a City left wing partnership which wasn't a patch on the Phil Burrows / Ian Butler left wing partnership that had got us promoted to Division 2.

McPhail, Andy.

Star central defender, best remembered for getting caught using an Under 24 person railcard when 28 and with Sheffield United. Not sure if he thought he could get away with it being a footballer or whether being a footballer he was dumb enough not to think being caught in the town where he was well known.

Ogden, Alan.

The only one of Tom Johnstone's free transfer signings from Sheffield United not to make an impact at York. First former professional footballer to have a successful heart transplant operation.

Panther, Emmanuelle.

Strong midfield player, with a first name like Emmanuelle he had to be strong as a boy in Glasgow.

Parkin, Jon.

Bill Shankly had Ron Yeats, Terry Dolan had Parkin.

Pepper, Nigel.

Originator of the Claude Makelele, sitting in front of his defence, stopping opposing attacks and launching our own. The prototype role had Pepper scoring which is something Makelele doesn't do. Ended his Football League career on a stretcher with a broken leg, it got worse, as he was carried off, he got the red card for something he said to the ref.

Peverell, Nick.

Our 11th man at Old Trafford. The one whose name is always forgotten. Came from nowhere and disappeared back there.

Randall, Adrian.

Alan Little chased him for about 9 months before signing him for a club record £140,000. Little struggled to find the best position for the cultured (and educated) midfield player before shipping him out to Bury within 5 months for £120,000.

Reid, Jimmy.

Hard man teenage midfielder signed from Glasgow in the early 1970s. Never made the grade (or a debut) with City but eventually found his level with New Earswick. Started the trend for naming offspring after their place of conception when his son, Arran (now a City junior keeper) was born.

Robinson, Paul.

Former City Boys Under 14 released with the words, "Son, you'll never make a keeper", ringing in his ears. Later played for Leeds, Spurs and England.

Robinson, Paul.

Replaced Alan Shearer in the Newcastle team but couldn't make a name for himself at City.

Robinson, Paul.

Paul Robinson's twin striker who you couldn't tell apart from his twin. Neither scored.

Ross, Tommy.

Took almost 40 years to score the fastest ever hat trick in British senior football. A hat trick he scored earlier in his career for Ross (yes, Tommy played for Ross) County in Scotland was only verified by The Guinness Book Of Records as the fastest ever almost 40 years after the event when documentary evidence of the timings came to light.

Sbragia, Ricky.

Alongside Michael Sinclair, the only person from the club to purchase a full set of New Frontiers.

Sertori, Mark

"He hit rock bottom and then started digging", Josh, not sure if thatís before or after he joined City. I think we hit rock bottom if we thought he and fellow Halifax teammate Kevin Hulme could improve us.

Smith, Kevan.

Mid 1980s central defender who after leaving City went onto enjoy a European Cup campaign. His Sliema Wanderers (Malta) suffered a large preliminary round defeat.

Smith, Shaun.

"He was slow, uninspired and no control", Ray Goodearl, a man of many words when just "No good" would have done.

Staniforth, Gordon.

I recall one of his last games (first spell) at Wigan, then newly elected to The Football League, 1-0 down at half time, 2 locals with flat caps and no teeth took great pride and joy in their performance and how bad we were. We escaped with our lives as they threatened to attack us with their black puddings. Swapping ends, we enjoyed an excellent 2nd half as we raced into a 5-1 lead, with Peter Lorimer pulling the strings, Gordon ran riot to bag a hat trick.

Stone, John.

Top scorer from Middlesbrough Intermediates. Starred as a defender as we entered Division 2. Crooked by Barry Swallow in a game against Sunderland and never the same afterwards. And you thought Swallow did no wrong until 2003.

Swann, Gary.

1993 Wembley play off hero. Turned down a contract extension with City to try his luck in Hong Kong. Last seen playing local league football in Sussex. Hobbies. Just one, watching his video of the 1993 Play Off Final. Endlessly.

Taylor.

We've had several since Archie but none to get excited about.

Tilley, Darren.

See Richard Crossley. Also featured in a double page spread in "The Weekly News" on his later career in Canadian football shortly after taking a Canadian bride.

Topping, Chris.

"Tall, dark and handsome and I did some baby sitting for him", Dot

Topping, Chris.

"Couldnít pass the ball to save his life. Didnít like him because he was ugly and had bandy legs", Pete

Tutill, Steve.

Former defender who stopped opposing and kept them locked up for 90 minutes. Probably doing the same now to Premiership stars (past and present) in his day job as a prison warden at Full Sutton.

Walker, Mike.

Keeper. At a time when international status meant something, he split his time between York City and the Welsh Under 23 side, kept out of the senior Welsh side by Gary Sprake which tells you how good (or bad) he was. Later, he had a long career in goal for Colchester and as a reasonably successful manager. Father of Ian.

Walwyn, Keith.

"110% effort every game and talent too", Ray Goodearl.

Walwyn, Keith.

"10, 20,30, 40, 50 or more. Mean Keith Walwyn is running up the score. Many men died trying to end the spree of the big striker for York City", Alastair Smith, sung to the tune of Adam Antís Prince Charming. Alastair scored no points for his musical rendition. I donít recall the last half of the ditty and he would have scored more points of heĎd put the lyrics to Duescher Girls. Plastic Surgery or similar.

Warrington, Andy.

Followed Hillyard in a short line of young and useless City goalkeepers who did better elsewhere. The record books show he made his City debut against Manchester United. Some argue that he made his debut 3 days earlier at Hull. That day. Kiely was carried off with a bad facial injury (younger readers, now you know why he looks so ugly) after a collision with Rob "The Mad Butcher" Dewhirst. Without a goalie on the bench, Paul Baker went in goal with Warrington stood behind the goal shouting at him to tell him what to do. It worked and we won 3-0. Perhaps, with Warrington's leg now in plaster, he could do the same for Chris Porter.

Whitehead, Alan.

Centre half signed from Brentford for £45,000 by Denis Smith who as a former centre half should have known better. Nicknamed "Concorde", you only had to see his nose to know he didn't get the nickname for his speed.

Wilkinson, Norman.

Centre forward who wouldn't give up his day job. Instead of that extra shooting practice in the afternoon, he'd dash back home to his cobbler's shop. Imagine, how much more potent he would have been if he'd kept his mind on the job. Imagine how dire some of our latter days strikers would have been if they'd had to work for a living. Set City's goal scoring record which stood until Keith Walwyn came along and still gets to some City games from his Durham home, that's when he's not scouting for City.

Wilkinson, Norman.

Star of our 1955 FA Cup side, a friend was drag kicking and screaming to Bootham Crescent one May evening about 10 years later for his first City game, his dad took him to see Wilkinson in the last reserve game of the season, Wilkinsonís last game before hew retired.

Williams, Darren.

Talented young midfielder who fell out of favour with Alan Little after splitting up with Little's teenage daughter.

Woodcock, Tony.

Ex England and Nottingham Forest striker who almost joined City

Woodward, John.

Ex Arsenal player and possibly the Paddy Atkinson of his era. Highlight of his Gunners career was probably the time he got flung over a car by Lazio players after a European tie in Rome, the golden era when the teams used to fraternise over a beer and a bonnet after kicking lumps out of each other. In his player profile in the City programme, he named his wife and dogs as family when everyone else named their wife and children. So if you mate went out with a dog in York in the 1980s or 1990s she was probably Miss Woodward.