This page was originally based on articles that appeared in City's programme during the 1991/2 season.
If you need any to complete your programme set, there are many sites available, suggest you try collectsoccer (or other outlets) who usually have big programme selections dating back to the 1930s or email Gordon Neale
.
The Early Days
The first York City programme was produced on 25th August 1923 for the opening game of the 1923/4 Midland League season, City's second season, against Scunthorpe and Lindsey, it was an 8 page affair, few copies are known to exist. It proved to be popular and acquired the name "The Citizen" from the fourth programme of the 1924/5 season. For a time, it included a team photo on the front cover. For many decades, it was a simple 8 or 12 page A5 publication, no colour and no photos, just line ups and brief City news. Production was soon awarded to the Herald Printing Works on Coney Street, hence the newspaper quality paper used. Until the late 1950s, a full size programme was produced for reserve games.
Later printers included WH Sessions, around the time that William Sessions was a director and chairman, and much later Maxiprint.
It is understood that printing was done very late in the week, even on matchday, allowing the print run to be cancelled if games were postponed. Programmes were also produced for reserve team games until 1956.
In the early days, programmes cost 1d. In 1946, the price of City's programme doubled to 2d (less than 1p) and increased to 3d in 1956.
Occasionally special programmes were produced, including the opening game at Bootham Crescent and big cup games, they usually contained more pages than usual and invariably cost more. For the 1932 opening of Bootham Crescent, a 16 page souvenir programme, costing 3d, was produced. For City's 1938 FA Cup quarter final a bumper 20 page programme was produced. For the opening game of the 1938/9 season, the Football League produced a special brochure which had the centre pages left blank for club's to enter the match line ups.
Read some programmes from The 1920s and early days of City
In my collection, there are some flimsy programmes from the 1938 and 1955 FA Cup runs, I'm afraid to handle them nowadays in case they disintegrate. However the oldest is from 1928 and comes from a charity match featuring City held at Heworth.
The 1950s FA Cup runs saw another phenomenon, the "pirate" programme, profiteers looking to take advantage of the big match. As was the tradition at the time, to avoid a colour clash, in the January 1956 game with Sunderland, City wore blue and white whilst the visitors wore white and black. A commenorative programme was produced, with blue and white to the fore, which and sold at 6d (2.5p).
Post war, due to paper shortages, programmes remained drab and limited in size. For the schoolboy international played at Bootham Crescent in 1952, City produced a 16 page programme printed on glossy paper.
Up until the 1960s, the City programme was printed on newspaper quality paper using a single colour ink, usually black, red or blue. It usually ran to 8 pages. An addition from the start of the 1967/8 season was the inclusion of The Football League Review, a glossy A5 size insert which covered general football matters and included colour team photos on the centre pages and back page. Any 2 of the 92 clubs could feature, City did a few times. It was a staple of City's programme (and nearly every programme across the FL) for nearly 10 years until the Football League started charging clubs for it and it quickly died a death. By the end of the 1960s, the programme was printed on glossy paper and the front cover was printed using different colours and designs. Simple technology of using one colour on top on another meant many programmes appeared in a shadowy appearance. The front cover design usually included drawings of York Minster, a goal net or white rose.
In the 1970s, I remember a couple of clubs, Notts County and Oldham, issued a programme in the style of a tabloid newspaper.
City's programmes were usually 8 or 12 pages, black and white with maybe one extra colour on the front and back covers. In December 1967, City issued their standard programme to cover both the Christmas home games on December 23 and 26. A few weeks earlier, City had broken with tradition and given new manager, Joe Shaw a column on page 3, where previously the club's directors had had their say.
On 17 February 1968, the programme featured the debut of "The Rosettes", dressed in City's colours, described by the Supporters Club's Jeff Mortimer as "the appearance of our attractive girls, who will be assisting in the selling of tickets" for their monthly and "Jackpot" raffle tickets".
Just over a year later, 24 February 1969, for the first time in over 40 years, the programme was not compiled by Wilf Meek, he was recovering in hospital after an operation. He was soon to return to his role until his death in 1970.
1970 saw an epic 3 game FA Cup tie with Cardiff, then 2 divisions above City, Europen regulars (by winning their Welsh Cup dominance and pushingh hard for promotion to the top flight.
Promotion to Division 3 in 1971 was immediately followed by a League Cup run. Programmes at this time stretched to 12 pages. Middlesbrough came to York and included recently signed Nobby Stiles in their side. The teams drew but City won the replay to earn a trip to high flying Sheffield United who were the early Division 1 pace setters at the time. Undaunted by a side that included Tony Currie, Alan Woodward and a host of other star names, City narrowly went down 3-2.
Until 1974, City's programmes generally consisted of fixtures lists, line ups, opponents and a Supporters Club column. Usually, but not always an editorial, in the early days anonymous, and in later years, starting with Joe Shaw, it was the manager. Invariably the programme was advertising heavy.
Division 2 - The Big Boys
Promotion to Division 2 in 1974 saw City's programme awarded the most improved programme award. Both the page size and number of pages were increased. City's travels in Division 2 included trips to some of the games glamour clubs. Bumper size formats were the common.
Southampton's strike force included Mike Channon and Peter Osgood in a side that bore a close resemblance to that which won the FA Cup in 1976. Three months later and City were visiting Manchester United. City's defence marshalled by Barry Swallow and Chris Topping played well to restrict a United forward line of Coppell, McIlroy, Pearson, Macari and Daly to a 2-1 result. Jimmy Seal scored City's goal. 6 months later and Liverpool visited York in an epic League Cup game. A Liverpool team containing 11 internationals was fortunate to return home with a disputed 1-0 win. The 1970s ended with a trip to Nottingham Forest in the FA Cup. The front cover of the programme shows Forest displaying 10 trophies, including the League Championship and League Cup trophies. 4 months later they were to add the European Cup.
The 1970s was the decade when the bigger clubs went to full colour programmes. If they were really posh, they were called match day magazines.
Division 2 - York City Programmes 1974-5
Promotion to Division 2 and a new commercial manager, Keith Hunt, combined to give City, what at the time, was their most impressive match day programme in their history.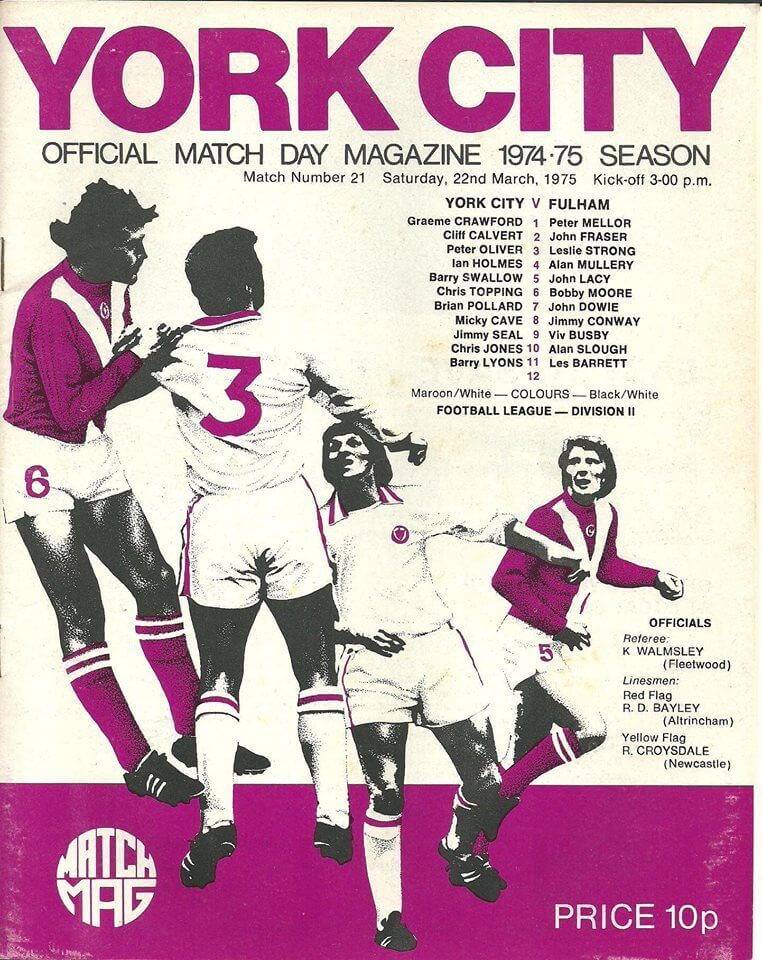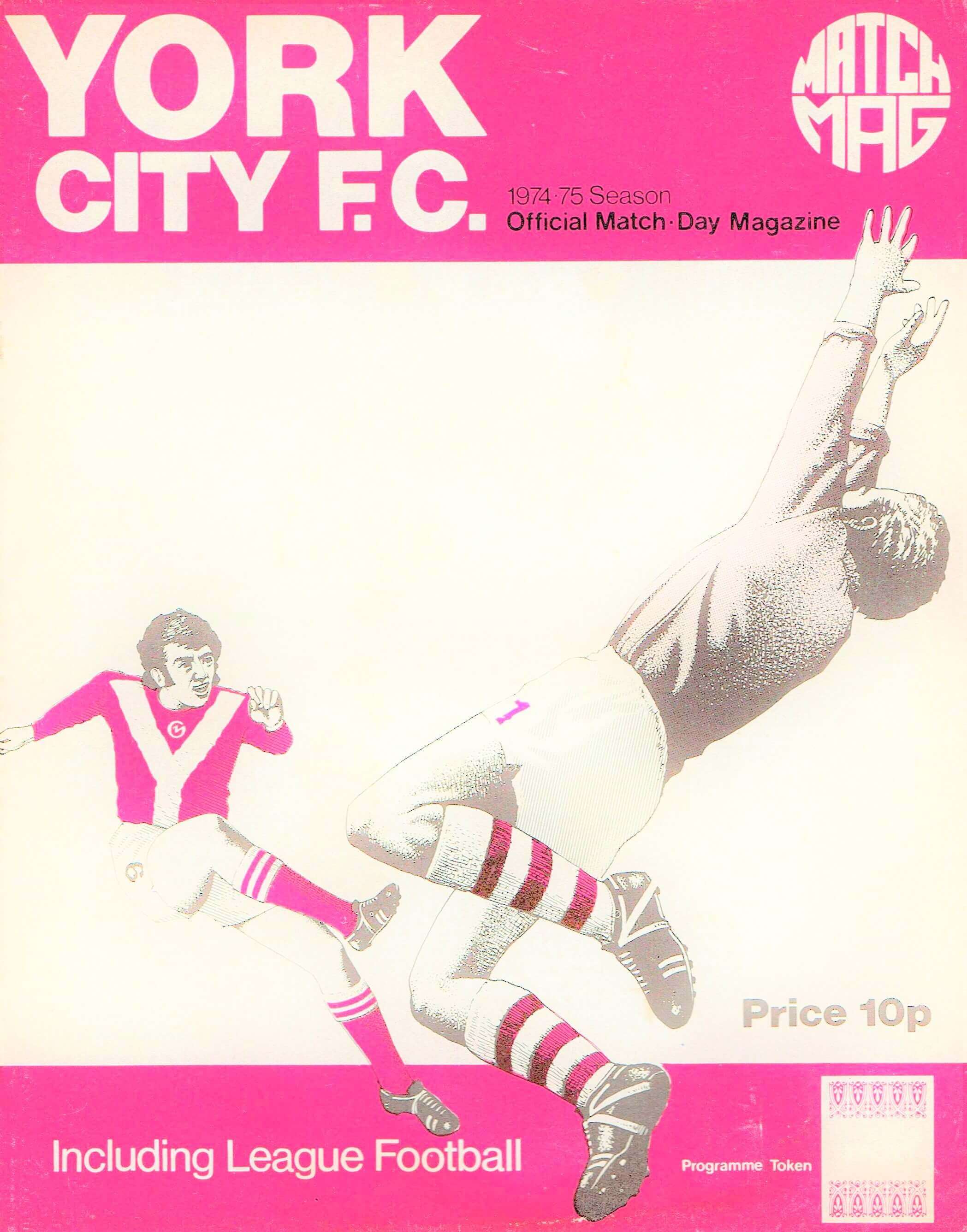 The programme was to win the title of most improved programme in the Football League at the end of the season.
It started with 24 large format pages with a drawing of a striker and keeper on the front cover which also included the team line ups. The cover was in maroon, black and white. These colours were used throughout the programme. Later issues fluctuated between 28 and 32 pages. It was also unusual in that the front cover was re-designed in mid season.
The season started with a home game against Aston Villa. The Villa pen pictures portrayed one of the visitors as "if his pre season form is any guide, this could be his League debut day", the visitor was Alan Little. He had to wait for his debut. The game ended 1-1.
A new feature that season was a Letters Page. The second programme of the season featured a letter from a supporter suggesting a "Memory Lane" page in the programme. 6 weeks later it appeared. The letter's author, Dave Batters, has been writing in the programme ever since.
The opening day of the season saw a 6,000 print run, but despite the improvements, that season saw a £12,000 lose on the programme (compared to a £1,000 profit during the 1973/4 season). It was scaled back for the 1975/6 season.
There are several issues of the programmes which contained blank or incomplete pages. These included the front cover, players profile and "Part Of The Team" pages. At the time, for cost reasons, City would make a bulk order of the "shell" pages (see picture above) in the summer and then call off a number of these that were overwritten with the match specific detail, some of these "shells" found their way out of the print shop. If we had a change of manager or staff, the old incumbent remained printed in the programme for the whole season (or until the "shells" ran out or pages were scrapped).
For the FA Cup replay with Arsenal a 4 page programme was produced with 3 days notice. The middle 2 pages profiled Arsenal and it contained no adverts at all.
Throughout the season, it is intriguing to see who the visitors included in their line ups. Manchester United included a team packed with internationals, a few weeks later, Southampton's side was to form the basis of their FA Cup winning side of the following season while Orient included Laurie Cunningham with just one League appearance behind him. West Bromwich's Bryan Robson was making his Football League debut a Bootham Crescent.
The "Star Parade" feature also makes interesting reading, reflecting the tastes of the time. Musical tastes appeared to revolve around The Carpenters, Glen Campbell and Motown. Morecambe And Wise and Monty Python's were the most popular TV shows. Several players expressed a desire to play for their country. Freedom of contract was a change that many players wanted to see.
Free Programmes & Beyond
In 1978, City issued a pocket sized, fold over free programme to everyone as they entered the ground. The theory being as everyone received a copy, City could sell more advertising. It lasted for a couple of seasons. Exact date to be confirmed, but the same style remained in place for 4 seasons, later seasons showed a price on the front cover.
The 1980s will be remembered for the games with Liverpool. It is interesting to note that the programmes produced for the replays contain many more photos and much more colour than those from earlier decades.
In his era (late 1990s), James Richardson estimated City would sell approximately one programme for every 3 fans (and print the equivalent of one per 2.5 fans to allow for hospitality and giveaways), the Manchester United game was his one big mistake, printing 6,000 (9,386 crowd), they were sold out an hour before kick off.
James Richardson noted some programme money was stolen during the Everton game a year later.
Sadly, despite the end of Bootham Crescent being well signposted, plans for a commemorative final game match day programme largely fell by the wayside. Once the final game was announced (AFC Fylde 12th January 2021), details were announced for a special programme. Unfortunately, the game was postponed but the "final day" programme went ahead as a digital download only (see below). It contained a front cover mirroring the first ever game at Bootham Crescent as part of the normal 40 page match day programme, virtually no content referenced the end of Bootham Crescent. City had continued to produce "regular" match day programmes for the behind closed doors game of the covid hit 2020/1 season.
City's 1955 Giant Killers
Two interesting programmes in my collection relate to City's 1955 FA Cup semi final team.
On May 19, 1968, they assembled to play a charity game against The Professional Wrestlers Football team in aid of the 1st Heworth Scouts Building Fund at Heworth. A large crowd was accommodated in temporarily erected stands.
The team fought out a highly entertaining, if somewhat light hearted, game against the wrestlers who included such stars as Bert Royal, Vic Faulkner, Mick McMichael, Masambula, Ted Heath and Jim Breaks. Household names of the era, familiar to the large TV audiences of the time who used to tune into ITV's World Of Sport for the weekly bill of wrestling every Saturday afternoon just before the football results.
The programme reveals that the demands of American TV had already started to govern the rules of the game. Refereed by the local referee Peter Rhodes, he gave a demonstration of the rule modification he had been forced to use when refereeing in America a year earlier. Namely, every 9 minutes he had to wave a red handkerchief to stop the match to allow one minutes of TV commercials before play could recommence. Peter revealed that instead of a handkerchief, he used to wave a pair of ladies red panties.
A little over a year later the Happy Wanderers played out their last game together when they drew 5-5 at Bootham Crescent against the current City side in Gerry Baker's testimonial. Gerry, the popular City and ex Forest full back, having been granted a testimonial game on his retirement through injury.
It was to be another 20 years before the 1955 squad re-assembled when in 1988 they gathered at a Sportsman Dinner in aid of The Roof Appeal. Norman Wilkinson living in County Durham, recalled the era and how even in 1988 he was still feted every winter when the FA Cup came around and his scoring exploits are once again shown on TV in the build up to the Cup. His scoring partner, Arthur Bottom, at the time was enjoying a quiet retirement in his native Sheffield. All the team members present regaled the younger City supporters of their bad luck in the semi final. They had razor shape minds when recalling the scoring exploits of that side, one of the finest, if not the finest, ever to represent City.
Testimonials With City Connections
It is fascinating to look back at some of the testimonial games staged around the country for players with strong City connections.
One club man, Joe Shaw made 629 League appearances for Sheffield United before being appointed City manager in 1967. He spent under a year with City before resigning for personal reasons. At City, he is probably best remembered for signing Phil Boyer. For his 1965 testimonial he lined up at centre half as Sheffield United played an All Stars XI which included a forward line of Sir Stanley Matthews, Jimmy Greaves, Bryan Douglas, George Eastham, Tom Finney and Jimmy Hagan.
Another one club man, Denis Smith, enjoyed a testimonial in April 1980 when Stoke played the Stoke of the 1970's. The programme reveals how he refused to sit his 11 plus exam because it would have meant going to a rugby playing school.
Malcolm Crosby enjoyed a testimonial while playing with City. He returned to Aldershot in May 1982 where his previous club played a West Ham side that included Dale Banton.
West Ham also provided the opposition for Ron Hillyard's testimonial in May 1984. As well as a programme, a brochure "Goalkeepers Are Different" was produced. Peter Shilton and Ray Clemence provided the forewords. Tommy Docherty didn't want him at Rotherham, Don Revie said no when he was at Leeds but Tom Johnston offered him a League debut with City. When on loan at Brighton, his manager, Brian Clough told him to get his hair cut, before telling him to "clear off" back to York. At Gillingham he made over 500 League appearances.
In 1985, Hereford played Manchester United in a testimonial for Colin Addison. Colin started his career at City and ended his playing career at Hereford before becoming manager where he enjoyed FA Cup success over Newcastle and lead the club into the Football League. He was to manage Hereford again in the late 80s.
Footnote: It is believed that a programme has been produced for every City first team home game since WW2 with the exception of the Valur friendly match in 1974 (possibly September 30 or October 7).