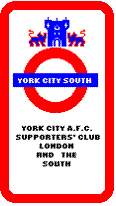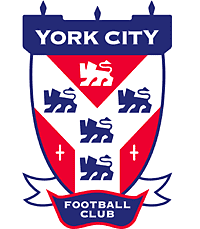 City History
Alan Little
After 11 years, the end came rather suddenly, announced by the Chairman, Douglas Craig, at a fans forum in March 1999. Alan Little was out, sacked as were flirted with relegation back into the basement. He had arrived at York in 1988 as coach in a package deal with John Bird from Hartlepool. He retained his coaching role when Bird was sacked and replaced by John Ward.
When John Ward went to Bristol Rovers in March 1993, Alan was promoted to manager. The side was experiencing a mini slump that had seen us go from 7 points clear in November to 4th position. He maintained that position and took us onto play off final victory over Crewe in May. Our only ever Wembley trip. 1-0 to Alan Little.
No one gave the side much of a chance in Division 2 the following season, but we reached the play offs. Recently the Chairman stated that one of his regrets was that that side stayed together too long when reinforcements were needed. The next campaign (1994-5) saw us in mid table, the play offs always just tantalisingly out of reach. That season probably marked the first "Little Out" chants. The 4 seasons 1995 -99 saw us flirting dangerously close too relegation back to Division 3. Alan was sacked in March 99 and we were back in Division 3 within 2 months.
It was 6 years since we had been promoted, we have never spent longer outside the bottom flight. 2-0 to Alan.
Arguments had raged for years as to whether it should be "Little Out" or "Craig Out". Little appeared happy to go along with the Chairmanís wishes and the Chairman appeared happy with a compliant manager.
The main bone of contention between club and fans being our transfer policy. Always a net seller of players with a large surplus on transfer dealings, there were repeated "spend some money" cries. Fans were divided as to whether Little or Craig should take the blame for Cityís predicaments.
Under Little, the outgoing record went from £125,000 to £350,000 (Paul Barnes) to £450,000 (Jon McCarthy) and up to £750,000 (Graeme Murty). A fortnight after Little went, Cresswell was sold for £950,000. The record paid increased from £80,000 to £125,000.
Unfortunately, many of his "big" money signings cannot be judged as successful. Little spent almost a year chasing Rob Matthews (£85,000) and then sold him 4 months later when he couldnít decide where best to play him. Adrian Randall (£125,000) came and went within 18 months amid various rumours of travel and drink problems. Admittedly both went to a bigger club (if you call Bury a bigger club) at a small profit. David Rush didnít. We wrote off his £80,000 purchase within 6 months when he was sacked amid rumours of drugs. 2-1.
3-1. On the other side, weíve operated a successful youth policy. The sales of Cresswell and Murty being the most rewarding financially. In 1999, Peter Taylor was able to play 4 (Greening, Cresswell, Howarth and Williams) York produced players in his successful England Under 21 side.
Unfortunately, despite the young players coming through, we havenít seen them take over the first team and propel us upwards and onwards. The gap between youth and first team football is as big as ever at York. We raced the last 8 of the FA Youth Cup in 94 and last 16 in 1999. 3-2.
The fortunes of 2 youngsters is illustrative. In 1995 we went to Old Trafford and won 3-0 in The Coca Cola Cup. In midfield, teenagers Scott Jordan and Darren Williams shone brightly in both legs. Big things were predicted for both. Williams found himself dropped a few months after. He was languishing in the reserves when his former youth coach, Ricky Sbragia, took him to Sunderland where he made his Premiership debut within 2 months and went onto win Under 21 and B international caps . Scott Jordan eventually left City for Scarborough, always an inconsistent performer.
From the outside, motivation of the players seems to have become an issue in Little's latter years. On Littleís departure, the Chairman mentioned the word "stale" and certainly set piece play had become almost non existent. Iíve always managers had a shelf life, both in the ability to motivate the team and themselves, Alan probably reached his expiry date. 3-3. But read Garry Beckett's excellent "York City Memoirs" and the likes of Paul Barnes, Jon McCarthy and Andy McMillan all speak very highly of Alan.
Certainly, the players were capable. Witness the youngsters going onto the England Under 21 side. We had our success on the big occasion, winning at Wembley and Coca Cola wins over Manchester United and Everton. 4-3. But remember, those wins were followed by next round defeats at QPR and Leicester.
Another of Alanís foibles was his almost perseverance with certain players. Young keeper Andy Warrington made 76 appearances despite being regularly dropped and new keepers coming in. Several large clangers were dropped and despite spells back in the reserves, he would eventually get a recall. He was released on a free transfer this summer. Iím a little (sorry, no pun intended) surprised Alan didnít pick him up. Versatile Paddy Atkinson was another player who stayed longer with City than many thought he should. 4-4
After leaving City, Alan was appointed manager at Southend, one of hi former clubs. He came back to York to sign Gordon Connelly and Neil Tolson. We dropped £20,000 on Connelly in 10 months. He lost his way at York after a hugely promising start. An old fashioned winger with a shot and eye for goal. Tolson had 3 years at York. Top scorer in his first, injury prone in the others, his temperament let him down on several occasions.
Unfortunately, neither Southend, nor a spell as manager at Halifax, another of his former clubs worked out.
Alan Little was always approachable. In 1997, a member of the newly formed London branch of the City Supporters Club spoke to Alan before an away game asking for a set of kit for the branch football team. A few days later, Alan was on the phone to say the kit was ready for collection. A few months later, Alan turned up before 9am on a Sunday morning to open the Clubís out of town training centre for the London Branchís game with Fulham and stayed on to coach the side to a 9-1 win. 5-4 to Alan.
It was obvious from Alan Littleís record at York that another club would soon come in for him. After his departure, we struggled, a gradual downward spiral into The Conference.