Dean gave an insightful talk on career and his desire to play as many games as possible.
Its 16 years since Dean Kiely made his first visit to meet YCS. A lot has happened since, both for Deano and City. His playing career has ended and he is now a successful goalkeeper coach. City have lost their league status twice and are playing at 3 levels below where Deano left us. That said, you can't keep the York out of Deano. Just the previous (international) weekend, he and his wife spent the weekend in York with his good friend Jon Greening and his wife. A trip to the Knavesmire for the races, one of Dean's passions, being one of the highlights.
He's a dab hand at nights like this as he recently did a similar evening with WBA fans and remains popular with fans of all his former clubs.
Early Days
Born in Salford, to an Irish father, his family moved to Leamington where Dean played football for a boys' team, Leamington Hibernians, initially playing left back or left midfield. One day, suffering with a stitch, he was substituted and found himself in goal a week later. He later trained with WBA before spending 2 years as a boarder at the FA's School Of Excellence in Lilleshall.
At 16, he joined Coventry, then a top flight club and FA Cup winners just before Deano joined them. Working his way up to number two keeper, in the days before a sub keeper. He found himself third choice with the advent of sub keepers and felt it was time to move on if he wanted to play games. He was training during the week but waving his teammates goodbye every Friday as they set off for the weekend game. Along the way, he played in various England age group sides ending with 4 England Under 18 caps.
3 clubs (Tranmere, Chesterfield and City) offered him the chance to go out on loan. Teammate, Keith Houchen advised him York, "You'll absolutely love it." He did, the loan spell became a permanent deal when John Bird signed him in May 1990.
When he arrived in York, he was billeted with the youth players in a club house run by Alan Little and Keith Usher.
His first City basic wage was the same as he'd been on at Coventry, the difference being the performance related incentives (appearance and win bonus). It felt real, Deano wanted to play every week, a realistic prospect at York.
He recalls arriving at City with to a team of experienced (read, older) "jobbing footballer" players just happy to pick up their wages. Over time as the team evolved, he fondly remembers the team spirit. Arriving an hour before training, they'd play head tennis in the gym, the team got together for Sunday lunch at The Exhibition, Monday night was student night. After another heavy session, the senior pros would "rustle up" the next day for training dressed in bin bags to sweat off the excess. The serious work was done on Thursday and Friday. One season ended with a game at Peterborough, in end of season mode, the player were jetting off to Magaluf after the game, one player put vodka into his water bottle and topped it up with coke. In Kiely's net, it was passed around City's defence every time City defended a corner. It was the first time Deano suffered a stitch since his Leamington days.
His parents always watched him play and his Dad tells a story of his City debut. After just 10 minutes, and having taken only one goal kick, his Dad heard 2 old Main Stand codgers assess him as "f***** s****" (I recall his kicking left a lot to be desired in his early days, noting in new frontiers that it would have to improve if he was to have a good career - Ed).
It wasn't until late in his second full City season that he finally established himself as our number one keeper. He recalled a game against Burnley at the end of that season (April 1992) when Burnley clinched the title at York. Newcastle requested 3 directors box tickets as they were scouting for a new keeper, believed to be either Deano or Burnley's Marlon Beresford. Deano got off to a bad start when City would only offer 2 seats. During the game, he made a howler when he came out too far and the ball bounced over his head, Burnley scored and a goalmouth fracas followed. The incident made national TV. Newcastle signed Shaka Hislop.
Wembley followed in 1993.
A season later, there was defeat in the Stockport play off semi final. Deano felt that City were 2 or 3 players short and that the board had a "never mind, next season" attitude. He must be the only City player to be disappointed with our 3-0 win at Old Trafford. He thought the game would be a showcase for his talents. In the end, he had a very quiet game and barely a shot to save. Reality was just around the corner with a horrendous injury at Hull in a collision with Rob Dewhurst resulting in a fractured skull, broken nose and fractured eye sockets. He suffered double vision for 10 days.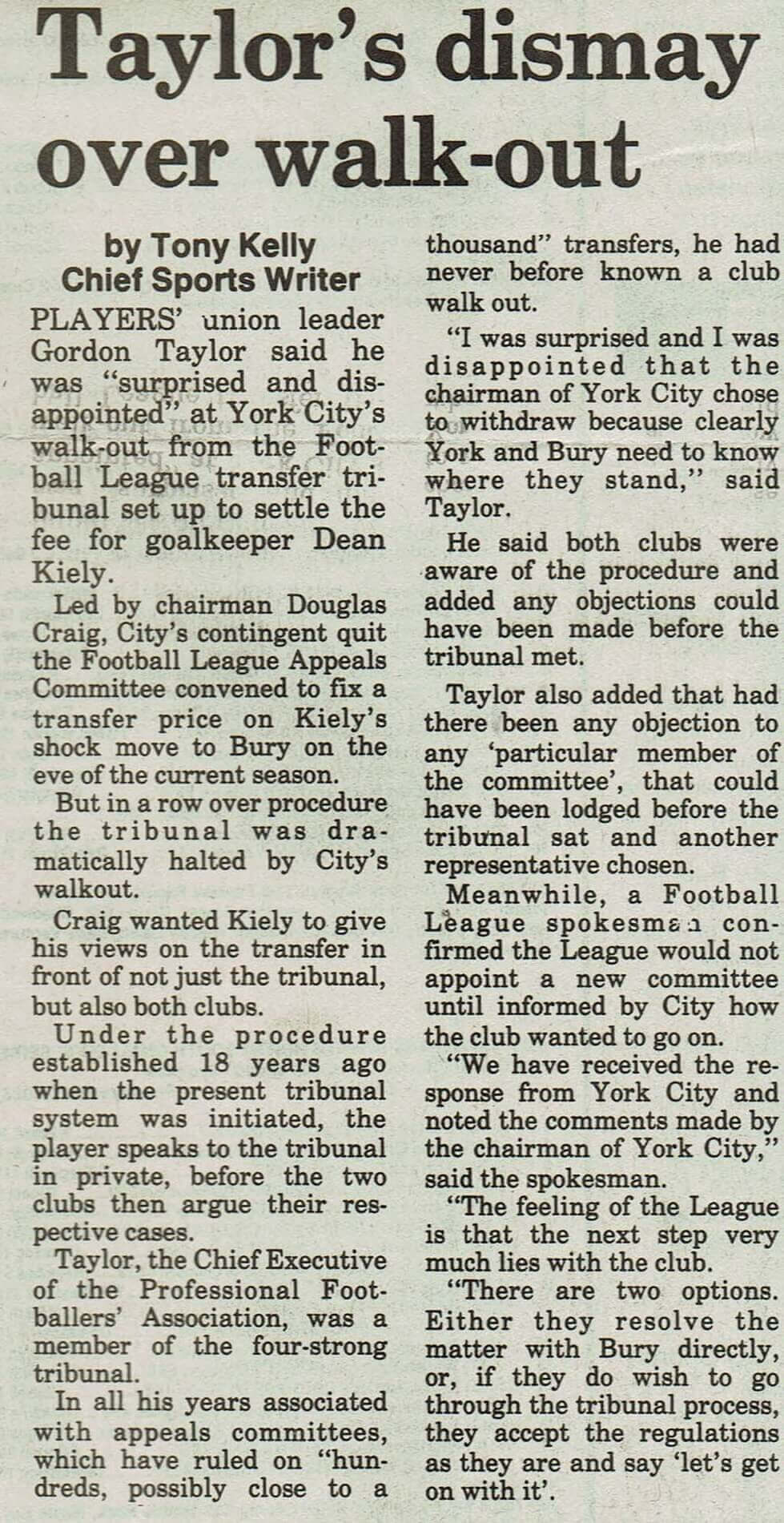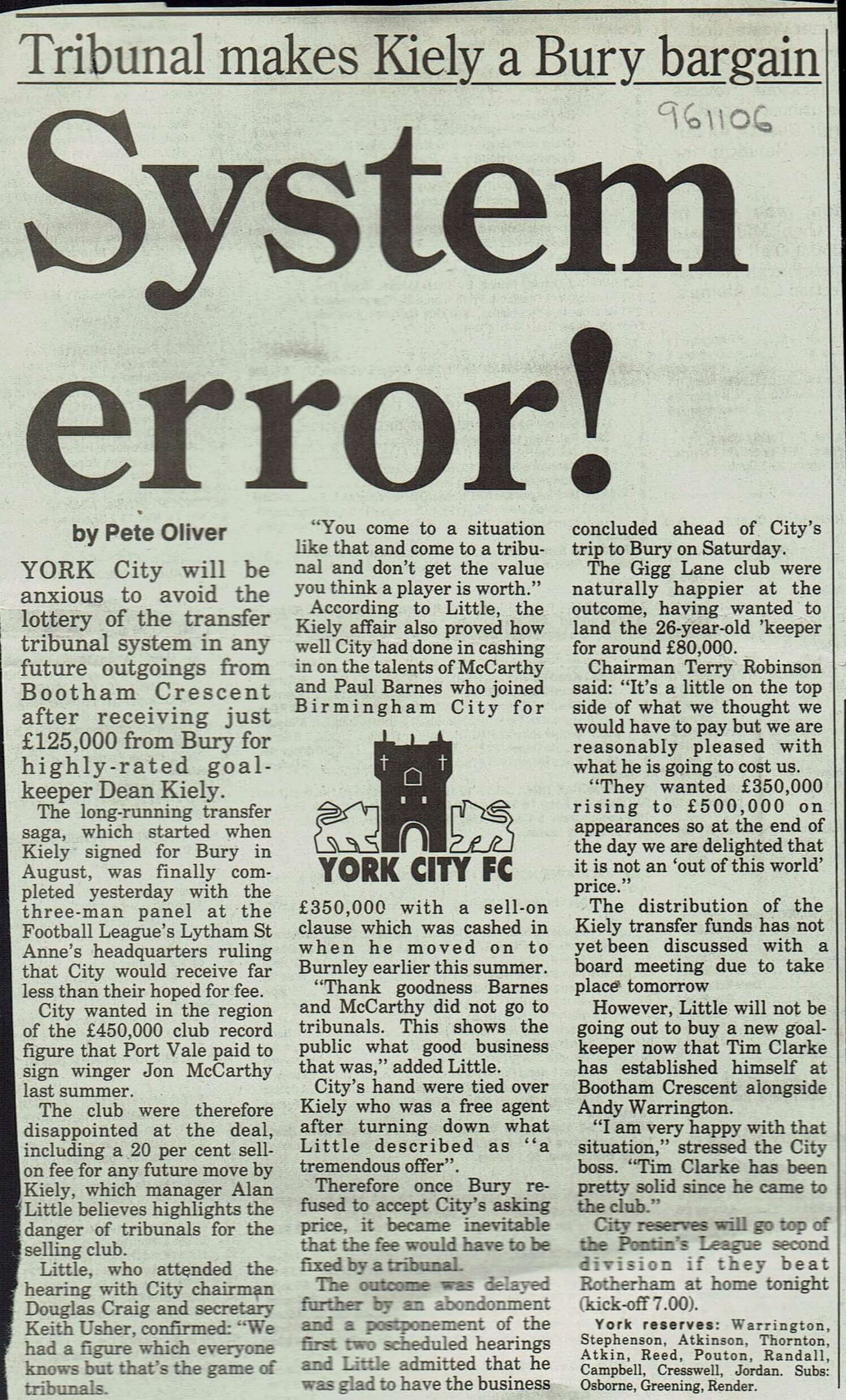 By 1996 his basic wage was double what it was when he joined City and he was once again out of contract. Whilst Alan Little wanted to keep him, Douglas Craig did the negotiations. Approaching Craig, Kiely asked with for parity with the team's top earner, believing his saves were as important as the goals at the other end of the pitch. Douglas Craig was only prepared to offer a new contract on his old terms, not much more than half of City's top earners, arguing it was a "case of supply and demand and there is no demand". (YEP reports of the time (960618) state they believe Kiely was offered a 3 year deal and then a one year deal. Given the Newcastle interest and interest from Premiership Bolton in March 1996 when they watched him before signing Gavin Ward for £300,000, it makes you wonder why City didn't do more to protect his value - Ed). He made 210 league appearances, keeping 70 clean sheets for City.
Despite a successful trial at Plymouth, no deal was done as it would have gone to the transfer tribunal. Plymouth were prepared to offer up to £250,000 to City (City wanted more, reports mentioned £400,000), but would not go to the tribunal as they would have had to pay whatever fee was determined. They missed out and so did City as Deano joined Bury a few weeks later with a tribunal determined fee of just £125,000. He doubled his wages at Bury, however, both clubs were on a similar level. (Ed - The tribunal was a bit of a trial. It is believed that City wanted £450,000 whilst Bury offered only £80,000. City walked out of original tribunal over procedural matters in August. A 2nd tribunal (18th September 1996) was postponed due to "City's objections", believed to be over procedural matters (again), City (you can probably read Craig) wanted Kiely to speak inside the tribunal, rather than privately outside it as was the norm. A fee was decided at a 3rd attempt).
From his City days, he believes Steve Tutill and Andy McMillan could certainly have played at a higher level and likewise youngsters Naylor, Bushell and Jordan.
Post City Playing Career
Later, there were offers from teams like Leicester, Sheffield Wednesday and Norwich, but they only offered second or third positions, it wasn't until Charlton came along and made an offer to sign him as a first choice keeper.
Deano never had the mentality to be a reserve keeper, he always wanted to play as many games as possible but can understand how some keepers are happy to be 3rd choice at a big club on big wages without a realistic chance of a game. He had a playing contract until the age of 41 in his desire to play as many games as possible.
He noted he'd found little difference as he stepped up through the divisions. It wasn't until entering The Premier League that he found a big step up in the quality of strikers he was facing, it was their quickness of thought, strikers not needing to re-set before shooting and players taking shots from new and different angles. He found international football to be a "different rhythm" rather than another step up.
From his lower league days, he rated Paul Baker (Hartlepool) who he faced on his City debut and Peter Swan (Bury) as difficult lower league opponents. Both later played for City.
International Career
In the Social Club after a City game, Deano became aware of a man who claimed to have contacts with the Republic Of Ireland team. Much later, contact came from the Irish team and his eligibility was confirmed when he was about 28. At the time, England keeper coach, Ray Clemence thought he was "too impetuous" to make the switch.
He was third choice keeper at the 2002 World Cup. He earned 11 full caps and in May 2009 was part of the Irish squad for a friendly with Nigeria and qualifier in Georgia. Having seen Shay Givens and Kieron Westwood each play half a game in the friendly, it became apparent to Deano that he'd be on the bench in Georgia. He announced his international retirement citing a desire to prolong his club career.
Post Playing Career
Now part of the Crystal Palace 4 men management team with responsibility for arranging set pieces. He told the meeting he'd been working on tactics to exploit Manchester City's set piece weaknesses in the upcoming game (It ended in a 2-0 defeat - Ed).
Deano noted how every need of the players is taken care of at Crystal Palace. Players are driven to and from training limiting the amount of time the players have to socialise outside the club, contrasting that with his City days.
Every week he has a large dossier on the opposition, he indicated about 2 centimetres thick, which includes research on every keeper and penalties they've faced and where they've dived.
About 5 years ago he had an opportunity to become Bury's manager. He had a couple of job offers from Charlton. He also had an offer to go to Southend as Number 2 to Chris Powell, a good friend.
Managers
Deano gave his views on the best managers he has known.
Tony Mowbray (the first name he mentioned), from whom he learnt so much about the shape of a team.
Alan Curbishley who would have gone further with a little more charisma.
Stan Ternent (who signed him for Bury) and his "bite, kick, bollock" motivation which included punching his keeper, Paddy Kenny at half time after a dull 0-0 first half against Plymouth with the instruction to the team to "liven up". He recalled one Bury training session when during a long losing run, the manager told his assistant to take training. He took them into the Pennines, they spent 15 minutes warming up outside a pub car park then went inside. A good spread was laid on and the drink flowed. That was the start of a long winning run.
Roy Hodgson, "no ego, brilliant".
He disliked managers whom he described as "market traders", they would make you feel like a million dollar when you're in favour but discard (ignore) you if you're not.
Best Of
Striker Faced: Thierry Henry (Deano's son says if he wants to watch his Dad in action he watches Henry's best 100 goals, Deano features in 14).
Goal Conceded: Ronaldo curler.
Keepers: David De Gea and Hugo Lloris whilst also highly rating Nick Pope ("a diamond geezer") and Tom Heaton.
Best Save: Header against Christophe Dugarry (Birmingham) which was voted save of the season.
Best Teammate: Roy Keane, "World class player" (and one of the best opponents ever faced).
Along The Way
Believed Jackie McNamara's loan signings were agent lead.
Believes it galls Jon Greening and Richard Cresswell that they never had the chance to work with City long term after their playing careers ended. Greening offered to help McNamara, but his offer was declined.
Greening's work with Tadcaster / 121 is over and he'd welcome a job back in football.
Jon Greening and Nick Culkin had recently (Autumn 2019) played in an Over 40s game in Bulgaria (presumably some sort of Manchester United veterans game – Ed).
Having been at Preston last season (2018/9), he believed they have 3 players (Ben Davies, Ben Pearson and Sean Maguire) who could play in the Premier League football, but feels there is a bias towards foreign names.
Earlier, he'd recommended a young Nick Pope to Norwich, they scouted him but he didn't impress on the day.
It was Jon Greening who recommended Ben Godfrey to Deano and Norwich. Deano spoke highly of Godfrey's ability and attitude and believes he has all the ingredients to be a top class player.
Both Arsenal and Everton offered around £40m (around half of Palace's valuation) for Wilfred Zaha in the summer (2019), but having sold Bissaka, there was no pressure to sell.
Darren Tilley was a City teammate who thought he was a big wig.
His son was on the books of Manchester City and Charlton as a youngster and was a young pro at Gillingham where he sat on the bench for some League 1 games.
He noted "thousands" of young players who feel they've made it when they sign their first pro contract and are not prepared to put in the real work to really make the grade.
He arrived at about WBA one week before Steve Watson left.
Keepers, A History of City's Keepers
Growing Up - The Many Faces Of Dean Kiely
Digging through the archives, it was a joy to see some of Deano's many changing appearances. More coming soon.