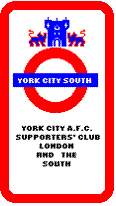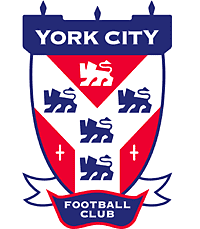 City History
Martin Foyle
45 year old Martin Foyle was appointed York City manager November 24th, 2008. He expressed his delight at being handed the managerial reins at KitKat Crescent and confirmed that Neil Redfearn, the caretaker and youth team manager, would remain on as his assistant.
At his first City media gathering, Foyle said, "I'm delighted to be back in management. York got in touch with me and this is a club with plenty of tradition. "I can't wait to get started as I've been out of the game for five weeks and have had itchy feet".
Prior to his appointment, he'd spent several months as joint caretaker manager, with Brian Carey, at Wrexham. During his time, he oversaw their departure from the Football League. He was sacked when Wrexham's new regime appointed Dean Saunders as manager.
Foyle said, "I've been offered the job and I've accepted it because I feel it's a good job. The Conference is a good level and I really enjoyed my time at Wrexham. I feel I can work with anyone in whatever coaching role it is whether that is as a manager, first-team coach or whatever. But when York's chairman (Jason McGill) offered me the job, I had no hesitation in accepting it".
City chairman Jason McGill said, "We are very pleased to welcome Martin to York City. Martin has a very impressive CV and, importantly for us, has an extremely good knowledge of Conference football and what is required to succeed in this division. He also has the very best coaching qualifications and having been a great centre forward himself, we believe he will help our own strikers to develop and grow. We will be meeting with Martin today at the club and he will then commence coaching with the team tomorrow in advance of our game away to Salisbury on Saturday. We wish Martin all the best in his new role".
Prior to Wrexham, Foyle managed Port Vale for three-and-a-half years before leaving in September 2007. Having taken over from Brian Horton in February 2004, he was in charge as Vale missed out on a League One play-off place on goal difference. The side then finished 17th the next season and two mid-table campaigns followed before Vale started the last campaign with just five points and three goals from their first seven games and Foyle left by mutual consent.
As a player, Salisbury born Foyle's playing career started in the top flight level at Southampton in 1981. He went on to score 199 goals in 643 games during a career that ended at the age of 36 in 2000 and also included spells with Blackburn, Aldershot and Oxford. The 5ft 10in forward commanded more than £500,000 in transfer fees, including a £375,000 switch from Oxford to Vale, which was a Port Vale club record. He also became Vale's post-war record goalscorer with 107 goals.
On his retirement at Vale, due to injury, he went straight into coaching by taking charge of Port Vale's youth team.
In 2007, Foyle achieved his pro licence coaching badge having previously gained UEFA A, B and C coaching qualifications.
His appointment was welcomed by players past and present alike.
Keith Houchen was Foyle's striking partner when both plied their trade together at Port Vale during the early 1990s. On his appointment, Houchen said of City who'd scored just 24 times in 20 Blue Square Premier matches before Foyle's appointment, "What's riled me watching York this season is that they've been doing all the hard work and got on top in games but then, despite getting in some fantastic areas, they've looked like they've not been shown how to score goals. It's been letting the rest of the team down and the first thing I thought when I heard about Martin coming to York is that he will rectify that straight away. He will show them the right ways to score and see if they can do it and, if they can't, he'll bring new strikers in. Foyley, himself, was as good a finisher as I ever played with. He surprised me with how good he was when I played with him and he could have played more games and scored goals at the highest level without a shadow of a doubt. If he was one on one with a 'keeper, you would be walking back to the half-way line for the restart. That hasn't been the case at York for a while and he will show the forwards a lot of different ways to score that had never entered their minds before".
Houchen also felt that Foyle, 45, was fully prepared for managerial success having cut his teeth with three-and-a-half years at Port Vale, followed by nine months coaching under Brian Little at Wrexham. He said, "In your first job you are learning really. I did it at Hartlepool and decided to come straight out. Martin did a bit of fire-fighting at Port Vale but had the team playing lovely football. He will have taken a lot from Brian Little as well, because he's a deep thinker on the game".
Meanwhile, Onome Sodje was buoyed by Foyle's appointment and was hoping the new manager would have the same impact on his career to that he had on his footballing uncle. Until the age of 24, Akpo Sodje had only played non-League football for the likes of Stevenage, Margate and Gravesend and Northfleet. But, within 12 months of then Port Vale boss Foyle having taken him on a free transfer from League Two Darlington, he had earned a big-money move to the Championship where he was enjoying his second season with Sheffield Wednesday as Foyle was appointed.
As a result, his nephew Onome, who lodges with his 28-year-old relative in South Yorkshire, is perhaps understandably excited by the club's new appointment. He said, "The new manager played a big part in my uncle's career by giving him a chance at Port Vale. He thinks it's a really positive move by the club and speaks very highly of him. Akpo has also said we should be buzzing as strikers because his finishing sessions are excellent and the gaffer has already given us an idea of how he wants to play and we are taking everything on board in training".
On his appointment, his first game was a visit to Salisbury City, his hometown club.
His first season was a relegation dogfight, City pulling clear in the last 2 weeks of the season.
The season's highlight was our second ever trip to Wembley for The FA Trophy Final. Unfortunately, a damp squib of a game from City's point of view. A frequent Foyle observation was that he was hamstrung by working with players he'd inherited, that despite a significant influx in the January transfer window.
For 2009/10, a strong squad was assembled and the season again ended at Wembley. Defeat in The Play Off Final. We narrowly missed out on a making it 2 Wembley trips in a week as we'd reached The Quarter Finals of The FA Trophy, losing to Barrow, the eventual winners.
Richard Brodie's 37 goals and the meanest defence in our history deserved more.
Foyle got stick for his stand offish approach, his apparent lack of motivation to the team when sat in his dugout and for most things that went wrong.
Some blamed Foyle's decision to play with little width, it was especially noticeable at home where we consistently failed to break down the defences of many a lesser team.
Hopes were high for the 2010/11 season. We kicked off at home to Kidderminster. Richard Brodie and Michael Rankine squared up near the end over who should take a penalty we'd been awarded. Rankine and new signing Duane Courtney squared up at the final whistle of a 1-2 home defeat. Throughout August, we struggled, Brodie was not the player he'd been a season earlier. He left at the end of August as the transfer window shut.
On September 24, 2010, after a 5-0 defeat at Mansfield, Foyle resigned, refusing to give reasons for his resignation. Contributory factors may have been the strain of staying in a B&B in York during the week, 200 miles away from his family home, the sale of Brodie and the low morale following Wembley failure and the poor start to the season.
Foyle brought a more professional approach to the club. His scouting network seemed to stretch the length and breadth of the country. George Purcell from Braintree and Jamal Fyfield (Maidenhead) both coming from lesser teams in the deep south. Foyle also brought a core of players from southern based Conference sides, housing some in a club house.
Foyle left us in a better state than he found us. However, the future is a knife edge. The current squad being good enough to gain promotion. But, if they don't , there's no guarantee that it will remain together beyond the end of the 2010/11 season.