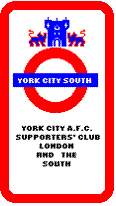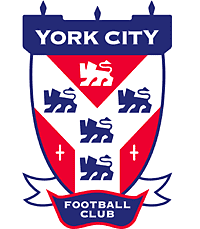 City History
Bluffers Guide To York City
This article first appeared in "When Saturday Comes" in November 1998.
Celebrities:
Douglas Craig (Chairman), he's his own man
Alan Little (Manager), Brian's kid brother
Shed 7 (Pop Stars), always go along when they're around
Jon Champion (Broadcaster)
Famous Players (Currently Playing)
Dean Kiely (Bury)
Jon McCarthy (Birmingham)
Jono Greening (Manchester United)
Darren Williams (Sunderland)
Former Stars
John Byrne (QPR & Eire)
Eamon Dunphy (Millwall & Eire) - first ex footballer to write a decent book, but don't ask U2, Jackie Charlton or Roy Keane
Peter Scott (Northern Ireland) - our most capped international
Mike Walker (Watford & Wales as player, more as manager)
Marco Gabbiadini (first time around)
Denis Smith (player and manager)
Dates:
1922 Current club formed and elected to league in 1929 without ever playing on its location as a railway city
1932 Moved across York to Bootham Crescent from where you can see York Minster over the roof tops and get high from the smells from the chocolate factory. The ground hosted York's only ever first class Yorkshire CCC fixture in 1890 when Kent lost
1938 Cup tradition begins as City reach FA Cup Quarter Finals
1948 6-1 win over Rotherham filmed for National Coal Board training film
1955 Lose FA Cup Semi Final replay to Newcastle amid conspiracy theory that no Division 3 side should be allowed to get to Wembley. Arthur Bottom was our hero
1958 Miss place in newly formed Division 3 on goal average
1969 Third successive re-election campaign. Ted MacDougall / Phil Boyer double act launched as fortunes change for the better
1973 Maintain Division 3 status by goal average for second successive season
1974 - 6 Spend 2 years in the old Division 2, our only time that high. Manager Wilf McGuinness' stills boosts to this day that his claim to fame is that he took us from Division 4 to Division 2 in successive seasons, unfortunately it was in reverse order. Our captain in those days was Barry Swallow who was recently elected to the Hall Of Fame. Now a director, he is also our most successful ever manager with 2 caretaker spells to his name
1977 Poll 49 votes out of a possible 48 at re-election meeting. Celebrate by giving away free programmes for the next 3 seasons
1982 Bristol Rovers' Peter Aitken joins on loan but refuses a permanent contract wanting something closer to home. He found it in Hong Kong
1982 sees launch of Terrace Talk which spawned a thousand imitators, even helped to get "When Saturday Comes" off the ground
1984 First club to amass 100 points in a season
1993 Only trip to Wembley, beat Crewe 5-4 on penalties to climb out of the bottom division. Crewe overtake us within 3 years.
1995 10 men City 3-0 win at Old Trafford in The Coca Cola Cup with our record signing cup tied, other experience players injured or cup tied. If United fielded their babes, then our team played in their nappies
1996 3-1 win at Brighton 5 days after end of season to retain Division 2 place. Original game abandoned as Brighton fans demonstrate against their board
Today
Nice friendly club with tidy ground, currently enjoying its longest ever spell outside the bottom division.
Successful youth policy is the envy of many.
Alex Ferguson recently opened new training ground largely built on proceeds of the sales of youngsters Nick Culkin and Jono Greening to Manchester United.
1998's Tomorrow?
Bid for the Territorial Army land behind The Popular Stand and do a Wembley by turning the pitch through 90 degrees?
Post 1998
2001 (December) - Craig announces plans to sell up and quit The Football League at the end of the season
2002/3 - Batchelor starts the season as Chairman, lose Football League status
2003 (26/March) - York City Supporters Trust gain ownership
2003 (June) - City lose over £300,000 in the three month period after the Trust's take over
2004 - City lose Football League status
2004 (October) - City reveal that the club were expecting to pay out £72,000 to keep former boss Terry Dolan and his assistant, Adie Shaw, on the pay roll after the duo were made redundant at the end of last season. Its understood Dolan had a 12 month rolling contract and Shaw a 6 month rolling contract
2006 (January) - Chris Brass has contract terminated with 18 months to run, assuming he was on £1,500 per week, he was entitled to over £100,000 in wages
2012 - 2 Wembley wins in a week as we regain our Football League status
2016 - Hopefully move to our new ground
.