Steve Beck
I first came across Steve in the mid 1990s in the very early days of York City South.
He remained an active member of the branch until he returned north when he and his wife, Carol, established a bed and breakfast business in Riccall.
By this time, Steve was a major figure in the fight to save the club during the troubled Douglas Craig / John Batchelor eras. He became club chairman when The Supporters' Trust secured ownership in 2003. He remained on the board as City's Youth And Fans' Liaison director until his resignation in January 2009, a devoted follower of his beloved football team and always hugely popular figure amongst its fans.
Steve died on 16th April 2015 at the age of 58 in the York & District Hospital following a long battle against heart problems.
I was at a York City South meeting when the news of Steve's death broke. Although everyone knew that Steve had suffered several years of ill health, his death was still a shock to us all. Despite, the sombre news, stories abounded of Steve, friendships formed and many,many happy memories.
Without Steve, and the help of others, maybe our club would have not made it through the dark days of a decade earlier, maybe we'd have had no football team to support today.
Watch Steve and John Catton as Two Go Training in April 2001 after they outbid all comers to "win" a day's training with City.
There's Only One Steve Beck
In honour of Steve, Josh Easby penned the following piece on Steve in his daily email fanzine, "There's Only One Arthur Bottom". It provides a fitting tribute to Steve and also what it means to support a small club like York City.
This issue of TOOAB brings the sad news that Steve Beck has died at the age of 58, after a long period of illness.
Many of us will mourn Steve whose good humour and optimism helped carry us through some difficult periods in York City's recent history. He was liked and respected by York City people who got to know him through his many roles within the club - a former chairman, a supporter and, not least of all, as a friend.
Steve and wife Carol were among the first to subscribe to TOOAB, having joined the mailing list soon after the newsletter started in mid-1997.
I met them for the first time in 1999 when I moved from New Zealand to the UK for a working holiday (that lasted seven years). The Becks were living in the south and were early enthusiasts for the supporter group York City South, which prospers today.
They made me feel welcome. I joined YCS and I would see the Becks at grounds all over the country as they followed the team, including 400-mile round trips for home games.
Steve and fellow YCS stalwart John Catton famously paid £190 at auction to join the City team in pre-season training in 2001, bringing joy to all those who knew the pair (and no doubt a squad of bemused footballers).
When the club went through the turmoil of ownership changes, Steve stepped up to help, volunteering his accounting skills to help with the formation of the Supporters' Trust and he became club chairman in 2003, remaining in the role for almost two years.
Having moved to Riccall, the Becks were able to enjoy games at Bootham Crescent without long haul travel and their support for the club never wavered.
In 2010, Steve suffered a serious heart attack, and he "died" twice in the back of an ambulance as paramedics revived him on the way to hospital. He survived that episode but began a lengthy battle for his health.
Friends followed his progress, often from a hospital bed, via social media or through emails. His humour and outwardly positive approach was inspirational.
I am often asked why I bother to support a club like York City. I reply that it's because we're big enough to dream of better things but small enough for supporters to feel as though they are a group of friends. Many of us know each other by name or by sight ...or by reading contributions to TOOAB.
We are a club that fosters friendship.
I've attended gatherings of City fans in many parts of the UK, in Australia and in New Zealand. There's a kinship that brings us together in ways that the so-called "big" clubs don't appear to provide.
My friendship with Steve - conducted from opposite sides of the planet and usually via email - is an example of what our club can achieve, regardless of results on the pitch.
We can honour Steve by ensuring our club continues to value such friendships.
Steve - The Tributes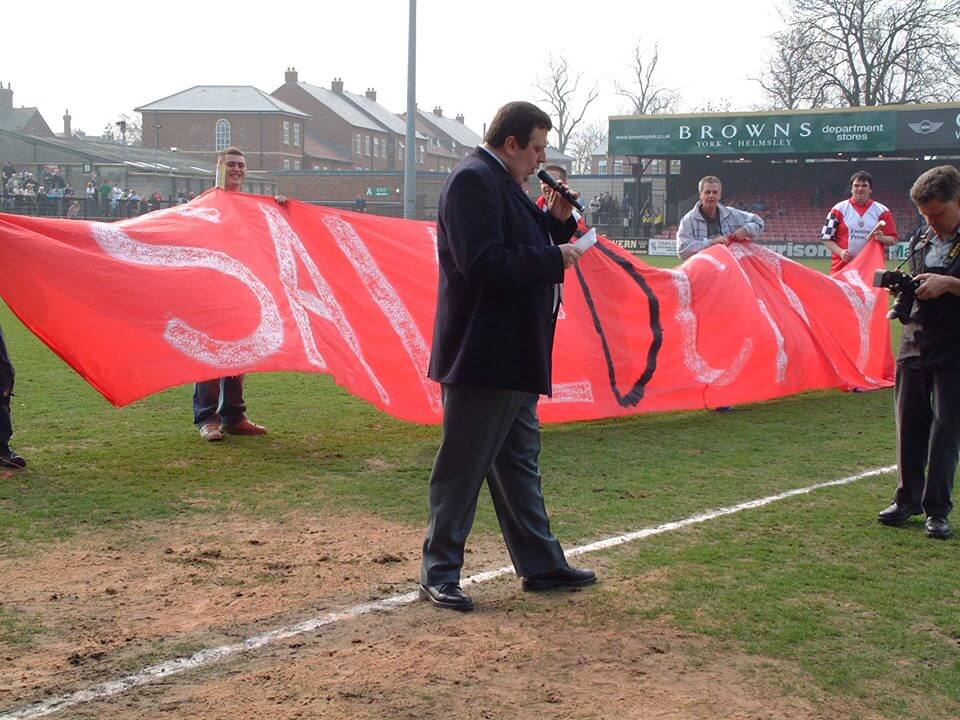 "Very sad news for all in our York City family that Steve Beck has passed away. Our thoughts are with Carol and his family. I'd got to know Steve through our work together for the Supporters' Trust from 2002 onwards and through Arthur would like to share a few memories of the man. I always found him to be such a nice and easy guy to get on with. He was a real rock – a big rock – in more ways than one! Solid and calm in a crisis and through many hard times. Reliable and always there to assure and support others. Steadfast and strong to genuinely do the right thing for the future of York City. Sometimes quiet and thoughtful and in some respects an initially reluctant and shy leader, but he was brave and put himself forward to help save City. Steve poured a huge amount of his time and emotions into helping save City from extinction. A big man who played a big big part in our York City history and enable the York City story to move forwards – through the inevitable ups and downs – and towards a new home. I'm proud to have known Steve and will always have great memories of him and our times together. Thanks Steve and RIP" Paul Rawnsley
"I got to know Steve Beck through my role as Chairman of the Harrogate Minstermen and you could not wish to meet a nicer man. Steve would often travel through to Harrogate and support our meetings and we would often chat in the Social club after every home game. He was a true gentle giant and put a lot of time and effort in to saving this great club of ours" John Uttley (Chairman, East Riding Minstermen
"So sad to learn of the passing of Steve Beck - a great man. He became an inspirational figurehead and driving force behind the setting up of York City Supporters' Trust (in record time) in January 2002 which subsequently helped save YCFC from extinction. A big man with a character, personality and sense of humour to match, Steve, as we all know, went on to become chairman at the club for a couple of years. I distinctly recall a reluctant and shy Steve being urged by fellow Trust members to say a few words to the crowd gathered for the game. He rather nervously grasped the mic and delivered a short speech which got a passionate response, with cheers and huge applause. He had helped play a huge role in saving 'our' club but what will stay with me was his rather modest approach - in that he didn't really want to steal the limelight and take the plaudits as he knew there were also many others that had played a crucial part. It was during these traumatic times when the club nearly went to the wall that the fanzine I helped put together - 'Ginner's Left Foot' - was in its prime. Steve always had a cheery word for us selling it and always bought the mag, encouraging us to keep going with the humorous columns and jokes and asking when the next edition would be out in the Social Club afterwards. He subsequently became a friend, rather than just a familiar face down at the ground. Many City fans forged new friendships during those dark days, when we fought to save the club, rattling buckets to raise funds, marching together in protests, etc. But we got there in the end, by the skin of our teeth. I am so pleased Steve will have been around to hear of the club not only securing a brighter future with the rubber-stamping of the new stadium, but that the club he loved so passionately finally secured it's Football League status for another season. "YCFC WILL NEVER DIE" - was an oft-written and quoted phrase during 2002 and 2003, and partly down to Steve, here we are - still fighting and kicking" Andrew Leathley
"I met him once at a somewhat forgettable City game - Canvey Island away in 2005 - lovely man. Unless my memory is playing tricks with me we owe him so much - seem to recall that he was the man who returned to the Football Trust (or whatever it's proper name is) quite a few times before he secured us a loan against the ground which was crucial in the "buy out" from the previous directorship. Without him there would not be the club we have today. Lest we forget and condolences to his family - without wishing to be blasphemous, a man who deserves a warm welcome at those Pearly Gates" Neil Rank
"The 16th April was a sad day in the history of York City Football Club and York City Supporters Trust following the news of the passing of Steve Beck. Steve was well known to most supporters as being the larger than life former Chairman of the Football Club having taken up the role when the Supporters Trust bought the Club out of Administration in 2003. Steve was involved at the formation of the Trust and played a pivotal part following the end of the Craig years and the end of Batchelor's brief reign. Despite at the time living in Milton Keynes and each journey involving a round trip of over 360 miles I can never recall him missing a meeting of the Trust Board. Following his move to Riccall, he continued to devote all his time and effort for his beloved York City even to the extent of providing accommodation for a number of players in the Bed and Breakfast run by his wife Carol. He was the first Chairman in the new era of the Football Club post Administration and without his sterling efforts and those of other Trust Board members at the time there is no doubt that our Football Club would not exist today. Even after the sale of the majority stake to JMP he continued to be a member of the Trust Board as well as having a role within Supporters Direct. Indeed Steve made a written submission to Parliament in January 2011 regarding Football governance and Supporter Ownership detailing the York City experience on behalf of Supporters Direct. As a result of his work in this area he had a number of friends throughout football not just here in York. Steve had suffered from heart problems for a number of years but never did his enthusiasm for his football club diminish. At the time of his death Steve remained Treasurer of the Supporters Trust and a valuable member of the Trust Board. York City F C has lost one of its true heroes. I have lost a friend and colleague. R I P Steve Beck" Ian Hey (Chairman, York City Supporters Trust)
One of my many fond memories of Steve is when I called him from the BC board room. The conversation went something like this:
Me: "Steve, are you not coming to the ground today?"
Steve: "No, I'm working from home"
Me: "The rep from Pukka pies is due in. He's bringing some samples. I think there's 21 flavours in the range"
Steve: "I'm on my way"
So sad to lose such a genuine, funny and kind friend. I'll get the book written for you mate, warts and all. Oh, and give that Snatchelor fella his quid back. RIP Steve". Calmdownyork
Steve Beck - "The Press"
Written by DaveFlett, this article appeared in York's The Press shortly afer Steve's death.
EX-YORK City manager Chris Brass has hailed the "leadership" of Steve Beck during some of the club's darkest days after the former chairman passed away this week.
Beck, who died peacefully in York & District Hospital at the age of 58 following a long battle against heart problems, played an instrumental role in the Save City campaign that ultimately resulted in the Supporters' Trust, of which he was a founder board member, assuming ownership of the club following the damaging reigns of Douglas Craig and John Batchelor.
One of Beck's bravest actions in those early days of the Trust was fronting the players during the 2002/03 season when it was clear their salaries would not be paid due to the financial meltdown Batchelor had overseen at Bootham Crescent. Brass was a player in the dressing room back then and has admitted that the emotional manner in which that bad news was broken persuaded himself and other team-mates not to dessert the club during their hour of need.
City went on to secure their Football League status after the Trust, with the aid of supporters and a £50,000 donation from current chairman Jason McGill, struck a deal with the administrators to take over the club in March 2003.
Circumstances then meant a 27-year-old Brass was installed as the Football League's youngest manager since 1946 and the Minstermen tumbled into the Conference a year later.
But Brass is convinced that the club would not have been around to preserve its League status this week had it not been for the galvanising spirit, spearheaded by Beck and others, a dozen years ago.
Recalling the Riccall-based accountant's speech to the players, Brass said: "Steve stepped forward which must have been very, very difficult. As players, everyone was trying to hide away from the reality of what was happening a bit but he was brave enough to tell us how bad the situation was. I think we needed that leadership back then and to hear the truth because, before then, we were thinking somebody would come along and everything would be all right but he explained the situation the club was in and reality hit home. I always remember him sat there and seeing how sad he was and it made me really appreciate the importance of York City that day. "Without him doing that, I don't think the club would have survived. I could have left and walked away there and then but, when I saw that, I didn't think I could because I wanted to help him save the football club. My time at York did not end in the best of circumstances but it was only because of what happened that I became manager when I did and the club will always have a soft spot in my heart because of the part everybody played, along with Steve, in keeping the club going back then."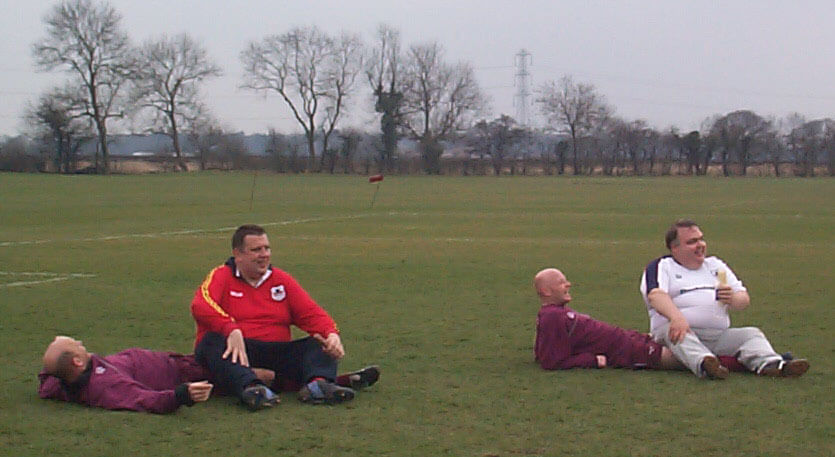 Brass also added that Beck's affable, self-effacing nature made him popular with players at the club - a relationship that was first nurtured after he had won an auction to join in pre-season training back in 2001. That's the first memory I have of Steve," Bury's current assistant manager recalled. "It was clear that one quality he had was a willingness to laugh at himself and I found that endearing straight away. "It can be quite intimidating doing that king of thing, because players are not always comfortable with people coming into their environment, but we all certainly enjoyed that day."
Paul Rawnsley, who was a fellow Supporters' Trust board member for the first four years of the body's existence, also spoke of the importance of Beck as an early figurehead for the new club owners. He said: "I worked really closely with Steve for the Supporters Trust from 2002 to 2006 when ownership of the club was transferred to Jason. I will remember him as a big, friendly, kind guy who was always straight-forward and uncomplicated. "He was somebody I felt you could trust and rely on. He was involved in all the early Trust meetings and put himself forward for various responsibilities and duties. He volunteered to tell the players and staff they weren't going to be paid when John Batchelor was holed up in a pub or wherever. There weren't too many contenders for that job, but he was brave and bold enough to do it. "He also went to a lot of Football League and PFA meetings with myself and the commitment he gave to saving the club at that time was probably to the detriment of his own career and the rest of his life. Whatever has happened with the Trust since, I still look back fondly on what was achieved from 2002 to 2006 and Steve's leadership during those early years was so important. "We needed somebody in that position who was proud of the club and what he was doing and I think people warmed to him in that respect. There were no politics with him. He told you things straight. He also went on to work with Supporters Direct later because he wanted to help fans at other clubs too."
City's players will wear armbands in Beck's honour for next weekend's final home match of the season against Newport when a minute's silence will be held in his honour too.
A club statement also read: "We are saddened by the news of Steve's death. He played a pivotal role in the Save City campaign and was a long-standing, dedicated supporter of the club throughout his life. "The club sends its sincere condolences to Steve's wife Carol, his family, and all his friends."
City newsletter There's Only One Arthur Bottom, meanwhile, was renamed There's Only One Steve Beck yesterday in his honour, while Twitter tributes included the following: Long serving City defender David McGurk - RIP Steve Beck. Gutted to hear the news and thoughts are with Carol and the family; former Conservative parliamentary candidate and Supporters' Trust board member Simon Mallett - Whenever I watch (Russ) Penn's goal I will remember Steve - a fantastic final goal for a fantastic fan; ex-Minstermen goalkeeper Russ Howarth - Lovely guy who was involved in trying to bring me back to City at one point.
Steve - The Funeral
Steve's funeral was held on May 8 at St Mary's Parish Church in Riccall and was followed by a wake at City's Pitchside Bar. The service was a celebration of "red and blue" with hundreds of mourners in attendance, many dressed in City's colours.
Current Leeds United head coach Neil Redfearn and former Minstermen boss Colin Walker were among those from the football world who attended with past and present Bootham Crescent players Michael Ingham, Dan Parslow, Andy Bishop, Russ Howarth, Graham Crawford and Chris Topping acting as pallbearers.
On the part his friend played in saving York City from the threat of extinction in 2003, following the ill fated stewardships of Douglas Craig and John Batchelor, Mr Graham Bradbury said: "Steve had so much passion to help save the club from oblivion and it's no exaggeration to say we came literally minutes away from that. I think everybody should be proud of the work Steve put in to save our football team."
We've a lot to thank Steve for.