"Go west young man" was once a popular slogan in the pioneering days of old. Fame and fortune was to be found in America, the land of opportunity.
It still is. The American soccer leagues of the last 30 years have relied heavily on foreign talent. Big names have been attracted at the prospect of earning large sums of money in a short spell. For the player of a lesser grade, the same opportunities existed. The late 1960s and the early 1970s saw British players spending their close season on loan to American clubs. Later, players completed permanent transfers to America and Canada making it their permanent home.
To try to make Stateside soccer successful, large sums of money were paid to attract world stars. At one stage, the Americans even hired European and South American clubs to compete during their summer season, our close season. Unfortunately, City were not among the clubs chosen. Nevertheless, many City players have subsequently played soccer in The States.
Its interesting to look at some of the former City players who have tried their luck across the pond, especially those who played in the North American Soccer League (NASL), the nationwide league which covered the USA and Canada between 1968 and 1984.
Sibbald Stars Alongside Pele
Bobby Sibbald, was a steady right back who spent over 2 years with City. Earlier he had made 2 appearances in the star studded Leeds side of the 1960s and after City, he spent 5 seasons as a Southport regular before joining Los Angeles Aztecs on loan in 1975 and then permanently in 1977. In 5 seasons, he missed only 2 league games for them. In his last season he played in all 40 games which cumulated in defeat in the conference final. Coached by the famous Dutchman, Rinus Michels, he played alongside some of the most famous players in the world including Johan Cruyff, George Best, Rodney Marsh, Ron Davies, Charlie Cooke and Tommy Smith and against the likes of Pele. Such was the quality of the side that they regularly undertook close seasons tours of England playing top Division 1 sides.
Former City star (and son in law of Keith Usher) Cliff Calvert went one better. His Toronto Blizzard side won the last ever NASL championship in 1984. He spent 7 seasons with the club. When last heard of, he was still living in Toronto and working as a fireman. He still retains close links with Bootham Crescent. A colleague of Calvert's at Toronto was Peter Lorimer. He spent the 1979 and 1980 seasons in Toronto, playing for York City during his Canadian close season. Later he was to play for Vancouver Whitecaps alongside a large Leeds contingent coached by Johnny Giles. He was later to return to Leeds to break their all time goal scoring record. Surprisingly, he was not a prolific scorer in Canada.
One prolific scorer in The States was Andy Provan. He was top scorer for Philadelphia Atoms in their 1973 inaugural season as they won the championship. The Atoms were based around a large Southport contingent. He top scored for them again the following season. In 2 seasons he scored 21 goals in 40 games. Incidentally, the diminutive ginger haired Provan was a cult hero in his 4 years with City and is possibly best remembered for his goal against Bradford PA in September 1966, when chasing a through pass, he dribbled around the keeper, purposely fell to the ground and laying full length, he headed the ball into the net.
Later a proliferation of minor, collegeand indoor leagues provided many more opportunities for lesser players.
York Nomads
The itinerant and nomadic careers of soccer players is well illustrated by Bobby Bell, Mick Coop, Derek Craig, Peter Creamer, Mike Czuczman, Brian Joy, John Lowey, Barry Mitchell, Bob Newton, Mike Pickering, Neil Rioch, Malcolm Smith and Alan Waldron who all had City careers, mainly less than a season, and also played soccer Stateside.
Craig had teamed up with Jimmy Johnstone and ex City star Laurie Calloway at San Jose Earthquakes in 1975. Calloway was a regular for 6 seasons for The Earthquakes and Southern California Lazers. He is the only ex City player to coach in the NASL when in 1983 he coached Seattle Sounders. Read More of his 40 years in USA football.
City Rejects Play Alongside World Stars
Brian Joy spent the best part of a season with City before returning to The States to play for Las Vegas Quicksilver with Eusebio. Mike Pickering spent a season with San Diego Sockers where the late Polish international Kazimierz Denya was a colleague. Mike Czuczman joined a San Jose side boasting George Best and Colin Bell. One of the first players with City connections to taste American soccer was Dennis Walker. A 1960s midfield player, he was a regular for Montreal Olympic in 1972 when a young Graeme Souness, on loan from Spurs, was a colleague. Another early taste of American soccer was achieved by Graham Brown. He spent 2 summers keeping goal for Portland Timbers before joining City, Peter Withe was a teammate.
Mickey Cave and Jim Hinch first tried America soccer with the minor league side Los Angeles Skyhawks in 1975. Cave made his NASL debut in 1977 with Seattle Sounders. He was their top scorer as they reached the championship final. He top scored again the following season when the late Bobby Moore was a teammate. Cave had 4 seasons with Seattle before moving into coaching minor league sides in Pittsburgh. Sadly, he died in 1984. Hinch later played for California Surf. 2 other strikers spent a season in the NASL around the same time. Ted MacDougall spent the summer of 1979 with Detroit Express and Viv Busby spent the following summer with Tulsa Roughnecks initially NASL and then NASL indoor in 1981.
With the demise of NASL in the 1980s and subsequent focus on home developed players, some of the opportunities dried up, however they continue to exist in a plethora of junior leagues and collegiate football, with football being the preferred sport for many young Americans. Jon Maloney (our 2005 loanee from Doncaster) won a football scholarship to American after leaving City and spent 4 years playing for the University of Montevallo in Alabama, Ben Everson played for 3 junior USA clubs before joining City and Darren Tilley played soccer for Kitchener Waterloo between spells with Yate in Somerset. Ethan Henderson, son of Chairman Glen, ended a 2 year scholarship with City in 2020 (he was an unused used sub for the first team once, when we lost the last pre covid home game to Hereford in March 2020) and returned to the States (where he'd spent many of his formative years) and a successful spell in college soccer (read football).
Shrinking World
In 1982, Peter Aitken showed just how much the world had shrunk when after joining City from crisis club Bristol City, he rejected a 1982/3 contract with York preferring a club nearer his Bristol home, which he found in Hong Kong, before returning to non league football in Bath.
With Britain's strong military presence in the Far East for many years, many players were born in the region, sons of serving troops, giving them an advantage when it came to paying in the area.
Paddy Atkinson, born in Singapore, being one example when he was approached by the Singapore FA in 1994 when playing for non leagee Workington.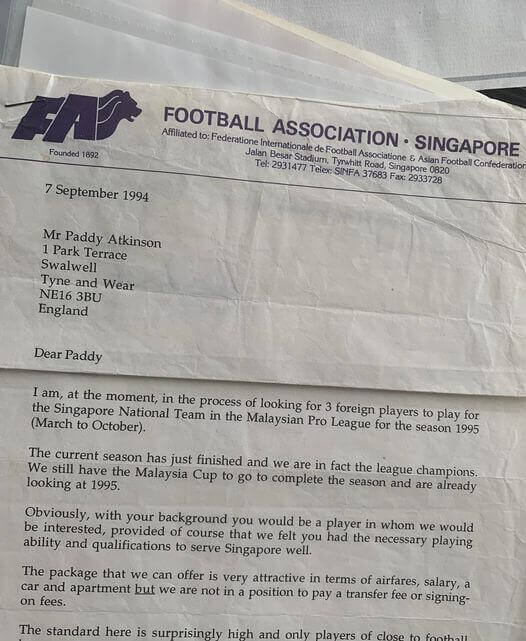 Around the same time, 2 of City's mis-firing strikers, both signed in 1978, enjoyed long spells in Europe. David Loggie cost £20,000 from Burnley. He left in 1980 and joined Sparta Rotterdam. Later spells with Lierse, AZ, Willem II, Cambuur Leeuwarden and AZ (again) followed before he retired in 1993, 276 top flight games in Holland and Belgium (115 goals) later. His City teammate, Barry Wellings later endured a nomadic career in England and Wales before moving to Portugal in 1984 where he spent 5 seasons in their top 2 flights with Académica de Coimbra. Their City teammates, Billy McGhie made 43 City League appearances (scoring one goal) departed in 1981 for Denmark's Boldklubben 1903 whilst Terry Eccles joined City after a spell in Greece with Ethnikos Piraeus.
In truth, the number of ex City players to have played abroad is probably far greater but includes the likes of Jimmy Sangere (Casablanca), Peter Lorimer (Toronto) and Shaun Pejic (Vancouver), Danny Racchi (Valur, Iceland), Gordon Connelly (non league football in Moscow), Michael Collins (Bengaluru, India, 2016) and Ben Everson (USA, Iceland and Sweden). Wastrel Gary Martin seems to have made a successful career of playing in the colder climates of northern Europe (when not moonlighting on north eastern park pitches). In later years, opportunities opened up elsewhere, including:
Globetrotter, Darren Tilley also had a spell in the fledging Chinese national league with Guangdong Hongyuan alongside his ex City colleague, Richard Crossley, arranged by their agent, ex City loanee Chris Galvin. Their journey featured in a mid 1990s ITV documentary where their teammate, Craig (son of Sam) Allardyce returned home early, homesick, missing The Sun and chips, although a 6 month ban after an on pitch fight probably hastened his return. Crossley later played in Hong Kong where Galvin also managed.
Later, Derek Riordan also played in China.
Dan McBreen played for clubs in China and Australia.
Jamie Reed spent 2015 in Australia helping South Melbourne win the Victoria premiership but losing in the Grand Final.
McBreen (for Aussie side Central Coast Mariners v Wellington Phoenix) being one of at least 5 ex City players to have played games in New Zealand who also include Leo Bertos (a Kiwi who played for the national team and various club sides including Wellington Olympic and Wellington Phoenix); Colin Walker (another ex NZ international), Phil Boyer (who toured NZ with Bournemouth in early 1970s) and Mike Walker (who played in goal for Wales v NZ in 1971).
In 1993, ex defender Kevan Smith, had a short spell playing for Maltese champions Sliema Wanderers, including making appearances in the early rounds of The European Cup. However, that wasn't the first City connection with Sliema, as Jimmy McCormick played for them in 1950 and later managed in Turkey before being appointed City manager in September 1953.
Adrian Moke played in Portugal with Glenn Hoddle's football academy before coming to City.
After City, left back, Graham Potter has carved out a successful career in Sweden as manager of Östersunds FK where one of his first team regulars was Jamie Hopcutt, a young pro culled by Gary Mills in 2010. After 4 promotions, they qualified for The UEFA Cup in 2017 and reached the last 32 where they narrowly went down to Arsenal.
In January 2018, Callum Rzonca joined Polish side Zaglebie Sosnowiec and was part of the side which achieved promotion to the Ekstraklasa. On 22 January 2019, after a year with Zaglebie, he joined I liga side GKS Katowice on a season long contract with the option of an additional year but left the club at the end of his first season.
Aron Wilford played for various Australian clubs, joining Southern Stars during the 2008 Victorian State League Division 1 season before moving to Victorian Premier League side Dandenong Thunder for the 2009 season. In October 2010 he movedg to Bentleigh Greens for the 2011 Victorian Premier League season.
City Coaches Abroad
One of the earliest instances of a City player coaching abroad is Tom Mitchell, the ex City player, manager and director as well as sports shop owner. A qualified FA coach, he was stationed in Norway during World War 2, he married in Trondheim Cathedral and coached in the country.
2 former City players, Mickey Cave and Lawrie Calloway both had successful coaching stints in America. In the mid seventies, players often spent the English close season playing in The States. Mickey Cave being such a player, he eventually settled in The States, playing for Seattle and Los Angeles before coaching Pittsburgh.
Cast your minds back and you may recall that 3 former City managers coached abroad. Jimmy McCormick was appointed City's manager in June 1953 and spent just over a season with the club. Indeed, he was responsible for assembling the side that reached the FA Cup semi final in 1955. Prior to joining City he had coached in Norway, Malta and Turkey. Tom Johnston, arguably City's most successful ever manager, coached in Finland where he lead Valdokoski Harka to domestic FA Cup competition success. His successor at Bootham Crescent, Wilf McGuinness coached the leading Greek side, Aris Salonika between his spells managing at Old Trafford and Bootham Crescent. Johnston's assistant, Clive Baker later also coached in Norway, Canada, United States and South Africa. Clive Baker - Read More.
Another early traveller was Alf Young who played for City in the1945/6 FA Cup having played 9 times for England, including the infamous 6-3 win in Berlin over Germany in May 1938. Soon after leaving City he went to Denmark where he enjoyed a long managerial and coaching career, including a spell as national coach in 1956 and with various clubs including Esbjerg fB and Koge BK interspersed with a spell in Norway with SK Brann.
Other York City coaching connections abroad have included Colin Addison who has managed across the world, including Durban (South Africa 1975/6), Qatar (1985/6), Kuwait (1992/3) and 4 clubs in Spain / Portugal, including Athletico Madrid. Alan Murray, the Middlesbrough loanee who spent one month with City in early 1972 has also coached abroad. Having teamed up with Graeme Souness at Southampton, he later followed him to Benfica and was briefly Benfica's caretaker manager when Souness was sacked in 1999.
Another former City hero, Malcolm Crosby had a spell coaching in Kuwait club Al Salmiya with Bobby Campbell after leaving City in 1986. The oil boom of the 1970s paved the way for many coaches to work in the middle east, often being paid vast sums to work with players who were not always the most committed in the world, Don Revie, Joe Kinnear and Dave Mackay being some of the most famous example.
After City, Terry Dolan and Adie Shaw had spells managing in Grenada.
City Abroad
City have played abroad on several occasions. The most famous being 1938 and 1955, both times as a reward for FA Cup success. A trip to Holland (October 1938, an 8-2 defeat to a Dutch National XI in Rotterdam) and in May 1955 where City beat Linfield 3-1 at Windsor Park (Belfast) and drew 3-3 with Bohemians in Dublin's Dalymount Park (The Irish Press reported a 3-2 City win (Wilkinson, Fenton and Spence scored), their reporter leaving before the last goal.
In the 1990s, the intermediate side visited Holland, once, if not twice, to play in an end of season youth competition.
In 1951, 2 League Of Ireland sides played City at Bootham Crescent in Festival Of Britain celebration games. City beat Sligo (4-0, 9th May 1951, att 2,260) and Transport (5-0, 16th May 1951, thanks to a Linaker hat trick, att 2,958). Bigger clubs seemed to get some of the biggest names in European football, this at a time when there was no European club competitions. The fiztures saw Happy Wanderer star Billy Hughes make his City debut.
In the 1970s, City hosted friendlies against Hvidovre (Copenhagen), a top Danish side, on 30th November 1971 (City won 2-0 with goals from Eddie Rowles (8) and Tommy Henderson (20) in front of a disappointing crowd of 2,925 (receipts £725)). Only Heinz Hilebrandt in goal prevented a much bigger win for City. Hvidovre were the first continental team to play at Bootham Crescent. Valur (Iceland) visited City in October 1974 in an era when such friendlies were not uncommon.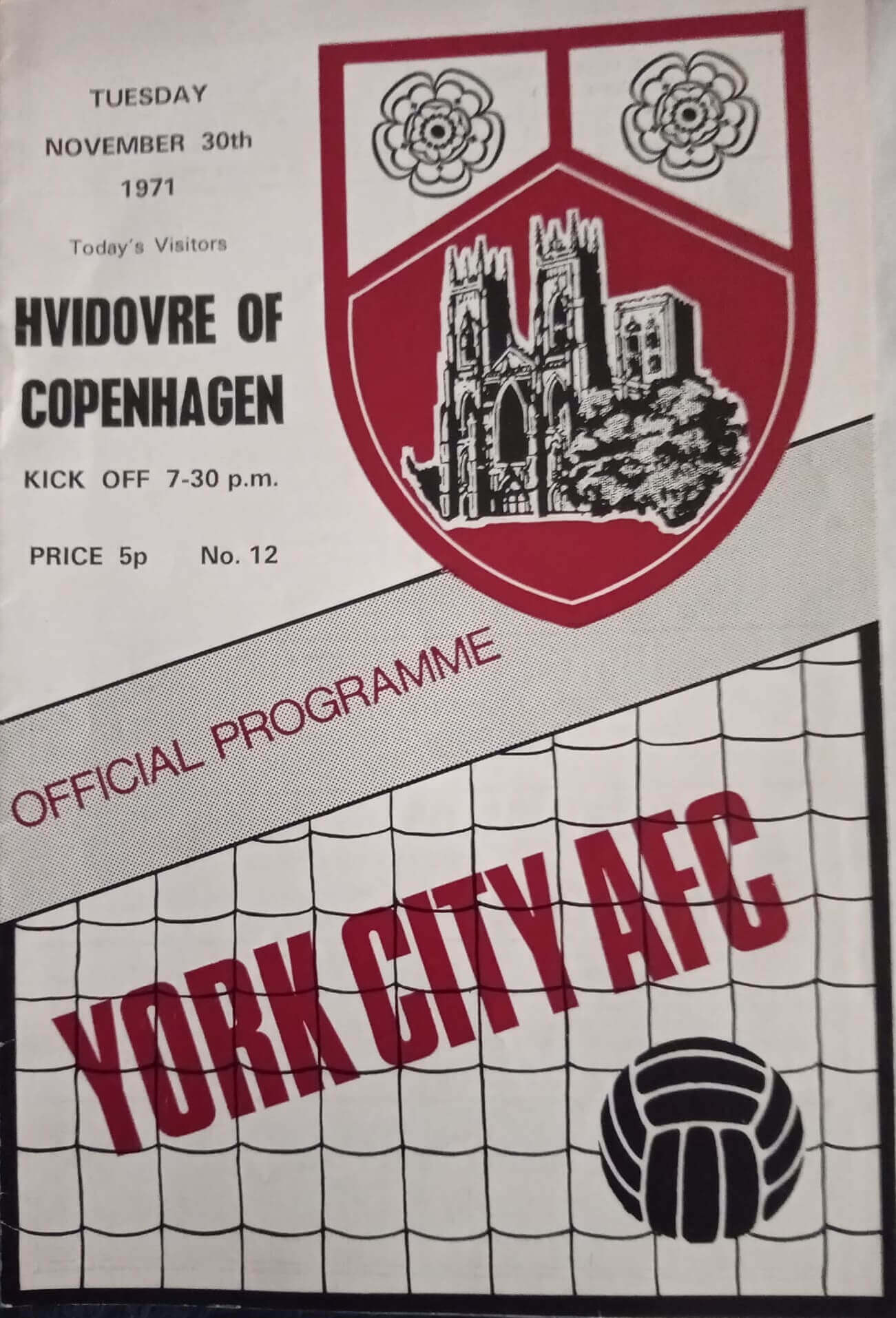 After our successful 1973/4 promotion campaign, City enjoyed a post season break in Iceland where City beat top sides Keflavik (4-2) and Throtttur - Valour (3-1) before a 1-1 draw in a hastily arranged game against the Icelandic national side as the host nation sought desperately to beat a team newly promoted to Division 2.
In 1990, City hosted the Bermudan national side and on 8 August 1994 beat Sarajevo 3-2.
The 1990s saw pre season trips to Dublin (1994 (with games against Shelbourne (W 4-1, Tolka Park) and Bohemians (W 2-1, Dalymount Park)) and a year later (Shelbourne (D 1-1), St Patrick's Athletic (W 3-2) and University College Dublin (D 3-3))
In the 1990s, City also visited The Isle Of Wight (twice, 1992 and 1993) and Livingston / Edinburgh (twice, 1996 (we beat Dundee 2-1 in the semi final and lost to Livingston on 4-3 on penalties after a 2-2 draw in the final (Queens Park also competed) and 1997) in an era where a pre season trips were common place. On the Isle Of Wight, John Uttley recalls playing football with David Icke (at the time a figurehead in IoW football who by then had become better known as a turquoise tracksuit clad "celebrity") and having pints bought by Douglas Craig for him and his friends. I seem to recall we played QPR, Bristol Rovers and Ryde Sports in 1992. During one game, the sky blackened and we had a tremendous thunderstorm, wrath of God or Icke, you decide.
1997 saw us featured on live TV on consecutive days as the fledgling cable channel "Live TV", more famous for its topless Norwegian weather girls, provided live coverage of all 4 games in Livingston's pre season tournament.
As late as July 2016, City's Under 18 squad enjoyed a pre season training camp in Portugal.
Foreigners At City
Over the years, City have had a number of foreigners playing for us. They include 2 Polish men just after WW2 (Eryk Kubicki and Edouard Wojtczak), Leo Bertos who played in the 2010 World Cup for New Zealand, Farhad Afandiyev, Rogerio Carvalho and Janos Kovacs.
The likes of James Meredith, Andre Boucaud, Marvin McCoy and Anthony Straker have also represented foreign international teams, the latter 3 during their time with City. Other non British full internationals to have played for City include Clayton Donaldson, Luke Woodland, Theo Wharton, Jameel Ible, Deon Burton, Stephane Zubar, Mike Atkinson, Sander Puri, Adam Reed and Richard Pacquette.
Equally, a number of foreign triallists never made the grade (Michael Evans, Damien Farrell, Roar Fredriksen, Gayson Gregory, Roy Kenneth Larsson, Nicolas Mazzina, Jonathan Topkle and Marcelo Veron included), either with City or elsewhere after their brief time with City.
Maziar Kouhyar, who joined City in March 2022, is believed to be the first Afghan player to play professionally in Britain.
City's Full Internationals
With Maziar Kouhyar, I make that 49 City players, past and present, including schoolboys and trialists have gained full international honours for 21 different countries, although not all the honours were gained during their City days. The players date back to our 1920s striker Joe Hulme who later won 9 England caps and top domestic honours for Arsenal. Going backwards in time, they are:-
Maziar Kouhyar (Afghanistan)
Romario Vieira (Guinea-Bissau) - City Trialist
Febian Brandy (St Kitts and Nevis) - City Trialist
Mike Atkinson (Belize) - City Schoolboy
Scott Dobie (Scotland)
Jameel Ible (St Kitts And Nevis)
Jonathan Topkle (Togo) - City Trialist
Neville Southall (Wales)
Paul Robinson (England) - City Schoolboy
Bailey Peacock-Farrell (Northern Ireland)
Theo Wharton (St Kitts And Nevis)
Luke Woodland (Philippines)
Derek Riordan (Scotland)
L'ubomir Satka (Slovakia)
Ben Godfrey (England)
Eddie Nolan (Republic Of Ireland)
Stephane Zubar (Guadaloupe)
Deon Burton (Jamaica)
Anthony Straker (Grenada)
Marvin McCoy (Antigua & Barbuda)
Sander Puri (Estonia)
Adam Michael Reed (Philippines)
Josh Carson (Northern Ireland)
Moses Ashikodi (Antigua & Barbuda)
Andre Boucaud (Trinidad and Tobago)
Richard Pacquette (Dominica)
James Meredith (Australia)
Leo Bertos (New Zealand)
Clayton Donaldson (Jamaica)
Michael Ingham (Northern Ireland)
Lee Nogan (Wales)
Chris Iwelumo (Scotland)
Alan Fettis (Northern Ireland)
Graeme Murty (Scotland)
Dean Kiely (Republic Of Ireland)
Jon McCarthy (Northern Ireland)
Gary Howlett (Republic Of Ireland)
Peter Lorimer (Scotland)
John Byrne (Republic Of Ireland)
Peter Scott (Northern Ireland)
Eric McMordie (Northern Ireland)
Phil Boyer (England)
Ted MacDougall (Scotland)
Eamon Dunphy (Republic Of Ireland)
Noel Peyton (Republic Of Ireland)
Jackie (John) Scott (Northern Ireland)
Alf Young (England)
Joe Harris (Scotland)
Joe Hulme (England)
For the City career details of all players mentioned above visit City squad
Plus: North American Soccer