The times they were a changing as City entered the swinging 60s, illuminated by the club's first floodlights that were installed in summer 1959.
With a historic 1955 FA Cup run behind City, the footballing world was changing.
In 1958, The Football League abolished the regional Division 3 and there was increasing pressure to abolish football's maximum wage. It was finally abolished in January 1961 after a concerted campaign by Jimmy Hill and The Professional Footballers' Association. Previously, no player could earn more than £20 a week, meaning City's players could earn as much as an England international.
Both events were to have a profound impact on City.
Across football, many players preferred a part time career to full time football, supplementing their wages by outside jobs.
City's 1955 FA cup side featured 4 part time players (Gordon Brown (storeman), Norman Wilkinson, Sid Storey (miner) and Billy Fenton (draughtsman)).
Equally, if the most you could earn was £20 a week, you might as well earn it in relatively pleasant environs as post war austerity was still all round and environmental clean up wasn't even on the horizon.
As one of The League's smaller clubs, other clubs could now offer better playing contracts terms than City could.
Up to 1958, City had a relatively tranquil life in Division 3 (North),only once applying for re-election since their election into The Football League in 1929 and rarely pressing for promotion. With just one team promoted, City's most realistic chance of promotion was in 1955 when the fixture backlog caused by City's cup run saw City's hopes fade after cup defeat, 13 games in 36 days yielded 3 defeats and 3 draws (as City fell 7 points short in the 2 points for a win era).
1957/8 saw City finish 13th, their average position during their Division3 (North) days, thus being consigned to the new Division 4 on goal average.
Now there were regular league games against southern based teams and there were more realistic hopes of promotion (4 teams being promoted).
Promotion was immediate as the side still bore more than a passing resemblance to the 1955 side. Relegation was just as immediate.
On the pitch, City struggled back in Division 4, plunging to 22nd place and re-election in 1964.
Off the pitch, City were badly affected by a betting and bribery scandal that rocked English football at the time.
A season later it was 3rd place and promotion. Once again immediate relegation followed in 1966.
Things got worse and City had to apply for re-election in each of the next 3 seasons.
1966 saw the last playing links with the 1955 FA Cup side severed when Norman Wilkinson and Tommy Forgan left the club in the summer. 1967 saw Tom Lockie, who'd been caretaker manager in 1955, sacked as City's manager, City's first ever managerial sacking.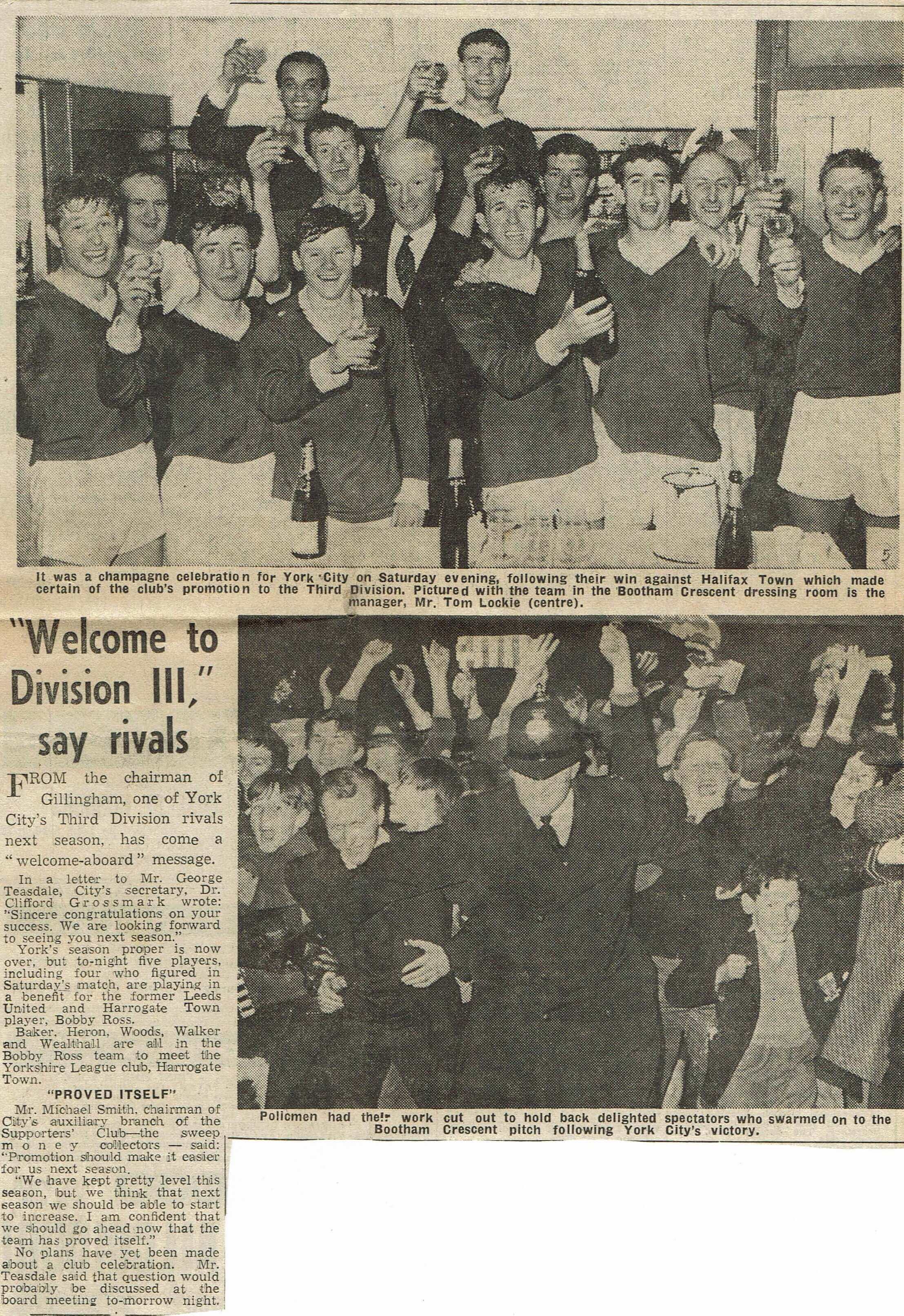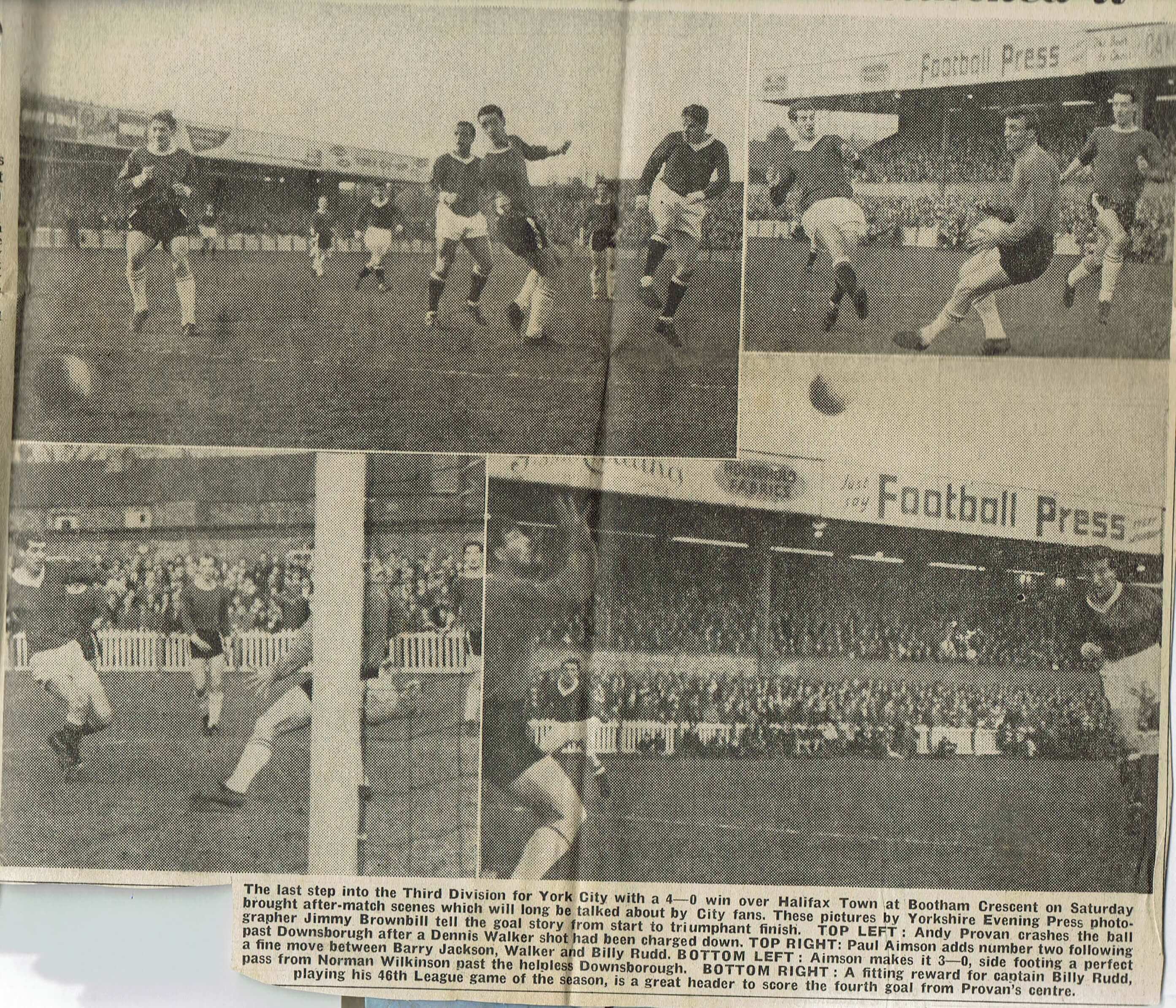 By the time Lockie left, the side contained Phil Burrows and Ted MacDougall (£5,000 signing from Liverpool). Joe Shaw replaced him. He lasted less than a year before resigning for personal reasons (to assist his wife in their ailing children's clothes shop in Sheffield), his big signing was Phil Boyer (£3,000 from Derby).
Tom Johnston was appointed manager in October 1968, but he couldn't prevent City from having to apply for their 3rd consecutive re-election in 1969. That season, Johnston gave Chris Topping his debut and the following season signed Barry Swallow as Barry Jackson's long City career entered its final furlong.
That season, 1969/70 saw City reach mid table, but the season's highlight was an FA Cup run, beating Cardiff (then Division 2, now The Championship) after 2 replays before narrowly going down to top flight Southampton after a replay in Round 4.
With Boyer and MacDougall departed for Bournemouth, Paul Aimson had returned to City. The 1970/1 side that was to gain promotion was virtually in place.
Throughout the decade, money was tight, the decade being marked by Friday night / Saturday night kick offs as City strove to eke out every pound, believing night games were more popular than Saturday afternoon games. This was eventually curtailed when the football pools companies withdrew their £100 per match "licensing" fee for games not paid on a Saturday afternoon.
The side that Tom Johnston put together was to enjoy 2 promotion campaigns.