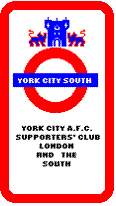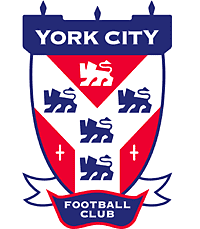 City History
2003/4 Young City
Young Team
By the end of the 2003/4 season that saw City relegated from The Football League, we were fielding one of our youngest ever line-ups. The team that faced Leyton Orient (May 1 2004) at Bootham Crescent was certainly the youngest since the John Bird era and around the same 21.5 years of age that lined up at Scunthorpe on March 2, 1991.
In 1991, against Scunthorpe, the team was: Dean Kiely (aged 20), Andy McMillan (22), Wayne Hall (22), Shaun Weatherhead (20), Steve Tutill (21), Steve Bushell (18), Richard Crossley (20), Tony Barratt (25), Ian Helliwell (28), Iain Dunn (20), Glenn Naylor (18). Scunthorpe won 2-1. It was Bushell's debut.
Against Orient, we lined up with: Chris Porter; Graeme Law, Stuart Wise, Leigh Wood, Dave Merris (Sean Davies); Adam Arthur (Kane Ashcroft), Chris Brass, Darren Dunning, Bryan Stewart; Lev Yalcin, Liam George (Andy Bell). Subs not used: Dave Stockdale, Michael Staley.
The average age of the team which that the match was 21.6 and, after Liam George, David Merris and Adam Arthur had been replaced by Andy Bell, Sean Davies and Kane Ashcroft, that had dropped to 20.7.
Young Players
Left winger Reg Stockill is the youngest player (15 years and 281 days) ever to play for City. He made his City debut in our first ever Football League match. Stockill only went on to make only one more City League appearance (the first game of the following season) before moving to Scarborough, where he was sold on to Arsenal.
Central defender Lee Grant (16 years and 116 days) is our 2nd youngest ever debutant. He made his Minstermen debut against Bristol Rovers in 2002 as a substitute under Terry Dolan but turned down the opportunity of a scholarship at Bootham Crescent to sign for Aston Villa, for whom he played in 2004 FA Youth Cup final. He returned to City on loan the following season.
3rd youngest is keeper Mick Astbury (16 years and 298 days) who made his debut in 1980. He went on to play in our famous FA Cup win over Arsenal five years later.
With many youngest making the first team in recent years, Michael Staley qualifies as the youngest (and 4th youngest in our history), although at 16 years and 116 days, he was a non playing sub wen he first make the 16 against Orient on May 1, 2004.