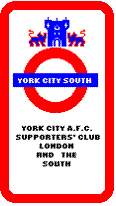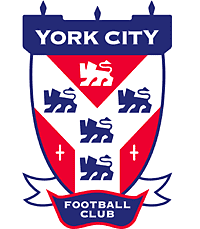 York City South - Statement Of Activity
Statement Of Activity 2015-6
Following a suggestion at our AGM, the committee of York City South decided that it would be a good idea to release a statement at the end of each season, detailing the activities of the branch over the past year and how we have contributed to York City Football Club.
The activities and success of York City South are generally a reflection of how the team is performing on the pitch. As we know, season 2015/16 was disappointing from that perspective and as such, as a branch we found it difficult to attract new members and to maintain a positive vibe at social events, particularly towards the end of the campaign.
Over the course of the season, we contributed in excess of £1,250 directly to the football club through our hospitality match and sponsoring Dave Winfield's home shirt. Additionally, with over 10% of members holding season tickets and helping to facilitate transport to games for non season ticket holders, the amount contributed indirectly from York City South members will have been far higher.
Bearing in mind that each home game constitutes a minimum 400+ mile round trip, we estimate that York City South members travelled approximately 100,000 miles in total just to watch the Minstermen at home in season 2015/16.
We held a number of social events including; a pub crawl down London's up-and-coming 'Beer Mile', a Christmas party with York City Bingo a highlight, our 3rd annual darts tournament where Secretary Dot Goodearl retained her crown, and took hospitality at Bootham Crescent for the final game of the season where we had a total of 20 members and friends in the Keith Walwyn suite for the game against Bristol Rovers.
Additionally, we have submitted a contribution to every edition of The Citizen matchday magazine, and our web-master, Chris Forth, has continued to maintain his excellent collection of York City stats, facts, stories and histories as well as the entertaining 'New Frontiers' fanzine on our website. Chris was awarded the Jim Fray Trophy for being York City South's Member of the Year for his efforts.
The York City South Committee decided against awarding a Player of the Year award this year, however we presented club Physio, Jeff Miller with a Lifetime Achievement Award for his 30 years service to the club when we attended Bootham crescent in April.
Our reach continues to grow with over 800 Twitter followers and we were delighted to have been invited to submit a panelist for the Radio York debate with Jackie McNamara on 'What went wrong this Season' in May. We are grateful to committee member, Hyla Cambell for representing the branch so eloquently.
Having stepped down at our AGM in May due to work and family commitments, I would like to welcome Derek Feasby to the Chair. I am certain that Derek will do a fantastic job continuing to raise the profile of the branch and to ensure that York City South is a key support to the football club through what will likely be another tough stint in the non-league.
Finally, if anyone finds themselves moving South or is already living in the South of England and would like to meet fellow Yorkshire folk with a keen love of York City, then please email or through our Twitter or Facebook channels.
Joel Stern, Chairman, York City London & Southern Supporters Club.
June 2016