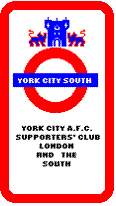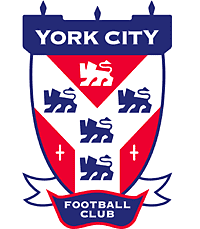 MEET & GREET
The Branch has launched a "Meet & Greet" initiative for the 2009/10 season. In old money, that's like a piss up, but only more refined, to you and me. Check our twitter feed on the home page for the next one.
You've already missed the first few, but don't be late for the next.
Stevenage (April 24) - Shirley Pilmore writes. York City South's final (ed - What about the play off? What about Wembley?) "Meet and Greet" of the season (in fact open to all YCFC fans by invitation of the Landlord) is "The Chequers" 164 The High Street. Stevenage. Turn left out of station and 5 mins walk. Drinks before the game and celebrations after. See you there ......."! Come on the York".
Ebbsfleet (February 13) - Shirley Pilmore writes. The next YCS Meet and Greet is at the "Rose and Crown", close to Northfleet station. For the thirsty amongst us, "The Plough" is bang next door to the ground. There's also a social club at the ground, but on big match days, its segregated or packed or both.
Stoke (January 2) - Shirley Pilmore writes. Next YCS Meet and Greet -"Trentham Lakes", a Harvester on Sir Stanley Matthews Way.
AFC Wimbledon (November 21) - Shirley Pilmore writes. Even though the club has two bars within the Phil Strank Stand which we will be open to us before the game, I'm going to the Willoughby Arms (47 Willoughby Rd). A pub with 3 bars, a garden, TV sports screen and 4 real ales on draft. Its 0.5 miles from Norbiton Station. Right into Manorgate Rd, right into Clifton Rd, left into Canbury Rd then right again into Willoughby Rd. PS All the time, you're walking away from the ground, that's when you're not walking around in circles. But if Shirley recommends it and you don't mind getting wet in the beer garden, then its an excellent choice. See you there ......."! Come on City"
Crawley (October 31) - Shirley Pilmore writes. The next YCS "Meet and Greet" will be at Crawley's social club (also know as the "Redz" Bar) both before and after the game. To get to the ground take the Fastway 10 bus from opposite the station (stops right outside the ground) or share a cab with the hundreds of York fans getting of the train at Crawley (obviously not all in the same one) See you there ......."! Come on City"
Salisbury (October 10) - Shirley Pilmore writes. Great place, one down side is the Old Sarum is way out of town. Their social club (which overlooks the pitch) does welcome away supporters though and there are 3 buses that run from the station to the ground at 1.30, 1.40 and 1.50 (they're expecting large numbers from York on the Jimmy Sangere former haunts trial) only thing is the buses take 45 minutes to get there. So, after much trawling the net hopefully we've found a decent town centre pub for a York City South "Meet and Greet". The Wig and Quill at 1 New Street, SP1 2PH. From the station, walk down Fisherton Street, turn left into High St and right into New St. They serve local ales from the wood, have a working cellar (which you can view) a restaurant and bar menus as well as an outside courtyard...Hoping to meet up with friends before hot footing it to their social club for a quick pint of Magna Carta.
August 22 and Hayes is the next meet and greet. We're meeting in their clubhouse before the game.
Or contact Shirley for more details or to suggest a meeting point for future away games.
When the weather gets cold and wet (I mean winter, not summer), Sophie has offered to come to a meet and greet on the weekend of one of City's trips down south.
Trying to arrange travel to a City game home or away, got a spare seat ,want a lift, want someone to go with, then email Webmaster and I'll put something on this page.