Mascot For The Day
The anticipation was intense, the excitement all it should have been. The 3 weeks between receiving the letter and the big day sped by. Last home game of the season, April 23, York City v Farnborough and my 7 year old son, Charles, was mascot. I'm not sure who was more excited, Charles or I.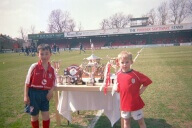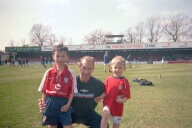 In his eyes, a weekend in York to see his cousin and a trip to the National Railway Museum always takes some beating. A football match on top, what more could a 7 year old want? The only slight downer was 5 year old cousin Sam who hadn't been to a football match before and who had previously said he didn't want to be a mascot. Come 1:00 and Charles is ready for the off. Outside the ground, a sleepy Sam changes his mind and decides to come. We walk into the ground, see some old friends and await Colin Sanderson, our host for the day. Whilst waiting, Paul Stancliffe walks through "Hi, lads", is his greeting to Charles and Sam, "get your hands out of your pockets", he barks at 2 of his youth team charges, hands instantly out of pockets. True professional, I think to myself. 20 minutes later, I learn Paul is leaving the club, another unfortunate casualty of the cuts. Colin arrives, I explain how Sam is a late addition, its no problem for Colin and we've got 2 mascots.
Charles and Sam go out onto the pitch for the pre match warm up with the players. Everyone is making us feel very welcome. The players come in. Colin pops up again, as he did throughout the afternoon, keeping things moving for Charles and Sam, letting me know what happens next, whilst seeing to his many other match day duties. He takes us to meet the referee, coming out, we spy Chris Brass, Charles' favourite. Colin tells Chris to go out onto the pitch for a photo with the boys. Chris, with knee still not quite right, gingerly stoops down to do the honours.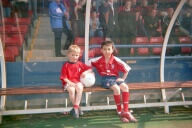 2:50. Back inside the tunnel and straight into City's dressing room. Charles and Sam walk around, shaking hands with all the players, Billy McEwan also shakes both their hands as he does a last rallying call to his players. Its the big moment. Charles and Sam lead City onto the pitch, have a kick around with the team and then seem to spend an age on the touch line as we applaud as what seems like the whole team walk forward, one by one, to receive one of the many end of season trophies.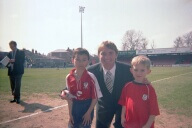 For the big one, Margo Fenton walks out to present the trophy. Sophie gives her a great big hug and greets her like a great aunt who she hasn't seen for a long time. Dave Merris steps forward to receive the clubmen award and then another big moment for the boys. Into the centre circle they go, meeting and greeting the officials (again) and Farnborough captain. All week, I'd been telling Charles that the ref would use a £2 coin for the toss and slip it into Charles hand. In reality, it was a shiny old penny which went straight back into the ref's pocket.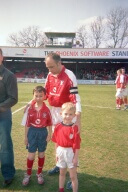 The boys run off to a round of applause, remembering to wave to the crowd as they go.
The first half passed quickly from our seats behind the Farnborough dug out. Half time, Colin appears and there are drinks for the boys. Whilst inside the tunnel, sub keeper, Chris Porter spies us. We chat about things, "Whose your favourite player?", he asks Charles, "David Stockdale" was probably not the right answer. I ask how he rates Billy McEwan. He gives a very positive answer despite being dropped a couple of weeks earlier. He sees the boys drinking squash and offers me a cuppa from the boot room. He offers to take Charles and Sam out onto the pitch for a kick in. All my coaxing couldn't get Charles and Sam out. I lost the chance to score a penalty against Chris Porter in front of the Shippo.
The second half starts. The goals go in. Just before the final whistle, Colin tells me he'll get the match ball from the ref at the final whistle and we can have a kick into the goal. First, there's the traditional end of season pitch invasion. Once the hundreds chanting for Billy and the boys have dispersed, Colin ushers us out onto the pitch. The stewards are very reluctant to let us in the penalty area. They relent, "make it quick", apparently the head steward has told them to guard the penalty area with their lives. We have a quick kick about and score a few goals. We walk back, trying to cross the player's tunnel, our path is blocked by stewards who say we can't go through, "I'll be in trouble with the head steward if I let you through". I'm thinking, these stewards are good, they do exactly what their boss tells them, we should put them in our defence, we'd never concede a goal.
I get to hear David Stockdale's short speech, but Colin comes out just as Billy is saying his bit and our day ends with goodie bags all round.
Sometimes, I think our tag as "the friendly club" does us no good, possibly suggesting we're an easy touch, but on days like this, no one could have been more friendly and helpful if they wished.
Charles thinks he should be mascot again if it leads to another 4-0 win. His only disappointment was the non appearance of Yorkie. Presumably on his bike after last week's escapades.