You might be surprised to learn just how many top bands have played York, in many long lost (and unusual) venues. Probably the biggest name ever to play York University was Paul McCartney when he turned up, unannounced, on 10th February 1972 and asked if his new band, Wings, could play an unannounced gig
More than happy to receive any updates, corrections etc. on the York section, please email webmaster any corrections, updates, personal recollections or anything else. A lot of what comes below are personal recollections and enhanced by friends and internet (although some enhancements must be taken with a pinch of salt). A lot more has been forgotten, probably being considered inconsequential at the time. Who'd have thought Pink Floyd would make it big after playing New Earswick (21/October/1967). Personally, I recall seeing Andy "Sten" Stennet down his pint and play an amazing short set on the piano one evening in The Spotted Cow on Barbican Road shortly before his band Freeez had their 1981 breakthrough top 10 single, "Southern Freeez". You won't find it documented anywhere else but it happened.
Like many provincial cities and towns, York has a long history of live music, the venues coming and going as did the bands. One constant has been York University which has seen many live bands, usually bands in their early, formative days playing college gigs before hopefully going on to make it big. Over the years, some big bands have played The Central Hall.
York's other educational venues (schools included) have also hosted live music, usually on a less regular basis and subject to the enthusiasm and commitment of that year's Entertainments Secretary.
It wasn't until 1989 and the opening of The Barbican, that York had a large (1,900 seater) city centre venue. Before then, it was the 1960s and the bingo halls and cinemas that hosted bigger gigs.
Between times (and later), Munster Bar (Piccadilly), Grob And Ducat (Rougier St), Revolution (Lady Peckett's Yard), Winning Post (Bishopthorpe Road), INL (Walmgate), Ziggy's (including Gene Loves Jezebel (16th April 1984), The Orson Family (1st May 1984) and Dead Can Dance (16th May 1984)) and The Arts Centre (both Micklegate), TA Centre (Clifford St, including Rip, Rig and Panic) The Spotted Cow (Walmgate), The Crescent (Blossom Street) and Victoria Vaults (Nunnery Lane) are just some of the many other venues that have hosted live music on a (semi) regular basis over the years.
Equally, York's record stores have played their part, hosting a number of PA events, Adam Ant's appearance at Track Records(4th April 1995) probably being the biggest star to appear.
To see upcoming York gigs, see Skiddle.
York Timeline
July 19-20, 2024 Shed Seven headline 2 30th anniversary homecoming shows in the Museum Gardens. On both nights, support is provided by Peter Doherty (ex Libertines) who also appears on the upcoming Shed Seven track 'Throwaways'. Further support comes from Lottery Winners and York's rising indie-rock stars Serotones (fronted by Duke Wittler, son of Rick) whilst on Saturday, Brooke Combe and Apollo Junction support. Tickets cost £61.50.
2021-3 Attracting national and international acts, The Barbican was badly hit by covid. Many dates were cancelled and given the size of many of the acts booked it was sometimes difficult to re-arrange them. Gigs booked included 10CC (26/03/22), Barry Humphries (13/04/22), Belinda Carlisle ((20/02/23), re-arranged from 14/10/21, 37+ years after her last visit to York), Beth Hart (31/10/21), Beverley Knight (09/11/23), Boyzlife (17/10/21 and 14/10/22), Chris De Burgh (15/10/21), Clannad (03/11/21), Daniel O'Donnell (21/10/21), Del Amitri (18/09/21), Dexys (05/09/23, re-arranged from 30/09/22), Dionne Warwick (10/06/22, re-arranged from 29/10/21), Don McLean (28/09/22), Gabrielle (21/10/23, re-arranged from 10/11/21), Genesis - Visible Touch (03/03/22), George Thorogood And The Destroyers (24/07/22, re-arranged from 30/07/21), Go West / Paul Young (24/09/21), Hawkwind (16/09/21), Heather Small (02/04/22), Howard Jones / Blancmange (11/10/23), Imelda May (06/04/22), Jason Donovan (28/02/22, re-arranged from 08/11/21), Jimmy Carr (04/11/21), Joe Jackson (17/03/22), John Barrowman (20/05/22), John Cale(24/10/22), Jools Holland (05/11/21, 20/12/23), Jools Holland & his Rhythm & Blues Orchestra (01/12/22), Ladysmith Black Mambazo (29/10/22), Leo Sayer (07/10/22, re-arranged from 19/10/21), Level 42 (13/10/23, re-arranged (with Jimmy Hates Jazz) from 24/10/21), Lloyd Cole (17/10/23), Manic Street Preachers (04/10/21), Marc Almond (21/10/22), Midge Ure - The Voice & Visions Tour (22/02/22), Nick Mason's Saucerful Of Secrets (16/04/22), Paul Carrack (19/10/23, re-arranged from 17/02/22), Paul Weller (05/04/22, re-arranged from 21/06/29), Richard Thompson(25/10/21), Rob Brydon (22/06/22), Roger Taylor (Queen) (05/10/21), Ronan Keating (04/07/22, re-arranged from 19/06/20, 13/01/21, 06/07/21, 10/10/21 and 23/01/22), Rufus Wainwright (13/10/21), Saxon (23/11/22), Scouting For Girls (10/11/23, re-arranged from 10/10/21), Seasick Steve (11/11/21), Showaddywaddy (04/03/22, re-arranged from 29/04/21), Sophie Ellis-Bextor (12/12/23), Soul II Soul (25/02/22), Steve Hackett: Genesis Revisited - Foxtrot At Fifty + Hackett highlights (24/09/22), The Boomtown Rats / special guests (16/09/21), The Divine Comedy (30/04/22), The Hollies (24/09/23, re-arranged from 23/09/21), The Proclaimers (19/10/22), The Shires (06/05/22), The Stylistics (29/10/23, re-arranged from 27/11/22), The Unthanks (31/05/22), The Waterboys (12/10/23, re-arranged from 09/10/21), Tom Chapman (ex Keane) (11/10/22), Uriah Heep (09/10/22), Van Morrison (20-21/07/21, re-arranged from May 25-26/05/21, Will Young (13/10/22) and Yes: Relayer (22/06/22).
2023 Once again, throughout the year, many bands played across York at a number of venues, large and small, new and old. At the Crescent, highlights included Ruts DC (25 May), Mike Peters(8 June), Soft Machine (22 June), Secret Affair (24 June), Alabama 3 (30 July), Cud (9 August), Ozric Tentacles (18 August), Sleeper (30 August), House Of All (7 September), Wheatus (10 September), Badly Drawn Boy (18 September), Cast (16 October) and Spear Of Destiny (with Derek Forbes (ex Simple Minds) and The Dark)) (6 December). At the Grand Opera House, Midge Ure (April 30) was possibly the year's highlight.
May 27, 2023 The 2023 York racecourse music series starts with the return of Mania – The Abba Tribute and concludes with The Human League (July 28) and Craig David (July 29). A new Saturday afternoon raceday was added on Saturday 23 September and ended with an extra gig, direct from London's West End, the world's favourite George Michael celebration! "Fastlove" with a live band accompanying the upbeat hits made famous in the Wham years and classics from a glittering solo career. Fastlove - Read More.
2022 As ever, throughout the year, as the country recovered from covid, but stil subject to cancellations and late changes, many bands played across York at a number of venues, large and small, new and old. At the Crescent, highlights included The Mission (August 22) and Tom Robinson (with special guests TV Smith and Ola Szmidt) on September 30 whilst the Grand Opera House hosted Gary Barlow (June 10/11).and "The Osmonds – A New Musical" (August 2 – 6).
Septemer 23-25, 2022 Yorkshire Balloon Fiesta (held on the Knavesmire) featured Scouting for Girls, Craig Charles, Gabrielle (September 24), Heather Small, BoyzLife, DJ Howard Donald, Symphonic Ibiza and York's very own party band Huge. It also featured Brainiac Live performing their trademark outrageous science experiments and daredevil stunts. Andy & the Odd Socks, from the CBBC hit show 'Andy and the Band' (aka 'Andy & the Odd Socks'), and another CBBC star, YolanDa, with her amazing Band Jam Show, entertained the younger members of the crowd.
July 21-22, 2022 York Racecourse's Music Showcase Weekend with Madness on Friday evening and Sugababes, featuring original members, Keisha, Mutya and Siobhan, after Saturday's card.
May 21-22, 2022 Tribute Weekend at York Racecourse featuring "Mania - The ABBA Tribute" on Saturday and Majesty Queen on Sunday after the day's racing.
April 29, 2022 The Animals, with Maggie Bell,headline at the annual Pocklington Arts Centre festival. See for more PAC details.
2021 Gigs booked for the Grand Opera House included Anton Du Beke / Giovanni Pernice (12 July), The Drifters (17 July), David Baddiel (1st November) and Jimmy Carr (9 November).
December 16-17, 2021 Skylights, made up of four friends York, had 2 gigs at the 500 capacity Acomb Working Mens Club postponed due to covid. Read more.
October 1, 2021 Spizz with his current incarnation, Spizz Energi, makes a first ever York apperance at The Fulford Arms after 45 years of gigging.
July 23-24, 2021 After a 2 year absence, Music Showcase weekend returns. Rick Astley (originally booked for 2020) and McFly, respectively, headline 2 evenings of after racing gigs at York Racecourse. Crowds of 10,000 and 30,000 saw the gigs. Read more.
November 26, 2020 The Alarm at The Crescent cancelled due to covid..
Summer 2020 3 nights of after racing gigs at York Racecourse cancelled due to coronavirus.
July 9-15, 2020 Pocklington Arts Centre's (PAC) 5th Platform Festival at the town's Old Station. Robert Plant tops the bill with Saving Grace (July 10), him and fellow vocalist Suzi Dian. Other acts include Richard Thompson (July 15), Shed Seven members Rick Witter and Paul Banks playing an acoustic set (July 11), comedian Omid Djalili (July 9), Red Hot Chilli Pipers with their groundbreaking fusion of traditional Scottish music and rock/pop anthems (July 9), country-pop duo Ward Thomas (July 11), former X Factor contestant Lucy Spraggan, York born singer songwriter Twinnie, the New York Brass Band (North Yorkshire's only contemporary New Orleans inspired Brass Band), 12 piece The Grand Old Uke of York and many more. In addition, internationally acclaimed BBC Big Band and conductor Barry Forgie, will be joined by the vocal talents of Jeff Hooper, for a very special concert on July 14. PAC director Janet Farmer noted, "It is PAC's 20th anniversary and this year's Platform Festival programme reflects this very special year. Robert Plant is a legendary name in the music scene and it is so exciting that he and the other highly accomplished musicians in Saving Grace will be joining us for such a significant event. There's no doubt Robert and Saving Grace are the biggest band we've ever booked for Platform. We strongly believe this year's line-up is both the best and most star studded music bill we've ever put together." See official web site for full line up and tickets. Unfortunately cancelled due to coronavirus.
June 19-21, 2020 Planned new weekend (no camping) "York Festival" at Clifton Park organised by promoters Cuffe and Taylor who brought Britney Spears to Scarborough Open Air Theatre in 2018 and Rod Stewart to York Racecourse in 2019. Headline acts booked were Madness (June 19, supported by Lightning Seeds, Craig Charles' Funk & Soul Club DJ set, Apollo Junction and Violet Contours), Westlife (June 20, supported by All Saints, Howard Donald (classic house DJ set), Sophie Ellis-Bextor and Scouting For Girls) and Lionel Richie (June 21, supported by Macy Gray Lighthouse Family). See official web site for full line up and tickets. Cancellation was announced on April 9 due to Cornavirus. Also a 2 day "Apollo Festival" was planned at York RI in early July.
2020 As ever, a busy Barbican schedule was expected for the Barbican with early year gigs by Roy "Chubby" Brown (January 31), Paul Carrack (February 1), Frank Turner (March 8) and Jamie Callum (March 11). However, coronavirus put pay to Boomtown Rats (April 25), The Shires (May 20), Yes (playing Relayer album + classic tracks (although none of founder members are in the current band)) (May 29), Go West / Paul Young (September 13), Kim Wilde (September 17), The Boomtown Rats (October 26), The Levellers (November 4), Katie Melua (November 7), Gabrielle (November 13), Katherine Jenkins (February 5 2021) and Diversity (March 25 2021). Around the city, The Alarm (The Crescent, 26/11/20) and The Manfreds / Georgie Fame (Grand Opera House, 19/11/20) suffered a similar fate.
January 5, 2020 Closure of Fibbers in Tofts Green announced with immediate effect, the site being sold to a property developer, thus ending 27 years of live music at Fibbers. It is hoped that a new venue will be found.
July 26-27, 2019 Tears For Fears, who have sold more than 30 million albums worldwide, perform on the Knavesmire after racing on Friday evening. Less than 24 hours later, James Arthur will take to the stage.
June 1, 2019 The Knavesmire's 2019 gigs started with a sell out Rod Stewart. Read more. Busted (June 29), Tears For Fears (July 26) and James Arthur (July 27) followed.
2019 Barbican gigs for the year include Paul Carrack (January 26), Joan Baez (March 3), Katherine Jenkins (April 24), Ricky Gervais (May 13 and 14), Manic Street Preachers (May 27), Jane McDonald (September 7), Belinda Carlisle (September 24), Lulu (October 5), Aled Jones & Russell Watson (October 9), Daniel O'Donnell (October 11), Chris De Burgh (October 17), Will Young (October 20), Lenny Henry (October 22, well over 40 years since his York debut), OMD (October 27), Jools Holland (October 31), Diversity (November 2), Adam Ant (November 14, another returning over 40 years after his York Pop Club debut with his original Ants, Steve Hackett (November 19) and The Darkness (December 17). That is not to forget a steady stream of top comedians and classical music. Across town, The Grand Opera House's 2019 highlights included Collabro (February 21),the Solid Gold Rock N Roll Show (featuring Marty Wilde, Eden Kane and Mike Berry) (May 31) and Frank Skinner (September 22).
2019 Still at the cutting edge of music in York, but once again under threat of closure, Fibbers hosted another sparkling array of talent, including Wearenotdevo (January 31), Half Man Half Biscuit (February 1), Sleaford Mills (March 6), Wilko Johnson (April 13), Heather Small (April 17) and Nine Below Zero (November23).
February 2, 2019 At Mecca Bingo (Fishergate), Bonkers Bingo is with a vengeance with a LIVE DJ set from Ultrabeat, and this time we're sassier, fiercer, but definitely not classier. From big balls bouncing off your face to the cringiest dance-offs, we don't bring the party. We are the party. Fresh beats will be dropped on the decks. So said the blurb. I'm sure it was enjoyed by all, but maybe not in the same league as some of their 60s and 70s nights.
June 30, 2018 A sell out 42,000 crowd see Paloma Faith at the first 2018 race day Knavesmire gig. Read more. Tom Jones (July 27) and Boyzone (July 28) set to follow. Unfortunately, "atrocious weather conditions" forced Sir Tom Jones to cancel his show in York. Despite a week in which the singer cancelled gigs elsewhere through illness, the show was all set to go ahead as part of York Racecourse's Music Showcase Weekend following the evening's racing. Heavy rain, lightning and even hailstones the size of golf balls meant the Welsh singer was unable to reach the venue safely from his London home as the storms blocked the route of both helicopters and fixed wing aircraft between his London home and Yorkshire. Although racing went ahead, visitors to the racecourse's Ebor Suite reported huge leaks inside the building over diners and racegoers.
April 26, 2018 UK Subs at the Victoria Vaults, a venue with a burgeoning reputation for putting on live music, both local and national bands, often from the punk genre. Also in 2018, Ten Pole Tudor played his country and western inspired set was there on July 20 and ever popular perennial favourites The UK Subs were back again on December 4. Tim Burgess was another big name to play the venue. The Subs being one of a number of Pop Club bands, 999, The Chords and The Killermeters included to play the venue in recent years, no doubt thanks to Pop Club regular Dave Sollitt's inspired booking policy. Who's on soon at The Victoria Vaults (Nunnery Lane). Not far away, The Crescent also stages regular live gigs, The Dub Pistols appearing just before lockdown early 2020. With a slightly longer history, across town, The Fulford Arms has attracted a stronger roster of national and local bands.
February 16, 2018 Paul Carrack is due at The Barbican. Other acts at The Barbican in 2018 included Joan Baez (March 13), Kim Wilde (April 15), Lisa Stansfield (April 19), Michael Ball (April 21), Don McLean (April 30), The Waterboys (May 6), Marti Pellow, ex Wet Wet Wet (May 21), Peppa Pig (June 27/28), Paul Weller (August 23), Level 42 + The Blow Monkeys (October 15), Robert Cray Band (October 26), Joanna Lumley (October 28),Caro Emerald (November 3) and Katie Melia (December 12). Down the road, The Grand Opera House's 2018 highlights included The Manfreds / Georgie Fame (November 29).
November 17-18 2017 Shed Seven with their first new album in 16 years launch their nationwide "Instant Pleasures" tour with 2 sold out nights at Fibbers. Read more. Fibbers, since August 2014, has been located at 3–5 Toft Green, York, YO1 6JT, its original Stonebow venue being part of the Stonebow redevelopment. Who's on soon at Fibbers.
November 3, 2017 Midge Ure (with Band Electronica) plus The Christians and Altered Images are due at The Grand Opera House.
October 31, 2017 John Mayall due at The Grand Opera House. He's one of a number of acts at GOH this winter, including Joe Brown, "Just Joe" without his bruvvers.
Autumn 2017 A number of bands are due at The Barbican in the autumn, including Texas (21/Sept), Showaddywaddy (13/Oct), London soul singer Michael Kiwanuka (20/Oct), Doobie Brother (31/Oct), Jools Holland (03/Nov), ABC (with Kid Creole & the Coconuts supporting, 09/Nov), ABC (11/Nov), Bananarama (16/Nov) and OMD (18/Nov). Alongside them are a number of tribute bands and comedians. Alison Moyet (21/Nov) was also announced.
23 September, 2017 The Shires headline Yorfest (2 stages and 24 bands) on the Knavesmire. Support included Badly Drawn Boy, Fickle Friends, Cattle & Cane and dub / reggae / folk / rock fusion band Dreadzone. On the second stage, the acts included Apollo Junction; 5K; The Tunnels; Adelphi; Hellbound Hearts; Tom Jane; Ginger Tom and Minster Conspiracy. Meanwhile there were plenty of laughs in Jason Manford's Comedy Club held in a marquee. Some reports suggested the event was poorly attended.
13 August, 2017 3 members of The Osmonds visit Acomb. Read more.
29 July, 2017 York racecourse continues its annual after race gigs with Jesse Glynne (Friday July 28 after the evening meeting) and All Saints a day later after the afternoon races.
July 9, 2017 Inaugural York Proms scheduled for the Museum Gardens.
July 1, 2017 York racecourse's one day meeting finishes with an Olly Murs gig. Hope he doesn't frighten the horses.
June 21, 2017 Status Quo's acoustic tour reaches The Barbican.
May 18, 2017 Shakin' Stevens at The Barbican, 38 years after his last York appearance (see below).
May 16, 2017 Imelda May at The Barbican.  She explores blues, soul, gospel, folk, rock, sensitive acoustica, cinematic drama and explosive balladry. (Sounds like a night not to be missed – not - Ed).
May 5, 2017 Al Stewart plays The University, 30+ years since he first played the venue.
April 7, 2017 Paul Weller plays The Barbican. The Modfather Returns sees Weller perform ahead of his new album's release in the spring on Parlophone Records. Read gig review. Its almost 40 years since his York debut (see below) and tickets are 40 times more expensive than that night.
March 26, 2017 Marc Almond is due to at The Barbican on Sunday, March 26 next year as part of his Hits and Pieces 60th celebration tour.  The night will see him perform number one singles Tainted Love, which spent a record 43 consecutive weeks in the US singles charts and Something's Gotten Hold Of My Heart, which Almond recorded with Gene Pitney.
February 28, 2017 Ricky Gervais plays the first of 2 consecutive nights at The Barbican as part of his world tour.
January 24, 2017 Billy Bragg and Joe Henry play The Grand Opera House showcasing their American railroad songs. Just be thankful you didn't see their earlier London gig when Chas N Dave were special surprise guests.
December 17, 2016 Sema 4 return. Sole surviving member, Jeff Hardaker, reforms the band as a 4 piece, playing The Crescent Community Centre (behind the Odeon). They supported Huddersfield's The Killermeters, a band they played with back in the 70s. 2 weeks earlier, Sema 4 had played their comeback gig in Leeds at the Fox and Newt. Sema 4 played a mix of all the tracks from their album plus new material and covers. Sema 4 (1978-1980 line up): David "Jock" Marston (vocals, bass), Steve Gibson (guitar, vocals) and Jeff Hardaker (drums). Sema 4 (2016 and onwards): Ryan Hanson (Vocals), Eden Hoop (Bass, Vocals), Chris Barclay (Lead Guitar, Backing Vocals) and Jeff Hardaker (drums). Incidentally, Dave "Jock" Marston fronted The Pullovers and Changeling after Sema 4. Jock: Live Fast, Die Young - a tribute.
November 1, 2016 37 years after their York gig is postponed due to the abrupt closure of The Pop Club, The Specials make York and a gig at The Barbican.
October 27, 2016 Dr Hook, 70s chart toppers, at The Grand Opera House.
October 6, 2016 The Buzzcocks make a sell out return to York Fibbers. Read More.
September 24, 2016 The Knavesmire hosts its 2nd Yorfest. The Lightning Seeds headline with support from The Rifles, The Slow Readers Club and The Glass Caves and more.
July 2016 York racecourse continues its annual after race gigs with Kaiser Chiefs (Friday July 22 after the evening meeting) and The Corrs a day later after the afternoon races.
May 31, 2016 Adam Ant at The Barbican.
November 29, 2015 Deaf School play Fibbers, it was their first appearance in York for nerly 40 years.
November 14, 2015 Go West & Nik Kershaw supported by T'Pau (with YCS member, Dave Hattee on drums) at The Grand Opera House.
September 26, 2015 The Knavesmire hosts a new one day festival, Yorfest which bills itself as "a Yorkshire Festival, with Yorkshire bands for Yorkshire people". All participants and suppliers are Yorkshire based. The Pigeon Detectives headline with support from Sunshine Underground, Alvarez King, The Sherlocks, Apollo Junction, Stop Drop Robot, Bang Bang Romeo, Van Der Neer, Billie Martin, The Black Lagoons, Other Peoples Lives and Alan Lewis.
September 22, 2015 PIL play Fibbers, the only York appearance of John Lydon (Rotten), although if you read some messages boards, The Sex Pistols played York back in the day. They didn't.
July 4, 2014 On the eve of the Tour de France, starting in Leeds a day later, Monks Cross (Huntington Stadium) hosts a "Grand Departy", featuring a host of musical talent, from Russell Watson and former Westlife star Kian Egan to X Factor's Union J and Rough Copy plus local singer songwriter Alistair Griffin, as well as vocal harmony group The Overtones and 80s hit makers such as Brother Beyond and Altered Images.
May 4, 2014 YO1 Also, in recent years, the racecourse has followed in the recent trend of courses staging their own concerts, usually after racing, headliners have included McFly, Blondie and Gary Numan. 2014 headliners were The Beach Boys and Wet Wet Wet. A year later, on 24 July 2015, 36,000 saw Tom Jones play after the evening race meeting, a record for a Knavesmire concert, close to the number who would watch a top class day's racing at the course.
March 2014 Jane McDonald and her "The Singer Of Your Song Tour".
May 5, 2013 YO1 in its 2nd year moves to The Knavesmire.
October 27-28, 2012 Echo And The Bunnymen headline the 8th Pocktoberfest, 28 years after their first York festival headline.
May 10, 2012 The Osmonds play York. Read more.
June 4, 2011 Adam Ant returns to York to play The Duchess. He's back there on October 7, 2010 and returns to Crayke to play The Forest Of Galtres Festival on August 26, 2012.
July 23/24, 2010 York racecourse hosts Madness after racing on Friday evening and Olly Murs after Saturday's afternoon's race meeting. It is 3 years since Madness played Dalby Forest and around 40 years since Madness headlined Bridlington Spa. Its Olly Murs' York debut.
October 27, 2007 Bill Nelson's fans' convention comes to the Park Inn Hotel. Now living in York, his annual convention is hosted in the Yorkshire area.
February 2, 2007 Lenny Henry at The Grand Opera House. Bet he wasn't as funny as when in York in the 1970s.
2005 Status Quo return to York to play a private gig for Nestle, maintaining a long tradition of named acts being invited to play at the factory, although somewhat different to the likes of Tom O'Connor who once played there for a long serving employees' function.
July 7, 1996 Outside York, Castle Howard hosted Chris de Burgh, one of a number of big names to play outdoor summer concerts that also included Brian Ferry.
April 4, 1995 Adam Ant does a PA at Track Records in Coppergate.
1992 and onwards Fibbers opens. It soon became a regular haunt (along with its sister venue in Leeds). A few years later, The Duchess opened just above it. In recent years, across the city, York has seen the likes of Angelic Upstarts, Apocolips, Babyshambles, Bad Manners, Benson, Big Country, Breathe, Carter USM, Ted Chippington, Diamond Head, Deaf School (November 2015, 39 years after their York debut), The Fall, Focus (11/05/2003), Glamour Of The Kill, Huge, Wilko Johnson, The Libertines, Man, The Nightingales, OSC, Plan B, Sham 69, Kula Shaker, Ed Sheeran, Spear Of Destiny, Surge (supported by Coldplay), Thin Lizzy (2012), Frank Turner, Toyah Wilcox, Ginger Wildheart and Yeti. For over 20 years they kept music live in York, attracting named bands. They helped York to celebrate over 50 years of popular live music, even today. Remember, the new band at the bottom of the bill can be tomorrow's stadium filler. Meanwhile, across the city, the likes of The Fulford Arms keep the spirit of music alive, early 2016 going into overdrive hosting Bowie nights whilst offering a small intimate venue for nationally known bands like 999 to play.
Later Other big venues. Beyond the Barbican, both The Theatre Royal and Grand Opera House have staged live music. At the Theatre Royal, they have included Cleo Laine, Fairport Convention (1973), Jimmy Nail, Marty Wilde, Genesis (24/09/1972 with support from Capability Brown and Spreadeagle), Suzi Quattro, Sutherland Brothers and Quiver (9th October 1976) and The Young Ones (Rik Mayall and co at the height of their TV series of the same name). See also the "Timeless" section below. The GOH has hosted Bryan Adams, Joe Brown, Richard Thompson and Difford / Tilbrook amongst a varied bill. Pocklington's Pockfest became an annual event. Echo And The Bunnymen headlined the 8th one, whilst Poppleton also hosts an annual musical event (Ralph McTell, Fairport Convention, The Barron Knights and Steve Gibbons being amongst the acts who have appeared).
1989 An auditorium is added to the York Barbican Centre. It heralded a surge of bigger, named bands visiting York on national tours.
1988 As part of The Mystery Plays festival season, York hosted The Zap Tent, pitched near to Clifford's Tower. Performers included Rory Bremner, Roger McGough and Pete McCarthy, Fascinating Aida, Julian Clary with Fanny the Wonderdog in his Joan Collins Fan Club' show, Mike Harding, Tom Robinson / Billy Bragg (3rd July 1988), Carlene Carter (5th July 1988) and The Rhythm Sisters (2nd July 1988).
May 7-9, 1985 The Clash - UK busking (acoustic) tour. First night outside The Minster, drinking in The York Arms. I remember the crowd being told to move on by the cops at about 9pm as nothing was going to happen. 30 minutes later, from Petergate, the Clash appear, pied piper fashion, followed by numerous fans, and played about 4 songs (about the norm for the tour) outside York Minster's west entrance. Afterwards, it was all back to The York Arms, the band happily chatting and drinking with fans until closing time although I seem to recall they were very reluctant to talk to any official media. Then 3 more gigs, Wednesday evening in St John's Car Park (for many a year, the broken white railing separating the car park from the NHS portakabins was a legacy of the gig, collapsing under the weight of numbers trying to get a better view, rather than any pre-meditated acts of violence and destruction. There were Wednesday / Thursday lunch times gigs in King's Square and St Sampson's Square. Kings Square being memorable for Joe singing to the black cat statue on top of the Mitchell sports shop building. They were happy to chat with fans and were seen in the Olde World nightclub, Davygate arcade and other spots across the city. Highlights included, "I Fought The Law", "Straight To Hell", "Should I Go Or Should I Stay", "White Riot" and chatting freely with the band. It should be remembered that this was, post Mick Jones, the last incarnation of The Clash, featuring Joe Strummer, Paul Simenon, Vince White, Pete Howard and Nick Sheppard, on the back of a badly receievd last album.
After their Thursday lunchtime gig, the band left York, heading north to Newcastle, continuing to Glasgow and then heading back south via the west coast. Pity about their next LP. The tour featured their latter day line up of Joe Strummer, Paul Simonon, Pete Howard (drums), Nick Sheppard (guitar) and Vince White (guitar). York Clash recollections, more York Clash recollections, and youtube for various footage later on the tour including Newcastle PS Check the web for many more references.
September 22, 1984 York's first serious attempt at an outdoor festival. Echo And The Bunnymen headlined on The Knavesmire. Support came from Spear Of Destiny, The Chameleons, Spear Of Destiny and The Redskins amongst others. I don't recall seeing several of these bands play, having got there late after City's afternoon game.
YP Recalls - 30 Years On, Read The Promoter's Recollections, Read A Fan's Recollections (Bike Trouble) and Read A Fan's Recollections (Car Trouble)
1982 (About) The Fall. I finally got The Fall when I saw them for a third time in a uni college gig.
Timeless (Don't Need No Education) York University has always featured live music (and comedy). The colleges more up and coming acts. I saw a then unknown Lenny Henry do college shows there in 2 successive late 1970s autumn tours. On one, as he walked on stage, he told the audience to take 2 steps back and sit on the floor. We all sat on the floor throughout his act. See the dedicated section below which has personal recollecions from students / gig goers and lists many bands who played there. To a much lesser extent The College Of Ripon & York St Johns also hosted live music. At CR&YSJ, I saw Doctors Of Madness. 1977 saw Penetration play there as did Blazer Blazer (10/Feb/79). An early version of Sansom (featuring Bruce Bruce, later known as Bruce Dickinson) also played the venue. Several years earlier, Status Quo played the same venue twice (1971 & 28th April 1972), Slade played (19th February 1972), Budgie (22nd September 1973), The Tremeloes (25th June 1974) and Wytchfynde / Def Leppard (2nd February 1980). TJ recalls seeing After The Fire at CR&YSJ, noting, The loudest band I ever heard was in York. I mean so loud that I had to put my fingers in my ears or I would now be deaf. It was After The Fire. My ears are still ringing with the sound of power pop". Both venues often restricted college gigs to students only and were not advertised outside the campus. Indeed, my favourite band, Deaf School, played uni college gigs in both 1976 and 1977, I knew nothing about either until 2007. Across the city, on Tadcaster Road, from the late 60s, the College of Further Education ("York Tech") hosted gigs (aka "The Tech Dance.") and alcohol free. Early gigs were arranged by a lecturer, Mr Stephenson aka Stevo, before he handed over to the Student's Council. Gigs included Victor Brox Blues Train, Root & Jenny Jackson and The Hightimers before taking on a more "rockier" roster including Barclay James Harvest and a band from Blackpool called The John Evans Smash Band., who changed their name shortly afterwards to Jethro Tull. Later gigs included Fusion Orchestra (18thMay 1973) and Heavy Metal Kids (June 1975).
1980s Post Pop Club, the 80s (and into the 90s) consisted of various irregular venues / promoters, none became established as regular venues but included:
The Arts Centre
Bay Horse (Gillygate)
INL Club
The Winning Post. Check out a post Cyanide Bob De Vries fronting DV And The Clients at The Winning Post in 1988
The Rip Club (The Mekons (4th April 1989), Blur (29th May 1990) and The Wedding Present (9th May 1991) included)
The Hideaway (Cud / The Family Cat (22nd October 1992))
The Bonding Warehouse (The Levellers (19th July 1990 and 5th November 1990), Rosetta Stone (20th April 1990)) and Avida Dollars (21st May 1994)
Harry's Bar
On Stonegate, the 1912 (if I remember its name right) nightclub occasionally featured PAs, Soft Cell were often spotted there (and played there, as well as Squires (was Aquarius/Jolly's) in 1980) before they became famous
GG Barnums (Clifford Street) hosted a few gigs (Little Angels (20th November 1989), Jayne County and The Electric Chairs (29th January 1990) and Dr Feelgood (28th November 1990) included)
TA Centre (Clifford Street) hosted a few gigs (including The Birthday Party / Blue Orchids (27/Aug/1981), The Comsat Angels (23rd September 1981), Wall Of Voodoo (30th September 1981) and The Starfighters). PJK recalls, "(It was) mainly Zoo Music Girl stuff I think, an absolutely extraordinary gig. Very few people were there and before the gig started we were sitting next to the band in the bar. They didn't say a word to each other, just got up to buy their drinks individually. There was no stage, just a chain on the floor to separate the band from the crowd which Nick Cave shook menacingly. He also banged his fist in time to the music on the head of a punk at the front who I was sheltering behind. I've got a feeling that we got in to the gig for free because of the connection with the promoter and hearing that only 80 people actually paid. It certainly felt intimidating being that close to a wound up Cave in full flow with no audience to hide in. After the gig we were standing outside thinking what we could do (York, 1981, nothing) and the band were loading the van. Mick Harvey asked the promoter (the brother of a school friend) if he could get them any alcohol, to be told no. Nick Cave then had a fit (of rage, rather than medical or drug induced) and keeled over, it alarmed the promoter no end but the rest of the group seemed pretty used to it and took it in their stride, they just bundled him (Cave) in the back of the van and off they, and we, went".
The Windmill (The Wedding Present (19th July 1985))
The 71 Club, aka Roxys (and other names on Micklegate) occasionally featured live bands, often Ziggy Stardust (from Leeds) in the 1970s
and many other venues.
In the late 1980s, Pete Thompson (Red Rhino) organised a number of gigs, mainly at The Winning Post and The INL Club including The Wedding Present (14th March 1986), Pop Will Eat Itself / Primal Scream, Red Lorry Yellow Lorry (29th May 1987), Ted Chippington, Marc Riley & The Creepers, The Farmers Boys, Too Drunk To F***, mainly bands with Red Rhino connections. As a one off, he topped his wedding day evening celebrations with a gig featuring Goodbye Mr Mackenzie & Yeah Yeah Noh at The Rowing Club (Lendal Bridge) on banks of The Ouse. MC5 played the venue on 4th August 1972 (with a York lad Derek Hughes playing bass for them during their European tour after they had sacked their regular bassist for his excessive heroin, it must have been bad considering they were all on it), a day before a Wembley Stadium appearance, a reputable source also shows them playing Leeds (June 1 1972) and Scarborough (June 2 1972). Post Pete Thompson, The Winning Post continue to host gigs (including Rosetta Stone (20th April 1990) and Townes Van Zandt (8th October 1990)).
On a longer term basis, although quite sporadic, the John Bull pub put on various small "folky" type names, including Brendan Croker / Steve Phillips (15th August 1988)
I also recall a local band, Walwyn (if memory serves me well, Wayne Whiteside was the front man, he of later Darkroom fame), playing a gig at Bootham Crescent's social club in support of The Shipton Street Roof Appeal in the late 1980s, one of very few gigs at the venue.
September 1, 1979 York City hosted a one off rock n roll concert at Bootham Crescent. Alvin Stardust was on the bill along with Joe Brown and the Bruvvers, Wayne Fontana and the Mindbenders, Jimmy James and Billy J Dakota and the Dakotas. Neighbours' complaints about the noise meant it was not repeated.
December 29, 1978 Pop Club Christmas Party. Cyanide & Sema 4, great gig, great bands. RIP Bob, Jock & Steve.
December 22, 1978 Joy Division at The Revolution (earlier Hypnotique, later Casanovas; Lady Peckitts Yard). A good night. For many years, I told everyone I saw the Human League supporting them that night, I suspect it was in reality someone else from Sheffield, like Cabaret Voltaire (Ed, yes it was the Cabs). Whilst The Pop Club was a weekly gig, Revolution tended to host bands virtually every night of the week (late night, with bands on stage after the 11pm normal pub closing time of the era) and ran for about a year at around the same time as The Pop Club, attracting national bands, particularly from the across the north. Records show Marseille played there (16th December 1978, not sure how well a HM band would have gone down there!
December 4, 1978 UK Subs (Pop Club). New band, small crowd, set over in 20 minutes, each song faster than the last. Set repeated for encore. Second encore was a third rendition of their set. By the end, guitar and bass players were both playing on top of their amp stacks and the stage was crammed full of the audience. Being a late booking as an unknown band, it was in reality a very sparse audience, probably fewer than other gigs at the time. However when the Subs returned less than 2 months later the place was rammed.
November 15 (?), 1978 2 gigs in an evening. Ultravox at The Pop Club and then a quick bike ride across town to see John Cooper Clarke at The Revolution. PS Had 16th in my mind, but that was a Thursday and the gig was a Wednesday, so suspect not the 16th, but definitely in November. Maybe the 8th. (Is my memory playing tricks about Ultravox? No one else seems to remember it - Ed.)
September 1978 Cyanide open The Pop Club (see dedicated section, including gig list, below). Held in the social club at the old rugby league Clarence Street ground, between Wigginton Road and Haxby Road, the entrance was on Haxby Road by the side of the bowling green, it held about 400 people. For a year, weekly, it hosted well known bands. Its booking policy meant many bands made their debut TOTP appearance very shortly after appearing at The Pop Club, bands such as The Pretenders, The Tourists and The Skids, whilst others such as The Undertones and The Lurkers fulfilled their contractual gig obligation after cancelling their original date to make their TOTP debuts. A friend recalls, "we got to the 'gig' only to find what looked like a scout hut with a note on the door telling us they (The Undertones) weren't playing. So we went home." It closed in September 1979 after fighting after July's Adam And The Ants gig. Special AKA had been booked to play a week later. Various sources suggest it continued beyond. it did not. It did not. Gigs in York became much less frequent, often necessitating trips to Leeds to see the bigger names. After the tense atmosphere of the smaller Munster Bar and Grob And Ducat, The Pop Club provided a stage for many of the best up and coming punk / new wave bands. For me, the UK Subs, the original Adam And The Ants, SLF and The Cramps stand out. Across the city, at the end of the 1970s, heavy metal still held sway. York University hosted UFO (20 January 1979) and Gillan / Marseille (8 February 1979) whilst St Johns College hosted Samson (17 November 1979). Although Dire Straits played York Uni (10 November 1978), I suspect I had no hesitation in giving them a miss in favour of The Mekons that night.
Late 70s Various venues put on early punk gigs, amongst the earliest regular venues were:
The Grob And Ducat (Rougier St (later McMillans)). Raw Records' The Unwanted headlined on 11th July 1977.
The Munster Bar (in the basement of The White Swan on Piccadilly, Patrik Fitzgerald headlined once)
It was closely followed by The Barge (a barge moored on the western bank of The Ouse just south of Skeldergate Bridge, with gigs below stairs in the windowless hull, so it had no fresh air and was invariably very sweaty with condensation running down the walls). Over the years, at least 2 barges were used. Best remembered for the punk years, bands who played there included Cyanide, Sema 4, The Mekons, The Jermz, The Gang Of 4, The Jerks, Xpress, Klingons, The Blades, The Disciples, The Mood, Nerve Senta, Blues By Four and Choc City Rejects. The venue hosted th York debut of Otway and Barratt. Lesser known were its sunday lunches and folk nights when it hosted the likes of Mike Harding, Bernard Wrigley, HP Jazz Quartet, The Foresters, Motel and The Red Hand Gang.
The De Grey Rooms
The Assembly Rooms (a perennial that went with the times (and often promoters) which saw a number of soul nights in the early 70s and punk nights in the late 70s)
The Revolution Club (Lady Peckitts Yard)
The Forge Inn (A64)
Jaspers / Melodys golf range and country club on Wiggington Road, hosted a series of weekly gigs in the wake of The Pop Club but was used by different promoters in the early 1980s
Gary Hornby's Hellfire Club had started at Hotshots (aka Cats Whiskers) and moved to various venues, including Jaspers, The TA Centre and The INL Club.
In their time, The Revolution, Munster Bar, Grob & The Barge hosted most gigs most nights of the week, mainly local bands, but also bringing in several nationally known bands, the other venues were more one off venues.
The venues provided a regular stage for York bands such as Cyanide, Sema 4 and The Jermz (originally The Germs) plus many visiting bands from Leeds (e.g. The Mekons, Delta 5, Gang Of Four and Girls At Our Best). Other York punk bands of the time included The Shove (their "Nutters Of York" being popular with The York Nomad Society and maybe another EP track, "Raise The Roof" gave a glimpse of things to come) and Xpress. Both released an EP, check out youtube, whilst as late as 2003 Xpress played Fibbers and ThePress remembers The Barge a venue that dates back to at least the early 1960s and saw several barges play host to a variety of entertainment over many years and was an iconic punk venue, hosting many of the top Leeds' bands of era, the barge swaying as the fans pogoed. On 17th July 1980 it hosted John Otway's first York appearance as part of his "DK 50/80 Tent Tour". Both The Assembly Rooms and De Grey Rooms hosted occasional punk bands.
Watch: Punk York 1977 featuring Nev Astley and his photos.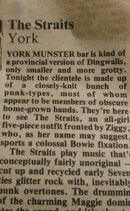 Earlier 70s The City Council attempted to spread its cultural net with a council backed one day outdoor pop festivals held in The Museum Gardens. In 1971 (18th July) Hawkwind headlined (with support), presumably a part of York's 1900th anniversary celebrations. AR recalls, "I was there, they appeared just as it was getting dark, as they built the music up to a crescendo at the beginning - all of a sudden the female singer, Stacia, dressed in a cape suddenly opened it to reveal that she was totally starkers. How could you forget that?". Researching this page, I noted Stacia's 42-28-39 assets were regularly discussed in Penthouse and other similar magazines of the time. Later the Museum Gardens event was aligned to The York Mystery Plays.
On 2nd July 1973, Roxy Music, with 2 Top 10 singles already behind them, headlined. AR's sister vividly recalls Bryan Ferry, resplendent in white suit, entering the darkened stage and described the evening as "amazing". Saxophonist, Andy Mackay recalls, "There was a degree of plotting going on. Even now, I don't know exactly how much. Bryan, without telling anyone, invited Eddie Jobson to come and watch. That was Eno's last performance with us. It all seemed slightly underhand. Eno had been my friend before I met Bryan, and I was concerned about what might happen if he left. I considered leaving as well. I was going to join Mott The Hoople". Overzealous Eno fans began shouting over Ferry's singing, which prompted Eno to leave the stage in an attempt to diffuse the situation. Ferry refused to confront Eno about the incident and, eventually, Eno decided to leave the group. "I was pissed off at the subterfuge and wanted Bryan to actually say it to my face," said Eno, "But he didn't. So eventually I just said, 'OK f– it, I'm leaving.'" The band would officially announce his departure in Melody Maker on July 21, 1973. Support included The Portsmouth Sinfonia, a 70s cult, at one time featuring Eno and legendary producer Clive Langer, they played classic music (badly), either as non musicans or on instruments they didn't mormally play.
In 1976 (4th July 1976) Procol Harum headlined (Pat Travers Band and Manfred Mann's Earth Band supporting) and in 1980 The Photos headlined (Holly And The Italians and Any Trouble supporting). Across town, early punk / mod stirrings were to be seen and heard in the back room of several pubs. In June 1977, at The Cat's Whiskers, The Jam and Jayne County and The Electric Chairs played, supported by York's first punk band Cyanide, as it sought to be the first venue to bring "named" bands of the punk era to York. Frenchmen Little Bob Story was another who played the venue. Cyanide - A Rose Tinted Glasses tribute. It was a changing of the guard as Mud had appeared at the venue a little earlier. In the city centre, The De Grey Rooms and nearby Assembly Rooms, hosted several punk gigs in the late 70s. Read More. Across the city, at around the same time, Brummels (Middlethorpe Hall, 1972-9) and the King's Manor Cellar (it once hosted American blues singer T-Bone Walker) were other noted nightclubs / gig venues.
October 20, 1975 Tangerine Dream play in the nave in York Minster, see youtube for a full gig recording.
November 2, 1974 My first proper gig. Sparks (high in the charts at the time), supported by Pilot (number one within 3 months) at York University (Central Hall).
Various School hops. At Nunthorpe, the bands included Scottish band called Writing on the Wall (1969), Hawkwind (21/12/70), The Pink Fairies (supported by Jude featuring Robin Trower and Frankie Miller, 1972), Fusion Orchestra (19th December 1972) and The Robin Trower Band (Strife supporting) in 1974. I don't remember a thing about the music, not because of anything consumed, again, just before my time. However, David Slack, a class mate of Bob de Vries, Dave "Jock" Marston and Dave Sollitt recalls Hawkwind, even if his stand out memory is Hawkwind's naked drummer and the effect on the Mill Mount girls. Cochise were booked as the main band but by the time of the gig, Hawkwind were the better known and headlined (they'd gone down a storm at York Uni a few weeks earlier). Apparently, Geoff Smith (history and rugby) was head bouncer on the night although some reports state it was Brian Kesteven (Head Of Art). Across York, Genesis played the Queen Anne's school dance in 1970, Archbishop Holgate's had Atomic Rooster (1970), Man and Edgar Broughton / Bad Habit whilst Budgie played St Peter's (25th Februray 1972). Bob de Vries' band Cyanide played NGS after he'd left the school. Kevin Nixon recalls I was there at this and all the shows in the Hall to 72 with Phil Stancliffe. Hawkwind were bad, in fact all those shows were pretty poor with Pink Fairies probably the pick of them. I also saw Genesis at Q Anne's and they were great, not my kinda stuff but nonetheless they were next level. I remember Peter Gabriel being completely astounding. They also played Theatre Royal the same year. Elton John played Vanborough College and was such a rip-off of Leon Russell my girlfriend and I left. Finally… The Who played Uni Central Hall and were a joke with Moon and Townshend smashed out of their minds. There ya go !.
Late 60s / Early 70s. By the early Seventies, Roy Hughes was DJ at Hypnotique in Lady Peckitts Yard in central York. A small, smoky venue with a capacity of about 200 people. He recalls, "Live bands appeared on Thursdays, including, one memorable Thursday, Robert Knight. Knight had a couple of records in the charts at the time and had been at the Top Of The Pops studio the night before to record. He was playing Hypnotique the following night, when TOTP was screened. The whole audience, Knight included, watched him perform on TOTP. Then he mounted the Hypnotique stage and started playing live". Other bands to have played The Hypnotique include Trapeze (29th October 1970 and 15th July 1971), Supertramp (10th December 1970), Wishbone Ash (1970), Thin Lizzy (24th June 1971), Audience (9th March 1972), Edwin Starr, JJ Barnes, Major Lance, Uriah Heep (27th May 1971 and 16th September 1971), Jethro Tull, Fortunes, Black Abbotts, Steve Cassidy and Angel Pavement (more below). In the guise of The Hypnotique, it shifted from prog rock to soul. Re-branded as The Penthouse, Manfred Mann's Earth Band played the venue on 1st November 1973. The Pretty Things are also noted to have played "York, Floral Hall" on 21st May 1971, the days immediately before and after they played Lancaster and Warrington as part of a UK tour.
1960s Before my time, Procol Harum (03/06/67, at the time, number one in the charts), The Move (01/11/67) and Pink Floyd (21/10/67) played at New Earswick's Folk Hall and its regular Tuesday ("Bop") night gigs. At the end of the 60s, USA DJ, Chicken Fat Charlie, was a regular. I remember hearing stories of how one of my teachers would look into his pupil's eyes every Wednesday morning for signs of those who'd been indulging in drugs at the gig the night before. Later the venue also staged a regular Saturday gig (known as the "Tin Chicken Club"). For more on Pink Floyd at the Folk Hall see Scruffy Theory #1 and Scruffy Theory #2. Linda Lewis played the venue in 1970.
Roy Hughes, the venue's DJ recalls, "The hall was essentially no different then, than today. There was no licensed bar, no disco lighting - the hall's main lights weren't even switched off. But there was still a great atmosphere which came from the crowd. There were often more than 500 people coming on a Tuesday night, there was no trouble. People were just happy. That was The Bop" Later, in 1966, the Tin Chicken Club". When the Floyd appeared, Roy recalls, "They were still in their early, Syd Barrett days. Barrett was intense and "very intelligent", but otherwise ordinary seeming. The band, who were still way pre-Dark Side Of The Moon, had big hair and psychedelic clothing, and were already honing the kind of stage show that was later to make them so huge. They had oil projectors which they used to project a kaleidoscope of colours on the Folk Hall ceiling. The hall was completely bathed in colour". Other bands to appear at the Folk Hall included Scarborough band Mandrakes (supporting Pink Floyd) featuring a young Robert Palmer and various York bands including Gideon's Few, The Machine (the Langley brothers Stuart Chris Martin and Sid Locker) and Ian And The Shifters. The Folk Hall had split personality, hosting prog rock alongside a Saturday "Bop", featuring soul and Tamla music. Its heyday was the late 1960s and being a "dry" venue, the scene moved on. The soul nights gravitating to The Oval Ball (Haxby Road) and then onto the Centre Bar / Black Swan and Hypnotique in the early 1970s. At The Oval Ball, the focus was "uptempo" soul, Northern Soul before it got its name.
Read Roy's full story .
Stewart Langley recalls, "could I point out "The Machine" did play the Tin Chicken gig as support for "Procol Harum", the year Whiter Shade of Pale was at number one in the charts. My brother Martyn will in no way be offended but he never appeared in the band, just myself, guitar and brother Chris on Hammond Organ. The reference to the late wonderful Sid Locker was also sketchy as the drummer on that occasion was Mike "Candy" Chandler. A full house as you would expect after Harum eventually turned up extremely late, having had great difficulty finding the venue. And no bar or pub to boot! Ed - That's New Earswick. Many other memories from those very different days, perhaps your readers will also remember "The Enterprise Club" Walmgate, affectionately known as Guppy's. The York Assembly Room gigs, particularly local band "Roll Movement" and regular touring band "The Alan Bown Set" Happy days. PS. Almost forgot The cellar gigs at Kings Manor!" Regards Stuart Langley.
The Roll Movement was made up of Pete Shaw, John Cartwright, Dave Williams and Cliff Wade, disbanded in 1968 after a brief but successful career which saw them support acts including Ike & Tina Turner, and Cream. They released one single - a double A-side of Just One Thing and I'm On My Own. The band played many local venues, including Kings Manor in York (their first ever gig), the Assembly Rooms, Boulevard at Colton on the A64 and The Rialto in York. Further afield, they played across the country, including the London Palladium, where they came second in a national Melody Maker competition. Lead singer, Cliff Wade was offered a job replacing Steve Winwood in the Spencer Davis Group, but he turned it down out of loyalty to the band. After Roll Movement disbanded, he moved to London and was involved with some of the big 1970s pyschedelic bands and is believed to be still involved in the music business living in London. Sadly, Pete Shaw passed away a few years ago. Rumour has it that John Cartwright lives in Hull and Dave Williams became an art teacher. In York, the band frequented the Zarf club in Stonegate which regularly hosted live music in the 1960s. In 1965, Rod Stewart played there with The Steam Packet (Brian Auger and Julie Driscoll) with Rod playing the harmonica and singing a few songs. Previously known as The Mandrake, many will remember it as The Old World. For more Roll Movement info, email Jean Batty or listen to Roll Movement plus also Pocklington Bands Of The 60s
1950s and 1960s Well before my time, the 1950s and 1960s saw the birth of popular music. In the days of 2 TV channels and 2 radio stations (today's closest equivalents being Radio 2 and Radio 4), live music was the main source of hearing the new teenage music of the day. In York, The Rialto (Fishergate) was one of the main venues. Big bands and jazz bands of the 50s gave way to The Beatles, Merseysound, package tours and variety acts (Morecame and Wise included) in the 60s.
Read more Rialto. The Beatles, in 1963, their break through year, when they had 4 chart topping singles, played The Rialto 4 times (February 27, March 13 (with Chris Montez and Tommy Roe), May 29 (with Roy Orbison and Gerry and The Pacemakers) and November 27). It wasn't until their last visit they were top of the bill. Irish comedian Dave Allen was MC on their first visit, whilst on their second visit, John Lennon was absent due to illness. More recollections from the York Beatles Appreciation Society. A feature of the era was the package tours, often 6 or more acts on one bill. Tours often lasted 2 or more months, playing 2 shows a night, 6 nights a week, in that era, plenty of time for an unknown at the start of the tour to be catapulted to headliners at the end of the tour as their records soared up the all important charts. The 1964 Stones' gig being a Robert Stigwood package tour featuring also Eden Kane, Mike Berry, Mike Sarne, Billie Davies and Jet Harris.
A notable family in the history of York music is the Prendergast family. John Xavier "Jack" Prendergast, first and foremost was a cinema owner, he owned several cinemas in York. The most well known were The Rialto (Fishergate), and The Clifton Cinema (a bingo hall today and still owned and operated by the Prendergast family). Jack brought many famous musicians to York to perform at The Rialto, most notable The Beatles. In the 1940s, he moved his family from their home in Acomb and brought Fulford House (Now The Pavillion Hotel) where he invited many of the artists to stay with him and his family, Duke Ellington The Beatles to name a few. His son, John Barry Prendergast (better known as John Barry) became a household name, and after his schooling at St Peters. He went onto be a composer and leader of his own group The JB Seven, who early on used to rehearse in the Clifton Cinema. Later, he composed many fantastic soundtracks, James Bond themes included. Jack died in 1978 and his son John Barry in 2011.
The Railway Institute also hosted live music, including The Who, Status Quo (5th July 1968) and The Move. DJs John Peel and Jimmy Savile were regular visitors and The Who In York
David Bowie as Davy Jones And The Lower Third played The Boulevard in "Dringhouses" (in June 1965 as per Lookatstubs - incidentally an excellent site for band research, it has a full gigography for hundreds of bands) and in Tadcaster a week later. On the day of his death, YorkPress recalled an interview with one of his late aunts and poster, "born n bread" recalled, "I was DJ at The Boulevard nightclub and I also did the lighting and introduced the groups. I remember Davy Jones and the Lower Third, I think it was 1965. The Boulevard was not in Dringhouses, it was at the side of the A64 dual carriageway at Bilborough Top, the site is now a Premier Inn (Ed - postcode YO23 3PP). It was owned by entrepreneur Ken Doughty who brought some great groups up from London and other places. The Kinks and Lulu & the Luvvers were among them. David Jones and the Lower Third were not very good when they did our gig, but he certainly went on to better things". Back to Stuart Langley, "I remember 'The Boulevard' very well indeed and the many artist who played there, too many to list, but memorable ones included Rod Stewart singing back up vocals for Long John Baldry, alongside Julie Driscoll later with The Brian Auger Trinity. Jimmy James and the Vagabonds and Gino Washington ( Ram Jam Band ) playing on the flat roof one bank holiday weekend!! The venue had the 50s appearance of a roadside American diner and attracted huge audiences". Read more 60s York music
Post York Timeline
Note Saw many a gig in London between 1989 and 1995, however, the memories seem more blurred than those from York in the 70s. The Subterranean under the A40 was a popular hang out (before it went dance orientated), (seeing a blind man merrily tapping his white stick at) Television, A House, The House Of Love, James and Edward Barton stick out. However, I've forgotten far too many memorable gigs I saw. In 2014, chatting to a friend I'd not seen for over 20 years in The Borderline, he reminded me of when we saw Robert Lloyd And The New Four Seasons in the venue 20 plus years previous. I had absolutely no recollection of the gig despite having bought several of their records at the time and becoming a firm fan of The Nightingales since. Who should walk up to us, but Robert Lloyd, my friend regaled Robert of the earlier show, it was as clear in Robert's mind for the lavish support Virgin, his record label at the time, provided on the night as they sought to promote the group as the next big thing. Me, I still don't remember a thing. Over the years, many of London's smaller, more intimate venues have been closed whilst the larger venues have come under the ownership of big chains. A whole sheath of great venues around Charing Cross Road have succcumbed to developers (Crossrail and gentrification included). Long lost are the 2 Marquees, both Astoria venues and 12 Bar Club. Of the remaining central venues, The 100 Club, Dublin Castle andThe Lexington provide top class live music most nights of the week. Long may they live.
Keep Music Live.
December 2023 50th anniversary tour for Deaf School - still going strong
September 2023 Chelsea, the band, a shadow of themselves
May 2019 Disappearing. The Borderline closes after 30 years, following near neighbours The Astoria, 12 Bar Club and The Marquee (Charing Cross Road) as Cross Rail gentrifies the area.
2013/4 40th anniversary tours of Deaf School (2013) and Dutch band, The Nits (2014), a 3 piece, The Nits are somewhere between The Beatles and XTC with roots in Golden Earring and Gruppo Sportivo.
November 2013 The Saints at The Borderline. Disappointing.
2007 - 2011 Aussie rock. Powderfinger and others, each a good night. What always struck me was that large venues were always full and there were as many women as men there, which you'd never see for an English guitar / rock band. Hoodoo Gurus, when are you coming to blighty?
September 10 / 11, 2009 Deaf School's 35th anniversary celebrations start with London gigs at Camden's Dublin Castle and Islington's Garage.
September 3, 2009 Spizz's 30th Anniversary celebration gig at London's 100 Club. The man of many fossil fuel persona celebrates 30 years in music.
October 14, 2008 Ted Chippington, man with a cold, returns to London, supported by Dazzler Nightingale and Matt Ex-Nightingale. Better than ever. The Fall never sounded this good.
September 14 2007 "There are only 2 groups that matter to come out of Liverpool, The Beatles and Deaf School" – Paul Du Noyer. Think Roxy Music, Madness, Debbie Harry, Manhattan Transfer(?) & Robert Wyatt's Shipbuilding. It was probably the oldest gig crowd I've been in, I swore I saw a few pensioners. Down the front was a rotund Spizz, at the back the French parents and entourage of the support act. Deaf School ambled on stage through the audience. Enrico Cadillac Jnr, fulfilled a 30 year ambition of looking like a 50 year old spiv. Bette wore a demure business style trouser suit (although she could have still fitted into her 1970s red leather dress). I had to look closely to confirm it was Ian Ritchie, not his son, on sax. The years hadn't been so kind to Erik Shark, but nothing would stop him from being there. Although over 30 years old, the music was still as essential as ever, albeit a little rusty in places. The set, drawn largely from the first 2 LPs, was over far too quickly. The front 3 took turns in the spotlight, Enrico has lost none of his stage presence since he first stepped on stage many years ago. Cliff Hanger, standing in the background, brought the gig to a halt when his glasses flew off midway through his guitar solo and 4 band members took to hands and knees to retrieve them from the stage floor. Ian Ritchie's sax was as infectious as ever despite his time on Roger Walters' world tour. TBBM, a 20 something who'd been given the first Deaf School LP only a few months previous, left as enthused as those who'd seen DS in the 70s & 80s. Highlights – throughout. Lowlights? – the thought I might never ever see them live again. Live again September 2009 in London & Liverpool and still going strong in 2016 and beyond. Erik Shark - RIP.
April 1, 2007 The Fall / Ted Chippington / European rock band with KK (?) moniker at the last night of The Hammersmith Palais. The Fall's act was later released as a live LP, if the support had a KK moniker, then they were following in a Fall tradition as a similarly named KK Icelandic band supported them in York about 25 years earlier.
February 2 / 3, 2007 Ted Chippington returns to London after so many years. The second night, hosted by Stewart Lee, being a fundraiser for his long awaited 4 CD box set, possibly still available from Big Print. A largely twenty something audience guffawed their way a procession of comedians including Simon Munnery's caretaker, Josie Long, Phil Jupitus, Simon Amstell, Alan Parker and more. They couldn't differentiate Robert Lloyd from Ted Chippington and seemed totally bemused when Ted did his act at the end.
1995 The Ramones farewell London concert and Sex Pistols first reunion in Hammersmith. Rotten danced like your Dad at your 18th birthday party and even then, I wouldn't like to meet the other 3 down a dark alleyway. Meanwhile, The Ramones got faster with age and perfected the stripping off of leather jackets mid song.
Early 90s Recall seeing Pavement at ULU, mid set, the madcap drummer started making toast for the audience.
1991/2 The Cocteau Twins (Utrecht). Never my cup of tea, but as I was in Holland and so were they, I went along. Being tall and standing at a gig in England, I can easily see over heads in front of me and across to the stage. However, I felt like a midget in Holland, everyone seemed about 4 inches taller, even the girls were blocking my view. Also saw Roddy Frame and / or Aztec Camera in Amsterdam's Paradiso. Has he ever written a bad song?
July 31 1989 The night before I became a house (flat) owner I saw James supported by Edward Barton at London's Marquee. Madman Barton used a carrot as plectrum.
York Pop Club - Gig Guide
The Pop Club, organised by Supermusic who were fronted by Dave Leaper and Mal Spence was held in The Oval Ball, York rugby league club's social club and was entered from Haxby Road, by the bowling green. It was a standing venue with capacity approaching 400. The Pop Club operated between September 1978 and September 1979, weekly, usually on a Wednesday night. Personally, I've no recollection of The Pop Club at The Oval Ball after July 25, but its possible other venues were then used. At the same time, Leaper / Spence were Cyanide's management company.
For more:
watch Sean Parkin's Pop Club video
watch Paul Duckitt's history of early punk in York video
read Yorkpress review.
I was there most nights and so whilst the following was originally put together from memory (and later updated from feedback and then Sean Parkin's Pop Club video), I don't think its too far out. The following is my original proviso: All the bands are believed to have played as stated, but there may be some minor inaccuracies on the dates. Whilst reasonable care has been taken compiling the information, the ravages of time on memory may mean some inaccuracies. Some gaps may be as a result of not being there and not seeing the band, I'm more likely to have forgotten gigs when I wasn't there.
When researching, I noted some glaring inaccuracies, such as Pop Club dates 3 months after the venue closed and even dates they were supposed to have happened that didn't. For example, The UK Subs own web site lists them as having played The Pop Club 5 times, I'm absolutely sure they didn't play that many times, but probably played York at last 5 times in total (venues like Revolution and The Forge Inn came later). I can only assume, artefacts such as tour posters, contracts or similar, were used to populate web sites many year after the event. However, the rise of message boards means that anyone can write anything, including the guy who saw The Sex Pistols at the Oval Ball!
Much later, the men behind the Pop Club ran The Lynx Club under the stands at the rugby league ground, albeit on the other side of the pitch, and entered from Clarence Street. Dr Feelgood were one big name band to play there (23/Aug/1990) and returned to York to play GG Barnums later that year (28/Nov/1990).
September 1, 1978. Cyanide Opening night, no support
September 6 Chelsea
September 13 Eater
September 25 Cyanide
September 27 The Lurkers HS recalls, "I remember this not just because it was one of the first Pop Club gigs but also because it was the week before I went to Lancaster University. I was a bit worried I wouldn't find anyone there with the same musical taste but on the first night I met a guy, from London, at the bar who had also seen The Lurkers. The first Lurkers show was very much Fulham Fallout (brilliant) whereas the second was around the time of God's Lonely Men being released." (Not sure how I missed this, I've absolutely no memory of it despite them being about my favourite band at the time and having "Fulham Fallout" (including the free single) and their first 4 singles in my collection at the time" - Ed).
October 4 Wire
October 11 Jayne County And The Electric Chairs
October 18 Advertising
October 25 Cyanide The Undertones were due to headline but withdraw due to their TOTP debut, they fulfilled their Pop Club obligation a few months later
November 1 999
November 8 Gloria Mundi I always though it was Ultravox, definitely remember cycling afterwards to see John Cooper Clarke play The Revolution
November 15 Penetration Set list was Future Daze, Life's a Gamble, Lovers of Outrage, VIP, Vision, Too Many Friends, Nostalgia, Movement, Never, Stone Heroes, Free Money, Silent Community, Don't Dictate, Silent Community and Firing Squad.
November 22 The Dogs / Sema 4
November 29 The Beetles / Sema 4 The Police were due to headline but cancelled due to a debut Top Of The Pops appearance (some sources suggest the cancellation was due to the imminent arrival of a band member's baby)
December 4 UK Subs Monday (not the usual Wednesday as they were a late replacement for The Lurkers who were recording TOTP on Wednesday). A very small turn out, most of the audience were on stage for most of the set, I recall the original set being quite short, but many songs were played 2 or 3 times during the multiple encores. PS Some reports state Adam And The Ants played on December 8, I'm sure they didn't, but they made their Pop Club debut a month later
December 13 Girl School / Cyanide
December 27 Cyanide / Sema 4 I suspect Sema 4 must have played the venue about a dozen times in total
January 17 1979 The Lurkers They definitely played in January (see Dec 4), exact date tbc
January 24 Adam And The Ants
January 31 UK Subs A much bigger turn out than a month earlier for what I thought was their last Pop Club gig, the band's web site states later York dates (28/03/79 (Pop Club, with The Skunks), 19/04/79 (Revolution), 11/07/79 (Pop Club, see below), 31/10/79 (Pop Club), 16/11/80 (Forge Inn) and 15/11/81 (TA Centre). They were popular in York, eventually recruiting Steve Roberts on drums
February 7 Leyton Buzzards Their "Palm Trees" was NME single of the week in their March 3, 1979 edition
February 21 Stiff Little Fingers / Robert Rental & The Normal / Essential Logic The Rough Trade tour to promote the 1st SLF LP. Beforehand, the queue snaked around the club and I heard the immortal words, "does the group wear suits" from the bloke (or girl) in front of me in the queue. For SLF, it was a memorable day, as it was the day their debut album, Imflammable Material made its chart entry
February 28 Punishment Of Luxury
March 5 Cyanide / Sema 4
March 7 The Skids Supported by Sema 4 who played "The Skids Are Alright" as an encore
March 12 The Pretenders Very poorly attended
March 14 The Cure
March 21 The Fall / Gladys Hunt And The Pips According to many resources, although I have no recollection and I'm sure I would have if I'd been there. I saw them 3 times at York Uni colleges a little later
March 28 UK Subs / Cyanide Don't remember this one, but recall the next one
March 28 The Invaders The Doncaster band who played York several times during this era and who handed out free copies of their single (I thought it was "Best Thing I Ever Did" / "Much Closer Still", as its still in my singles collection, someone else thought it was "Girls In Action") on the door. Not to be confused with any other band called The Invaders as I did for over 35 years until Suggs put me right. NB If the Subs did play that night, then The Invaders played some other time around ths date (see June 27)
April 2 The Pirates (Johnny Kidd and) The Pirates
April 4 Sema 4 / Sheeny And The Goys
April 9 Doll By Doll / 2TV Doll By Doll, a Pop Club gig which convinced me if even I didn't know the band, I should go along, a great night. One of their dates around this time got voted gig of the year in the music press
April 18 The Members / Pinpoint No recollection of this one, but H remembers it (and a certain Arturo Bassick recalls it) and The Revolution offering free admission for their late night Toyah / Sema 4 gig afterwards
May 2 Soft Boys / Sema 4 / City Limits
May 14 The Dickies / Private Vices
May 16 Leyton Buzzards / Cyanide Personally don't recall the Buzzards playing twice
May 21 The Undertones Support from The Chords and Lew Lewis Reformer
May 30 The Lurkers / 2TV Another fav who played and I have no recollection of the night
June 13 Patrik Fitzgerald / The Wall / Teardrop Explodes
June 18 The Records
June 27 The Cramps / Gotham City Swing Band A night to remember. Terrific set from The Cramps. They'd brought their own support act, the venue had also arranged a third band. The Cramps wouldn't let the venue's support act play, they were The Invaders from Doncaster, a band in a similar vein to the Cramps, who'd headlined a few weeks earlier and had made a good impression. The Invaders stood near the front of the mosh pit hurling mild insults at The Cramps, Lux Interior and Poison Ivy responded in kind and blow kisses back. Al Riggs, guitarist with Delta 5, was there and remembers being very impressed with Brian Gregory's ability to roll a lighted cigarette from one corner of his mouth to the other and keep playing. A now old ex Yorkie pal, but then too young to go to the gig, remembers spotting The Cramps in a Coney Street coffee bar looking spectacular, just hanging around town waiting for the gig to start. 1979 York had never seen anything like it. Some sources suggest The Police were the support on this tour, they certainly weren't the support in York. Ed's note: Last time I looked, this gig didn't appear in The Cramps gigography. However, I was there, it definitely happened, no one could ever forget seeing The Cramps.
July 2 Yachts / The Sections
July 11 ? UK Subs / Cyanide Absolutely no memory of this one, having seen the Subs twice in the venue, I can't imagine why I would have missed it. H recalls, "Believe me the Subs and the fighting definitely happened on July 11. It wasn't a night you'd forget. I can pinpoint the timing as I was working at Rowntrees during the summer holidays and had to skip off a bit early but still missed most of the Subs set. I don't know what started it but it was a football thing ignited by Middlesbrough fans who took the stage towards the end of the set. The York crowd retreated to the far end of the bar. Between was a shower of glasses and skirmishes between idiots brandishing bottles and chairs". H wasn't the only one to recall the fighting.
July 18 ? Angelic Upstarts ? Again I've no memory, H recalls an Upstarts gig being cancelled following trouble a week earlier
July 25, 1979 Adam And The Ants / Air Raid The evening being marred by a large group of Middlesbrough skinheads fighting after the gig. Having taken a group of work friends along to The Pop Club for the first time, we saw the blue lights racing to the venue on our way home. My friends vowed never to go back. Personally, that is the last I remember of The Pop Club, going on holiday on the following weekend. However, other reports state the op Club continued for several more weeks
August 1, 1979 Special AKA Cancelled after the troubles a week earlier
August 22, 1979 The Invaders Personally I thought Adam And The Ants was the last gig, but Sean Parkin lists 3 more
September 5, 1979 Possessed
September 12, 1979 The Chords / Killermeters / CO2 I recall the Killermeters playing a couple times (with Sema 4 or other mod bands) earlier which are not listed on Sean Parkin's video
From my memory, also played The following bands also headlined, exact dates tbc
Oct / Nov 1978 Angelic Upstarts Probably the only Pop Club I didn't go to and remember it well, but never thought it was as late as Sean Parkin dates it
March / April 1979 The Tourists
1979 The Killermeters Played at least twice, I suspect once as Sema 4 support and then later as a headliner. A bill that was reprised in York on 17/12/2016. To my mind, despite several well known national mod bands, The Killermeters were the finest mod band to visit York
Notes:
Other names on my list of who might have played are The Radio Stars, Secret Affair and Purple Hearts. There were several mod headliner nights (Sema 4 usually supporting), so very strongly suspect one of the 2 named mod bands also played
There maybe missing dates when Cyanide or Sema 4 headlined. Don't recall any other York bands playing the venue, either as headline or support
Bands had been booked for the autumn, after a summer break. However, given the trouble at The Adam And The Ants gig, the venue gave back word to the promoter
York's Larger Venues
The Cat's Whiskers (in many different guises) on Fishergate saw live music from the 1950s, gigs continuing into the late 1970s. The Theatre Royal and Grand Opera House have seen occasional live music and it wasn't until The Barbican added its auditorium in 1989 that York had a large (approximately 2,000 capacity) venue capable of attracting bigger names. York Racecourse hosted its first festival in 1984, a couple of festivals followed before the racecourse caught the racing trend of after racing concerts. Maybe, surprisingly, given its array of indoor hospitality suites, there is little history of gigs within the complex although 3 Colours Red (10th May 1997) did play there.
The Rialto (Fishergate): The place to be in the 1960s, it hosted many of the biggest names of the day. Big bands and jazz bands of the 50s gave way to The Merseysound, gigs included:
Morecambe & Wise
Matt Munro
Des O'Connor
Shirley Bassey
The Merseybeats
Cilla Black
Count Basey
Buddy Rich
Freddie and the Dreamers (1963)
The Springfields
Freddie Starr
Kenny Lynch
Johnny Dankworth
The Kinks
The Spencer Davis Group
The Crazy World Of Arthur Brown
Mannfred Mann / Johnny and The Pirates / The Crystals / Heinz (11/03/64)
The Animals / Jerry Lee Lewis / Gene Vincent (25/03/64)
Joe Brown and The Bruvvers / Johnny Kidd and The Pirates / Manfred Mann / The Crystals / Heinz (11/03/64)
The Rolling Stones (26/02/64)
Billy Fury (20/11/63)
Helen Shapiro / Bobby Rydell (13/11/63)
Gerry and The Pacemakers / Del Shannon (16/10/63)
Billy J Kramer and The Dakotas / Tommy Roe / Tommy Quickly / The Fourmost (02/10/63)
Billy J Kramer and The Dakotas / Heinz / The Fourmost / Tommy Quickly / Tommy Roe (18/09/63)
Roy Orbison / Del Shannon / The Searchers (18/09/63)
Jerry Lee Lewis / Gene Vincent / Heinz (08/05/63)
Del Shannon (24/04/63)
Jet Harris / Tony Meehan / Paul and Paula (10/04/63)
Tommy Roe / Chris Montez (13/03/63)
Adam Faith / Gene Vinent (21/11/62)
Jess Conrad (15/04/61)
Emile Ford and The Checkmates (26/11/60)
Gene Vincent (04/06/60)
Everly Brothers (20/04/60)
Adam Faith (February/60 (reports state 7th and 8th) and 08/12/60)
Cliff Richards and The The Shadows (18/10/58, 24/10/58, 24/01/59, 18/05/59, 19/09/59, 24/02/61, 03/04/64)
John Barry Seven / Nancy Whiskey(21-6/10/57)
The Platters (12/03/57)
The Rialto / The Cat's Whiskers: As the 60s ended, The Rialto underwent a series of name changes (Rialto, The Cat's Whiskers, Tiffany's, Heartbeat and Hotshots) as its focus changed; its best remembered as a night club, Mecca bingo hall / ballroom, wrestling and snooker included (depending on your age and inclination) as as well as occasional usage as a live venue. Anecdotely, The Bay City Rollers and Mud are reported to have played there in 1974. The groups had break through number one hits in 1974 and 1973 respectively, so it is possible, if they did play, it was a little earlier. The Sweet also visited. Other gigs included:
Jayne County and The Electric Chairs / Cyanide (21 June 1977)
The Jam / Cyanide (29 June 1977)
The Barbican: A near 2,000 capacity venue, it was built in 1989, gigs have included:
Peter Rowan (29th August 1991)
Inspiral Carpets (21st September 1991)
Saxon (22nd September 1991)
Big Country (25th October 1991, 23rd May 1993 and 21st October 1995)
All About Eve (12th November 1991)
Hawkwind (13th December 1991)
Farm, The (19th December 1991)
Fairport Convention(16th February 1992 and 14th February 1993)
Barclay James Harvest (6th March 1992)
You Slosh (1st July 1992)
Del Amitri (7th July 1992, 14th July 1995 and 7th November 1997)
Magnum / Gotthard (25th October 1992)
Chuck Berry (14th November 1992 and 2nd March 1995)
Wedding Present, The (28th November 1992)
Judie Tzuke (29th November 1992)
Carter The Unstoppable Sex Machine (4th December 1992)
Little Angels / Naked Truth (12th December 1992)
Pop Will Eat Itslf / Meat Beat Manifesto / Back To The Planet (12th January 1993)
Suzanne Vega (11th April 1993)
Nanci Griffith (15th May 1993 and 14th October 1995)
10CC (4th June 1993)
Runrig (10th June 1993, 17th November 1995, 22nd November 1996, 9th June 1999 and 3rd December 1999)
Gary Numan (24th October 1993)
Runrig / Shawn Colvin (20th November 1993)
Mary Black (28th November 1993, 26th October 1995 and 30th October 1997)
Radiohead (2nd December 1993)
Moody Blues, The (9th December 1993)
James (16th December 1993)
Fairport Convention (30th January 1994)
Gerry & The Pacemakers / Swinging Blue Jeans (19th March 1994)
Wonder Stuff, The (31st March 1994)
Tori Amos (24th April 1994)
Jethro Tull (22nd May 1994 and 24th November 1996)
Prodigy, The (October 29th 1994). Its undertood that The Prodigy had earlier played York's Courtyard (7th July 1993)
Kinks, The (5th November 1994)
Elvis Costello and The Attractions (12th November 1994)
Fall, The (22nd December 1994)
Tanita Tikaram (12th May 1995)
Thunder (28th September 1995 (with / Head, The / Toby and The Whole Truth) and 9th December 1999)
Joan Baez (29th October 1995 and 30th June 1996)
Mary Coughlan (16th May 1996)
Squeeze (1st June 1996)
Jackson Browne (15th July 1996)
Shed Seven (21st November 1996 and 4th June 1999)
Mansun (9th February 1997)
Suzanne Vega (22nd March 1997)
Bruce Dickinson (24th March 1997)
Suede (13th May 1997)
Texas (11th May 1997)
Hollies, The (10th October 1997 and 30th April 1999)
Lightning Seeds, The / Dubstar (30th November 1997)
Levellers, The (7th March 1998)
Searchers, The / Helen Shapiro / Swinging Blue Jeans, The (4th April 1998)
Robbie Williams (24th May 1998)
Van Morrison (6th and 7th November 1998)
Tom Jones (11th November 1998)
Dubliners, The (11th April 1999)
Mike and The Mechanics (13th May 1999)
Bill Wyman's Rhythm Kings (5th June 1999 and 7th November 2003)
Dr John(early 2000s)
Status Quo (4 times, 2000/1/2/3)
Linda Gail Lewis (sister of Jerry Lee Lewis, 2nd & 3rd March 2001)
Roxy Music (25th October 2002)
Levellers, The (approx. 2002)
Bryan Ferry (about 2004 with Mickey Green & Chris Spedding in his band and 14th November 2013)
Frank Zappa (17th November 2011)
Showaddywaddy (November 2012)
Joan Armatrading
Blues Band, The
Belinda Carlisle
Corrs, The
D-Ream
Damned, The (supported by The Surf Sluts)
Doobie Brothers, The (2017)
Erasure
Richard Hawley
Hollies, The
Isley Brothers, The
Jools Holland (several times)
Janis Ian
Ray Davies / The Kinks (11th November 1993)
Katie Melua
Noah And The Whales
Orb, The
Pop Will Eat Itself
Proclaimers, The
Pulp (21st November 2001)
Saw Doctors, The
Specials, The
Lisa Stansfield
Shed 7 (often)
Suede (supported by Geneva)
Sugababes
Supergrass
Van Morrison
Paul Weller
Wonder Stuff, The
Emmylou Harris
Steve Earle
Hawkwind
Cyndi Lauper
The De Grey Rooms: There were two venues at De Grey Rooms, a ballroom upstairs and a smaller downstairs. Gigs included:
Siouxsie And The Banshees (8th July 1977), supported by local bands Cyanide and The Germs - Postponed when the headliners pulled out
Chelsea (10th August 1977)
The Cortinas (17th August 1977)
The Mekons (10th November 1978)
The Cure (12th December 1978)
Cyanide supported by Echo & The Bunnymen (with a human on drums if I remember correctly) (Late May Bank Holiday (Monday May 28 1979)), The Bunnymen were a very late replacement for Wayne / Jayne County who had been detained by the boys in blue)
Vice Versa (14th December 1979)
The Straits
The Raincoats
Delta 5
The Assembly Rooms: A near neighbour of The De Grey Rooms, again with a sporadic gig history, it might have been slightly larger and I remember it being more formal, wide ornate pillows flanked either side of the hall. Pity about the acoustics. Gigs included:
The Alan Bown Set in the 1960s
Barbara Thompson's Paraphernalia. TJ recalls, "(Having been thwarted by Camel's cancellation), my first gig did turn out to be pretty special though at the Arts Centre in Micklegate. Barbara Thompson's Paraphernalia with Jon Hiseman ex Colliseum (RIP) on drums. Unbelievable! I remember picking up one of Jon's broken sticks at the end of the gig. I was so impressed with the gig that I wrote to Barbara and Jon to say how much I enjoyed the gig and in particular Jon's drumming as I was a budding drummer myself. Shortly after that, I was amazed to receive a reply with a pair of unbroken drumsticks, Paraphernalia's latest album and an invite to visit Jon and Barbara in their London home where Jon would give me a drum lesson! Naturally I came to London and had my lesson and witnessed the biggest album collection that I have even to this day, ever seen. So kind. So cool. Paraphernalia played the Assembly Rooms the following year which I only found out about at the last minute. No problem when you know the band though. Barbara met me at the door and ushered me to a spare front row seat. Another amazing gig thanks to an act of kindness"
Generation X turned up to play (15/Dec/78) but cancelled and stormed off because they said the stage was "too small" / stage extension was unsafe (it was wobbly)
Several local bands.
Working Men's Clubs: Surprisingly, working men's clubs appear to have rarely been used for gigs, possibly due to their membership policy, although their members enjoyed live acts from the WMC circuit on a very regular basis. Exceptions include Freddie And The Dreamers at the Post Office club (Marygate) in 1968 and a series of new wave events at the INL (Walmgate) in the 1980s. It famously hosted The Hellfire Club around 1983 (The Tronics, No Swastikas (later The Redskins (29th April 1983)) and King Kurt (25th September 1983 (pig's head, dead fish, flour bombs, snake bite drinking competitions and on stage hairdressing included)). Gary missed a chance to promote an unknown band called The Smiths as he and they haggled over £50). Later, Peter Thompson hosted INL gigs, including a couple of visits from Marc Riley And The Creepers.
The Forge Inn: On the A64, well on the way to Tadcaster, near the Aagrah Indian restaurant, but being out of town, it was short lived. Gigs included:
The UK Subs (once, if not twice)
The Revillos (27th October 1980 and 21st December 1981)
The Grand Opera House: A warehouse and corn exchange, built in 1868, were converted into a theatre in 1902. Closed in 1956, it reopened as SS Empire and was used for wrestling, bingo and roller skating until 1985. It re-opened in its current guise in 1989 when it was used mainly as a theatre venue but has been increasingly used for gigs. Gigs included:
The Notting Hillbillies (29th April 1990), a Dire Straits off shoot
John Martyn (6th May 1990)
Rick Wakeman (3rd June 1990)
Saxon (13th June 1993)
Fairport Convention (22nd January 1995)
Hawkwind (26th October 1997)
Australian Pink Floyd, The (16th November 1999)
Gerry and The Pacemakers (24th November 1999)
Jaspers / Melodys: Jaspers / Melodys golf range and country club on Wiggington Road, it hosted a number of weekly gigs in the wake of The Pop Club and was used by different promoters in the early 1980s, including The Hellfire Club (1983 - 4). Once again, it suffered badly from its out of town location, otherwise it could have proved to be the ideal venue. Gigs included:
Delta 5 / Seething Wells (3rd August 1981)
Knox (The Vibrators)
Classic Noveaux
Theatre Of Hate / The Shove
UK Decay
Anti Pasti
Orange Juice
Soft Boys
The Hellfire Club (1983-4) gigs by March Violets, The Bat Cave, Flesh For Lulu and Alien Sex Field
Fibbers: Opened on Stonebow in 1992, for many years, it attracted many named bands to the city centre before the area was redeveloped, the venue moved to Toft Green until it closed in 2020 when more developers struck, gigs included:
Xentrix (2nd February 1993)
Anathema (25th May 1993)
Shed Seven (27th August 1993, 29th March 1994, 16th October 1994, 23rd August 1995 and many more)
Blodwyn Pig (15th October 1993 and back in York on 27th November 1993)
Terrorvision (6th November 1993)
Avida Dollars (24th March 1994)
Lawnmower Deth (26th March 1994)
S*M*A*S*H (27th March 1994)
Reef (26th July 1994)
Vibrators, The (18th October 1994 (with Iscariot's Kiss), 27th April 1995 (with Goober Patrol and Big City Rodeo),15th September 1999 (with Honeytrap and Tranquility Avenue), 3rd February 2000 (with The Turners), 1st December 2000 (with Splodgenessabounds and Cloud Head), 24th May 2002 (with The Negatives and Flint) and 13th December 2003 (supporting The UK Subs)
Jayne County and The Electric Chairs (11th August 1994 and 20th June 1995)
Climax Blues Band (19th October 1994)
Sensational Alex Harvey Band, The (26th October 1994)
Only Ones, The (6th November 1994)
Wishbone Ash (31st March 1995)
Oedipussy / Tea Party, The (7th May 1995)
Comsat Angels, The (3rd July 1995)
Wilko Johnson (with The Blueflies (7th October 1995))
Toby and the Whole Truth (16th October 1995)
Tigertailz (24th October 1995)
Half Man Half Biscuit (23rd November 1996 and 20th August 1999)
TV Smith (3rd November 1996)
Orphic Soop (24th November 1996)
Lodestar (10th October 1996)
Kula Shaker (8th June 1996)
Rude Club (10th March 1997)
Feeder (13th May 1997 and 10th October 1997)
Half Man Half Biscuit (21st June 1997 and 17th April 1998)
Catherine Wheel (31st January 1998)
60ft Dolls (16th April 1998)
Younger Younger 28's (12th June 1998 and 13t May 1999)
Mansun (29th June 1998)
Levellers, The (15th September 1998)
Clam Abuse (31st July 1999)
Chris Helme (13th November 1999)
Napalm Death (15th November 1999)
UK Subs, The (13th December 2003 (with The Vibrators))
(th 1999)
(th 1999)
(th 1999)
The Duchess: Also in Stonebow House, next door to Fibbers, it hosted gigs until 2016 when the block was sold for re-development. See also the last days of The Duchess. Gigs included:
Only Ones, The (23rd January 2009)
Only Ones, The (3rd July 2009)
The Revolution Club (Lady Peckitts Yard): A venue that went through many names / trends dating back to the 60s, its hey day (in terms of quantity and probably quality of gigs) was the early punk years when it generally hosted gigs, mainly featuring nationally known bands, 6 nights a week, although for many, an equal, if not greater attraction was the "night club" hours, bands generally on stage after the 11pm pub closing time. Gigs included:
Only Ones, The (13th October 1978)
John Cooper Clarke (November 1978)
Joy Division / Cabaret Voltaire (22nd December 1978)
Venue 2: xxx

Venue 1: xxx

Venue 2: xxx

Gigs included:

York's Smaller Venues

Over the years, York has had many other venues that have put on live music, many have come and gone, some proved more popular than others, but invariably given their size, they struggled to attract large bands.

The Arts Centre: A twelth century converted church on Micklegate (junction with North Street) which for many years hosted many different "arts" events, The Redskins often played there in their early days. Other gigs included:
Barbara Thompson's Paraphernalia (Late 70s ish)
Poison Girls
Colorblind James Experience, The (7th November 1988)
Little Angels (20th and 21st September 1988)
Cud (20th December 1988)
Inspiral Carpets (7th March 1989)
Snapdragons, The (1st July 1989 and 29th July 1989)
Blur (11th March 1990 and 23rd July 1990)
The Spotted Cow (Barbican Road, Walmgate): Its function room has a long history of hosting live music, often with a folk leaning, gigs included:
Leatherface (9th October 1990)
Th' Faith Healers (27th July 1990)
Blyth Power / Sofa Head (14th March 1990)
Dodgy (7th June 1991)
The Winning Post (Bishopthorpe Road): A long standing venue which has hosted several bands that went onto greater things, gigs included:
Ted Chippington (18th December 1987) or could have been a year later
Thomas Van Zandt (3rd May 1994)
Venue 1: xxx
Venue 2: xxx
Venue 1: xxx
Venue 2: xxx
York University
York University has for over 50 years hosted live music. The colleges more up and coming acts; occasionally The Central Hall has hosted some bigger bands.
At the uni, the Central Hall (capacity 1,190) occasionally hosted larger acts, including Paul McCartney / Wings, Pink Floyd, George Melly, Jimi Hendrix, Soft Machine, Man, Poco, Sparks, Squeeze and The Boomtown Rats. The Rats appeared in February 1984 (pre Live Aid). To wake the audience up, Geldof, using his usual vocabulary urged the crowd to get up and dance in the aisles, much to the chagrin of the bouncers (and against building regulationsand the venue's license). Afterwards, it was reported the venue had suffered structural damage, including to the cover of orchestra pit and
A lot of the following information comes from various sources including some university sites. Unfortunately, the University of York Folklore / usenet / Kipper.york.ac.uk (internal university) site is now defunct, it had been put together by a number of interested readers with special thanks to Gareth ('Jez') Simkins in 2001 and Benedict Ibbs. The sources (which may now be broken links are):
The list of band follows, reasonable efforts have been made to ensure the information is correct and legal, however no responsibility is accepted for its accuracy. Far more bands will have played the uni, but given how it operated, many gigs will have had no publicity outside the campus. Many of the bands played small college gigs before finding fame and fortune. So here goes, a far from comprehensive list of bands to play have played York University (in alphaabetic order), gathered from multiple (some possibly unreliable) sources includes:
10cc (27th April 1974, Central Hall. Support by a strange band called Trax who consisted of 5 or 6 black guys in glitter and platforms, all had bleached blonde hair, except for the keyboard guy who was totally bald. They were loud!. Also played 12th October 1983 (Central Hall))
A Certain Ratio (17th October 1980, Vanburgh, supported by Section 25, The Durutti Column and Blurt!
Au Pairs, The (6th May 1981 (Central Hall) and 7th November 1981 (Alcuin College)). PJK recalls one, "a brilliant gig, the band walked through the audience to get to the stage, I vividly remember Lesley Woods walking past me singing along to "White Man in Hammersmith Palais" that was playing on the PA".
A Flock Of Seagulls
Mike Absalom (an early 70s folkie regular)
Acker Bilk
Ace (Derwent College with Linda Lewis as support)
Al Stewart
Alarm, The 4th Feb 1984 (Central Hall). I recall a college date at the uni, which I'd date as autumn (it was a dark night), probably 81, especally as one superfan notes an Alarm gig at the uni on 18/June/1982, presumably a college summer ball)
Marc Almond (29th October 1984, Central Hall)
Alvin Lee and Co (early 1970s)
Arrows
Aswad (Derwent College)
Au Pairs (6th May 1981 (Central Hall) and 7th November 1981 (Alcuin College))
Average White Band, The (early 1970s)
Avida Dollars (2nd October 1992)
Babe Ruth (early 70s, long lived (in various guises), English blues / prog rock band)
Bad Manners (1991, Goodricke Summer Ball)
Barclay James Harvest (28th January 1972, Central Hall)
B.B. King (27th October 1972, Central Hall)
Belle Stars, The (21/10/1982, Derwent College)
Bert Jansch (26th January 1971, Derwent College)
Black Slate (16th April 1983, Vanbrugh)
Blackhawk
Blodwyn Pig
Blue Aeroplanes, The (1988, Alcuin (Fresher's Ball))
Blues Band, The (1980 and June 1983 (Derwent College Summer Ball when they did 3 encores and were on stage till about 1.00am, supported by The Redskins and Clint Eastwood and General Saint)).
Bluetones, The (23 July 2003)
Bogus Brothers, The (February 1988, Central Hall and 1989 Derwent BBQ)
Boomtown Rats, The (Central Hall, 11th February 1984)
Boys Of The Lough (22nd January 1975, Central Hall)
Brian Eno (November 1975, RAG week. He also made various appearances with groups)
Brinsley Schwarz
Bucks Fizz (1992, Goodricke Summer Ball minus one member).
Camel. Although listed on a uni web site as having played, TJ recalls the gig was cancelled, "I believe that Andy Latimer (guitarist and singer) had a throat infection so the gig was cancelled. I was gutted and as far as I know so were a lot of other people who had got as far as the university to see them. I remember a talented all round musician friend of mine, CS was equally, if not even more pissed off with the cancellation. He thought so highly of Camel that he played the entire Snow Goose album once live, single handed, switching between instruments in a pub on the hill in Acomb".
Capability Brown
Captain Beefheart and his Magic Band (17th November 1980, Central Hall)
Caravan (1970s)
Carter USM (approx Late 1980s, Vanburgh)
Chicken Shack
Chieftains, The (headliners at Derwent College's 1978 weekend summer festival)
Chris Darrow (early 1970s)
Chris Rea (approx 1978, turnout was so bad tickets were given away!)
Climax Blues Band (early 1970s)
Clint Eastwood and General Saint (supported by Dumpys Rusty Nuts) (Derwent BBQ?)
Cloud Machine (date unknown)
Cockney Rebel (1974, supported by Be Bop Deluxe)
Colosseum (Freshers' Week 1971)
Cocteau Twins, The (20th February 1985, Central Hall)
Cud (3 June 1988 and 2nd December 1988, including once in Goodricke)
Cure, The (8th November 1980)
Curved Air (26th February 1971, Central Hall. Some reports state the band contained Brian Eno)
Darling Buds, The (26th October 1989)
Deaf School (2 college gigs on 6th October 1976 and 13th October 1977)
Del Amitri (1st November 1989 (and approx 1992, Derwent)?)
Delta 5 (1978/9 academic year, Vanbrugh College)
Desmond Dekker (94/95, twice, Derwent BBQ, and Alcuin Freshers Bash)
Dexy's Midnight Runners(Derwent)
Diesel Park West (early 1980s)
Dire Straits (10th November 1978, Alcuin College)
Domino Principle, The (1989, Derwent BBQ)
Dr and the Medics (1994, Derwent BBQ and other occasions)
Dr Feelgood (1974 as support to String Driven Thing at Langwith College)
Dr Phibes and the house of wax equations (Approx 1990, Vanburgh)
Dramatis (30th April 1081, Gary Numan's former backing band)
Ducks Deluxe
Eddie and the Hot Rods (c 1976)
Eire Apparent (late 1960s, Alcuin)
Electric Canned Fruit (1984-6. Played a lot including Alcuin and Derwent BBQ).
Electric Light Orchestra (15th February 1975, Central Hall)
Elton John (1970, Kings Manor, a uni outpost)
Explorers, The (21st May 1985, Alcuin. The band contained two members of Roxy Music (Andy McKay and Phil Manzanera))
Fairport Convention (24 October 1975, Central Hall (as per setlist site). Other sources also have them playing the uni in 1970 (if they did, probably a college) and York Theatre Royal in 1973)
Fall, The (3 college shows in late 70s / early 80s)
Family (early 1970s)
Family Cat, The (approx 1990, Langwith)
Fat Lady Sings, The (1st Dec2mber 1990)
Fatal Charm, (20th February 1981, Wentworh College)
Flatmates, The (1987-9, approx. 5 times. Their 1988 gig at King's Manor went down in history as every red blooded male attempted unsuccessfully to cop off with the then bass-player Sarah Fletcher)
Fleetwood Mac (approx 1970, Central Hall. Many walked out, those who could, a real case of a band too stoned to play and an audience too stoned to notice)
Free (4th February 1972, Central Hall)
Fusion Orchestra (28th February 1975, Central Hall)
Gang of Four (1978/9 academic year, Vanbrugh College)
Genesis (5th March 1971 and 21st February 1973 (String Driven Thing as support), Central Hall)
Gillan (8th February 1979, supported by Marseille)
Girls At Our Best (13th March 1981, supported by Dislocation Dance)
Girlschool
Gong
Groundhogs (early 1970s)
Gryphon (early 1970s)
Gun, The (12th December 1968, Langwith College)
Harry Chapin (13th February 1981)
Hatfield and the North (approx 1972-5)
Hawkwind (autumn 1970 (Alcuin) and 25th February 1972 and 16th November 1972, both Central Hall)
Heads, Hands and Feet (approx 1970, Vanbrugh. Included Chas 'n' Dave (Ed – not sure if Dave was a member in pre-lovable cockney mode). Played Vanbrugh on the same night as The Troggs)
Horslips (10th October 1972 (Derwent College) and 1977)
House of Love, The (2nd March 1989 (supported by The Wolfhounds) and 25th January 1990 (with support from Walkingseeds), Alcuin (but also reported as Goodricke))
Human League, The (Central Hall, 3rd December 1980). PJK recalls a Human League uni gig, "my memory has it that they had just broken up (Martyn Ware and Ian Craig Marsh both left to form Heaven 17 - Ed) and Phil Oakey was fulfilling touring obligations and York was (almost) the first gig. The girls were on big towers and they started with a Judas Priest cover".
Hustler (early 1970s)
Icicle Works, The (1986, Fresher's Ball)
Incoherents, The (1994, "Woodstock Concert", student band put together for the occasion)
Incredible String Band, The (9th November1972)
Jack the Lad (early 1970s)
James Taylor Quartet (approx 1996, Goodricke, by when they were more into smoother funk than insane Hammond-organ TV themes)
Jacques Loussier (18th October 1969)
Jess Roden Band, The (early 1970s) (Central Hall)
Jethro Tull (8th March 1972, Central Hall. During an intense instrumental bit a phone rang on stage, the band stopped to let Ian Anderson answer it, and he asked the owner of the horse parked in the foyer to move it, as it was causing an obstruction. A `stooge' dressed in jockey gear planted in the audience leapt up and ran to the back of the hall, followed by spotlight!)
Jim Jiminee (14th March 1989)
Jimi Hendrix Experience (18th February 1967, Langwith, as per his site. Another site states Jimi Hendrix played the Central Hall)
Joburg Hawk (approx 1969-72 ish, Alcuin. An early racially mixed South African band)
Joe Cocker's Grease Band (late 1960s)
Joe Jackson
John Martyn (1970s, played Central Hall (14th October 1972, 4th February 1977 and 29th April 1983), Wentworth (18th May 1973 and 9th March 1973) and possibly and Vanbrugh)
John Mayell and his Blues Band
John Miles
John Renbourn
Johnny Johnson and the Bandwagon (Derwent)
Jonathan Kelly (early 1970s)
Jools Holland (Jools Holland's Big Band) (1989, Derwent BBQ)
JSD Band (24th January 1975, Central Hall)
JudyTzuke
Juicy Lucy (early 1970s)
Julia Fordham (17th November 1989)
Kassoma (Alcuin College, 28th September 2014)
Katrina and the Waves (1993, Derwent BBQ Support from Big J and the "We're gonna play one more song, then you can walk on as much fuckin sunshine as you want" Piccolo Chickens)
Keith Christmas (early 1970s)
Kevin Coyne (early 1970s). PJK also recalls him playing (supported by Linton Kwesi Johnson) at the uni in 1980
Kilburn and the High Roads (early 1970s), featuring Ian Dury. Noted as supporting The Average White Band
Killing Joke (22nd February 1981, Central Hall), support from The Danse Society
King Crimson (Various, 9th October 1969 and 11th November 1972 (and maybe 1974 (tbc)). A gig goer recalled, "On the "Larks Tongues in Aspic" (early released 1973) tour with John Wetton, Darryl Way, Bill Bruford, and some weird Scot who bashed odd bits of metal on a rack and spat blood. 1974, I think, crowd mostly quiet until they did "Schizoid Man" for their encore)". At least once in Central Hall
Kingmaker (approx 1991)
Kinks, The (24th June 1970, Central Hall with an audience of 2,000. Lead singer Ray Davies got completely trashed on Newcastle Brown during the gig. Eye witnesses suggest the Davies brothers were drunk and fought each other. Various reports confirm they played again once or twice, but weren't as good). AD recalls seeing them in the Central Hall when he was at the uni (19th February 1972) and they played the asme venue on 6th March 1974.
Kitchens of Distinction (27th October 1989, Vanburgh)
Kursaal Flyers, The
Larks, The (18th March 1987 and 10th December 1987 (both Alcuin College))
Led Zeppelin
Lenny Henry (2 consecutive late 1970s autumn college tours)
Leo Kottke (early 1970s)
Levellers, The (16th June 1989 and 13th October 1989)
Lindisfarne (approx 1971-4, Central Hall)
Love and Money (Mid - late 1980s)
Lucyfur (One of the most well-remembered of the student bands, their play list included such songs as `I want to be a ducky' and recorded an LP. Possibly around mid 1990s.)
Lydia Lunch (29th October 1984)
Magma
Man (November 1976, Central Hall, with support from Ken Booth)
Manfred Mann (23/06/66, Central Hall)
Manfred Mann's Earth Band (approx 1977, Goodricke on the ``Blinded by the Light'' Tour. The support act was a local put together band called Great Free Teddy Bear Offer - which looked good on the posters(!). They were actually pretty good and got an encore.)
Manic Street Preachers (21st May 1991, Alcuin. Just before they had a front cover on NME)
March Violets, The (15th October 1982, Vanbrugh Alternative Freshers Ball)
Marianne Faithful (17th June 1965, June Ball, held at the King's Manor. Audience of 500-550 (including 300 students)
Martin Carthy (approx 1971-4, Derwent College)
Medicine Head
Mekons, The (1978/9 academic year, Vanbrugh College)
Members, The (who changed their song "At The Chelsea Nightclub" to "At The Wentworth Nightclub" for the night, no prizes for guessing which college hosted it),
Men They Couldn't Hang, The (Approx 1985)
Menswear (approx 1994, Wentworth)
Meteors, The
Michael Chapman (early 1970s)
Mike Fab-Gere (Autumn 1993, Vanbrugh. Alto ego of Mike Southon)
Moody Blues, The (1967 and 24th June 1970, both Central Hall)
Mott The Hoople (early 1970s)
Muddy Waters (1968)
Mr Big
My Bloody Valentine (30th April 1988)
Narareth
New Fast Automatic Daffodils (1992, Alcuin)
New Model Army (24th April 1989, Central Hall)
New York Dolls (23rd November 1973, Vanbrugh)
Only Ones, The (2nd March 1979 and 29th April 1980 (Alcuin & Langwith Colleges), supported by John Cooper Clarke and Wasted Youth, on one occasion, posssibly the first)
Orchids, The (30th April 1988)
Paradise Steel Band (a band who date back to 1962)
Parachute Men, The (1989, Alcuin)
Passions, The (1978/9 academic year, Vanbrugh College)
Peace (19th November 1971, Central Hall). Formed by Paul Rodgers (following Free finally disbanding) supporting Wishbone Ash
Pentangle
Pete Atkin (early 1970s, various colleges, notably Langwith and Wentworth) and appearing in Central Hall with songwriting partner Clive James (yes, that one) doing "Live Libel", their set of musical tributes to "insufficiently neglected modern artists" (e.g. Robert Zimmerman, T-Rex etc.)
PFM (Premiata Forneria Marconi) (30th April 1976, Central Hall)
Philip Goodhand-Tait (probably approx. late 1960s / early1970s. "Total mediocrity, kept showing up to support one band or another. When he got sick of boring us with the piano, he pulled out his - harmonium!")
Pink Fairies
Pink Floyd (15th February 1969, Derwent College, support by Love Sculpture - Rob Fletcher was there). Some reports note they played Derwent on 21st October 1967, that night they actually played New Earswick (see above).
Pink Leg Slax (approx Mid 1980s, Vanbrugh Alternative Ball support. Leeds based rockabilly band, often seen busking in the city centre)
Poco (22nd October 1976, Central Hall)
Prefab Sprout (28th January 1984, Alcuin). Played well before they were famous, some claim Charlie Watts (Rolling Stones) was on drums as their regular drummer was ill. Support was Martin Stephenson and the The Daintees)
Pretty Things (20th March 1969, Alcuin) with support from Fairport Convention, Van Der Graaf Generator and Eire Apparent
Primitives, The (late 86 / early 87, remembered as a "bit of a classic gig")
Principal Edwards Magic Theatre / Principal Edwards
Procol Harum, supported by Hemlock (3rd March 1973, Central Hall)
Pyschedelic Furs, The (6th October 1982, Derwent College, supported by Sisters of Mercy)
Psycho Surgeons (19th July 1988). Also supported The Shamen
Quintessence
Ravi Shankar (early 1970s)
Redskins, The (17th November 1984 and 17th March 1986)
Reg Presley (believed approx 1970s)
Revillos (1978/9 academic year, Alcuin College and 9th March 1980 (Central Hall))
Richard and Linda Thompson (early 1970s)
Ride (7th May 1990 (with support from The Cranes, Goodricke)
Rolf Harris (3rd June 1994, Barbican (but organised by the SU. First (and best) support was QuarkFunkfish as second support.
Ronnie "Plonk" Laine (March 1975, Central Hall, ex Small Faces bassist)
Rory Gallagher (early 1970s (?) and Central Hall (20th November 1981))
Roxy Music (22nd November 1972; Alcuin and double bill with Supertramp (Derwent). Roxy (minus Bryan Ferry) returned in about 1987 for a secret gig. No one turned up)
Roy Harper (18th January 1975)
Sandy Denny (14th October 1972, Central Hall)
Segovia
Sensational Alex Harvey Band, The (12th October 1974, Central Hall)
Shamen, The (24th February 1989, Derwent BBQ and / or Langwith with Psycho Surgeons as support
Sharks (20th January 1973, Central Hall, icluding Andy Fraser, ex-Free bass player)
Shed Seven (several, including 19th June 1998 and 26th June 1999 (both at Derwent College))
Sisters of Mercy, The (many times, debut believed to be in Alcuin, a charity benefit and they were supporting The Thompson Twins. The Sisters also played 16th February 1981, 4th April 1981, 7th May 1981, 5th February 1982 (Vanbrugh College), 29th April 1982 (Vanbrugh College), twice in late 1982 (6th October 1982 (Derwent College, supporting The Pyschedelic Furs and 15th October 1982)), 1983 and much later twice at Derwent (19 June 1998 and 26 June 1999))
Skids, The (Central Hall, 8th October 1980)
Slade (3rd March 1981)
Slits, The (late 1970s, Central Hall. They reputedly had the plug pulled by the hall manager when they suggested trashing the place)
Soft Machine (12th May 1974, Central Hall. Did a Workshop in the Music Department one weekend for local bands under the York Musicians COOP banner)
Sonny Terry & Brownie McGhee at Derwent College (American bluesmen, around 1974)
Sparks (Central Hall, 2nd November 1974, supported by Pilot (who were number one just 3 months later)
Spitfire Boys, The (1978/9 academic year, Wentworth College)
Split Enz (28th January 1978)
Spooky Tooth
Squeeze (13th February 1981 and 7th May 1982 (Central Hall) supported by Otway & Barrett (27th May 1982)
St John, Bridget (18th November 1972, Wentworth College)
Stackridge (early 1970s)
Status Quo (4th March 1972, having played St John's on 23rd February 1971)
Stone The Crows
Stranglers, The (2 college gigs on 5th November 1976 and 10th March 1977). There is confusion about whether these took place. It is understood the first (listed on a Stranglers gigology site) was postponed due to a student union / porter dispute (a university porter objected because someone had seen a photo of Hugh Cornwell wearing a Truck t shirt that could have read as somethiong else), the second is not listed on that site (but they did end a tour in Wakefield a day earlier, so might have fulfilled the earlier contract obligation
Strawbs, The (26th February 1980, 27th April 1971, 16th October 74 and 26th February 1980. Possibly 1973 as well)
Steel Pulse (1978/9 academic year, Vanbrugh College)
Steeleye Span (Summer 1975, Central Hall. DS recalls "I remember the Fairport Convention and Steeleye Span Central Hall concerts being much closer in time, maybe even the same year (certainly not Fairport in 1970 because I wasn't there yet, though maybe they did play in '70 as well, perhaps not in Central Hall), with Steeleye first and very good, then the Denny/Swarbrick Fairport later and absolutely magnificent".)
Stefan Grossman (approx 1972, Derwent and Approx 1991, Central Hall. Dave Evans (197x) in support, he gave a beautiful performance and endeared himself to all. Stefan was slick and professional)
Steve Hackett (9th October 1981)
Strawbs, The (26th February 1980)
String Driven Thing (early 1970s). Once as a 1973 Genesis support and a 1974 Langwith College gig with Dr Feelgood as support
Sunscreem (early 1990s, Goodricke)
Supercharge (early 1970s)
Supertramp (Derwent), supporting Roxy Music
Sutherland Brothers and Quiver (early 1970s)
Teardrop Explodes, The (14th November 1980 and (12th (or 14th) October 1982, Central Hall. Stephen Clarke tells, "Julian Cope's book gives a wonderful description of just how awful they were on this (1982) tour, and from my recollections of the Central Hall gig, it is pretty accurate.")
Ten Years After (1973)
Thin Lizzy (early 1970s)
Thomas Lang (3rd March 1988, was described by those there as one of the most boring gigs ever)
Thompson Twins, The (3rd March 1982, some reports suggest they also played 3rd March 1983, suspect this is a mistake)
Tir Na Nog (early 1970s)
Tom Paxton (early 1970s)
Traffic (Central Hall)
Troggs, The (28th November 1973, Central Hall)
U2 (26th January 1981, Autumn 1981 (Vanbrugh), 2 of about 3 college gigs they did in their early days)
UFO (20th January 1979)
Unit 4+2 (29/04/66, Central Hall)
Van Der Graaf Generator
Vinegar Joe (with Elkie Brookes on lead vocals)
Voulez-Vous (December1993, Goodricke. Abba cover band).
Wailers, The (4th May 1973, Vanbrugh College, some reports state Central Hall on May 1st. DS recalls, "The Wailers date was 4 May 1973, and was in a college (Vanbrugh, I think) Dining Hall, not Central Hall (The Wailers were not big in the UK at the time, 1973 was their first tour, during which they became more widely known, with TV (OGWT) and music-celeb-attended Speakeasy gigs)"). They were supporting The Wild Angels (a rockabilly band)

Wally (21st February 1975, Central Hall, a long forgotten prog rock band from Harrogate. (With that pedigree, best forgotten - Ed))
Wedding Present, The (23rd June 1995, Derwent College)
Who, The (York Uni sites states "Played Langwith at "Magic Bus" time and Central Hall at "Tommy" time. Ed – Magic Bus was released in September 1968 and Tommy was released in 1969. However Thewholive states the band played York University once only, on 11th October 1968. Other venues they played on that tour would suggest the Central Hall was the venue. The Who also played Derwent College(16th May 1970)
Wild Angels, The (4th May 1973, Vanbrugh College, supported by The Wailers)
Wilko Johnson (6th March 1981)
Wings (10th February 1972, Central Hall. Wings had earlier (approx. late 1971) played a "secret gig" under the name "Swift", in Goodricke Dining room when the band turned up and Paul asked, "Can I play tonight - Linda's not been on stage before and I want to give her a few concerts before going on tour". AD was there that night and recalls, "I did get to see the Paul McCartney / Wings gig in Goodricke College. Central Hall was being used for some event or other so they cancelled the evening meal at Goodricke so he could play there. I first heard he was playing when I was having my evening meal in Derwent College dining room. By the time I got to Goodricke the dining room was packed out to capacity but they opened the windows facing out towards the lake and I watched the concert from there. To be honest, the band was pretty rough and ready, but then that is why they went on the road – to get in some experience of playing live. The only Beatles song they did was Long Tall Sally. McCartney said before singing it that it would have to be their last number because it took so much out of his voice he would be no good for anything else. The only other song title I can recall them doing was Give Ireland back to the Irish. PM has rarely publicly indulged in overt national politics so this one was really one for the record books"). That same night, Manfred Mann played to a packed Hypnotique in the city centre.
Wishbone Ash (19th November 1971, Central Hall. This was also one of the first CH concerts where some of the local kids showed up drinking from ink bottles, supported by Peace)
Woodentops, The (approx 1984)
XTC (14th May 1981, Central Hall)
Yes (7th March 1969)
You Slosh (late 1980, played several times, York band)
Equally there are some report of many other bands, but due to a lack of corroborative evidence, they are listed here and not above but include Ace, Amon Düül II, Beth Orton, Bullet For My Valentine, Crazy Kavan (college gig), Credit To The Nation, Davy Graham, Ed Harcourt,Feeder, Gentle Giant, Ginger Baker's Air Force, Idle Race (Jeff Lynne's late 1960s early band), Lemonheads, Lew Lewis, Linda Lewis, Mari Wilson & The Wilsonettes (college gig), (The )Nashville Teens, Ronnie Lane / Ronnie Lane's Slim Chance, Skid Row,Skindred, Sore Throat (college gig), Ultravox and While She Sleeps.
Over the years, a number of bands "have got away" for various reasons:
Pink Floyd (or at least two of them) offered to return to play Derwent barbie for free.
Blur were turned down for Derwent barbecue, possibly by the SU.
Utah Saints were also turned down for Derwent barbecue (1993), but used to play Silks in town.
Sisters of Mercy The Sisters wanted to play their 10th anniversary gig here but were told to get lost by the SU in a stunning piece of shortsightedness.
Inspiral Carpets were advertised for the Alcuin Freshers' Gig, 1989.
Julia Fordham was booked to play Central Hall during her Autumn 1989 tour (17 November 1989). The gig was cancelled, according to the woman herself (during a later concert at the Barbican), because she was going to the toilet on the tour coach when the ironing board fell down and knocked her out. She wasn't really up to doing the concert after that.
Public Enemy - American rap band - wanted to come during 1990, but were turned down by the S.U. due to lack of a venue.
ELP Were supposed to be booked for Freshers Week in '71 but they bailed out and Colosseum played instead.
Nick W recalls, " Hi, Just read your history of music in York. I was at the University there in the late seventies. Just would like to add to your collection.
I saw The Gang of Four, Mekons, Passions, Black Slate, Delta 5 and Steel Pulse all at Vanbrugh in 78 - 79. Saw The Spitfire Boys and Members in Wentworth. Rezillos in Alcuin, The Skids in Central Hall in 1980 Freshers week.
It was Cabaret Voltaire with Joy Division at the Revolution in December 1978. I saw Cabaret Voltaire another night there when Sheffield bands were being show cased along with De Tian and a third band I can't remember. I also saw Toyah and John Cooper Clarke there.
There was also a Folk Festival in Derwent in the summer of my first year - 1978. It lasted a whole weekend and the Chieftains headlined it. The JCR, I believe, took a caning as they didn't sell many tickets.
Lastly the Barge on the Ouse is mentioned but not Best Friends. They more or less had a residency there, again if I remember rightly.
The late seventies was a magical time to be in York and I thoroughly enjoyed my time there. I had a couple of friends who both read music at York who played in Best Friends and I roadied once for them on a Sunday lunchtime to a place in Leeds.
The Skids gig more or less marked the end of my time there as I left York for London a few weeks later having graduated that summer. I lived in a flat in Bishophill on Priory street. The founder of the Redskins lived next door although he was a schoolboy in mod gear then. His old man had the music shop at the bottom of the Shambles. He came round one night late on asked me to turn the music down. It was the dub version of the XTC's Go+ album that was making the whole house hum.
I still have a single of Sema 4. I think I saw them one time at the university but it may have been in town. Another local band I saw was the Plooks (if I've spelt that right) who were a load of hard boys from Tang Hall. Again in town but can't remember where.
Another place I remember was Red Rhino Records on Goodramgate. I think they opened in my first year. Bought all the singles I own from there. The owner gave me a Crisis single, which I'd heard John Peel play on his late night show a few days before, for picking up his delivery from the Red Star parcel office at the station one Saturday.
Very fond memories. All the best. Loved the site.

Mike H, probably from earlier in the 70s recalls, Fascinating archive which really stirred up memories of when I was a serial gigger in the 70's Just a few that sprang to mind
York University (both at the colleges and the Central Hall): Steeleye Span, String Driven Thing, Horslips, JSD Band, Jack the Lad, Sensational Alex Harvey Band, Fusion Orchestra, Be Bop Deluxe, Kevin Coyne, Stackridge, Rory Gallagher, John Martyn, King Crimson, Ravi Shankar, Free, Jethro Tull, Average White Band, Richard and Linda Thompson, Genesis, Leo Kottke, Keith Christmas, Alvin Lee and Co, Sandy Denny, Supercharge, Dr Feelgood, Family, Sutherland Brothers and Quiver, Climax Blues Band, Mott The Hoople, Tom Paxton, Michael Chapman, Chris Darrow, Joburg Hawk, Tir Na Nog, Jess Roden, Jonathan Kelly, Roy Harper, Gryphon, Incredible String Band, Hustler, Groundhogs, Gillan.
Archbishop Holgate School: The Edgar Broughton Band, Trapeze, Amon Duul II, Flash, Cat Iron, Henry Cow.
Theatre Royal: Fairport Convention, Genesis, Capability Brown, Spreadeagle, Lindisfarne, Hedgehog Pie
York Tech: Kevin Coyne, Principal Edwards Magic Theatre, Heavy Metal Kids.
At the same time, Mike's later to be wife recalls seeing Italian prog rockers PFM (Premiata Forneria Marconi) and American country band, Clover (featuring a young Huey Lewis and members who later played on Elvis Costello's 1977 debut album, My Aim Is True).
Thanks for stirring many happy memories, Cheers, Mike

Kevin Nixon Recalls ...

I remember the Pop Club at the side of Clarence St Rugby Ground and I remember playing there with I think the UK Subs while I played bass for Cyanide after producing some stuff for them. I also had a couple of other bands in York before I left for good in 1979. My first band was called Patches which was around '73/4 which came from some hanging with some mates at York Arts School. I then joined Flight (Pete Martin, Mick Adamson, and Kev Nixon) and we had a deal with a production company based at 10cc's Strawberry Studios in Stockport which happens to be where many of my Nixon family are from, so I was over there a lot and had my songs covered by a few other artists such as The Merseybeats. In 1977, I put a band together called Bulldog Breed (Mick Adamson (vocals), Steve Roberts (drums) and Kev Nixon (bass), later to include Pete Martin (guitar), Brian Rogers (guitar) and Ricky Secera (keyboards)) for a short while and turned down a management offer from Dave Leaper and Mal Spence in favour of my label boss Paul Murphy. I then dumped some of the members and changed the name to Miami Dolphins and we opened for The Rich Kids on their 1978 UK Tour. This came about because I knew Mick Ronson who was the Rich Kids producer.

Paul Murphy kicked off my career as a producer and session player and I made an album for Lovely Previn, daughter of Andre. To keep the budget low we demo'd her songs somewhere in York and I used some of my old York mates on that album, they were Steve Cooper, Andy Nolan and George Hall. I then played with the UK Subs for a few weeks and co-wrote with them while recording Previn at Jacobs Studios in Surrey where I went on the make about 12 albums. I also co-wrote and produced Patrick Hernandez in Belgium (with 19 yr old Madonna on backing vocals), and I toured Europe with Shakin' Stevens, again using my York session mates.

In 1982 I started my first business, Powerstation Records in my publishers building in Wandsworth (now Beggars Banquet), and have been building my own businesses since. My first signing was Alex Harvey who sadly died shortly afterwards. Around 1984 I was offered a property partnership on a building in York and opened some rehearsal studios. I decided to temporarily relocate Powerstation there for 3 years family reasons. The label broke through in the US and several other countries with bands like Tokyo Blade, and I started working in New York. Just before I moved back to London I discovered Little Angels in Scarborough whom I decided to manage, mainly because the managers of my labels bands were all useless. I signed Angels to Polydor and we had 11 Top 40 hits in a row, most of which I produced and some of which I co-wrote. We also had a number one album with their 3rd album that I made in Vancouver and played bass on it too. We also toured with Bon Jovi, Van Halen, ZZ Top, Bryan Adams and Aerosmith among others.

I then signed Francis Dunnery and signed him to Atlantic (by Ahmet Ertugan) and opened an office in NY. Next I found Kula Shaker who were called The Kays at the time and I signed them to Sony / Columbia and we rocketed to number one in 18 countries selling 2.5m of their debut album K, much of which I produced but chose not to take a credit. We also won 2 Brits in '97. I also managed Kirsty MacColl and we made her last album together. I then worked in the US on projects with Dreamworks, Epic and V2 before accepting a partnership with Richard Branson and becoming a Director of V2. In 2001 I quit V2 and decided to go into Music Education found BIMM Music Colleges in Brighton and which we built into the biggest Music Education business in Europe and sold in 2012 to Private Equity. In 2014 I moved to Detroit and founded DIME in Detroit Denver and Online.

That's my life!

Angel Pavement

Clive "Alfie" Shepherd posted the following on the York – Bands Of The Past facebook site on 12th November 2020.

There has been some interest of late on this group site in Angel Pavement, the York based professional band active from 1967-1971, so I thought it might be a good idea to post a copy of the draft booklet written by David Wells and included with the double CD released earlier this year on Secret Records. It's a bit long-winded and I apologise for that but maybe it's a story that should be told as a lot of contributors to this site were probably not even born when we trod the boards! There are a lot of 'what ifs' to our story - what if Mick had been a year older and we were able to take up the Purple Onion Club offer in San Francisco - what if we had kept going for a wee while longer. After all Mud, The Sweet and (dare I say it!) Gary Glitter supported us in 1970. You need a large slice of luck in the business and it avoided us when it mattered, but I think we can all hold up our heads and be proud to have been one of York's many talented bands of the 1960s. Enjoy. ANGEL PAVEMENT notes:-

Disc One
The Man In The Shop On The Corner (lead vocal Alfie)
Time Is Upon Us (lead vocal Graham)
Napoleon (lead vocals Paul/Alfie)
Socialising (lead vocal Alfie)
Jennifer (lead vocal Paul)
When Will I See June Again (lead vocal Paul)
Water Woman (lead vocal Paul)
Little Old Man (lead vocal Alfie)
Green Mello Hill (lead vocal Paul)
Genevieve (lead vocal Paul)
Maybe Tomorrow (lead vocals Paul/Alfie)
I'm Moving On (lead vocal Alfie)
Disc Two
Phantasmagoria (lead vocal Paul)
Rooftop Memories (lead vocals Paul/Alfie)
Tootsy Wootsy Feelgood (lead vocal Graham)
Flying On The Ground (Is Wrong) (lead vocal Paul/Alfie)
Hey Grandma (lead vocals Paul/Graham/Dave/Alfie)
Five Sisters (lead vocal Alfie)
Baby You've Gotta Stay (lead vocals Paul/Alfie)
Tell Me What I've Got To Do (lead vocals Paul/Alfie)
I'm A Dreamer (lead vocal Paul)
Carrie (lead vocals Paul/Alfie)
Desperate Dan (lead vocals Graham/Paul)
Madison Blues (lead vocals Mike/Alfie)
Dem Bones (lead vocal Mike)
Pick A Bale Of Cotton (lead vocal Mike)
Maybe Tomorrow (early mix) (lead vocals Paul/Alfie)
I'm Moving On (original mix) (lead vocal Alfie)
Active for roughly four years at the end of the Sixties, Angel Pavement released just two singles in their lifetime – 'Baby You've Gotta Stay' b/w 'Green Mello Hill' in October 1969, followed by 'Tell Me What I've Got To Do' b/w 'When Will I See June Again' in January 1970. Despite numerous high-quality recordings being made at Morgan Studios in Willesden, north-west London, the group failed to obtain a release for their intended album, "Socialising With Angel Pavement". Here we reconstruct that LP for the first time on Disc One of our anthology, with the remaining Angel Pavement recordings – several of which are previously unissued - appearing on Disc Two.
A five-piece outfit hailing from Yorkshire (as, indeed, did so many Morgan acts, including The Smoke, Cliff Wade and Red Dirt), the band were christened by their leader, chief songwriter and lead guitarist Clive 'Alfie' Shepherd, after the 1930 novel by Yorkshire-based writer J. B. Priestley that depicted contemporary London from an outsider's perspective (parenthetical aside for US garage fans: Priestley also wrote Blackout In Gretley, which inspired a classic 1967 garage punk single by Iowa band Gonn).
Though the memories of all surviving members of the group are on the hazy side, Angel Pavement grew out of a soul-based band called Wesley Hardin's Shotgun Package, who collapsed in what is widely perceived by psychedelic pop fans to be the Year of the Great Leap Forwards: 1967. Alfie Shepherd (lead 6 and 12-string guitars) was keen to assemble a group who, in addition to bearing the influence of such British bands as The Hollies, The Zombies and (of course) The Beatles, were able to emulate the new harmony-based West Coast pop sounds drifting across the Atlantic. He and Shotgun Package drummer Alan Reeve joined forces with Neil Webster, who left to be replaced by Paul Smith (lead vocals), Dave Smith (guitar) and Graham Harris (bass) to create Angel Pavement – though Reeve didn't actually last too long, being replaced in early 1968 by Mike 'Candy' Candler. Candy had previously been with Graham Harris in The Machine, a mod pop outfit who in June 1967 had supported the embryonic Procol Harum at the deathlessly-titled Tinned Chicken Club in New Earswick. But The Machine had malfunctioned by the end of the summer, and in October 1967 Candler had joined singer Cliff Wade's band The Roll Movement. That gig didn't last long, though, as the disillusioned Wade broke up The Roll Movement early in 1968 – at which juncture Candy joined Angel Pavement.
Even in their early days, Angel Pavement had an adventurous, West Coast-influenced repertoire. "We were heavily influenced by Arthur Lee", says Alfie Shepherd. "Even when we were a semi-pro band, we used to perform 'Orange Skies', 'Que Vida' and 'She Comes In Colours' from the Da Capo album as part of our stage act. In those days most of the York folk didn't have a bloody clue who Love were!"
No-one is too certain of the exact dates, but it seems to be at around this period that Angel Pavement decided to showcase their harmony-based acid pop stage act with a brace of local studio demos that weren't so much lo-fi as no-fi. The first, a 33rpm EP recorded in Sheffield, featured a fine interpretation of Buffalo Springfield's 'Flying On The Ground (Is Wrong)' as well as a more prosaic stab at Moby Grape's 'Hey Grandma'. Arguably more interesting, however, were the two original tracks also featured on the EP. The ambitiously-structured 'Five Sisters' was an evocative vignette inspired, as Shepherd relates, by the stained-glass window of the same name in York Minster ("I wrote it in the hope that it would be recorded and that all proceeds would go towards the York Minster Appeal Fund, which was active throughout the Sixties and resulted in much-needed repair work"), and 'Tootsy Wootsy Feelgood', written by Graham Harris, which despite its unpromising vaudevillian title, turns out to have been a thrilling slab of chunky psychedelic pop that sounds uncannily like an out-take from the first Nazz album. The EP was also notable for displaying the enviable vocal talents at the band's disposal, with no less than three featured lead singers – Alfie Shepherd on 'Five Sisters', Graham Harris on 'Tootsy Wootsy Feelgood' and Paul Smith on the two cover versions.
The second acetate, made at Sound Recording & Equipment Hire in Leeds, was equally impressive. The melodic structure and complex vocal harmonies of Dave Smith's 'Rooftop Memories', performed by the band a few months later on Yorkshire Television, recall Butterfly-era Hollies, while 'Phantasmagoria' – written by the group's manager, Mal Spence – was a sweet-toothed toytown paean to flower children everywhere that found them "floating down the river on a sycamore leaf". "We experimented a bit on that one", remembers Alfie Shepherd. "Mike Candler used tympani drum sticks (lollipops!) on the drum track instead of wooden ones, but unfortunately the sound was a bit muddy."
By now Angel Pavement had acquired something of a a reputation in and around York, as Graham Harris recalls. "We did all the working men's clubs with Angel Pavement, which must have done them good because of our following. It was the Pink Floyd era. They used a hot wax thing between two sheets of glass, projected behind them so it looked like amoebae, and they also had smoke. We had a road manager who worked at the hospital, and he borrowed this projector and slides for the coloured water, and he moved it around so it looked like amoebae. Cracking! The amoebae worked very well but the smoke was a bit of a problem and we cleared the place (Enterprise Club), they all went out as if someone had thrown tear gas!"
Eventually, however, Angel Pavement tired of being big fish endlessly circling the same small pool. When Candy's old friend Cliff Wade moved down to London to team up with old friend Geoff Gill at the newly-built Morgan Studios in Willesden, it was perhaps inevitable that Angel Pavement would follow the same route. A founder member of the recently defunct Smoke, Gill was keen to establish himself as a producer, and he invited Angel Pavement to record a couple of demos at the studio. They arrived in London in October 1968, almost immediately playing a couple of gigs at Sibylla's, a trendy Swallow Street (Mayfair) nightclub part-owned by George Harrison. In the audience for one of the group's performances was an entrepreneur by the name of Jorge Rubio, who owned a string of Mexican hotels and was looking for a British pop group to work at his venues.
Despite the stiff competition on the London club circuit at the time (also playing at Sibylla's that November were the Iveys, Scrugg, Granny's Intentions and the New Formula), Rubio was sufficiently impressed by Angel Pavement to offer them the gig. The group had already cut a handful of songs at Morgan for a proposed album, but they put their recording ambitions on hold to fly to Mexico City in February 1969 for what was initially intended to be an extended working holiday. "Because we were away, we didn't have any distractions", remarks Alfie. "We literally lived and breathed music. Over there we got to know the local groups… Mick Fleetwood popped in to the hotel to see us on one occasion, but we weren't there. When we got back, he'd written on the telegram paper, 'Hi there, Mick of Fleetwood Mac popped in to see you, sorry I missed you guys, make lots of dollars."
Their Mexican sojourn eventually lasted five months, during which time they were resident group at the La Pinta club and played many prestigious live gigs in front of thousands of fans. They were also invited to go north of the border to play in San Francisco at clubs like The Purple Onion, but visa problems – at only 17 years old, Candy was too young for a work permit – meant that they were unable to enter America. The appeal for US promoters was obvious: in addition to self-written material like 'Little Old Man', 'Napoleon' and 'Tootsy Wootsy Feelgood', a typical Angel Pavement set list contained a plethora of West Coast-friendly harmony pop covers such as 'Time Of The Season' (Zombies), 'On Love' (Skip Bifferty), 'It's Alright Ma, It's Only Witchcraft' (Fairport Convention), 'The New Age Of Lily' (Joe Cocker), 'Flying On The Ground (Is Wrong)', 'Burned', 'Rock'n'Roll Woman' (all Buffalo Springfield), 'Hey Grandma', 'Come In The Morning' (both Moby Grape) and the aforementioned Love songs.
When Angel Pavement returned to England in July 1969, they were once again placed under the wing of Morgan staff producer Gill. Alfie Shepherd: "When we were recording in London, we always stayed at the Madison Hotel in Sussex Gardens, Paddington, which catered for groups (and any other down-and-outs!), having an average of six beds in every room and just serving breakfasts all day. We commonly dined with the likes of Joe Cocker's Grease Band, Granny's Intentions and Van der Graaf Generator. It was a dump, but cheap. We immortalised it in a song we recorded at Morgan in 1969, 'Madison Blues', which was intended to be a skit on 'The Ballad Of John And Yoko' that musically parodied Taj Mahal's 'Statesboro Blues', but with lyrics about the Madison Hotel that, looking back, were probably libellous!"
'Madison Blues' gains its first-ever public airing on this CD anthology, and is joined by similarly playful versions of a couple of old tunes that are also previously unissued. Alfie Shepherd: "The idea for 'Madison Blues' was inspired by Mike Candler, who used to sing Negro spirituals in the van on the long journey home in that inimitable voice of his, and we all joined in. One recording session, we were flagging at about three in the morning when he suddenly launched into 'Dem Bones' followed by 'Pick A Bale Of Cotton'. It was no more than a laugh, but Geoff Gill insisted on laying it down on tape. It got me thinking. I had long been toying with 'Madison Blues' as a tongue-in-cheek homage to 'Statesboro Blues', but couldn't see the rest of the boys buying it - but with Candy on vocals alternating verses with myself, it might work. Geoff was sold on it, so fait accompli! We never performed it on stage though – that would have been taking the joke too far!"
Throughout the summer and autumn of 1969, Angel Pavement worked with Geoff Gill on a number of recordings, though original guitarist Dave Smith dropped out midway through sessions. After briefly carrying on as a four-piece, the group recruited another former Roll Movement member, John Cartwright, on acoustic/electric guitars and trumpet. "We felt Dave had reached the limits of his ability in terms of our musical direction – and I don't mean that to sound unkind", reflects Alfie. "John was a very competent guitarist and his acoustic guitar complemented the sound, but also he'd been a trumpeter in the York Youth Orchestra as a lad, and that was a bonus. He added trumpet to tracks we had already recorded at Morgan ('Man In The Shop On The Corner' and 'Napoleon') and changed them for the better. After he joined, the trumpet was always an integral part of our live act…"
The recruitment of Cartwright also impacted on their live show. "John also admired Love, and he suggested that we include 'Alone Again Or' in the stage act", says Alfie. "We all agreed, and I absolutely loved playing the guitar on that song, for which I ventured into a fingerstyle mode of playing."
Like most internal Morgan projects, Angel Pavement recorded in 'dead' studio time, and Mike Candler recalls that they were obliged to wait for paying customers like Jethro Tull to finish before embarking on their own sessions around midnight. It was in the wee small hours that they worked on a projected LP, including a couple of adroitly-chosen covers in 'Water Woman' (from the first Spirit album, also covered by a couple of fellow late Sixties Britpop hopefuls, Manchester outfit Pacific Drift and Leeds band Amazing Friendly Apple) and 'Maybe Tomorrow', the debut single from pre-Badfinger band The Iveys, whose version had been partially recorded at Morgan Studios a few months earlier. "Candy's sister actually bought the Iveys' record, and she suggested it would be a good song for us to do", recalls Alfie. "We performed it in our stage show. Geoff Gill loved the song, and said we must record it with full orchestration."
"'Maybe Tomorrow' seemed to suit our vocal style", agrees Graham Harris. "We decided to record it for the LP when we got back from Mexico. Our new guitarist, John Cartwright, added some lovely acoustic guitar work to it."
However, the Morgan sessions primarily consisted of a number of gorgeous originals, firmly influenced by the baroque pop likes of The Left Banke, The Zombies and Honeybus. Mike Candler and Mal Spence were responsible for the fragile 'Genevieve', but the bulk of the material was penned by Alfie Shepherd. Like Alan Hull and Kevin Coyne (both of whom had worked as psychiatric nurses early in their careers), Alfie's songs were sometimes shaped by his own experiences of hospital work.
"'Little Old Man' is actually about a real little old man, long dead now no doubt. He was a patient in the local mental hospital (where I worked in the Pathology Department), and he used to spend all his days walking around the patterns on the twelve-by-eight carpet in the middle of the ward – hence the lyric about "going round and round and round". He was nicknamed 'Waltzing Matilda' by staff, as in the song."
"'Napoleon' was written the year before we went to Mexico, and was also part of our stage act for quite some time. Again, like 'Little Old Man', it was borne out of the subject of mental illness – it's that old thing of mentally ill folk imagining that they are Napoleon. The subject of the song imagines that he has achieved many travels and personae."
While Alfie supplied the bulk of the material, the Morgan mafia also chipped in with a few songs. Cliff Wade (whose 'Firework' was often featured in Angel Pavement's live shows) came up with the typically surreal, Move-inflected bubblegum pop charmer 'Jennifer', while Danny Beckerman donated the lushly-arranged 'Baby You've Gotta Stay' (the band only contributed vocals to this one, with Morgan sessioneers – including Geoff Gill on drums – responsible for the backing track) and the whimsical pop-sike nugget 'Green Mello Hill'. Beckerman and Gill also teamed up for 'Tell Me What I've Got To Do', while Gill was responsible for authoring 'Carrie'.
But aside from those two aforementioned singles, nothing was delivered. After two relative flops (though the group's publicity material claimed that 'Baby You've Gotta Stay', which was apparently played by BBC DJ Kenny Everett for six consecutive Saturdays, reached No. 39 in the UK charts), and despite appearances on radio programmes like Radio One Club and Sounds Of The Seventies, Fontana nixed any further releases. With Morgan factotum Monty Babson's own label, Morgan, having bitten the dust by this point, Angel Pavement were placed with the clearly uninterested Bell label in time for an intended third single, 'Carrie', but this failed to gain a release despite advance publicity. Even more peculiarly, a further single, 'Maybe Tomorrow' b/w 'The Man In The Shop On The Corner', and a debut album, "Socialising With Angel Pavement" (to consist of "twelve original numbers written and arranged by the group"), were trumpeted for an August 1970 release but also didn't make it to the shops (on the corner or not). In view of these dates, it's probably worth pointing out that the bulk, if not all, of the material had been cut many months earlier, and that, rather than commissioning new sessions, Bell seem to have acquired the group's contract and recorded material lock, stock and barrel.
There were other problems as well, with main composer Alfie Shepherd falling out with producer Geoff Gill and Morgan's publishing arm over the treatment of his songs. The main bone of contention came with 'I'm Moving On', which was revisited after Alfie objected vociferously to the original mix. Nearly half-a-century later, Alfie still fumes when the subject is raised. "I felt 'I'm Moving On', which featured B. J. Cole on pedal steel guitar, was one of my best songs. Geoff Gill's original mix was awful. He cut out the guitar instrumental – beautifully arranged by John Cartwright – to shorten the song in anticipation of it being our third single, saying it was too long to get radio airplay. He also introduced what I can only assume to be a passing Salvation Army big bass drummer to 'give it some depth'. So all this resulted in a major disagreement between myself and Morgan Music. The upshot was that we fell out, and I refused to sign the song over to Morgan Music – in fact I still have all the unsigned contracts."
The band were rehearsing a new batch of Alfie Shepherd songs such as 'Sad Statue' (a home demo of which still exists) when they decided to call it a day at the end of 1970. As with similar album-length projects from Cliff Wade and Chimera, the Angel Pavement sessions were to remain in Morgan's abundantly-stocked archives while the group made their way back to York with Terry Malloy-esque tales of how they coulda bin contenders…
With the exception of Mike Candler, who later became involved with folk-rock outfit Decameron and spinoff act the Johnny Coppin Band, none of the members of Angel Pavement maintained a full-time career in music. Paul Smith looked after York group Flight, who made a couple of mid-Seventies singles (both produced by Geoff Gill), while Graham Harris similarly became manager of another local band, House, who contained yet another former Roll Movement member in bassist Pete Shaw. House released a trio of 1971-72 singles that were also recorded at Morgan with Geoff Gill as producer: these included a cover of 'Chirpy Chirpy Cheep Cheep' that lost out to Middle Of The Road', while another A-side, 'Rhythm Of A Big Bass Drum', was presumably recorded by Gill merely to further enrage Alfie Shepherd! House also appeared in a York Theatre Royal production of A Midsummer Night's Dream, for which they and Graham Harris penned ten original songs.
Meanwhile, Alfie Shepherd continued to write and record at home – indeed, he still has a home demo of a song, 'I'm Only The Postman', that was written as early as 1966. In addition to his stint with Angel Pavement, he collaborated with colleague Terry Morris throughout 1968-69 to write a musical adaptation of The Wind In The Willows, a venture that Larry Oakes (who choreographed Lionel Blair's Oliver) was keen to produce on stage after hearing Alfie's demo tape, on which he played various instruments and multi-tracked the vocals. Sadly that failed to come to fruition, as did an attempt to donate two songs, 'Elizabeth Knows' and 'The Resurrection Man', to a York Festival. These tracks were due to be recorded with Geoff Gill at Morgan in 1971, but Alfie was told that the Master of Music at York Minster, Dr. Francis Jackson, objected to "the devil's music" (i.e. pop) being utilised for what was essentially a religious festival to celebrate York's 1900 years of existence. Strange, then, that a Smoke single 'Ride Ride Ride (Dick Turpin)', also produced by Geoff Gill at Morgan and also clearly designed to promote the festival, was issued by Monty Babson on the one-off Pageant label…
As both Nick Lowe and Kurt Vonnegut have observed, so it goes. Although one or two tracks are still missing in action, this anthology assembles every Angel Pavement recording that has survived to provide the fullest overview possible of a group who were very much a product of their time. "Nothing lasts forever", Alfie Shepherd now rationalises. "The whole magic thing of the Sixties and flower power, the hippie era – you can't keep that sort of thing going. It just ran out of momentum, and so did Angel Pavement."
DAVID WELLS
January 2019
This release is dedicated to the memory of Dave Smith and John Cartwright, who died in 2012 and 2017 respectively. Both men are still greatly missed by their families, friends and former colleagues.
Lost In Action
"Gerry B and The Rockafellas", founded as The Dare Devils and later "Gerry B and the Hornets" were fronted by Gerald Harrison who went on to find fame as comedian Dustin Gee and his partnership with Les Dennis was an ITV staple in the 1980s before his untimely death in 1986.