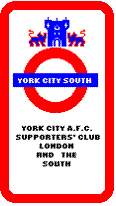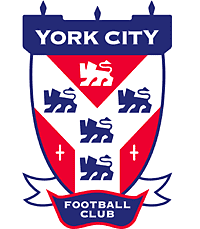 Southern Connections: 2017/8
Read again our branch's contribution to the City programme throughout the season. For 2017/8, it will appear about 6 times during the season.
Nuneaton (August 19 2017 / Derek Feasby) Welcome
It is great to be back at Bootham Crescent for another season. As Gary Mills said, the season started at Wembley in May.
It's not going to be in the Division we hoped it would be, but that said, it is very heartening to see the excellent number of season ticket sales, among whom are some of our members. Of course we face longer travelling distances than we have ever done before.
Whilst the big clubs seem to become more detached daily from reality, its good to see clubs like York City still hold a special place in the hearts of many, in my case 3 generations regularly follow City. We would not want to travel to see the big clubs. Following clubs like ours, you have the chance to chat with players and management and to be directly engaged with supporting and fund raising for the club. Would we exhange that for the privilege of a prawn sandwich and constant changes to kick off times to suit TV? No thanks! In this regard, we have arranged for Graeme Crawford, our highly rated keeper from our successful 1970s side, to come down and speak to us on Thursday October 19 at 7:30 pm at The Perseverance 63 Lamb's Conduit Street, London WC1N 3NB. All welcome. Its an independent freehouse in Bloomsbury, close to both Russell Square and Holborn tubes.
Although its going to be more difficult, I'm sure our members will make it to many of the new northern outposts. We'll be easy to spot with our new, rather special YCS flag.
Down south, we'll have our usual mix of events with guest speakers, darts tournament, Christmas parties and quizzes included.
A first for us will be our support of York City Futsal when they make 3 trips to London in the spring.
Here's hoping for a successful season.
York City South welcome new members. If you are based in 'the south', please get in touch. Membership is still just £10 for the year [and includes membership of York City AFC 1922 Supporters Club]; Juniors £5 for the year; £125 life membership. Join Now.
Visit our York City South web site for all the latest branch updates [with thanks to Chris Forth our webmaster].
See your name in print The branch is invited to write a short article in every City home programme. The more people who contribute, the more varied and better our page becomes. Email Dot, our programme page co-ordinator with your words. As always a photo helps, but isn't necessary. Most things City related go, so write now, write here.
KEEP IN TOUCH You can get in touch with York City South in the following ways:
Web: York City South
Email: Email YCS
Twitter: @YCFCSouth
Facebook: Search for 'York City South'
In Person: Look out for our flags and come and find us at games, both home and away