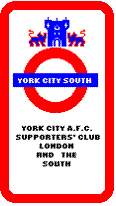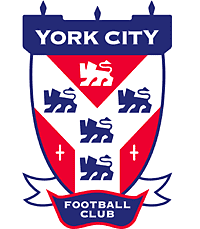 Southern Connections
2012/3
Read again our branch's contribution to the City programme throughout the season.
Southend (April 20 2013 / Neil Rank)
Hospitality
Fifteen of the intrepid York City South (YCS) congregated outside the ticket office to be met firstly by our genial and inimitable organiser Dot Goodearl and then by our convivial host Dave Hendry for the game against Accrington Stanley, where we enjoyed the pleasures of a hospitality box. Conversation before the game, aside from the usual catch ups, centred around this being a need to win game – well it would lift us out of the bottom two. Half time arrived and we were all in bouyant mood as we were winning 1-0. At full time Accrington's last minute equaliser sadly set a somewhat solemn mood for the next half hour as we watched the results come through on TV and reflected on what could have been. The mood was quickly lifted somewhat by the arrival of a number of City players – Dave McGurk to meet us during his Testimonial Year and to thank us for attending his benefit dinner, Matty Blair to collect his overdue 2011/12 YCS Player of the Year award, Michael Ingham and Danny Parslow to collect their 2012/13 YCS Player of the Year award (yes, there was a tie for first place), Chris Smith (sporting a lovely black eye received in the Plymouth game) as Man of the Match and John Challinor to thank Jan and Steve for sponsoring his kit for the season. All the players were more than happy to chat about the game, sign autographs, and pose for pictures - what a really nice bunch of guys. A great day was had by all and we all look forward to doing it again next season, hopefully in the Football League.
Wedding Congratulations to Melanie and Andrew: Much as she'd love to be at the match on 27 April, one of our members will be cheering City on from afar for the last game of the season. Melanie Seaman is getting married to Andrew Brewitt that day - and will be anxiously waiting for updates from the match at Dagenham.
Next events: At the time of writing the arrangements for our end of season social [with AGM] are being finalised - so please check our website for details.
Accrington (April 6 2013 / Joel Stern)
Hospitality Day
Good afternoon. York City South are back at Bootham Crescent. We last took hospitality for the Hayes & Yeading match last season and were so well looked after that we decided to return. It is a great way for us to support the club financially whilst giving our members the option to 'get a bit closer' to the matchday experience. Obviously this year, we are in a very different position to that which we were in last year and today's game is crucial not just to preserve our league 2 status but everything we worked so hard for over the past 9 years.
Season 2011/12 was obviously a highlight and today York City South will present Matty Blair with his YCFC South Player of the Year trophy for season 2011/12. We would like to congratulate Matty on this achievement and will also present this season's YCFC South player of the year (winner to be confirmed) with his trophy.
Whatever happens today and before the end of April, we all need to stick behind the club and those who run it on our behalf - together we are stronger. I hope you enjoy today's game (and the result)!
Port Vale (March 16 2013 / Dot Brown)
City Match Stats
The latest update to the www.yorkcitysouth.co.uk is a refreshed set of City statistics from one of our branch members. His comprehensive works include all City match results, player appearance and scorers records. Other items include a list of the 32 times we've played live on British TV plus details of our top transfers, attendances and manager records. He also reveals that Gary Mills has become our fourth successive manager to end his City career with more wins than defeats. It is all available for City supporters to download for free at www.yorkcitysouth.co.uk.
Bradford (March 2 2013 / Chris Forth)
York City South Website
Please check the yorkcitysouth website at www.yorkcitysouth.co.uk for all latest updates to the painstaking work on two projects. First is Peter Beasley and his detailed comprehensive match stats for all the games on our return to The Football League. And secondly, Ray and Dot Goodearl give an update on their attempt to drink dry every pub in England with the word "York" in its name. Both projects are free to download for all City supporters. Meanwhile, elsewhere on the site, as well as all the branch news and upcoming events, the Archive pages includes a mass of York City information. "City Kits Through The Ages", City players contracts, a look at possibly our Worst Ever XI and links to New Frontiers, a long running City fanzine have recently proved very popular.
Morecambe (February 2 2013 / Chris Forth)
York City South Website
Our www.yorkcitysouth.co.uk website has undergone several updates in the last few months. As well as all our branch news and gossip, you can read and download a host of City related information.
Watch over 100 of City's best moments on film (they date back to 1938 and include many from our 1974-6 stay in Division 2) and find out which players are out of contract this summer. Several of our members have had their work published. Check out Andy Naylor's extensive statistics (how many of the 32 times we've appeared live on TV can you remember?), Peter Beasley's 2012/3 match by match analysis and Chris Forth's New Frontiers, you can even download the latest edition for free. Happy reading.
Our next social evening is on Wednesday 20 February from 7.30 pm at the The Old Doctor Butler's Head Public House, 2 Masons Avenue, London EC2V 5BT. All welcome.
Burton (January 1 2013 / Neil Rank)
David McGurk's Benefit Dinner
We would like to wish everyone "Happy New Year 2013". York City South are planning some events and will announce the details soon. We also have an idea for a York City South weekend away for the 23 March match at Torquay. Check out the details on our website and contact our Chair at ycfcs@hotmail.co.uk if you are interested.
A select number of us had the pleasure of attending David McGurk's Benefit Dinner at the end of October 2012. Whilst many will have already read the acknowledgement of our presence on the club's website much happened on the evening which is worthy of additional mention. Very noticeable was the number of City players in attendance, all of whom were more than happy to chat and autograph the evening's Souvenir Brochure. Also in attendance were Gary Mills and his wife, both of whom were more than happy to join in conversation about football and family related matters. Arguably the best display of the bonding within the squad since the Matty Blair Dog Saga!
Craig Hignett gave us an excellent insight into the 'goings on' at Middlesborough Football Club during its heady Premiership days and mention must also go to the comedian for his hilarious performance. David McGurk was however, without doubt, an excellent host, and stated his willingness to address the City South section when City were next in London. A number of us got a bit carried away in the bidding auctions; thankfully only one was successful; but we did enjoy some success in the raffle. A most enjoyable evening and thanks go to Dave Wood for arranging a memorable evening.
Northampton (November 6 2012 / Dot Goodearl)
Northamptonshire Dilemma
In some families their football allegiances can be divided between different teams. One of our members, Sally, married a Cobblers fan and now lives in Northamptonshire where her two sons were both born. Her youngest son, Michael, shows an interest in York City ( and was also a member) where her eldest, Andrew, followed his father to be a dedicated Cobblers fan - and he will be at Bootham Crescent tonight. Over the years this has created a lot of interest and banner waving when the two teams have met - making a good excuse for a weekend visit and a few drinks after the match. We look forward to playing the Cobblers again - may the best team win! Come on City!!
Dagenham (October 20 2012 / Dot Goodearl)
Our First Munro
Ages ago we watched a TV programme on the Munros - hills in Scotland over 3.000 feet mapped by Sir Hugh Munro. Munro produced the first list of hills, known as the Munro Tables, in 1891. A challenge was set to climb a Munro. So a trip was planned, with a lot of research into the timing - taking into account the football fixtures [the best time to climb was during the football season to avoid the midges] plus transport links to Bradford City for the match on 13 October on our return journey south to London. A cottage booked near Arrochar - and Munro routes researched. The day arrived [7 October] and a group of us set off to climb BEN CHONZIE near Loch Lednock. We were lucky with the weather and eventually found ourselves 3,054 feet high at the top - with some great views of the area. We left Scotland early on 13 October down the motorways and then across country to Keighley. From there we took the local train to Bradford Forster Square. Then a quick walk to the ground [with a Bradford fan based in York showing us a short cut] and we arrived just in time to see the teams ready on the pitch and the whistle blown to start the match! What a grand way to end our holiday!
Coventry (October 9 2012 / Dot Brown)
Andy Naylor - 1,000 City matches
Branch life member Andy Naylor, tonight reaches the milestone of attending his 1,000th York City match. His first was in 1966 just after his family moved to York from London, and he has stayed loyal to the club despite living in London since 1981. He recently clocked up 200,000 miles following City, has seen them play on 154 different grounds and beat 126 different clubs. Fittingly, tonight our visitors are Coventry City are the only league club the Minstermen have played in his lifetime that Andy has not seen them play before (he was under two when they last met!). Andy's favourite match has to be the superb League Cup victory against Manchester United in 1995. Very few clubs in world football can ever say their last visit to Old Trafford saw them win 3-0, let alone with a fourth wrongly disallowed for offside. His biggest regret has to be that the 1986 FA Cup replay at Anfield was not televised. Apart from a great solo goal from Tony Canham, it featured the controversially disallowed Keith Walwyn goal that could have knocked out the eventual Double winners. Andy has witnessed many City ups and downs, including all their Wembley appearances, wins against more than half of the current Premiership clubs, and was part of the highest and lowest league crowds in their history (46,802 and 1,167). Enjoy your 1000th match tonight Andy.
Rotherham (October 6 2012 / Dot Brown)
Moonwalk - Winning Ways
A welcome return to winning ways last Saturday at Aldershot, gave a chance for Southern based fans to meet up at one of the more local venues. One of the leading lights in the concept of York City South, Lawrence Fray, was back in London for the weekend, so an unmissable chance was taken to reminise in the 'Hole in the Wall' at Waterloo Station and soak up the victory. With more southern matches around this season than in the past few years, it gives the 'down South' fan base many opportunitites for similar events. From the New Year we have nine southern matches to test our away form merits - another good reason to join us! Also - a thank you from Secretary Dot for all the fans and friends who sponsored her to do the London Moonwalk half marathon which took place on the evening of the FA Trophy victory at Wembley! Dot raised ¡ê746 for 'Walk the Walk' uniting against breast cancer charity - thank you!!
Fleetwood (October 2 2012 / Joel Stern)
Great North Run - Thank You
Those who have read these notes previously and who subscribe to the 'There's Only One Arthur Bottom' newsletter will know that I took part in the Great North Run this year. I have to say, when I wrote to York City South Secretary Dot Goodearl and asked if she could mention it in one of her regular newsletters, I had no idea the response I would receive would be so humbling. I have received donations to my charity fund (Bowel Cancer UK) from a number of City fans, from all over the world, some of whom I have never met. It speaks volumes of the kind of people who support our club that they would sponsor a complete stranger on a request received in an email newsletter. In total, these kind people have helped me raise over ¡ê4,000 for this amazing charity. I completed the run in 2 hours and 25 minutes - a real achievement for someone born without an ounce of natural athletic ability and who had major abdominal surgery just 10 months ago. All I can say is that it is the support of these people together with the most amazing group of family and friends that got me over that line and I cannot thank you enough. It means so much to have completed this challenge and raised such a healthy amount for charity and I hope to be able to pay it forward some day. From the bottom of my heart, THANK YOU.
Cheltenham (September 22, 2012 / Simon Hood)
Bicycle Kicks
ONE MAN. ONE TEAM. ONE BIKE. Sick of drifting aimlessly through his thirties, (YCS member) Simon Hood gives up his job and flat to embark on a unique adventure. A lifelong York City supporter, he sets out to cycle to their every match over the course of a season." Some of you may remember a hairy, sweaty man turning up at games on his bike during the course of the 2009-2010 season. Well, the cycling proved easier than the scribbling, but my book of that oh-so-nearly campaign is finally out. It is part cycling tale, part travelogue, but above all it is about the one thing that binds all of us together, a love of York City FC. With a foreword by City fan Richard Herring, Bicycle Kicks is now available in paperback and ebook versions. The Club Shop has kindly offered to stock some copies throughout this season. All being well, they should already be in there as this goes to print. The ebook is available at the Amazon kindle store. I raised money for the York branch of the Alzheimer Society as I was pedalling around the country, and some of the proceeds from each paperback sale will also go to the charity. For more information, check out my website.
Chesterfield (September 8 2012 / Joel Stern)
Great North Run
On 16 September I will be running the Great North Run in aid of Bowel Cancer UK. It's a fantastic small charity run on a completely different budget to the 'big boys' which helps to raise the profile of Bowel Cancer - one of the most curable forms of cancer if caught early - and its symptoms. If you have a few quid spare, it would be great if you could head over to my Just Giving Page and sponsor me to complete this mammoth challenge.
Oxford (September 1 2012 / Dot Brown)
Quiz Night
A win last Saturday at Barnet was followed by our Quiz Night and Summer Social evening in The Sheephaven Bay, Camden where we enjoyed a few ales and post-match conversation. York City South's resident quiz-master, Chris Forth tested our knowledge on all things City, with some questions themed on a review of last season. The quiz was won by Tom with Joel and Jim taking second and third prizes. There was also a prize for the lowest points scored, but the least said about that the better. First prize was an LA Galaxy T-shirt; second prize an LA Galaxy Scarf and LA Galaxy Gameday programme; third prize MLS Cup 2011 Official Game Programme and Gameday programme. A Cotton Bag - MLS Cup Los Angeles 2011 was awarded to the strongest quiz contestant. With special thanks to our quiz master Chris and also to John Williams [our member based in California, USA] for donating the prizes.
Wycombe (August 18 2012 / Joel Stern)
Weleome - Enjoy The Season
Good afternoon and welcome back! The summer seems to have lasted forever despite the distraction of both Euro 2012 and the Olympics but finally we can now get back down to the real business of what will hopefully be another exciting season for all at York City Football Club. Season 2011/12 was truly remarkable and the achievements of all at YCFC will stick with us for a long time to come. It was also my first season as Chairman of York City South and I am proud of where we have come in the last 12 months. We increased our membership on the previous season, held a number of well-attended social gatherings (not least our end-of-season promotion party), honoured our previous Chairman Alastair Smith with a fantastic VIP hospitality experience at Bootham Crescent and helped to support the club financially including donations to the Youth Team amongst others. However, like Gary Mills, we must not be complacent and I hope that like the team, York City South can prosper now we are back in the football league and continue to support both the club as well as any southern-based fans. So if you live - or are moving down south, please do get in touch, we'd truly love for more people to get involved and help us support our fantastic Football League team through the next stage of this exciting journey.
Check Us Out
York City South welcome new members. If you are based in 'the south' then please get in touch. Membership is still just £10 for the year [and includes membership of York City AFC 1922 Supporters Club]; Juniors £5 for the year; £100 life membership.
Visit our York City South web site for all the latest branch updates [with thanks to Chris Forth our webmaster].
Want to see your name in print? The branch is invited to write a short article in every City home programme. The more people who contribute, the more varied and better our page becomes. Email Dot, our programme page co-ordinator with your words. As always a photo helps, but isn't necessary. Most things City related go, so write now, write here.
Social Networks Find us on Twitter at @YCFCSouth or on Facebook, search for York City South
In Person Look out for us (and our flags) at matches and come and say Hi
Email York City South
Bootham Crescent
Main Programme Page