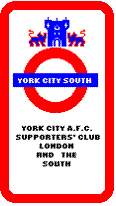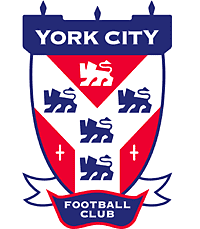 Southern Connections
York City 2 and Wycombe Wanderers 2
24/Mar/2009 (Kettering) - Ray Goodearl
Took in 4 games within eight days during February, two matches featuring City and two Division Two games.
A text from my nephew said he was going to Dagenham for the Tuesday night clash with his beloved Chairboys. Off we went on the District Line from Ealing Broadway to Dagenham East stopping at 37 stations on the way.
The game between two teams looking at promotion from Division 2 was fast and furious. Dagenham first half played Wycombe off the pitch with some good 'on the floor passing', but second half resorted to route one, lost the plot and the match, to one good breakaway from the dreaded Wanderers.
The following Saturday, it was Kings Cross to York and return, one stop only, and saw us cruise to a win over Havant who were not the force they were the previous season.
Went along to the televised Wycombe game on the Monday against our old friends Rotherham Utd with Andy Warrington in goal for them. I hadn't seen him since his rather wobbly performances for us between the sticks, but how he has matured into a good steady keeper. Grey hair and a bald patch maybe, but commanded his goal and troops in front of him giving a brilliant performance which gained Rotherham a much needed point.
The following evening took a car load of London based fans to Rushden . Oh dear, we were listless, clueless and uninspiring, and fully deserving of our defeat. Five days later to Kit Kat for the game against the hastily strung together side of Weymouth. Well we scraped a victory, but a poor show, particularly the finishing which was diabolical.
A comparison between the two leagues, yes Division Two is superior, not so much in skill or speed, but certainly fitness and particularly noticeable was the weight and build of the teams. Daggers, the Millers and Wycombe all field strong, muscular, tall teams, who would have knocked us for six all over the pitch. Lots to do and change before we get back to where we should rightly be, in the Football League proper.
Want to see your name in print? The branch is invited to write a short article in every City home programme. The more people who contribute, the more varied and better our page becomes. Email Dot, our programme page co-ordinator with your words. As always a photo helps, but isn't necessary. Most things City related go, so write now, write here.
Kit Kat Crescent
Main Programme Page