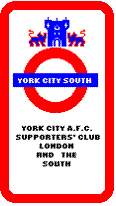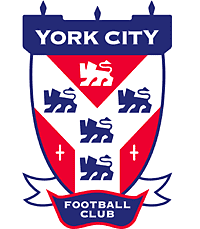 Southern Connections
Ebbsfleet v York
21/Mar/2009 (Telford (FATSF2)) - Simon Hood
We cycled from my home near Waterloo to the Ebbsfleet match last Sunday; a glorious, wind-assisted swoop through southeast London and into Kent. A leisurely full English in Dartford set us up to attack the last few miles' rolling hills, the undulating road wedged between train tracks and Thames estuary.
We were ridiculously early for the match so sought refuge in the nearest pub, which had a bulldog digging up the beer garden and another serving behind the bar. Not the sort of place I enjoy ordering thirst-quenching soft drinks in. Especially when I'm sporting a wind-sculpted Robert Smith hairdo, my York shirt is visible beneath my jacket and my sock is tucked into my trouser leg.
The game itself was a study in boredom, a ninety minute staring contest. The highlights were a lively cameo from Sodje, Ingham's three point-blank saves and his pinpoint clearance bulleting into the top corner of the tearoom. My girlfriend asked at half time if the players were paid to do this. It was that kind of match. The kind of match I was happy to be getting the train home from.
Want to see your name in print? The branch is invited to write a short article in every City home programme. The more people who contribute, the more varied and better our page becomes. Email Dot, our programme page co-ordinator with your words. As always a photo helps, but isn't necessary. Most things City related go, so write now, write here.
Kit Kat Crescent
Main Programme Page