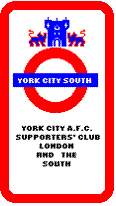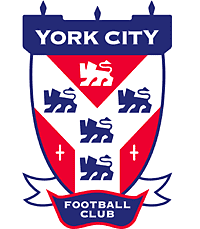 Southern Connections 2005/6
A Different Way To celebrate New Year?
10/Jan/2006 (Stevenage) - Dot Brown
As family plans shaped up for the seasonal celebrations it became clear that we were now free to get to the match on 31 December in between visiting friends in Daventry and relatives on the south coast. So at the last minute we booked a hotel in York and headed north. The temperature dropped noticeably the further north we travelled. Snow was forecast. Would the match be on?
Once in York we sampled a few 'York Brewery' ales and got in touch with some old school [and girl guide] pals. Lots of news to catch up on! On the Friday morning we planned to visit the town centre, but as we prepared to go down to the hotel dining room to sample the full English breakfast we heard on 'Radio York' that York City were looking for volunteers to help clear the snow off the pitch.
How often do I get the opportunity to listen to 'Radio York', be a few minutes walk from Kit Kat Crescent, and have a morning free? It was meant to be.
We arrived at the club and were directed to the pitch where lots of volunteers were already busy at work including the academy trainees. Walking on to the hallowed turf [even with a shovel] was a great feeling. We were later watching the first team go through their paces under the guidance of Billy. All the volunteers were made very welcome at the club with refreshments provided and a personal thank you from Billy. We were pleased to make a small contribution to the club. A great experience and very unique way to spend a morning.
The match went ahead, watching with us was Eric, a Leeds fan, who thought the first half was better than some of the football he had witnessed at Elland Road for the last few seasons. Pity it went downhill second-half and we dropped two points after all our efforts. Never mind that's football, all ups and downs.
Come along to our next social evening on THURSDAY 12 JANUARY from 7.45 pm - an opportunity to watch some old video footage of York CIty in action [including YCFC v Manchester United] and catch up with news. We meet at The Old Doctor Butler's Head [in the upstairs function room], 2 Masons Avenue, London EC2 5BT. The pub is situated in a narrow street which can be reached from either Basinghall Street or Coleman Street [close to the Guildhall]. Nearest tube stations are BANK [suggest use exit one] and ST PAULS [both on the Central Line]; or MOORGATE [on the Northern, Circle, Metropolitan and Hammersmith and City lines]. Some limited street parking available in Coleman Street [at Moorgate end]. Lots of real ales on offer! Pub telephone number 020 7606 3504. Everyone welcome.
More information? Please check our website or contact Alastair Smth our branch chairman or telephone him on 01903 813557 for more information.
Kit Kat Crescent
Southern Connections