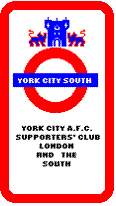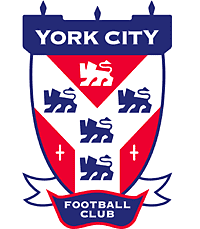 Southern Connections 2005/6
York City South Web Site
31/Dec/2005 (Morecambe) - Chris Forth
Have you checked out our York City South web site (www.yorkcitysouth.co.uk) recently?
As well as all the essential branch news and information, you will find lots of more stimulating reading as well, both serious, fun and must read pages for City fans everywhere.
Find out how Debbie Harry is helping York City and check out the 12 ways, no make that 20 and rising (the page has grown since it was first launched) that Billy McEwan is better than the Mourning / Whinger / Sigh A Lot trio at the top of the Premiership.
If you haven't already, you might also like to check out the 2 major series that have just been added recently to the site. The keepers Of York City (1929 - 1994) and The History Of Bootham Crescent. Although the Keepers series might sound like a Mastermind subject, it takes a light hearted look at City's keepers and proves that statistically Roger Jones was our best ever keeper. But as you know, statistics lie and you'll probably have your own favourite.
For a more lighted hearted read try Billy Plutch, the man who gets everywhere. From watching Michael 0-Win sign for Newcastle to seeing England lose The Ashes this summer and helping Billy McEwan tidy up the ground this summer, he's the man in the know with friends in high places.
You might also be surprised to know that our on the field performance affects the website. The record number of people to view the site in a day was set on the day we beat Altrincham 5-0 whilst a big fat zero viewed the site on the day we lost recently at Aldershot.
Happy browsing and a very Happy New Year to everyone involved with York City Football Club - wishing you all a happy, peaceful and healthy 2006.
Our next social evening is planned for THURSDAY 12 JANUARY 2006 from 7.45 pm when we will have a guest speaker - please check our website for the details. We meet at The Old Doctor Butler's Head [in the upstairs function room], 2 Masons Avenue, London EC2 5BT. The pub is situated in a narrow street which can be reached from either Basinghall Street or Coleman Street [close to the Guildhall]. Nearest tube stations are BANK [suggest use exit one] and ST PAULS [both on the Central Line]; or MOORGATE [on the Northern, Circle, Metropolitan and Hammersmith and City lines]. Some limited street parking available in Coleman Street [at Moorgate end]. Lots of real ales on offer! Pub telephone number 020 7606 3504. Everyone welcome.
More information Please check our website or contact Alastair Smth our branch chairman or telephone him on 01903 813557 for more information.
Kit Kat Crescent
Southern Connections