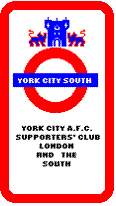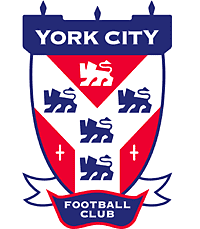 Southern Connections 2005/6
Billy McEwan's Number One Fan
17/Dec/2005 (Northwich) - Charles Forth
York City South send our best wishes to everyone involved with York City Football Club - have a happy Christmas!
Last season, when we were very poor in the Conference we had 3 managers, Chris Brass, Viv Busby and Billy McEwan, We were 3rd time lucky with Billy. Last year we finished 17th, just clear of relegation.
I just knew that Billy would sign some good players like James Dudgeon, Clayton Donaldson and Matt Convery. He must have scouts everywhere and seems to like the young players more and makes everyone work hard, just like my teachers at school. So far with Billy, we have done quite well, I would give him a good new contract right now.
When I play Under 9 football for my school, we have one draw and a few defeats, so I know how Billy felt last season. Last time we lost 10-0 against Orley Farm. I was goalie for the first half and let in 4 goals. None were my fault as I had no chance with 2, one I just failed to tip over the crossbar and one a penalty, our defender Mark Frost gave away a penalty, I think he must be a relative of Mark Hotte. Next time I write to Billy, I'm thinking of asking him and Chris Porter to come to Harrow to coach my school team.
Last time I wrote to Billy, I told him about Harrow Borough's new 17 year old striker, Jonathan Constant, he scored a hat trick on his debut, my dad said he played a bit like Rodney Marsh. Obviously Billy didn't think so as he hasn't signed him yet.
I just hope City get promoted and Billy gets a new contract because I don't like the Conference and I think Billy is a good manager. When I write to Father Christmas I'll ask him to give Billy a new contract and a York City season ticket for me.
Next Social Evening - 12 January 2006. Our next social evening is planned for THURSDAY 12 JANUARY 2006 from 7.45 pm when we will have a guest speaker - please check our website for the details. We meet at The Old Doctor Butler's Head [in the upstairs function room], 2 Masons Avenue, London EC2 5BT. The pub is situated in a narrow street which can be reached from either Basinghall Street or Coleman Street [close to the Guildhall]. Nearest tube stations are BANK [suggest use exit one] and ST PAULS [both on the Central Line]; or MOORGATE [on the Northern, Circle, Metropolitan and Hammersmith and City lines]. Some limited street parking available in Coleman Street [at Moorgate end]. Lots of real ales on offer! Pub telephone number 020 7606 3504. Everyone welcome.
More information please check our website.
Bootham Crescent
Southern Connections