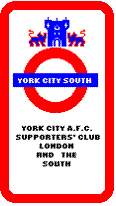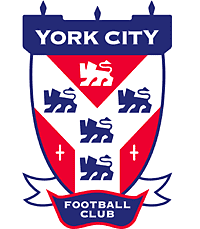 Southern Connections 2005/6
D Day for Brighton
15/Oct/2005 (Canvey Island) - Alastair Smith
Remember how we felt when the Board secured our ground, ensuring that we had a home until we moved into a new stadium? Brighton and Hove Albion are on tenterhooks at the moment as the decision on their new ground at Falmer will be announced by John Prescott before October 31st.
Brighton's troubles started when the previous owners sold their ground in the late 90's, I'll never forget the goalposts being ripped down at the Goldstone Ground after fifteen minutes. We then had to replay the match on a Thursday morning after the season had finished to avoid relegation. Interestingly, those that were there may remember a certain Douglas Craig doing a "David Pleat" and dancing across the pitch to the York fans to celebrate survival, how times change !!
My son Matt (pictured with two of his friends and Dick Knight, the Brighton Chairman) joined over 7,000 Brighton supporters in a demonstration whilst the Labour Party Conference was being held in Brighton. Other celebrities included Des Lynam, Fatboy Slim, Steve Coppell, and 70's legend Peter Ward who flew in from America especially for the demonstration. Matt had a great reception from the Brighton supporters who appreciated the support York supporters have always shown Brighton's cause.
The new ground is critical for Brighton's survival. The level of support for Brighton and their new ground is phenomenal, the decision has dragged on too long already, Prescott must say "Yes to Falmer" .York supporters, more than most, should understand what everybody connected with Brighton has gone, and is going, through. Our thoughts are with you and we'll be keeping fingers crossed that Mr Prescott makes the correct decision.
Next social evening - Thursday 10 November 2005. Come along and join us for our next social evening from 7.45 pm at The Old Doctor Butler's Head, 2 Masons Avenue, London EC2 5BT [in upstairs function room]. Lots of real ales on offer! Pub telephone number 020 7606 3504. Nearest tube stations are BANK [suggest use exit one] and ST PAULS [both on the Central Line]; or MOORGATE [on the Northern, Circle, Metropolitan and Hammersmith and City lines].
For more information. Contact Alastair Smith on 01903 813557 or email Alastair. Everyone welcome!
Bootham Crescent
Southern Connections