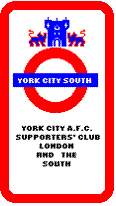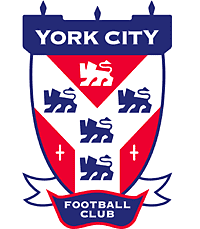 Southern Connections 2005/6
100% Attendance For September
01/Oct/2005 (Exeter) - The Lady In Red
Couldn't make the Halifax game so watched it with about 25-30 York City South members at the Hole in the Wall Public House just outside Waterloo Station. How did we lose that match?? Afterwards over a lovely meal in The Old Fire Station Public House hatched a plot to see all our games throughout September which would include a lot of mileage and some deft planning.
Two of us decided to start the month off with a Friday night trip to Kit Kat Crescent to see the match against Cambridge. The M1 is at its worst on a Friday night, usually a traffic jam for 50 odd miles. We allowed for this leaving Northampton Services at about 4 pm (10 quid to park a car for more than 2 hours. Must find an alternative safe parking spot). Managed a pint of Terriers in the bar before kick off and rewarded with 3 points. Back home climbing into bed at 1.45 am.
The following weekend, a pick up at Junction 2 of M40 for a dash across country to Forest Green, pint of Green King and a further 3 points, back in London for a few beers by 7.30 pm. The three matches against Altrincham, Dagenham & Redbridge and Aldershot couldn't have worked much better as we were due to be part of a support team to 3 young ladies (Sally, Julie and Judith, well done to them ) running in the Great North Run on the Sunday.
Left London 10 am the next Saturday, arriving 10 minutes after the start after troublesome run up the M1. The two lads from Portsmouth got as far as Nottingham just after 2 pm before turning around and going home sadly missing the 5 goal bonanza.
An overnight stay in Oswaldkirk, (thank you Wendy and Dave), then an early morning dash to Newcastle for the Great North Run. Swept along by the great atmosphere, felt guilty for not being a runner and raising a few bob for charity. After breaking out the champagne for the three ladies after they had completed the race it was a dash back to East Yorkshire. Now I had two and a bit days for a couple of rounds of golf and being spoilt in North Frodingham (thanks Sash and Bill) and take in the Dagenham evening match on the Tuesday. Some silly play acting cost us dearly that night.
A 3 night stay in Scarborough from Wednesday onwards for bowls tournament meant a very early dash down the A64 on the Saturday morning and finally into Aldershot. Just in time for a pint of Adnams in the Crimea opposite the ground. The worst performance of the month, we seemed to resort to our old tactics rather than the pretty football we had been playing earlier. High balls forward to a tall defence seemed rather odd. However look forward, learn by our mistakes. Tamworth only 120 miles up the road, four of us meeting at Junction 5 of the M40, including two travelling up from Crawley (result unknown as I am penning this on Monday).
A total of about 1,250 miles and 10 points so far in September. Hopefully we got three more at Tamworth, and by the way, see you for today's game! MAD MAD MAD MAD!!
Next social evening - Thursday 13 October 2005 Come along and join us for our next social evening on Thursday 13 October from 7.45 pm at THE OLD DOCTOR BUTLER'S HEAD, 2 Masons Avenue, London EC2 5BT [in upstairs function room]. We plan to celebrate the anniversary of the 1995 victory against Manchester United!! Lots of real ales on offer! Pub telephone number 020 7606 3504. Nearest tube stations are BANK [suggest use exit one] and ST PAULS [both on the Central Line]; or MOORGATE [on the Northern, Circle, Metropolitan and Hammersmith and City lines].
More information Please check our website for more information. Everyone welcome.
Bootham Crescent
Southern Connections