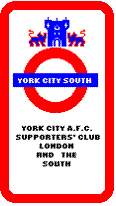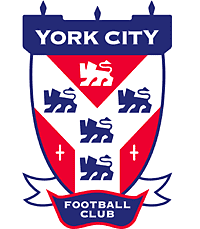 Southern Connections 2005/6
Welcome Back
13/Aug/2005 (Crawley) - Alastair Smith
Welcome back to Kit Kat Crescent, the last four months have dragged by, but at last we are all here again with renewed optimism. How well we will eventually do I would not like to predict, but I am sure that we will have a much better season than the last one, but then again that would not be too difficult would it! So letıs get behind the team and cheer them on their way to three points today.
During the summer 'York City South' had a great day out watching the York City Knights play London Skolars in Tottenham. The support that the Knights brought with them was excellent and we wish the team success in trying to win the National League 2 Championship and promotion to National League 1. We had an added bonus in that they were filming a sketch for "Little Britain" at the game which kept the crowd entertained, mainly by the "film stars" being unable to throw or catch a rugby ball !!
We also entered the Association of Provincial Football Supporters' Clubs in London (of which we are members) 5-a-side tournament over the summer. The team were drawn in a five team league with Barnsley, Man Utd "B", Aberdeen, and Stoke City. True to form the United team were very unpopular and all had cockney accents !! To cut a long story short we lost three matches but kept local pride intact by beating Yorkshire rivals Barnsley 2-0, Dave Ward scoring both goals.
Our website has undergone a complete revamp over the last six months. Webmaster Chris Forth has done a great job in revitalising the website and it is well worth a visit, not just for Southern based supporters, but for all supporters.
There are a couple of games in the South in the near future, so why not join us for a pre-match beer! Grays Athletic FC have a large bar at their ground which welcomes visiting supporters. Their bar has been voted as "the best in non-league" and Grays are the only football club to be featured in the CAMRA good beer guide. For our trip to Forest Green Rovers we will again be in their social club before the match, not because it is any good, but because the pubs in Nailsworth are all a 15 minute walk up a steep hill to the ground.
Regular social evenings. We organise regular social evenings - usually on the second Thursday of the month. Please check our website for more information. Everyone welcome!
Want to see your name in print? The branch is invited to write a short article in every City home programme. The more people who contribute, the more varied and better our page will become. Email Dot, our programme page co-ordinator with your words. As always a photo helps, but isn't necessary. Most things City related go, so write now, write here.
Bootham Crescent
Southern Connections