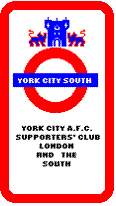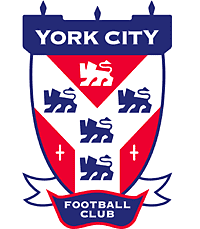 Southern Connections
Not Everyone In Tottenham Supports Arsenal
16/Apr/2005 (Dagenham) - Peter Beasley
Itís happened again tonight. In a pub in Hampstead, London, I had to explain for the millionth time why I, a middle-aged, born and bred Londoner with no known Yorkshire family connection, support York City. Iíve thought of responding with something like "For the same reason that people born south of the Trent support Manchester United - because theyíre a fabulously rich, fashionable, trophy winning conglomerate, one can watch on TV twice a week". Alas, it would be untruthful.
The reason I have supported City for 34 years, despite being brought up in Tottenham, is a few minutes black and white TV coverage of the FA Cup tie between City and Southampton in 1971. I watched as a 12 year old. York, an un-fancied fourth division side, trailed 3-1 to the top flight outfit with three minutes left. It was strange hearing commentator Keith Macklin away from his seemingly permanent encampment at Elland Road. But there he was at Bootham Crescent as City scored twice more; ecstatic, bellowing "ITíS THERE! YORK CITY HAVE EQUALISED!" The intensity and emotion was overwhelming. I decided to support York City for good. (The story that I closed my eyes and stuck a pin in a map is apocryphal). Hitherto, I had been to games at White Hart Lane and often had sympathy for the visitors, as they invariably lost - this geared me up nicely for following York City away.
Picking a highlight from decades of City roller-coasting; it would not be Houchenís penalty, the Old Trafford spanking or missing the last train home from Bristol on a Wednesday night. Itís John Byrneís lightning strike inside 10 seconds at the Vetch against Swansea in September 1984. Swansea kicked off and immediately attempted a comical back pass to the keeper. Byrne materialized ghostlike, deep in the Swansea half to intercept and casually slot home. There was stunned silence, except for some muted sniggering coming from a Londoner, marooned amongst black and white scarves. Six minutes later, God, wearing the number 9 shirt, added a second and York cruised to a 3-1 win.
I wonder if thereís a Dagenham supporter here today, who is a Yorkshire equivalent of me? Heíll have been born in Leeds, but shunned Billy Bremner and Co in favour of the non-league Daggers. He may even be drinking his beer with a flat Ďsoutherní head!
Want to see your name in print? The branch is invited to write a short article in every City home programme. The more people who contribute, the more varied and better our page becomes. Email Dot, our programme page co-ordinator with your words. As always a photo helps, but isn't necessary. Most things City related go, so write now, write here.
Bootham Crescent
Main Programme Page