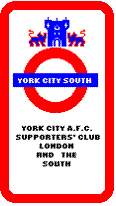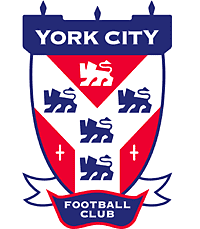 Southern Connections
Saving The Reserves
2/Apr/2005 (Gravesend) - Dot Brown
Following the public appeal by our manager Billy McEwan on March 16th to raise funds for the saving of the reserve team structure, York City South were amongst the very first to offer funds for this project. I know that we have all contributed time and time again and often it is the same individuals and companies who keep digging deeper to provide for the latest crisis.
This time however it was not a financial crisis but a manager's plea for assistance in his plans for the coming seasons ahead. Mr McEwan has intimated that a competitive schedule for the reserve side would be better than 'behind closed door friendlies', where perhaps the bite and competitive intensity would be missing. A reserve team could help to bring out the true capabilities of potential first teamers, examine the fitness of players returning from injury and test the strengths or weaknesses under a competitive nature of potential new loanees or squad players.
A hasty discussion between some of the senior members of York City South, Dot Brown, David Ward, Richard Skilbeck, Ray Goodearl and Josh Easby during the recent Tamworth match, (perhaps we should have played our reserve side that day) resulted in an overall opinion that we should support this project. A quick phone call to our Chairman, Alastair Smith who was yomping over the Sussex Downs at the time, confirmed his support that we were ready to release our hard earned funds towards this project.
York City Football Club have had over five years now of strife both on and off the field from the 40,000 plus gate at Maine Road on the last day of the season that consigned us to the old Third Division, to the 752 gate in the 1-1 draw at Farnborough which I considered the lowest point of our first of our two years only in the Conference. (That's promotion next year!!!). Off the field our immediate future is secure at Kit Kat Crescent with the hardcore of 2,000 plus attending even though performances to date on the pitch generally have been poor. The future is still not so good for some of our old rivals, recent sufferers are notably Cambridge Utd, Bury and Southport.
Mr McEwan has come here with a hard liner reputation, something missing for too long, a welcome breath of fresh air. Given time, we are sure he can turn things around on the pitch. York City South are proud to be associated with his cause in raising the monies needed to continue next year with a competitive reserve team programme and assist in getting York City Football Club back where it belongs in the Football League.
Next meeting - Thursday 14 April 2005 - Annual Quiz
We hold regular monthly meetings - usually on the second Thursday of the month. Our next branch meeting will be on Thursday 14 April from 7.45 pm at THE OLD DOCTOR BUTLER'S HEAD, 2 Masons Avenue, London EC2 5BT [in upstairs function room]. Lots of real ales on offer! Pub telephone number 020 7606 3504. Nearest tube stations are BANK [suggest use exit one] and ST PAULS [both on the Central Line]; or MOORGATE [on the Northern, Circle, Metropolitan and Hammersmith and City lines]. An opportunity to catch up on Kit Kat Crescent news, discuss future travel plans and we also hope to host our annual quiz on York City FC.
For more information, contact our chairman, Alastair Smith on 01903 813557 or email Alastair. Everyone [members and non-members] welcome!
Want to see your name in print? The branch is invited to write a short article in every City home programme. The more people who contribute, the more varied and better our page becomes. Email Dot, our programme page co-ordinator with your words. As always a photo helps, but isn't necessary. Most things City related go, so write now, write here.
Kit Kat Crescent
Main Programme Page